Say goodbye to itchy feet with this simple (but effective!) recipe for antifungal foot powder that will help you banish the flakes and enjoy fresh, odor-free feet. Learn how to use the best essential oils for athlete's foot so you can kick off your shoes with confidence.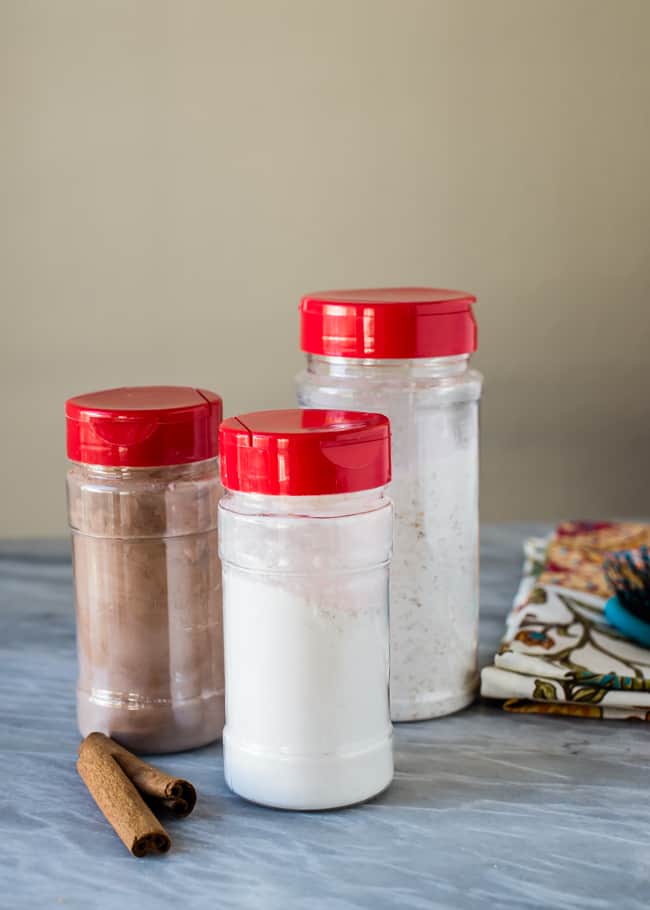 Athlete's foot is one of the downsides of having kids who are picky about footwear. I'm embarrassed to admit that my youngest son has worn the same pair of tennis shoes every day for roughly the past 6 months—because they have cheetahs on them. Of course.
Plus, he hates going more than 2 minutes without socks. Now the poor guy has a raging case of itchy toes and flaky skin.
This recipe was inspired by my love of tea tree oil, an essential oil (EO) that has become super popular in our house for its ability to fight acne. While the 13-year-old applies zit balm, the younger one is soaking his feet with tea tree!
Jump to:
Ingredients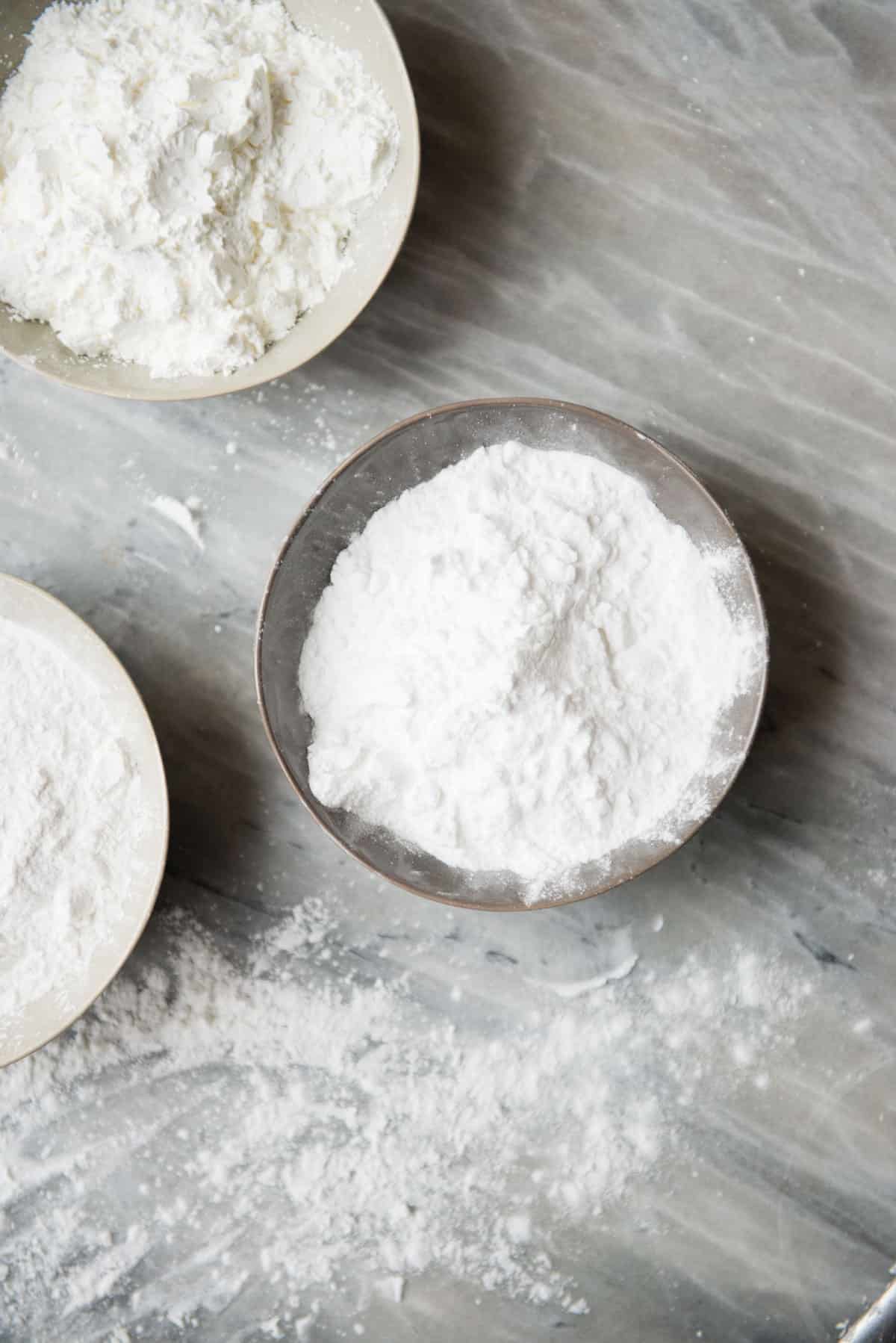 Tea tree essential oil — The antifungal properties of this popular essential oil make it an effective treatment for fungal skin infections like athlete's foot and even dandruff [source]. 
This EO contains several terpenes and other related components with strong antifungal properties [source]. One study showed that when tea tree oil was combined with fluconazole, it increased its antifungal activity [source].
This powerful oil is gentle enough to use in skincare applications, and it acts as an anti-inflammatory [source] to soothe the skin.
Thyme essential oil — Thyme is another potent essential oil that can be used for athlete's foot—thanks to the antifungals carvacrol and thymol found in it [source]. In a 2020 research study, just one application of thyme EO inhibited the growth of all tested fungal strains for 21 days [source].
Peppermint essential oil — Peppermint also has antifungal and anti-inflammatory properties [source], making it effective for treating athlete's foot. Peppermint contains fungus-fighting menthol [source], but all EOs in the mint family are fungus fighters. In fact, a study in 2009 showed its cousin spearmint might have even more antifungal activity [source].
Arrowroot powder — Arrowroot powder helps to absorb excess moisture, which is beneficial in treating athlete's foot.
Zinc powder — Zinc has antifungal and soothing properties, which can help reduce itching and inflammation.
Baking soda — Baking soda has natural antifungal properties and can help neutralize the skin's pH level, making it difficult for the fungus to thrive.
Cinnamon powder — Cinnamon contains compounds such as cinnamaldehyde, which have been shown to inhibit the growth of fungi [source].
See the recipe card below for quantities.
Instructions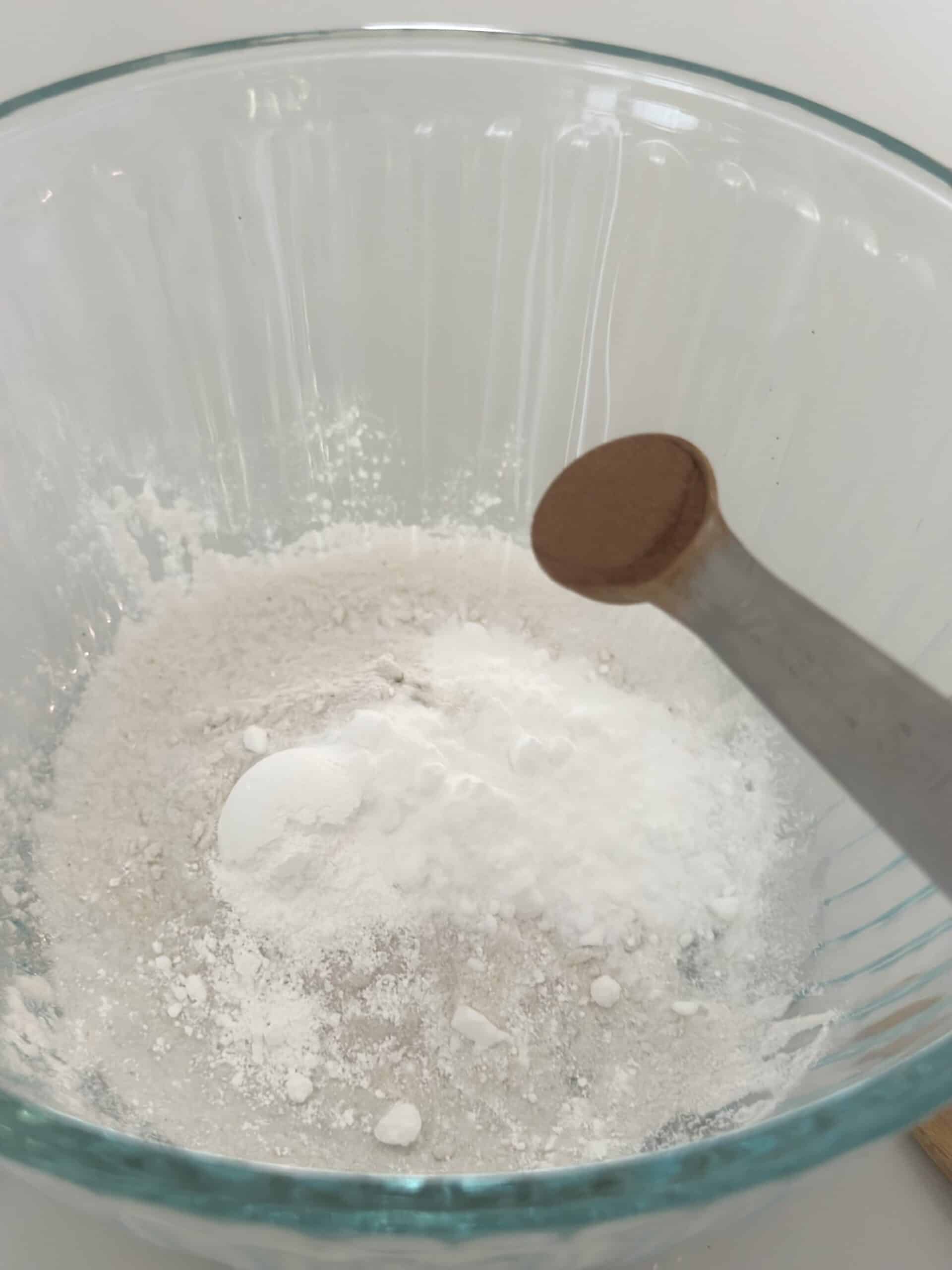 Combine all of the powder ingredients in a small, non-metal bowl.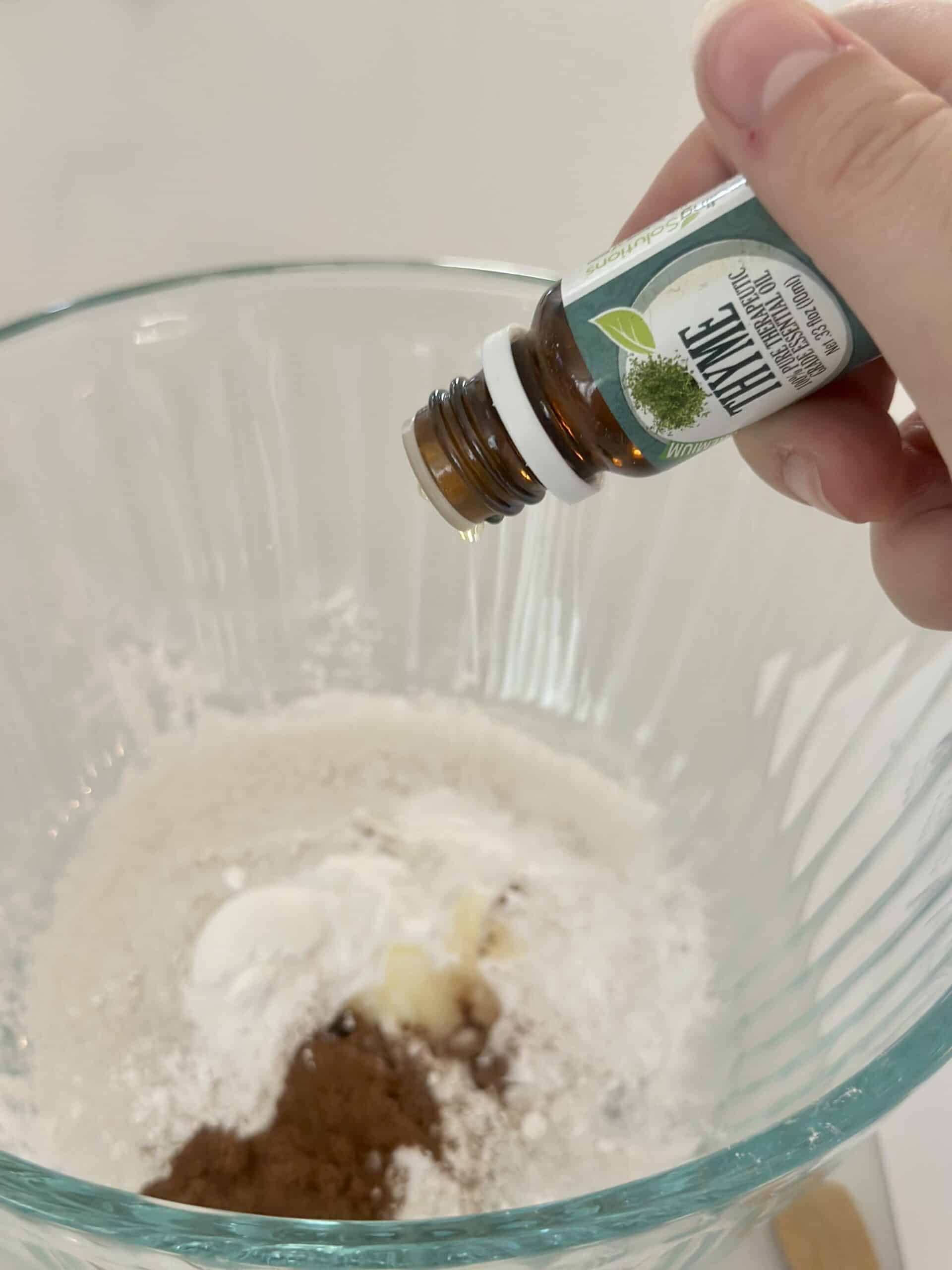 Add the tea tree, peppermint, and thyme essential oils.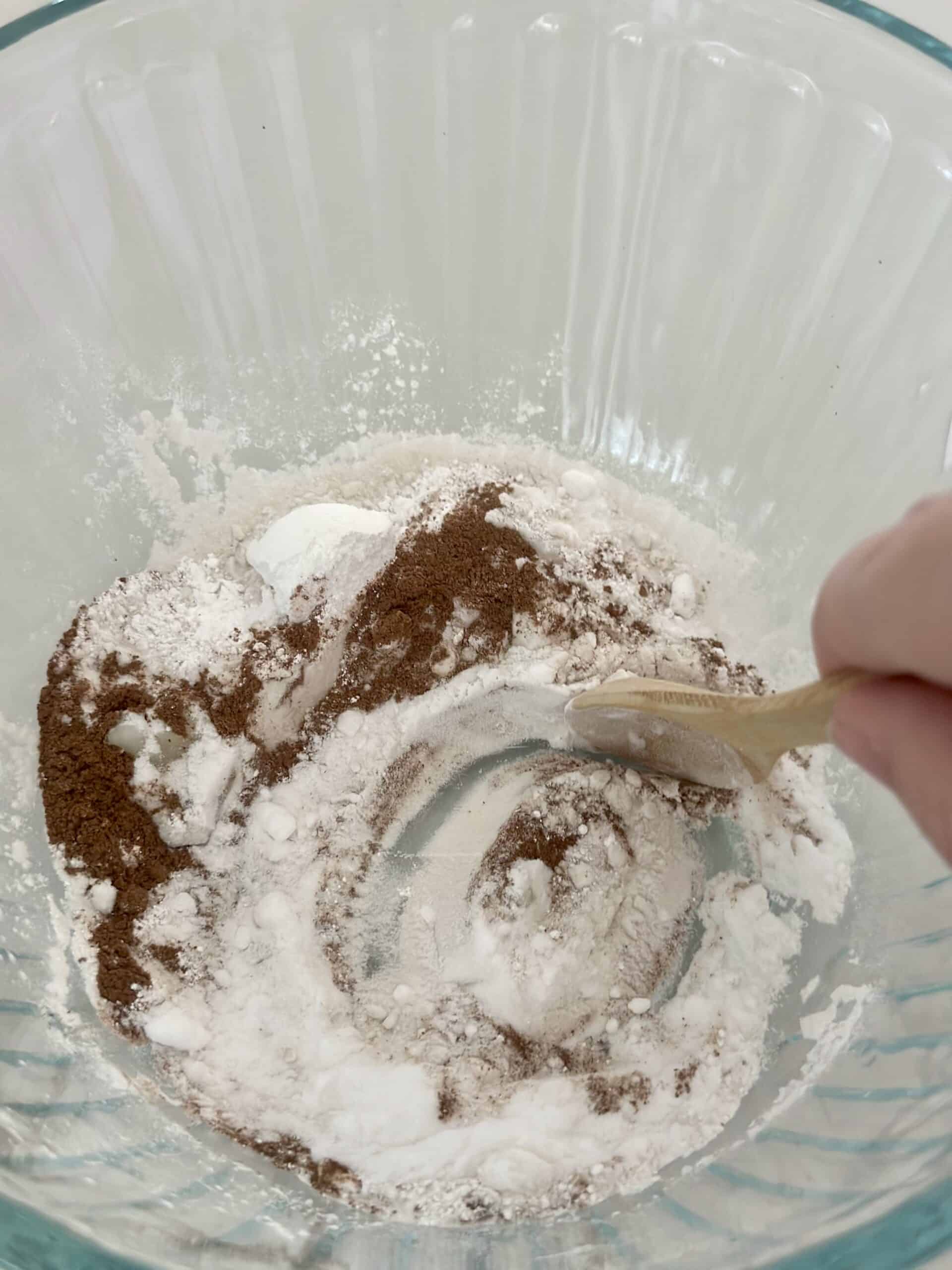 Stir the mixture together and transfer into a lidded container. Use a shaker top container if possible.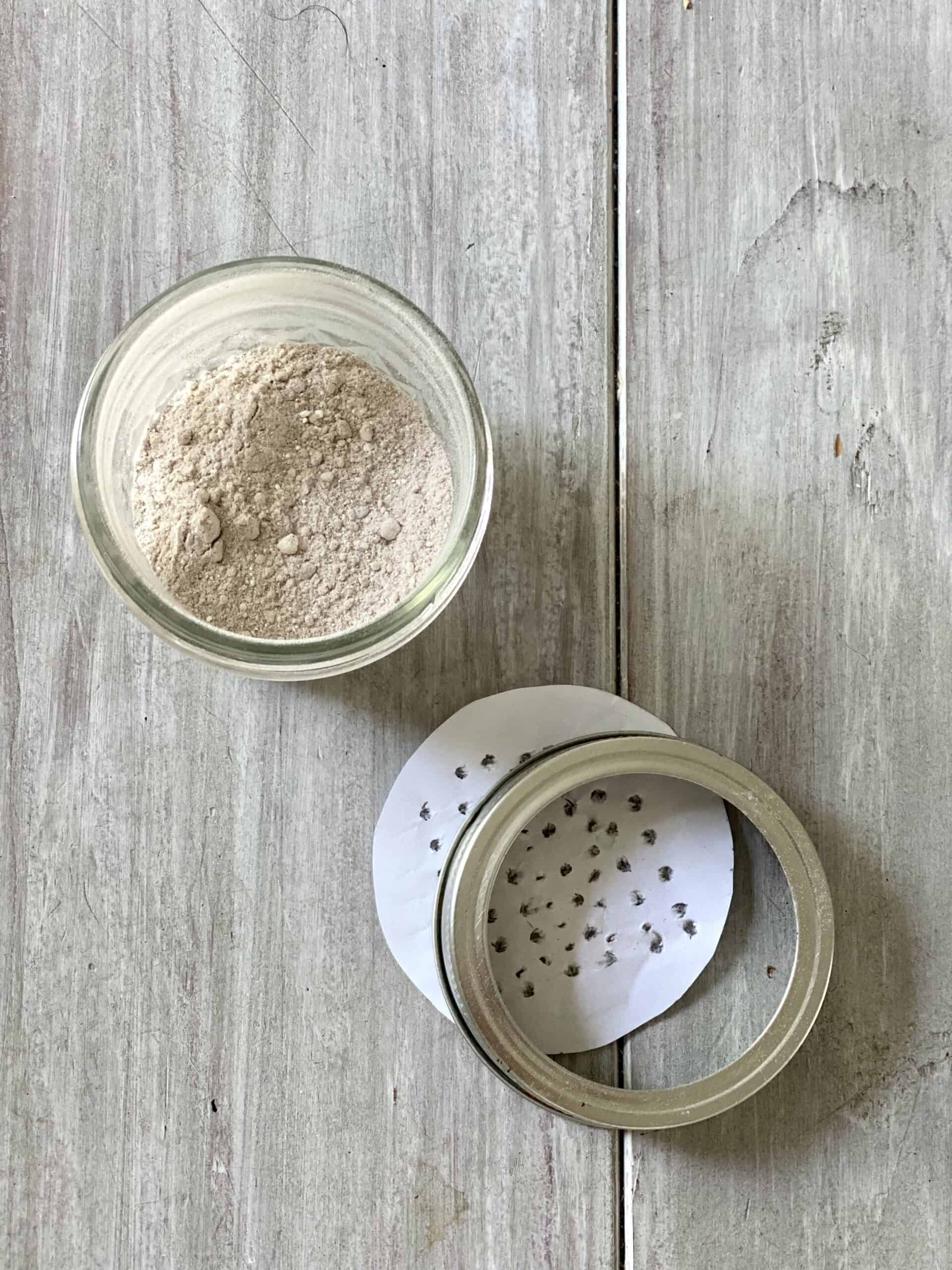 When you're ready to use it, shake and sprinkle a bit of the powder on your foot and rub it into the affected areas. Apply daily.
Hint: Pay particular attention to the skin between the toes! The most common location for fungal foot infections is between the toes [source].
Extra Tips:
— Sprinkle the powder inside your shoes when you remove them at the end of a busy day to absorb moisture overnight.
— Wear socks made from natural fibers, and change them regularly. And go barefoot as often as you can!
Substitutions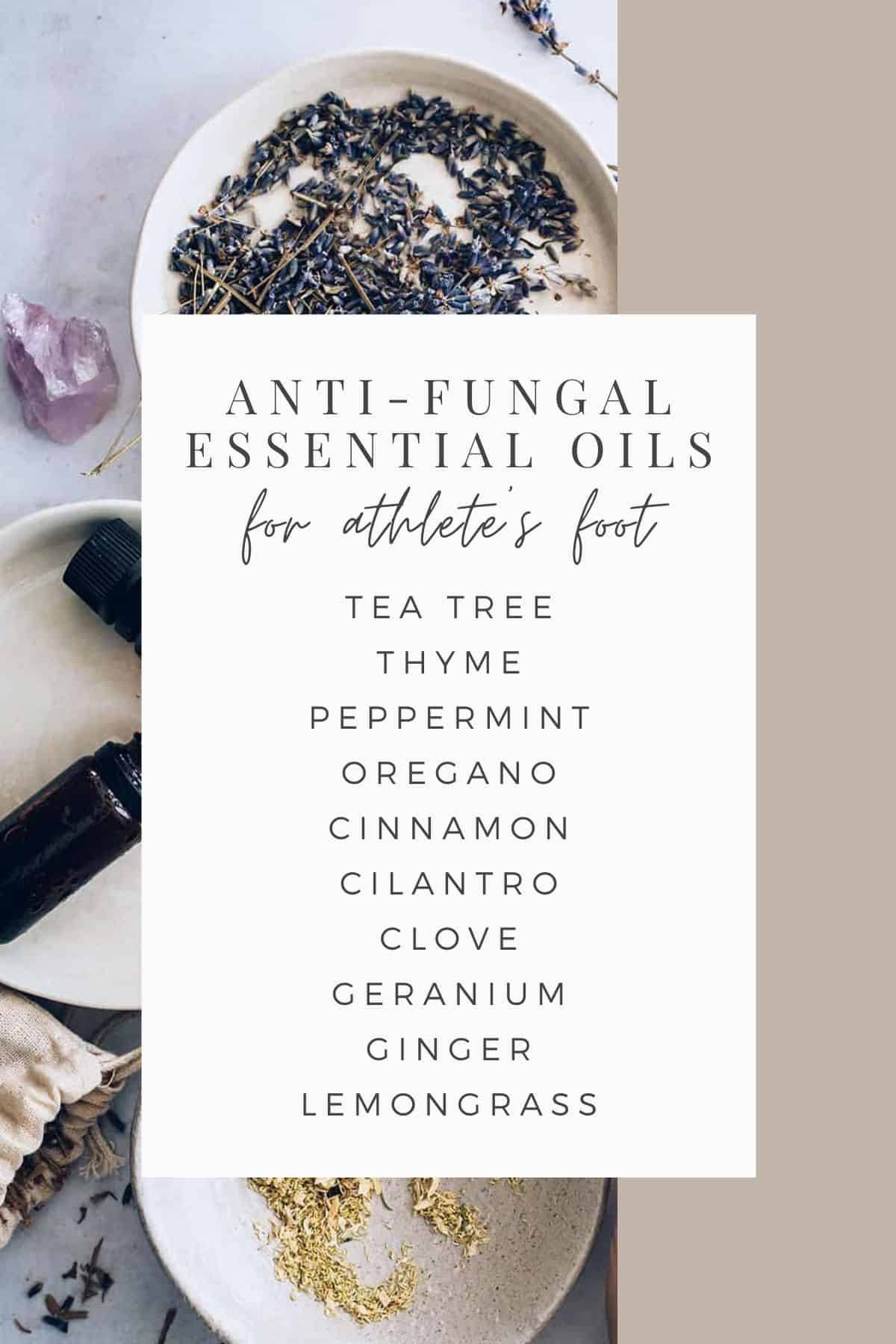 Bentonite clay — You can switch out the arrowroot and baking soda for bentonite clay, just don't use metal spoons or containers when mixing in the essential oils.
Athlete's foot essential oils — Many EOs can help soothe and heal athlete's foot infections [source], particularly in mild cases. These oils can also be used in athlete's foot essential oil blends:
Variations
There are many ways to attack athlete's foot! Try these essential oil recipes:
1. Athlete's Foot Essential Oil Blend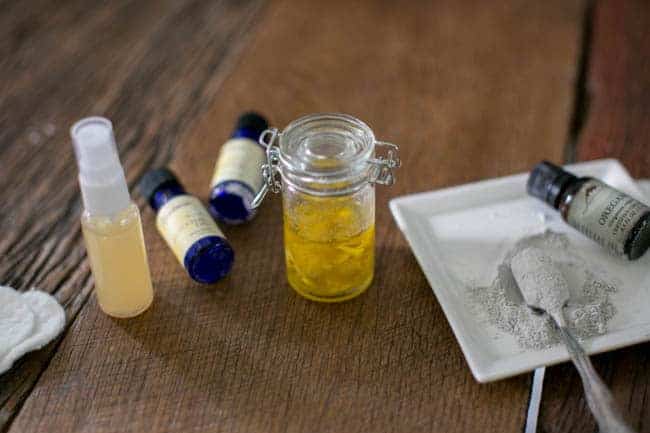 Oregano EO can be used in combination with cilantro, cassia, or cinnamon bark essential oils for even greater effectiveness. Combine 1 drop of oregano, 2 drops of cinnamon bark, and 2 drops of cilantro essential oils in 2 teaspoons of carrier oil and use this mixture in the recipes below. Oregano and cinnamon can be skin irritants, so start with small dilutions and patch test them before the first use.
2. Garlic Oil with Essential Oils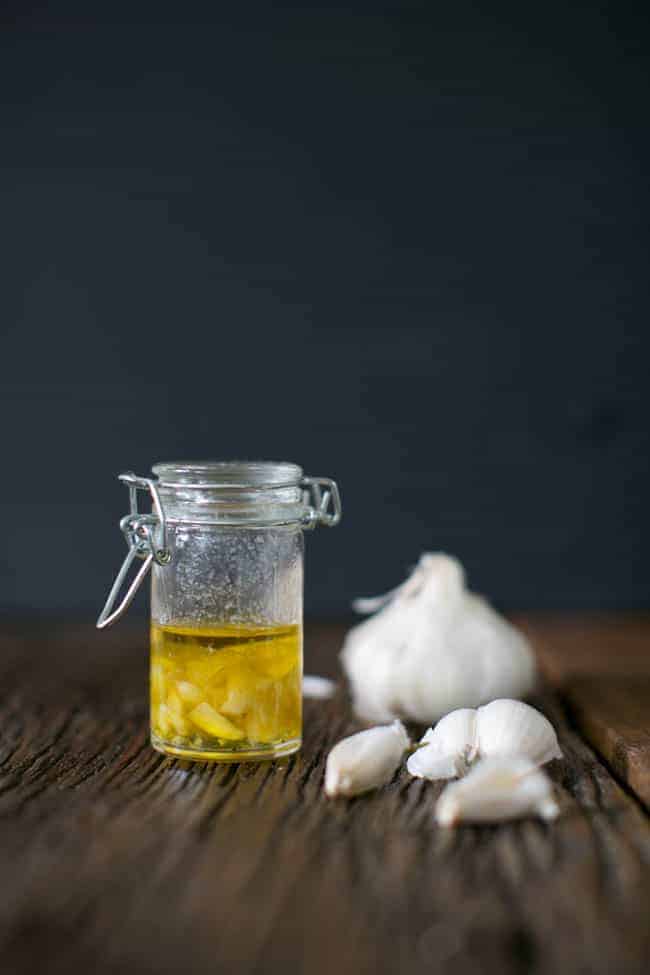 According to a study published in the Journal of the American Academy of Dermatology, ajoene, a compound found in garlic, reduced the signs and symptoms of athlete's foot [source]. Crush a few cloves of garlic and combine them with 1 ounce of olive oil.
Add 45 drops of essential oil and use a cotton ball to apply to the affected areas at least twice a day until they are gone.
3. Essential Oil Athlete's Foot Spray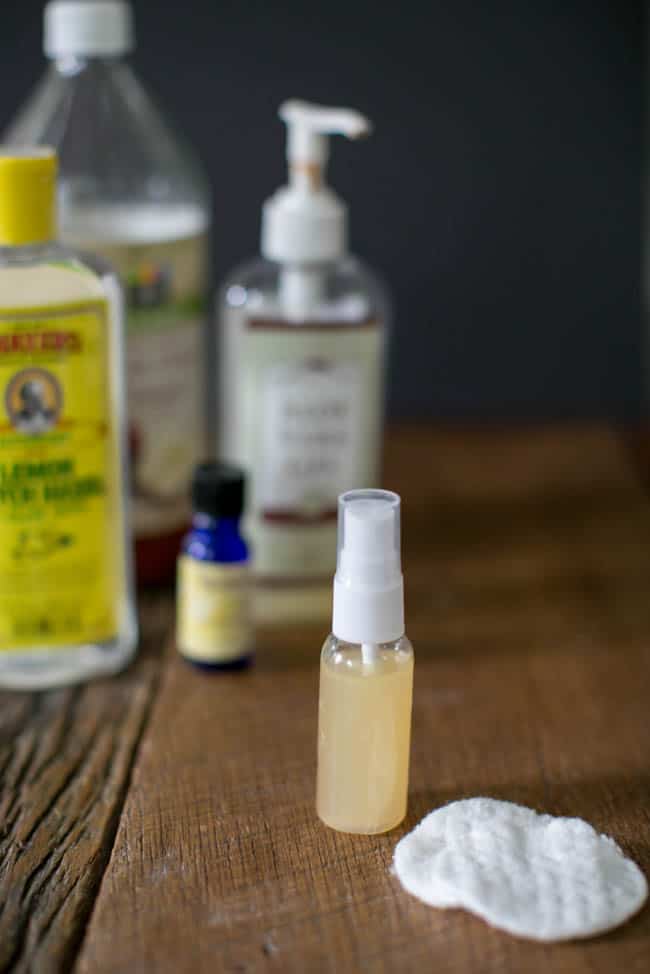 In a 2 oz spray bottle, combine 4 teaspoons each of witch hazel, apple cider vinegar, and aloe vera gel. Add 90 drops of tea tree essential oil and shake well before each use.
Spritz on the feet after removing your socks. Repeat several times a day until the infection clears.
4. Essential Oil + Vinegar Foot Soak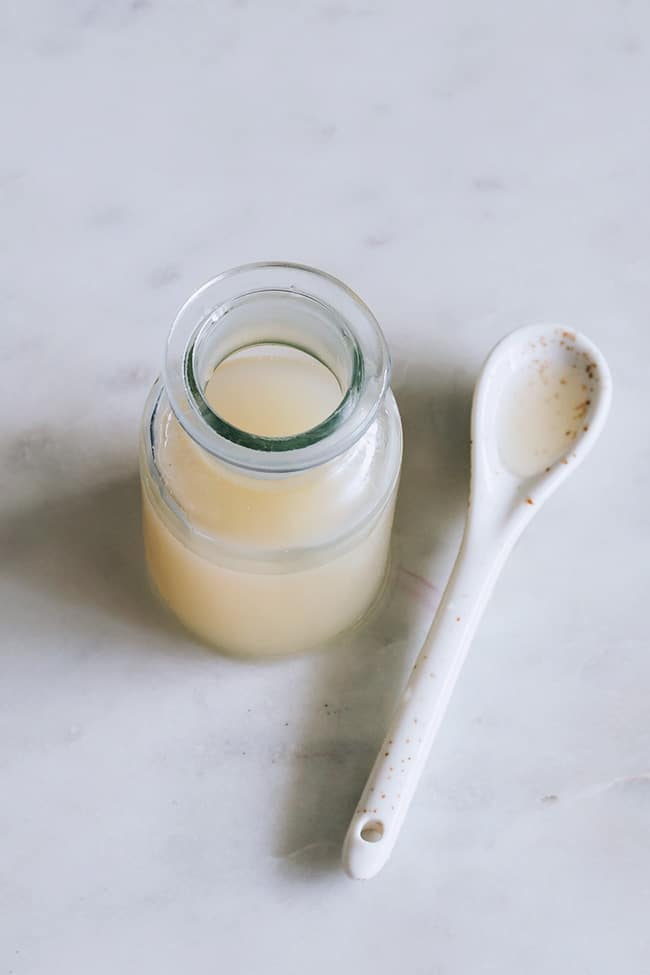 Mix 12 drops of essential oil with 1 tablespoon of a carrier oil. Add the oil mixture and 1 cup of white vinegar to a basin of warm water, and soak the feet for 15–20 minutes. Repeat daily.
5. Tea Tree Foot Balm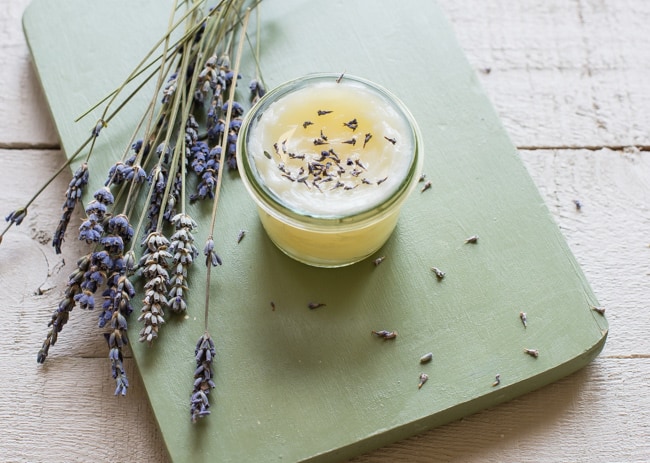 Take a basic balm recipe and add 45 drops of tea tree EO for each ounce of oil/butter.
This herbal balm is a great all-purpose recipe to customize with essential oils!
6. Essential Oil Foot Massage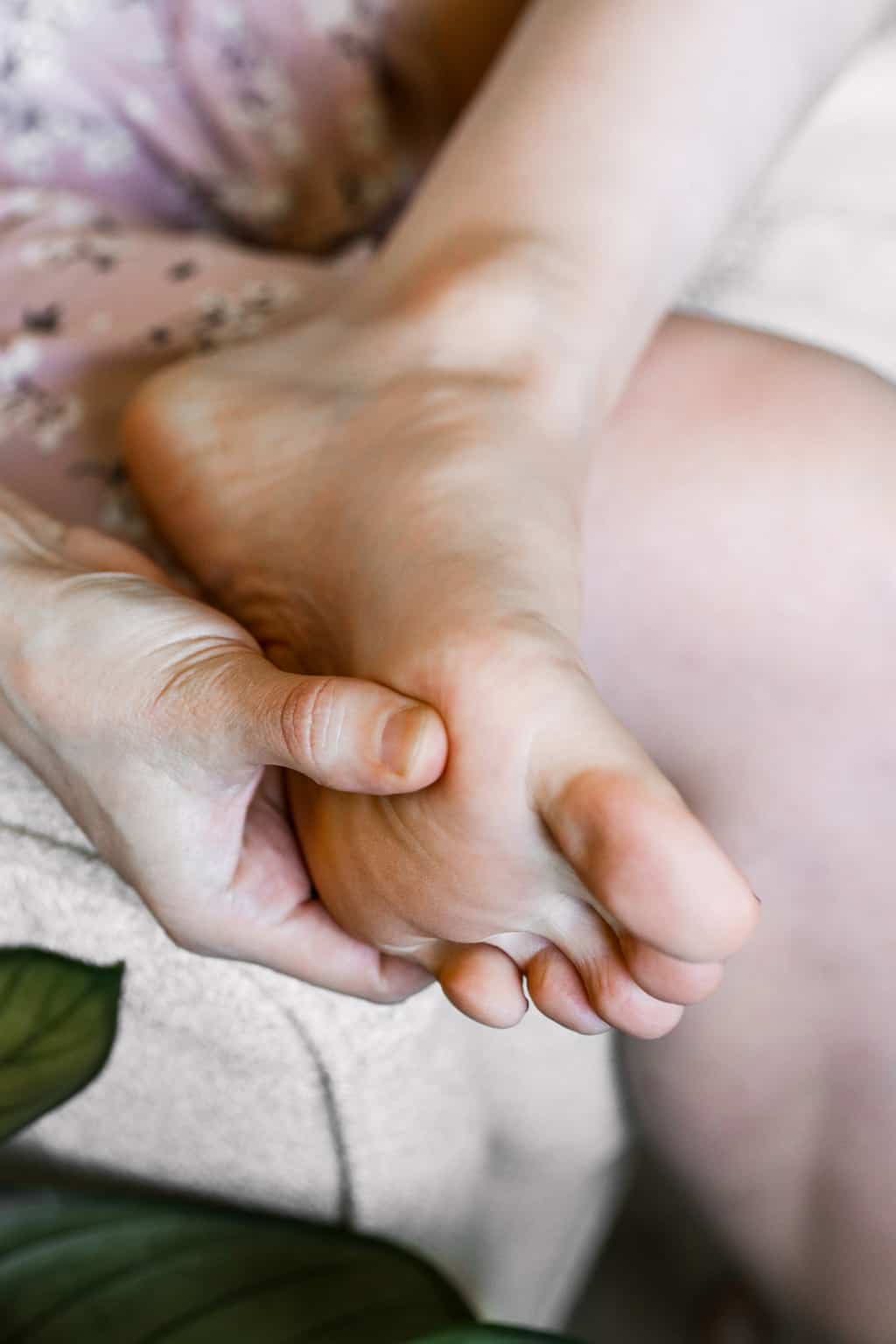 Dilute 22 drops of essential oil with 1 tablespoon of a carrier oil such as coconut, olive, or almond oil, and massage your feet, getting in between the toes and all of the affected area. Repeat 2–3 times daily.
This herbal balm is a great all-purpose recipe to customize with essential oils!
Storage
Most essential oils will last 6 months if stored in an airtight jar and kept away from light and heat. It's best to make small batches of DIY recipes or add vitamin E or a preservative. Keep your essential oils in amber-colored containers to preserve their effectiveness.
Top tip
Warm weather and damp feet can cause athlete's foot flare-ups, so keep your feet cool, dry, and open to the air as much as possible. Dry your feet thoroughly after washing, and give them a break from socks and shoes whenever you can.
FAQ
How do essential oils help with athlete's foot?
Essential oils possess antifungal, antimicrobial, and anti-inflammatory properties that can inhibit the growth of common athlete's foot fungi. These powerful natural compounds can soothe itching, reduce redness, and promote healing.
Is peppermint oil good for athlete's foot?
Yes, peppermint oil has antifungal properties and provides a cooling sensation that helps relieve itching and inflammation.
Is lavender oil good for athlete's foot?
Yes, though not as effective as the oils listed above, lavender does have antifungal properties and also alleviates itching and irritation.
How do I use essential oils to treat athlete's foot?
You can dilute a few drops of essential oil in a carrier oil, such as coconut or jojoba oil, and apply it directly to the affected areas. Alternatively, you can add a few drops to warm water for foot soaks or mix them into a foot powder for regular use.
Are essential oils safe to use on my feet?
Essential oils are generally safe for use on the skin, including the feet, when properly diluted. However, it's also important to perform a patch test on a small area of skin first before widespread use.
Can essential oils be used in conjunction with other conventional treatments for athlete's foot?
Yes, essential oils can be used alongside topical drug treatments for athlete's foot, such as antifungal medications. Consult with a healthcare professional to ensure compatibility and avoid any potential interactions.
How often should I apply essential oils to my feet when treating athlete's foot?
For mild cases of athlete's foot, applying essential oils once or twice daily should be sufficient. Moderate to severe cases should be treated in conjunction with medication under the supervision of your doctor.
Can essential oils prevent athlete's foot from recurring?
While essential oils can help eliminate the fungus causing athlete's foot, preventing recurrent infections involves maintaining proper foot hygiene, keeping the feet dry, wearing breathable shoes and socks, and avoiding walking barefoot in public areas.
Hand + Foot Care
Find more easy DIY recipes to pamper your hands and feet: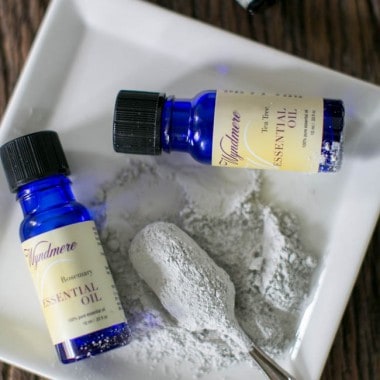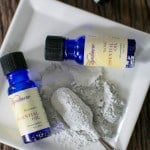 Print
Essential Oil Antifungal Powder Recipe
Instructions
Mix all the ingredients and store them in an airtight container.

When you're ready to use it, shake and sprinkle a bit of powder on your foot and rub it into the affected areas. Apply daily.
Notes
Extra tip: Sprinkle the powder inside shoes when you remove them after a busy day to absorb moisture overnight.
148