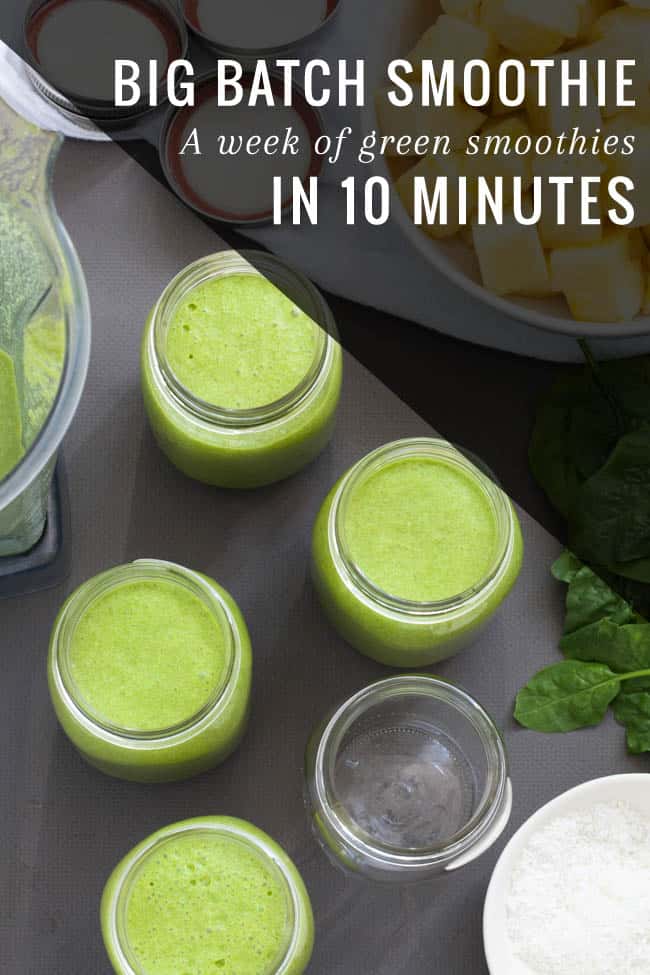 This quick prep method is my favorite way to guarantee that for a whole week, at least one meal will provide a good dose of greens. I love green smoothies, but if you've ever made too much at once and put it in the fridge for later, you know how tragically the story ends. It separates, turns a lovely brown shade, and takes on what can only be described as a funky smell —not the most appealing thing to drink.
With a simple big batch system you just pour into serving-size mason jars and freeze—it's a no-brainer for busy weeks!
Transfer it out of the freezer and into the fridge the night before you want a smoothie for breakfast. Or if you're looking for mid-morning or afternoon snack, the frozen smoothie makes a great ice-pack for the rest of your lunch.
The best part? It takes 10-15 minutes to make 5 smoothies!
The next best part? There's no funky smell, and it tastes just as delicious as it was when it went in.
Big Batch Smoothie Recipe
You can do this with any smoothie recipe, but if you love the pineapple-coconut combo, I highly recommend giving this one a try. And if you have an aversion to putting green things into drinks, trust me when I say that this drink puts the classic piña colada to shame.
Richly coconut-y and creamy, this drink is one you want to sip—no spinach detected. Worst case scenario (or best, you be the judge): come Friday night, you've got a great vehicle for your rum and a healthier take on a summery cocktail.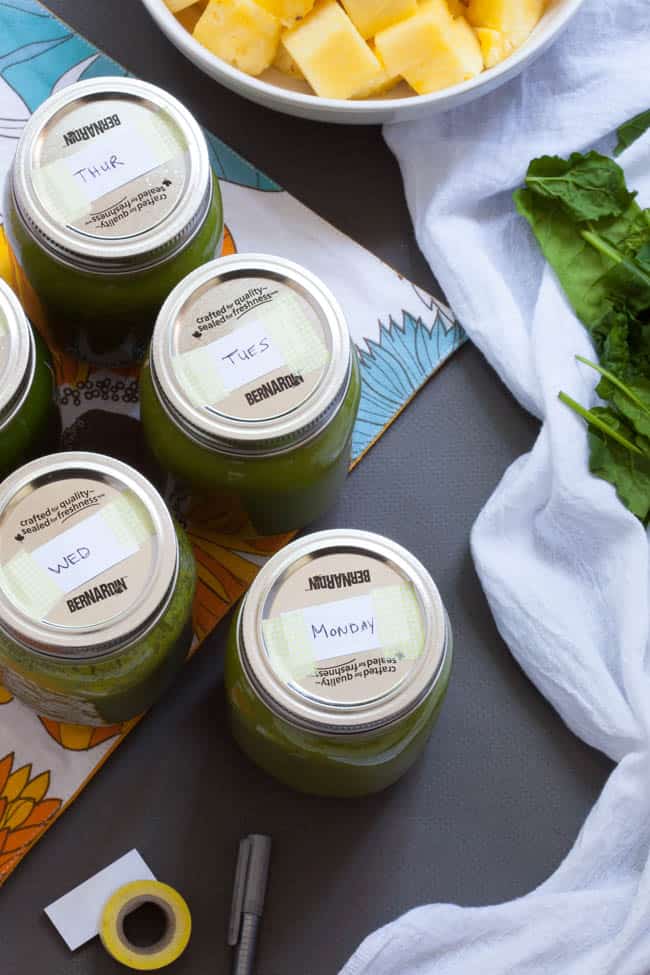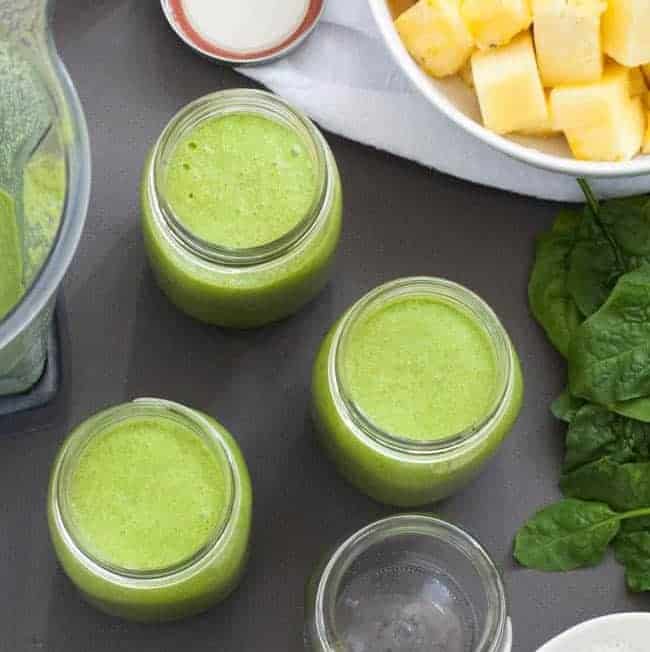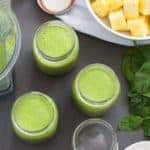 Print Recipe
How to Prep a Weeks Worth of Green Smoothies (and a recipe for Pina Colada Green Smoothies)
The simplest way to get your veggies, every day of the week.
Instructions
Layer the ingredients in a blender in the order listed (pineapple, spinach, protein powder, coconut, chia seeds, and liquids (coconut water and almond milk).

This will help with proper blending. You may need to do this in 2 or 3 batches, depending on the size of your blender.

Blend until smooth and then taste. If the smoothie is too sweet, consider adding in more spinach and almond milk. If it's not sweet enough, add a date or two.

Blend again until smooth. If you don't have a strong blender and you have pieces in your mixture, you may want to strain it.

Pour into 5 mason jars, leaving a little space at the top so it doesn't expand and pop the lid in the freezer.

Put the lids on and store in the freezer for when you're ready to use.

It's best to give the smoothie a few hours at room temperature to thaw or overnight in the fridge.
98