Salad is often my go-to lunch. I've mastered the art of packing salads ahead of time because who has time to chop veggies in the morning? Not me. Here are some tips I've learned along the way to keep lunch salads tasting fresh all week long.
Simply prep the greens, veggies, protein and dressing ahead of time, then toss in any-last minute ingredients on your way out the door in the morning.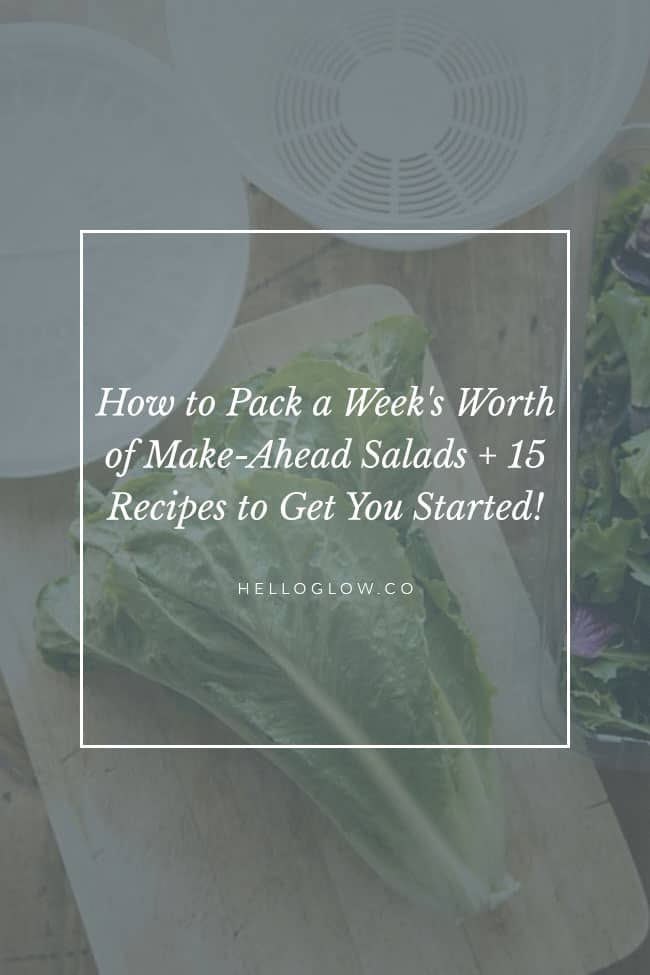 How to Prep Your Make-Ahead Salads
1. Gather Your Containers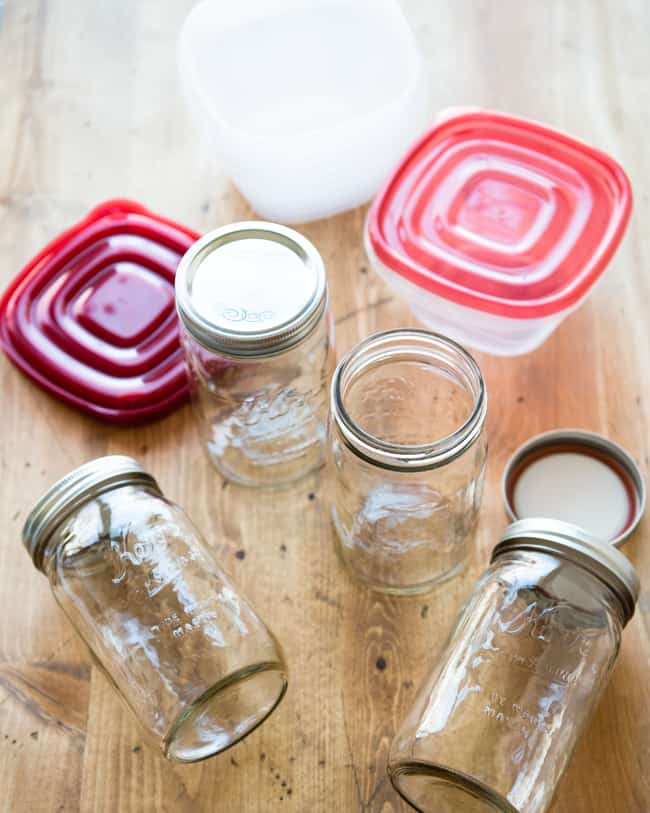 When it comes to packing the salads, my favorite way is to layer the ingredients in a quart-size canning jar. The other way is to use a resealable container. (If you use a plastic one, choose one that is BPA-free.)
These are nice because it's a little easier to eat the salad. The jar keeps the ingredients separate and I think they stay fresher. But, it's a personal preference.
2. Start with Chopped Veggies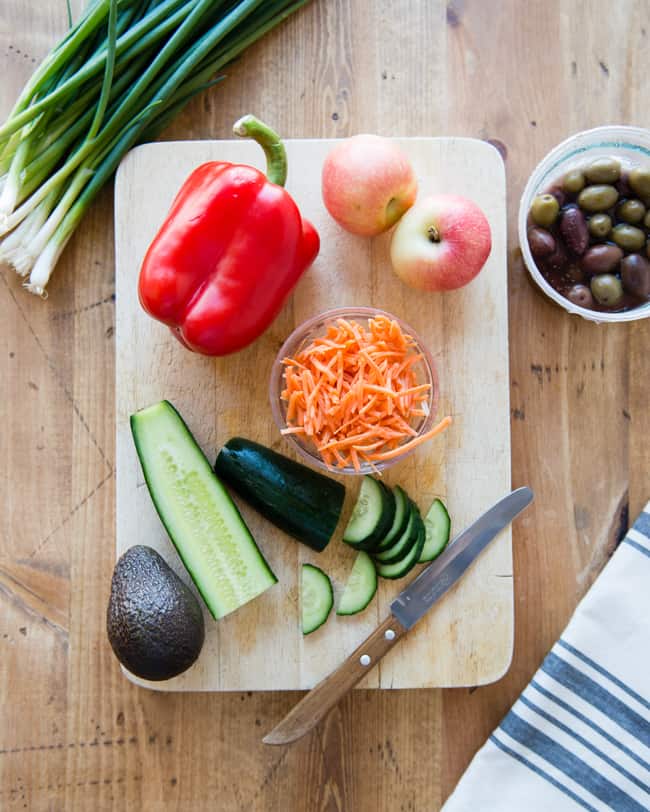 The best way to layer the salads is to start with the chopped veggies on the bottom and end with the leafy greens on top. This will help keep the greens from wilting. Hard veggies like carrots, celery, cucumber, and bell peppers will last all week long.
Softer veggies and most fruits, especially berries and avocado, won't last quite so long. They are better prepared the night before or morning of.
Chop the veggies all at once when you're prepping. Another time-saver is to buy pre-cut veggies. I love buying bags of inexpensive shredded carrots. Sunday afternoon or evening is a great time to tackle this task.
Add some more panache to your lunch by roasting a pan of veggies ahead of time and using them in salads all week long. Anything that comes in a jar, like artichoke hearts and olives, can be chopped ahead of time, but shouldn't be added until the day you're going to eat the salad.
3. Choose Your Greens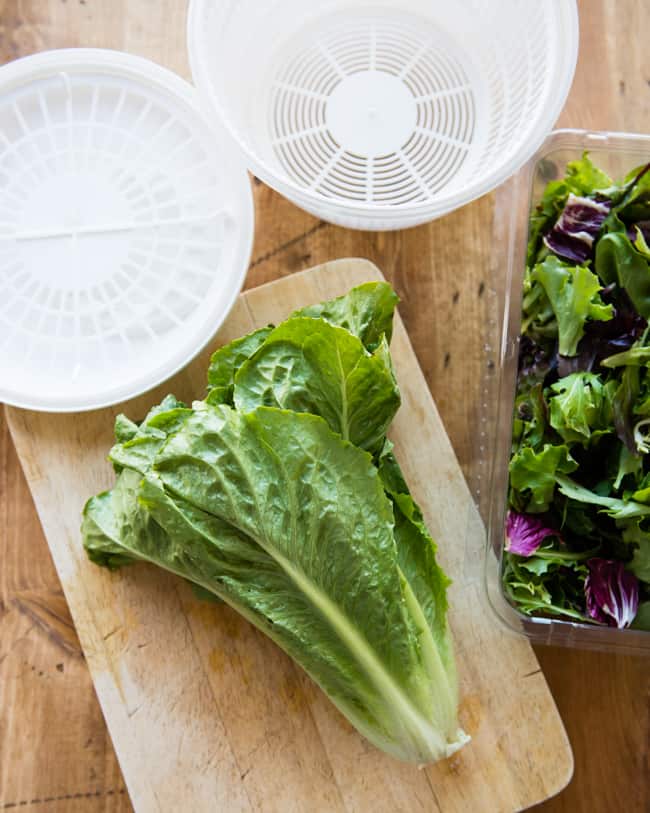 I like to buy pre-washed greens, either a spring mix or baby spinach, because it saves time washing and drying the greens. But it's also less expensive to buy a head of lettuce, and romaine is one variety that will stay nice and crisp all week long.
Do what works best for you. (I also have a penchant for raw kale salads, which also seem to last well.) I like to chop the lettuce, then give it a quick rinse, then spin it dry.
4. Pick Your Protein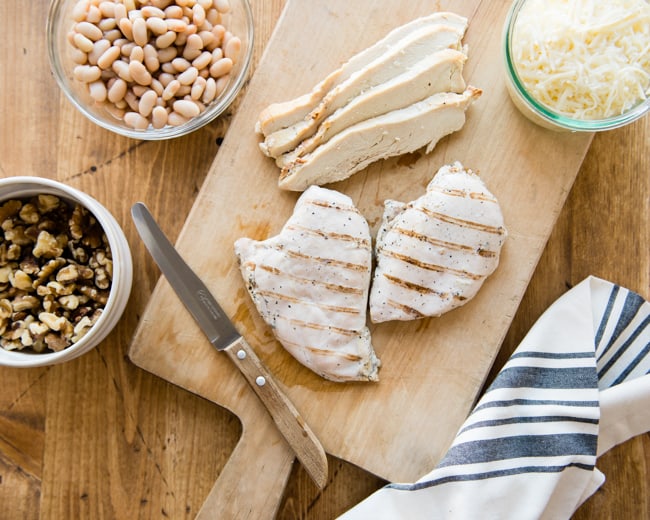 To make salads more hearty and filling, add protein. This could be canned beans, tofu, nuts, cheese, ham, chicken, etc. It's easy to prep them ahead of time by cooking a large batch of chicken and slicing it up, or using the slow cooker for pulled pork.
Canned beans come in handy, too. Nuts can all be chopped at once, cheese can be shredded, etc. Beans are usually fine to be added to the salad when they are being assembled, but store other proteins separately from the greens and veggies and add the night before or morning of also.
5. DIY Your Dressing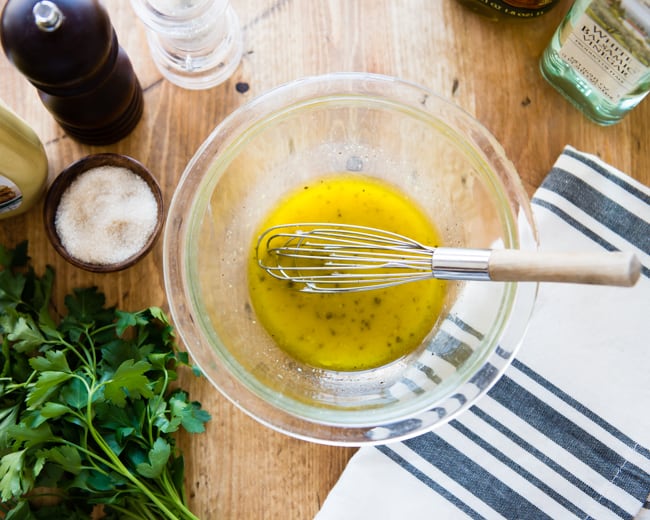 Dressing can also be made in advance. I make a very basic vinaigrette recipe that can be easily altered by adding fresh herbs, or a spoonful of jam to make different flavors to match your salad. Be sure to store the dressing separately. Small jars and containers come in handy for transporting the dressing and keeping it separate.
6. Day-of Add-ins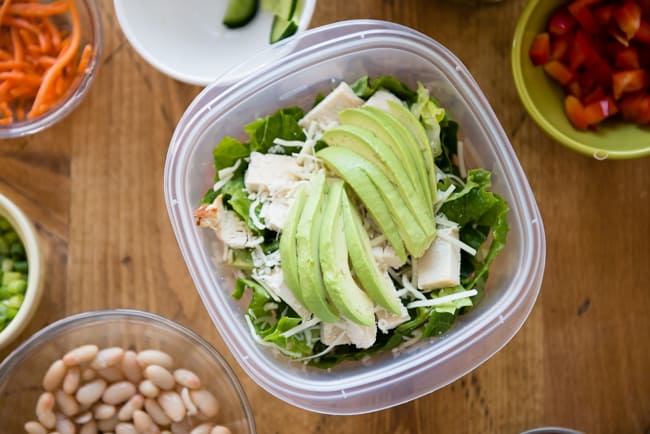 On the day you're going to eat the salad, quickly add the protein you've made ahead of time (chicken, meat, tofu, tempeh, etc) on top along with any toppings like sprouts, cheese, chopped nuts, seeds, olives, croutons or dried fruit, and any of the more perishable toppings like chopped tomatoes, berries, sprouts, and avocado.
You can prep all these ahead of time, store separately, then toss in your container in the morning—or even the night before if it's something that won't get soggy.
With a little bit of prep time you'll be enjoying yummy, healthy salads all week long!
15 Make-Ahead Salad Ideas to Get You Started
Need some inspiration? Try these make-ahead combos for your first salad-filled week.
1. Gut Healing Salad - Sauerkraut, Roasted Beet, Avocado, Quinoa, Spinach
2. Brain Food Salad - Smoked Salmon, Steamed Broccoli, Pumpkin Seeds, Brown Rice, Parsley
3. Low Carb Fuel - Roasted Cauliflower, Chickpeas, Quinoa, Chard
4. Anti-Inflammatory Cobb - Steamed Asparagus, Boiled Egg, Snap Peas, Avocado, Spinach
5. Deconstructed Sushi - Rice, Edamame, Nori Sheet cut into strips, Avocado, Radish, Pickled Ginger
6. Pesto Pasta - Small Tubular Pasta, Green Pea, Avocado, Kale, Parsley, Pesto
7. Magnesium-Packed - Lentils, Millet, Roasted Carrots, Arugula
8. Asian Noodle - Buckwheat Noodles, Edamame, Roasted Tofu, Carrot, Green Onion
9. Mexican Hit - Avocado, Black Beans, Rice, Sweet Corn, Tomatoes, Spinach.
10. Greek Holidays - Chickpea, Quinoa, Pine Nuts, Feta Cheese, Red Bell Pepper, Cucumber, Tomato
11. Mediterranean - Spring mix, Zucchini, Tomatoes, Chickpeas, Feta, Olives
12. Antioxidants Galore - Romaine, Blueberries, Red Bell Pepper, Avocado, Alfalfa Sprouts, Walnuts
13. Sweet Beet + Spinach - Baby Spinach, Roasted Sweet Potatoes, Beets, Roasted Turkey, Goat Cheese, Dried Cranberries
14. Crunchy Cashew Chicken - Shredded Cabbage, Cucumbers, Carrots, Roasted Chicken, Cashews, Green Apple
15. Protein Packed - Kale, Broccoli, Peas, Baked Tofu, Almonds, Dried Apricots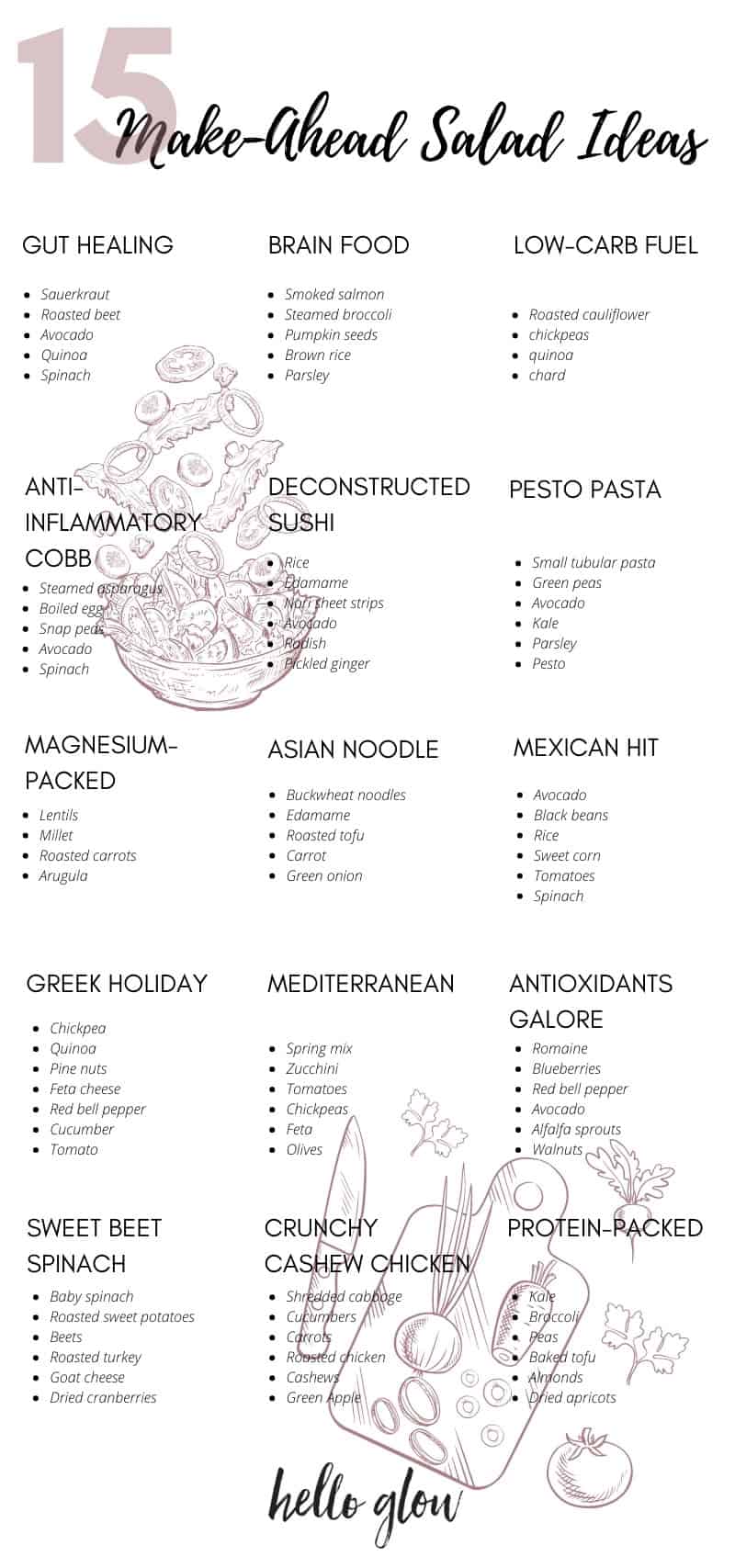 957