Known as the "plant of immortality," the aloe vera cactus plant can be found in desert regions of Africa and India, you can even find them in my backyard here in Southern California. How did it get it's fancy moniker? Thanks to the high levels of amino acids, minerals and vitamins. Aloe vera benefits the skin, hair, health and body. The next time you pass a bottle of this juice or gel in the market, or a plant at your local nursery, remember this list of ways to incorporate it into your beauty and health routine.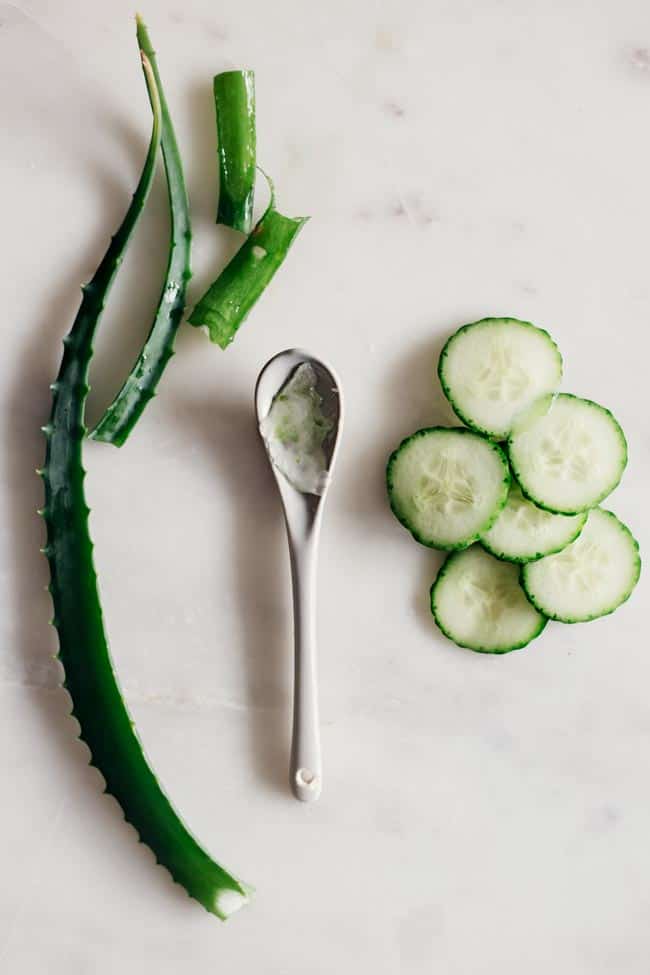 Sanskrit, the sacred language of Hinduism, has a name for aloe vera which means 'princess' or kumari. Not surprising, aloe vera has been known for centuries as an important ingredient in maintaining beauty and a healthy glow. Aloe is great for all skin types, whether you are lacking hydration, battling acne, or need to treat a skin condition like eczema. Aloe is versatile enough to treat them all!
Aloe's skin benefits:
moisturizing
anti-aging
reduces inflammation and eczema
treats acne
alleviates sunburn and insect bites
can be used as makeup remover
Healthy Scalp & Hair Mask with Aloe
The soothing benefits of aloe are fantastic for a dry or itchy scalp. If you dye your hair, this is also a great mask to alleviate some of the irritation caused by harsh chemicals. This mask is a pre-shampoo treatment and can be applied to dry hair. If you are treating your scalp, you'll want to concentrate it on your scalp, massage for several minutes and leave on for 10 minutes. If you are focusing on dry or damaged ends, apply the mask to the bottom half of your hair and leave on for 20-25 minutes.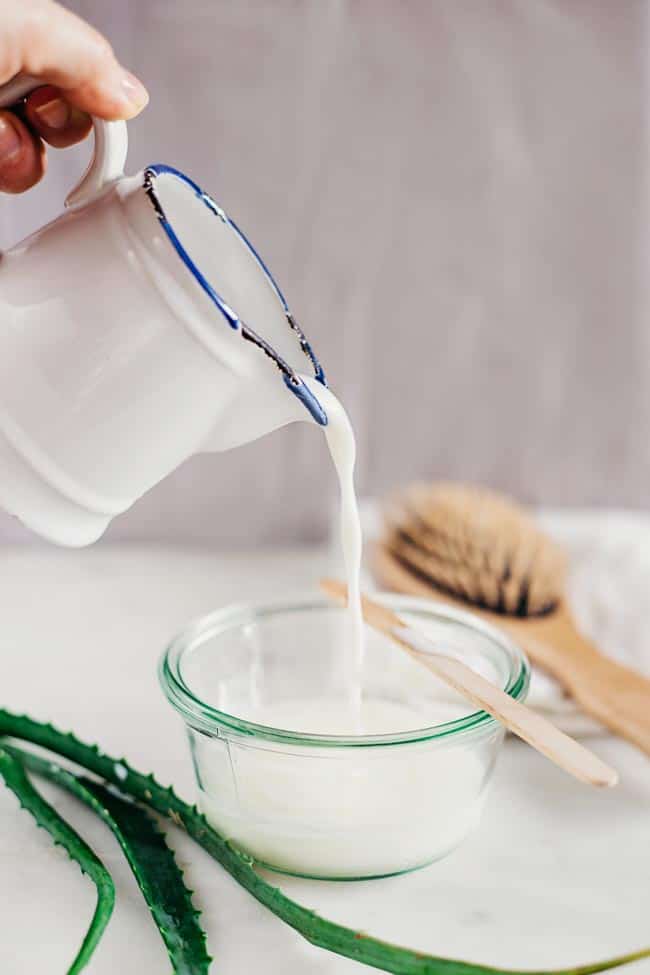 Mix ½ cup aloe vera gel with 1 tablespoon coconut milk. Apply to scalp and/or hair. If you want added hydration, put on a shower cap to let the mask heat up. You'll want to shower/rinse the mask off and then follow with shampoo and conditioner. This mask can be used once a week for healthy, shiny hair and scalp.
Aloe Health & Body Benefits
Aloe doesn't stop skin deep with its blessings. Taken internally or incorporated into a smoothie, juice or food, aloe can ease a whole host of undesirable ailments. Reducing cholesterol, promoting digestive health with its anti-inflammatory properties, and even fighting bad breath are reasons to give this plant a try. Health experts recommend drinking 1-3 ounces of aloe vera juice daily.
promotes digestive health and reduces constipation
helps fight bad breath
reduces dandruff
reduces cholesterol
maintains oral health
detoxifying
increases hair growth
Hydrating Aloe Water Recipe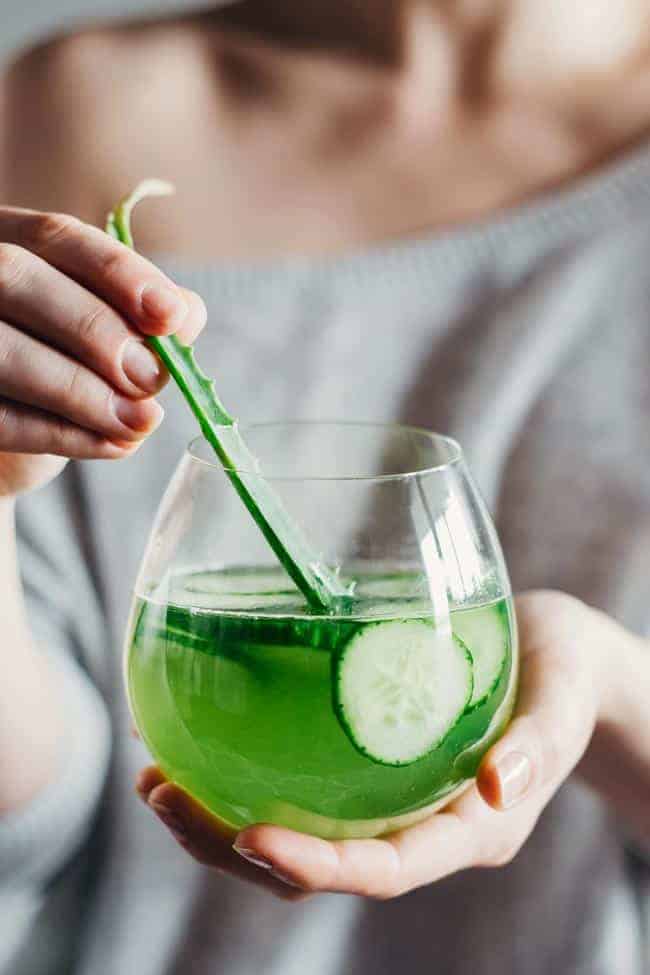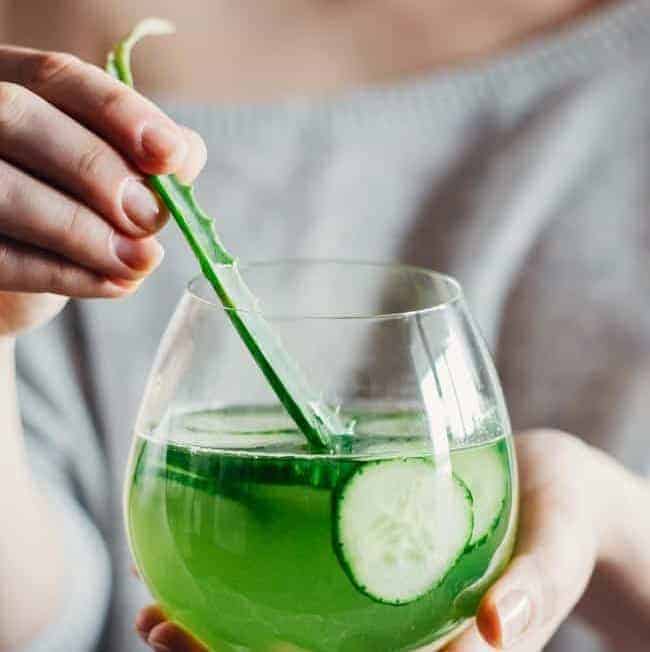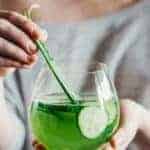 Print Recipe
Hydrating Aloe and Cucumber Water
Loaded with minerals, vitamins and antioxidants, this delicious drink has a slightly sour taste and makes the perfect refreshment after your workout.
Ingredients
2

aloe vera leaves

1

cup

unsweetened coconut water

1/2

small cucumber

roughly chopped
Instructions
Cut the aloe vera leaves into halves lengthwise, then use a spoon to scoop the translucent gel, and add it into the blender, together with the coconut water and cucumber.

Process, strain the liquid to eliminate the cucumber pulp, then drink the liquid straight away.
167