I have a soft spot in my heart for aloe plants. As someone with a notoriously brown thumb, houseplants have never really been my cup of tea. But thanks to sensitive skin and an occasionally fiery immune system, I took a chance one day and brought a few aloe plants home from the farmer's market.
At the very least, I thought I could get some use out of them before they'd take the walk of shame to the trash can. But ten years, two pets, and three houses later, those same aloe plants are thriving. Seriously, thriving! And not a day goes by that I don't use them in some way or another.
Using fresh aloe is a bit different (and better for you!) than using the bottled kind. Here's how to harvest and use aloe so you can get the greatest benefit from this magical plant.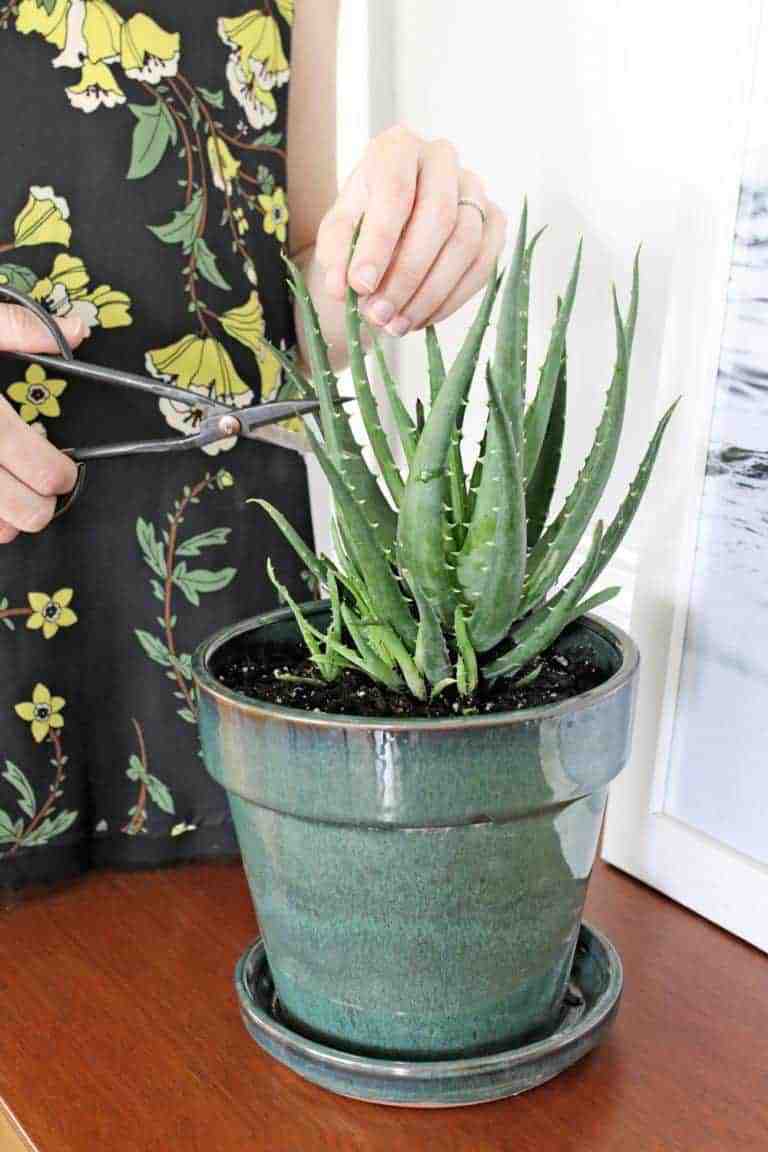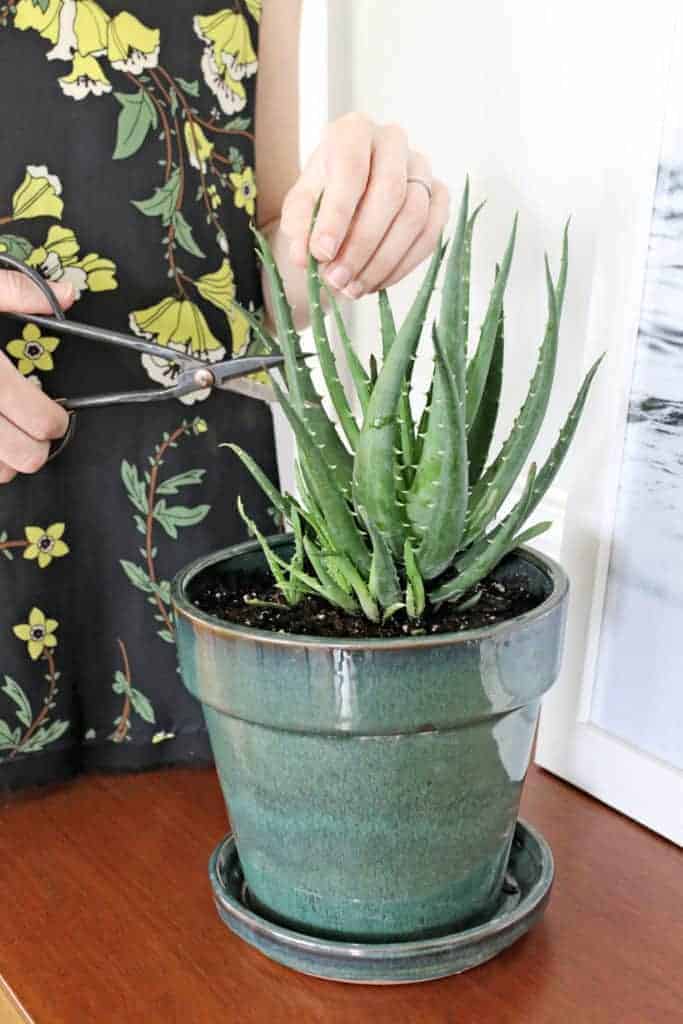 How to Harvest and Use Aloe Vera
By now, I think we're all familiar with the topical uses of aloe. It's a fabulous healer for burns, cuts, and other skin ailments, and it has beauty-boosting properties to boot. Thanks to an array of vitamins, minerals, and phytonutrients, aloe vera is an anti-inflammatory powerhouse.
But it's not just your skin that reaps the benefits. Aloe's healing properties work just as well on our insides as they do on our outsides. When eaten, aloe vera aids digestion, decreases inflammation, and promotes healing of the digestive tract (source).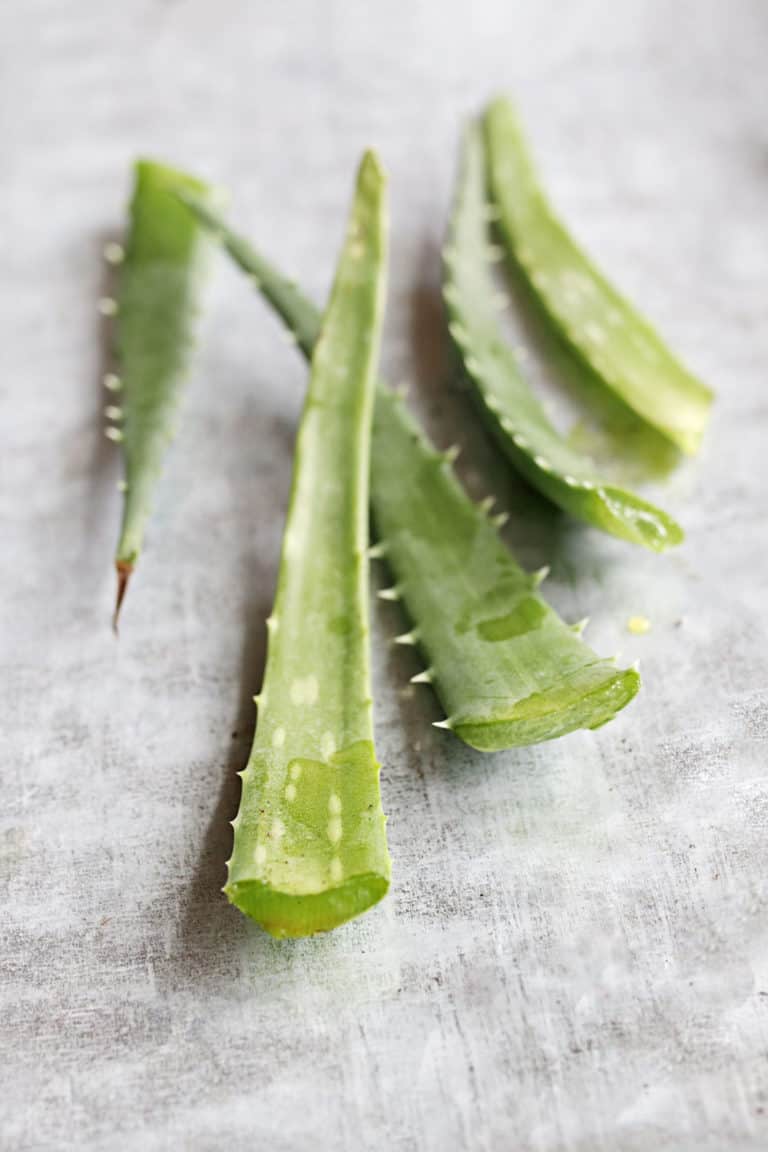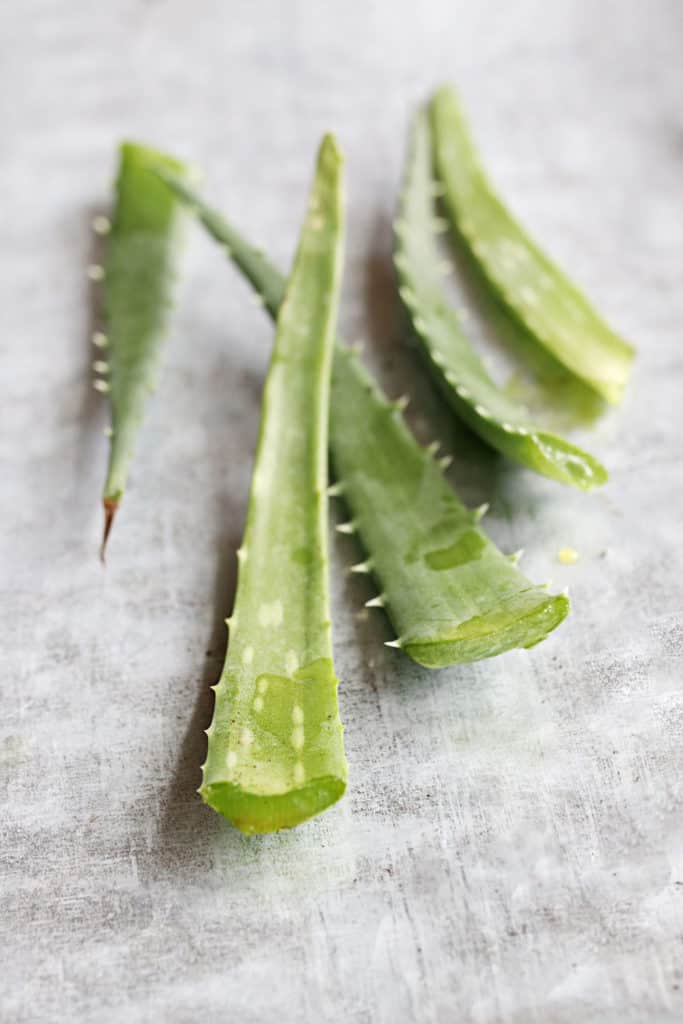 And, for those of us with brown thumbs, aloe is one of those set-it-and-forget-it plants that does best when you don't over-tend to it. With minimal effort, aloes will thrive in most households—even with little sunlight and water.
Simply choose a large enough pot and some dry, sandy soil (like the kind you would buy for cacti), and place it near a bright window. Direct sun can burn the leaves, so don't panic if your home doesn't get a ton of sunlight. Water it every few weeks, letting it dry out between waterings. That's it.
But, if growing the plant isn't your cup of tea, you can usually find large aloe leaves at organic stores or health food markets. Removing the gel from store-bought leaves is the same as harvesting it from a plant, so read on or watch the video below to see how it's done:
If you plan to eat the gel, be forewarned: aloe leaves contain aloin, a yellowish-orange sap that can cause impressive diarrhea. This sap is produced near the stalk, so after removing a leaf, let the aloin drain from the end and discard it before consuming the gel.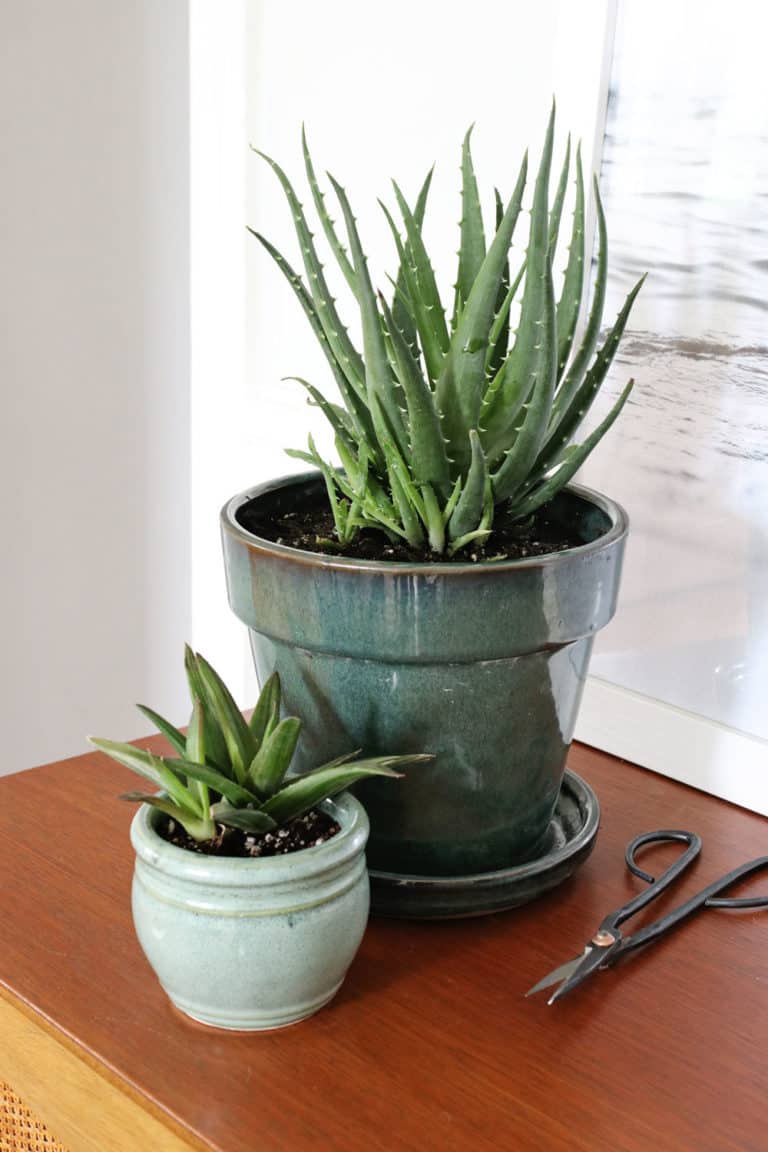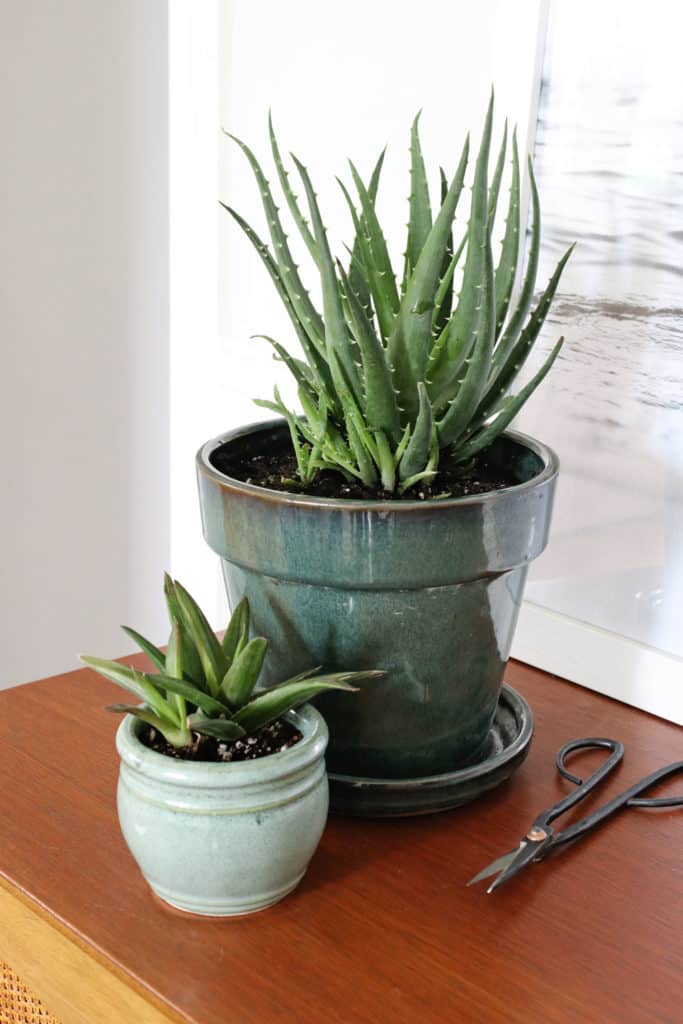 On those occasions where you can't use all the gel immediately, feel free to toss it in the refrigerator for a few days. Just keep in mind that aloe does degrade slightly over time, so don't let it sit for too long.
For long-term storage, simply cut the leaf (with or without skin) into cubes and freeze until solid. Transfer the chunks to a lidded container and store in the freezer until ready to use.
How to harvest aloe
Supplies
Scissors or sharp knife

Cutting board

Jar with lid

Mature aloe plant with thick leaves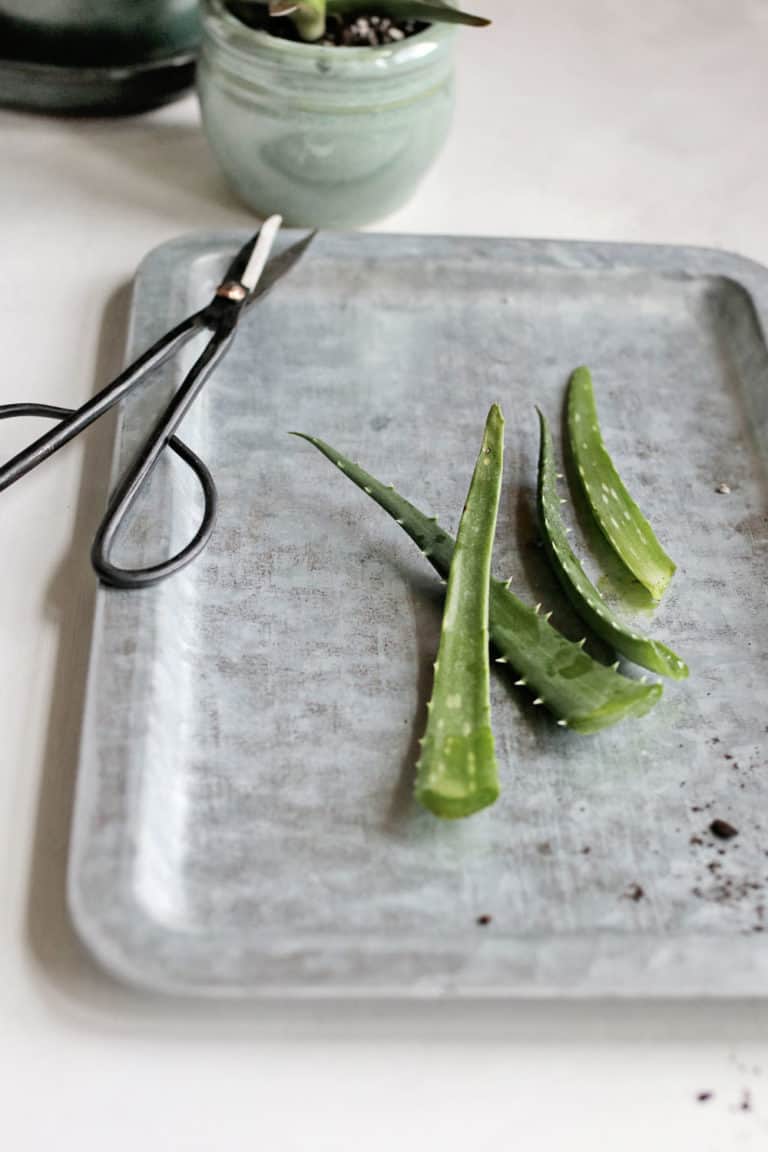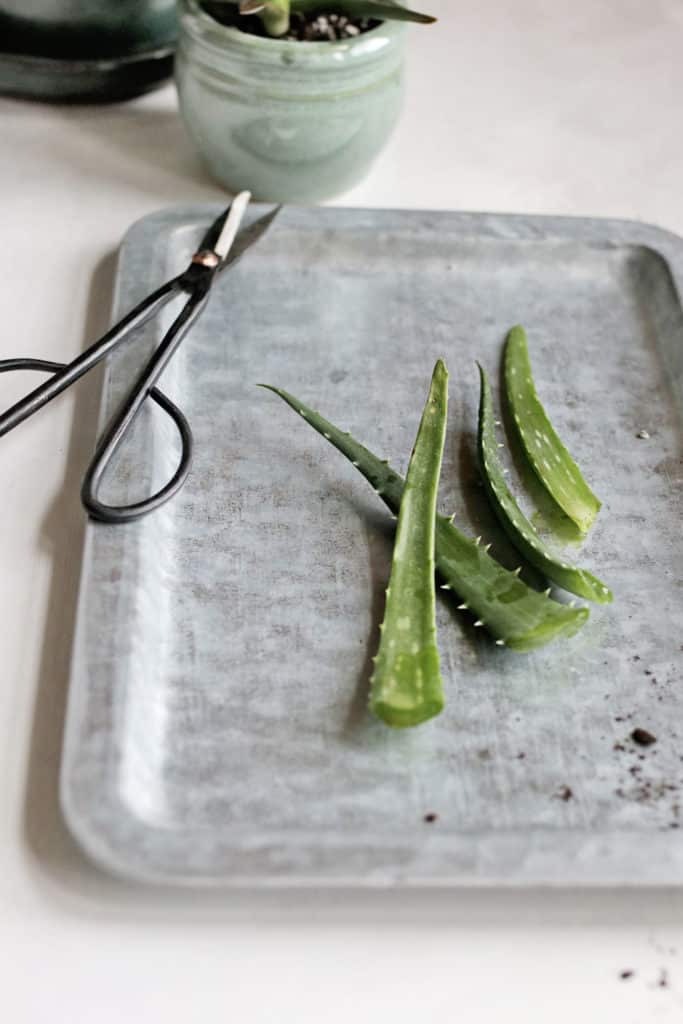 Instructions
Choose a large, unblemished leaf from a mature aloe plant.

Since most of the nutrients are housed near the stem, use sharp scissors to cut the leaf as close to the stem as possible.

Let the yellow sap drain from the leaf and discard, then rinse the cut leaf and pat it dry.

Lay the leaf on a flat surface and use a serrated knife to remove the top piece of skin. Flip the leaf over and remove the bottom piece of skin. Discard the remaining stalk and rind.

Apply the gel directly to skin or freeze and apply to inflamed skin, cuts, or wounds. To eat, add to smoothies, drinks, or salad dressings immediately after harvesting.

This article was medically reviewed by Dr. Gina Jansheski, a licensed, board-certified pediatrician who has been practicing for more than 20 years. Learn more about Hello Glow's medical review board here. As always, this is not personal medical advice and we recommend that you talk with your doctor.
678