Every year, I get ambitious and decide to make holiday gifts for everyone on my list. I even go so far as to pick out the crafts and recipes and make a shopping list.
Then, every year without fail, that gift list ends up being twice as long as I initially thought—and the days end up being half as long—and I end up making the same thing for everyone: infused booze.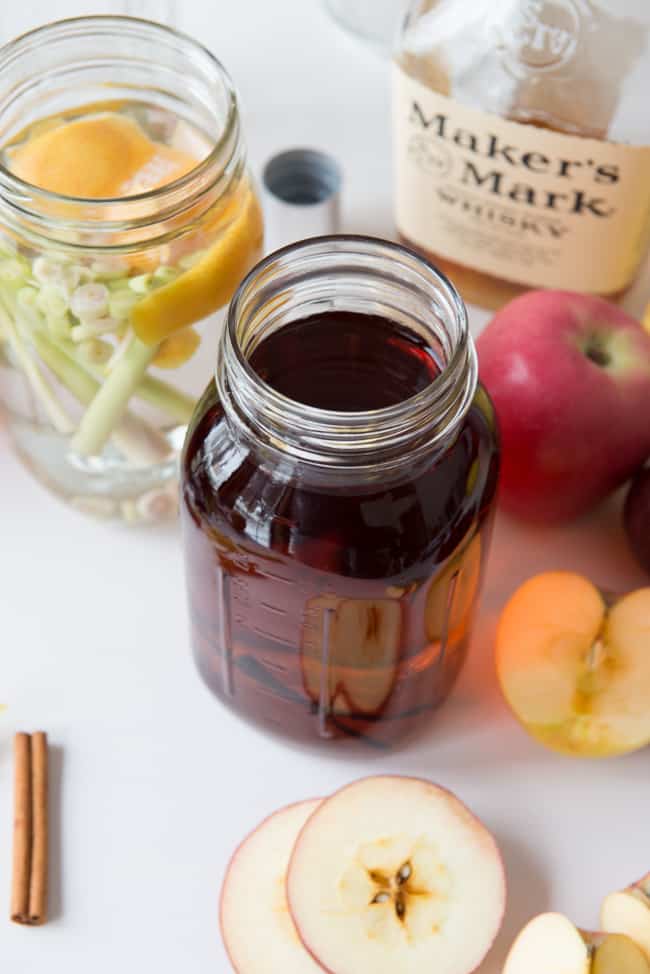 Conducive to making in bulk, customizable, shelf-stable, and beloved by almost everyone, infused alcohol is a unique and thoughtful, yet insanely easy, way to check many people off your list. Just make sure you start in advance to give yourself lead time for infusing the alcohol—usually about 3 weeks.
Bonus: You can enjoy the spoils of your (very minimal) labor, too!
How to Infuse Booze
The only even slightly tricky part of infusing alcohol is narrowing down the flavors and deciding the amounts. You can infuse with almost anything: herbs, fruits, vegetables, nuts, coffee, spices, candy...you get the idea.

Supplies needed
Canning or mason jars, or large glass bottles with lids (make sure you can fit your ingredients in the mouth of the bottle)

Alcohol of choice

Infusion ingredients

Packaging/ribbon and labels for gifting
Instructions
Put your infusion ingredients into the alcohol, cover tightly, and store in a cool, dark place (a pantry is great). If you're using fresh fruits, veggies, or herbs, be sure to thoroughly wash and dry those ingredients first—use organic if possible.
Remove the ingredients after they've infused to your liking (see tips below), then strain the booze into your desired jars, or just keep it in your infusion vessel to use at home. If you're gifting these, include a label, some pretty ribbon or packaging, and perhaps a cocktail recipe. It's really that simple!
Infusing Alcohol Tips
To make sure you are able to infuse long enough, it's best to start early—about

3 weeks before you want to gift or use the booze

. If you get the flavor you want before that time, simply fish out or strain out the infusion ingredients and store the booze until you're ready to use or gift it.

The

ratio of infusion ingredients to alcohol varies

. If I'm freestyling with my own combo, I look up a similar recipe (you can consult the ones below) and use that as a basic guideline. You can always adjust.

If you accidentally infuse too long, you can

dilute with plain

,

unflavored booze

as a last resort.

The longer everything sits in the alcohol, the stronger the flavor. It's a good idea to

taste your mixture every 5 days

or so to see where it's at.

Generally,

the more porous and intensely flavored the ingredients (coffee beans

,

fresh herbs), the quicker they will add flavor

. This isn't an exact science, which is why it's good to taste as you go. If your lemon-basil vodka is getting too herb-y, remove the basil halfway through and let the lemon peel sit alone a bit longer.

Vodka

,

brandy

,

and whiskey

are my favorites to work with. The booze is less nuanced, so complementary flavor profiles are easier to figure out.

Rum or tequila

will also work, although they lend themselves mainly to warm spices like cinnamon or clove or tropical fruits like mango and lime.

Gin is a little trickier

since the juniper berry flavor is already very pronounced. But I have seen recipes for infused gin using cucumber, citrus, lavender, and earl grey tea.

Middle-shelf alcohol

is your best bet. No need to buy the most expensive, but don't go bargain basement either! No amount of flavoring can salvage cheap booze. :)

If working with citrus

, use only the peel—where the oils of the fruit are contained—and make sure to scrape off the bitter pith before using.

If you have trouble picking a flavor,

think about how you would use the alcohol

. Is it meant for sipping or to use in mixed drinks? For instance, if your infused vodka will be used in

Bloody Marys

, think about what will work best with that flavor profile.

Northwest Edible has a very thorough

tutorial

on this subject, including some guidelines for what flavors go with what booze, and

Boozed and Infused

is a great resource for recipe inspiration.
9 Infused Alcohol Recipes
All these measurements are suited to mix with 32 ounces of booze. Use more or less depending on how intense or subtle you like the flavor and if you're making it in bigger batches.
Bourbon / Whiskey Infusions

1. Coffee-Vanilla Bourbon
2 vanilla beans (split down the middle) + ½ cup coffee beans slightly crushed with a mortar and pestle—or a plastic bag and wooden spoon
2. Cherry-Vanilla Bourbon
2 vanilla beans (split down the middle) + 8 ounces dried or fresh cherries (no need to pit)
3. Apple-Cinnamon Whiskey
2 medium apples, peeled and chopped (use green for tart, Honeycrisp for sweeter) + a handful of cinnamon sticks
Vodka Infusions

4
.
Lemon-Basil Vodka
1 bunch fresh basil leaves + peel of 2 medium lemons
5
.
Cranberry-Lime Vodka
1 cup fresh cranberries + peel of 2 limes
6
.
Grapefruit-Lemongrass Vodka
Peel of 2 grapefruit + 6 stalks lemongrass (cut these if needed)
Brandy Infusions

7
.
Cardamom-Fig Brandy
2 whole cardamom pods (left intact) + 1 cup dried or fresh figs, halved
8
.
Plum-Cinnamon Brandy
2 plums or prunes, pitted and quartered + a handful of cinnamon sticks
9
.
Chai-Pear Brandy
Steep 2–3 chai tea bags in the brandy; remove and infuse brandy with 2 pears, sliced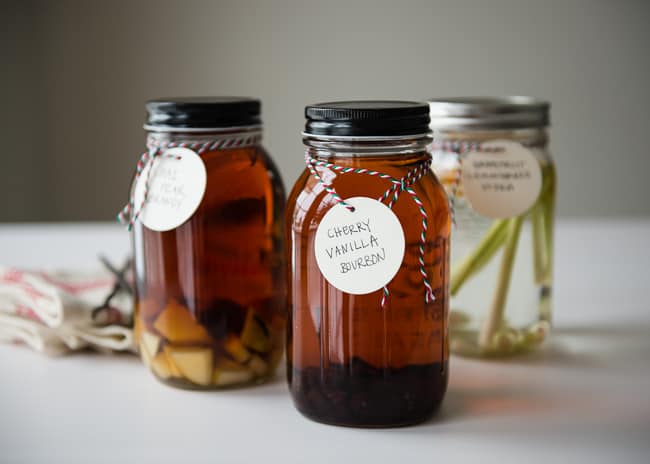 What will you be infusing this holiday season?
645