This post was created in partnership with Everclear® Grain Alcohol. All thoughts and opinions are my own.
Spring cleaning probably isn't the first thing that comes to mind when you see a bottle of grain alcohol—but it's high time we change that! Because of its high alcohol content (85 percent alcohol by volume, if you're curious), grain alcohol makes an effective disinfectant.
It's time to add a bottle of Everclear® Grain Alcohol to your spring cleaning toolkit. It tackles mold and mildew, shines chrome and freshens fabrics like a dream. Spray it on windows, glass, countertops and fabric to cut through dirt and grime and get rid of germs.
And unlike other natural cleaning ingredients, grain alcohol is both color and fragrance-free, so it won't leave behind any off-putting smells or stains when you're done. It's truly one of the best supplies to make your home shine! Here are 11 simple ways to use this magic ingredient:
In the bedroom & living room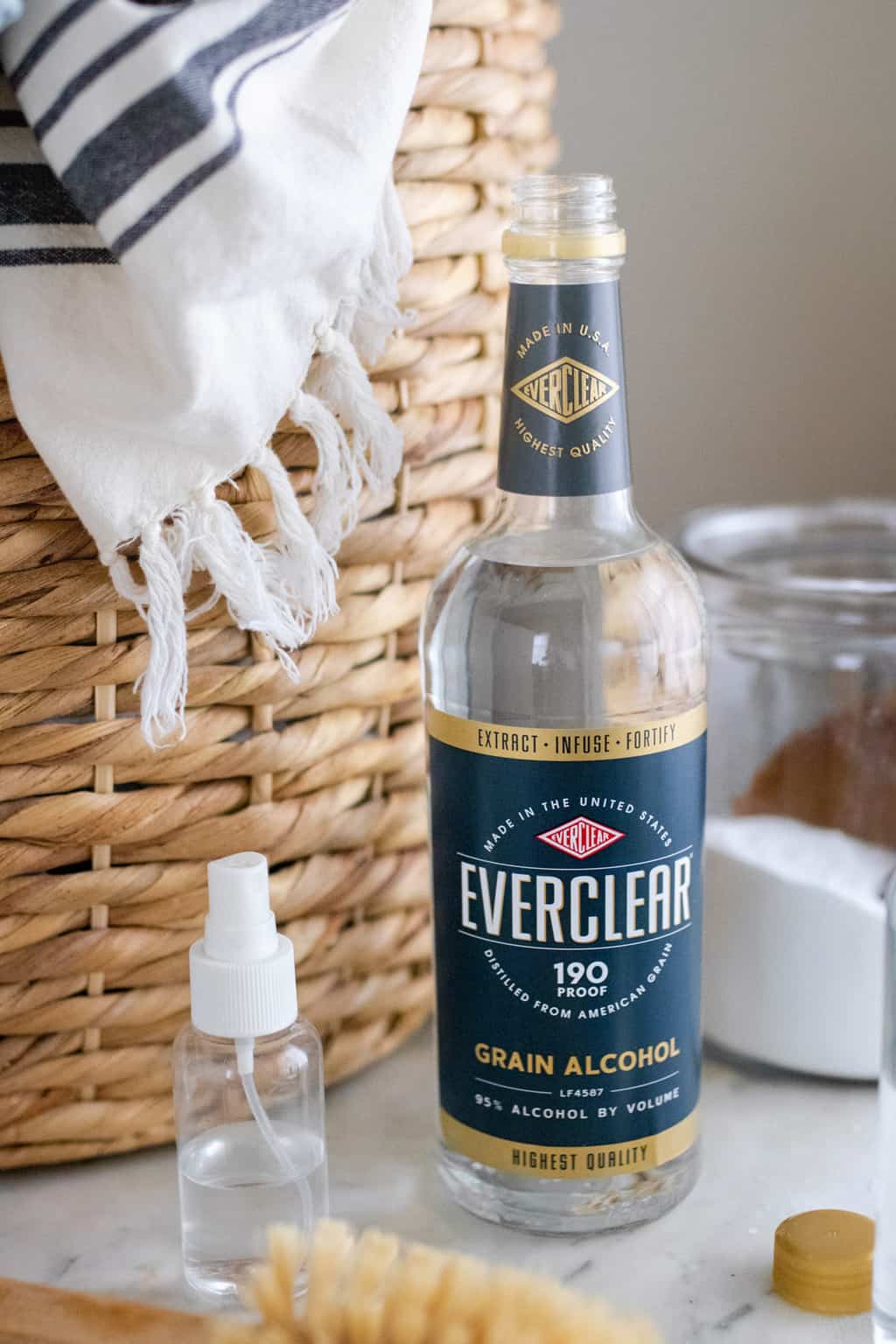 1. Disinfect your mattress
Pour Everclear in a spray bottle and spritz directly on your mattress to disinfect and deodorize. For a little extra oomph, add 15 drops of lavender or tea tree essential oil per ounce of alcohol.
Then throw the windows open and use the power of sunlight to help air everything out. Let the mattress dry thoroughly before making the bed.
2. Clean windows & glass
Whip up this lemon basil glass cleaner to clean glass surfaces and windows. Combine ½ cup Everclear, 1 cup tap water, 3 tablespoon white vinegar and 3 drops of dish soap in a 16-ounce glass spray bottle and your house will shine in no time.
If you have kids or pets, you know how quickly prints can appear on glass surfaces. But you don't need to wash the whole window just to remove pesky prints. If you'd like to restore your windows to their streak-free glory, pour some Everclear on a dish towel and buff in small circular motions to get rid of fingerprints.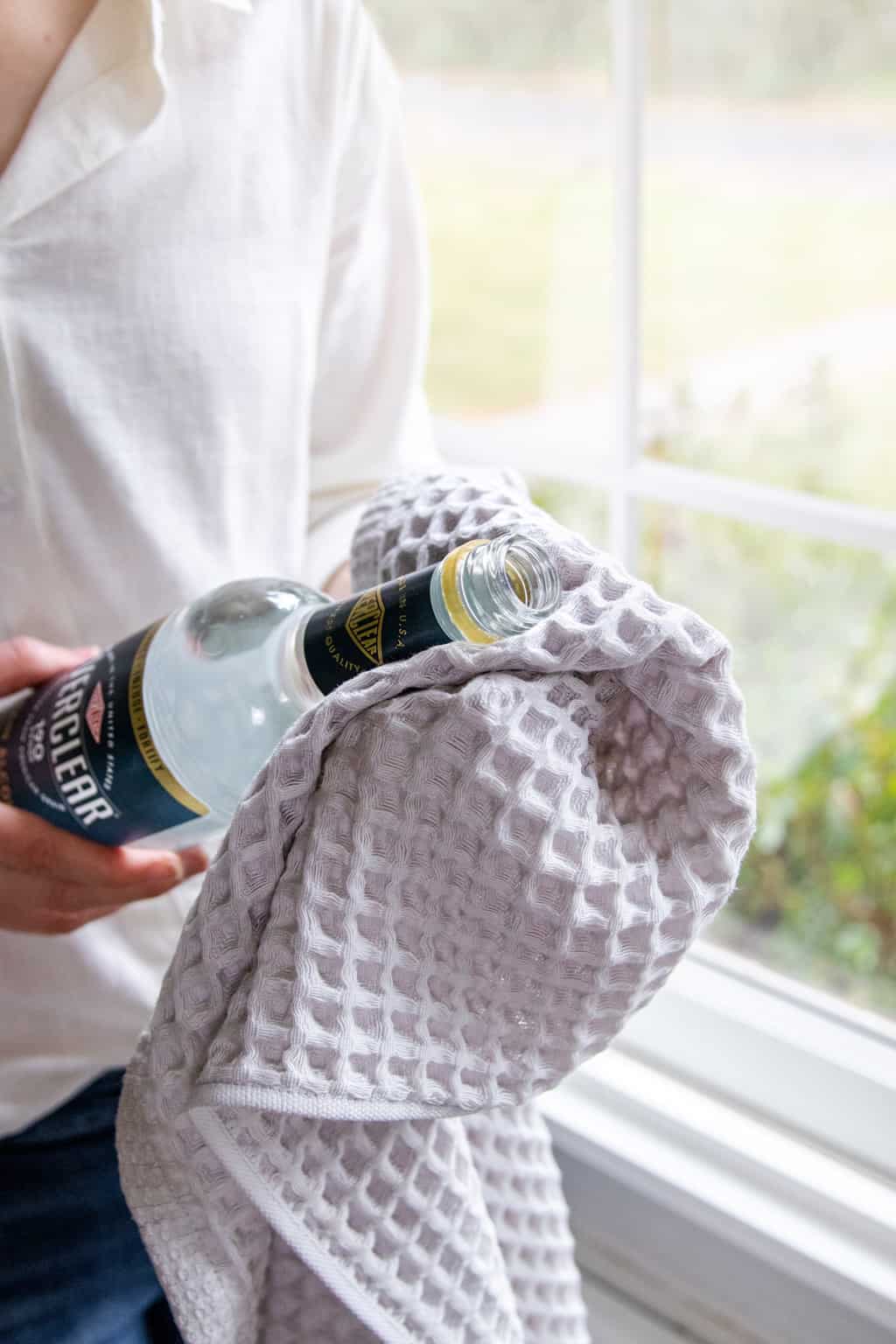 3. Clean Up Your Furniture
Combine ½ cup grain alcohol with ½ vinegar and 1 cup water for a simple but effective way to clean sofa cushions, car seats, even rugs. Mildly acidic white vinegar dissolves dirt and gunk in fabric and alcohol helps kill germs and deodorizes. Add essential oils to leave fabrics with a nice, fresh scent.
Spray liberally on dirty upholstery and scrub using an old rag. Or lightly spritz on curtains, rugs, and furniture to quickly get rid of smells.
4. Freshen the air
While the smell of grain alcohol itself may not be super appealing, it's actually a great odor neutralizer. Fill a mister bottle with ½ cup Everclear and ½ cup water and spray around the house to get rid of weird odors.
To add scent, pour in 40-60 drops of essential oil to the alcohol and let sit for 5 minutes before adding the water. Then spritz away! For a longer lasting scent, make a simple DIY reed diffuser and add your favorite essential oils.
In the bathroom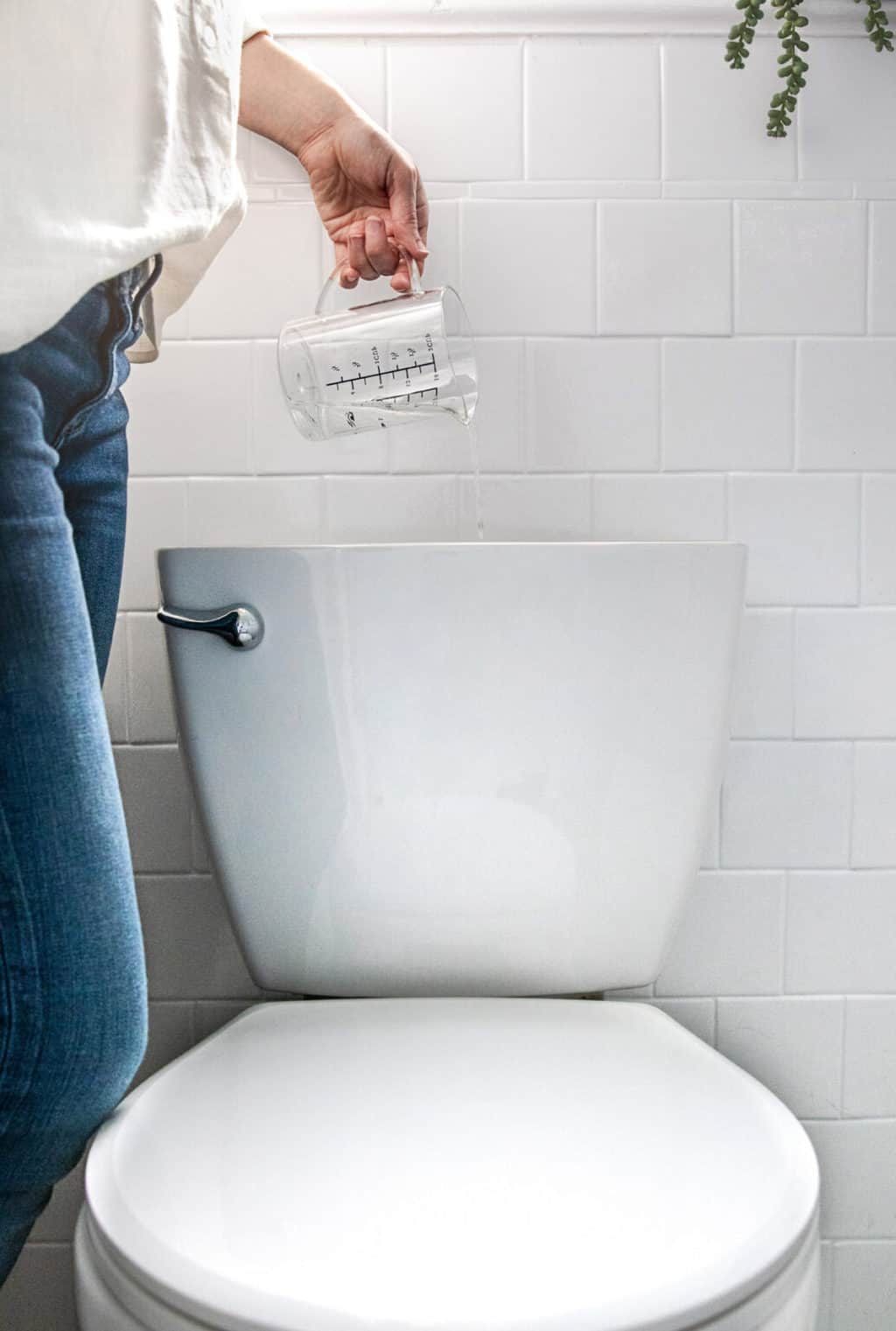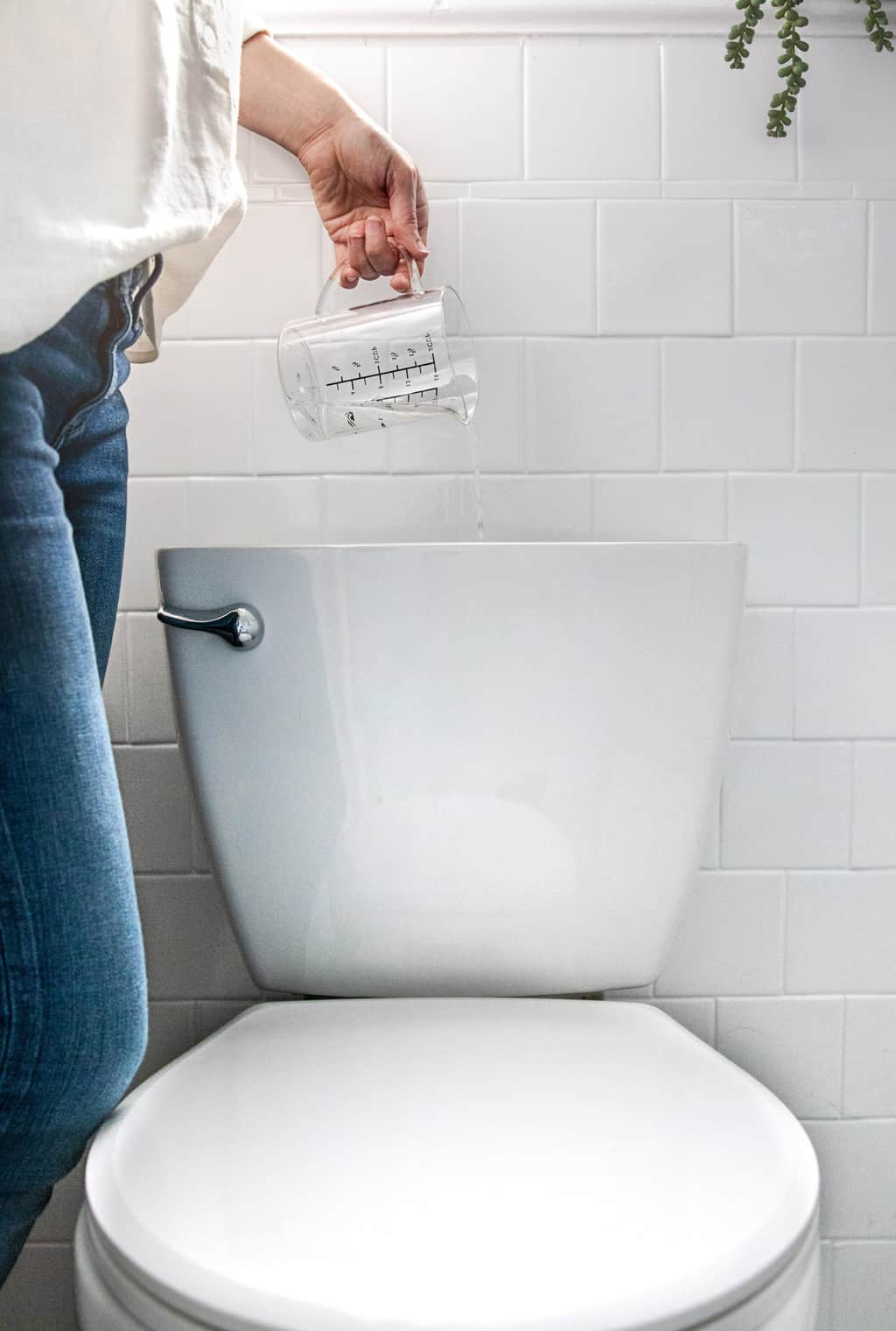 5. Clean the toilet bowl
There's nothing I hate more than cleaning the toilet. (Even just typing that sentence icks me out.) To stretch the amount of time between cleanings, pour ½ cup of Everclear in the upper toilet tank once a week. As you flush, it disinfects the toilet bowl and keeps buildup to a minimum.
6. Simple shower cleaner
Grain alcohol is excellent at cutting through grime. Simply spray undiluted Everclear on shower walls and let sit for 20 minutes then use a sponge to wipe down walls, then rinse and let dry.
You can also use as a daily shower cleaner by combining 1 part Everclear with 1 part water in a spray bottle. Spritz on walls everyday to prevent buildup. Add essential oils like lavender and eucalyptus for a shower spray that leaves behind a pleasant scent.
In the kitchen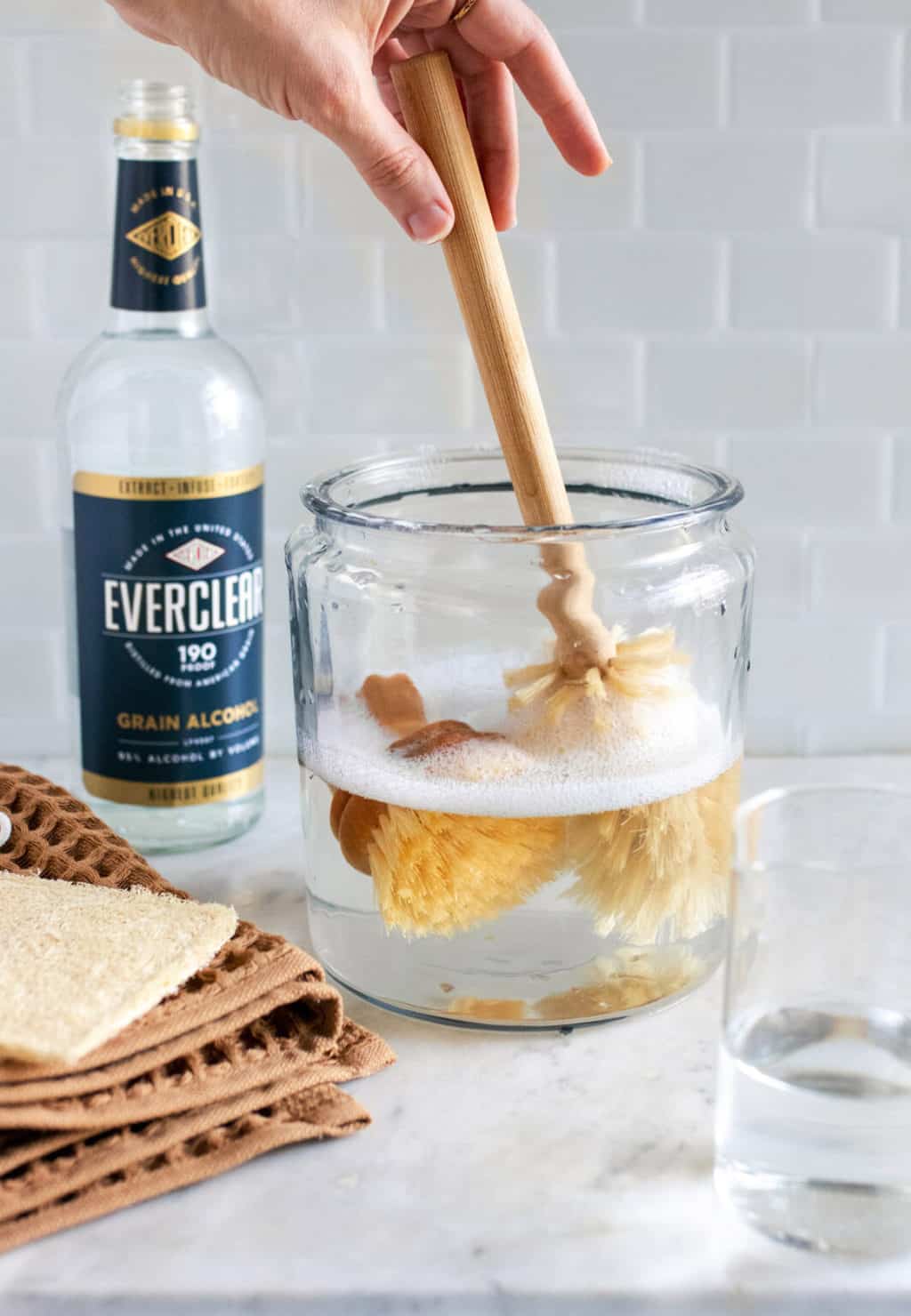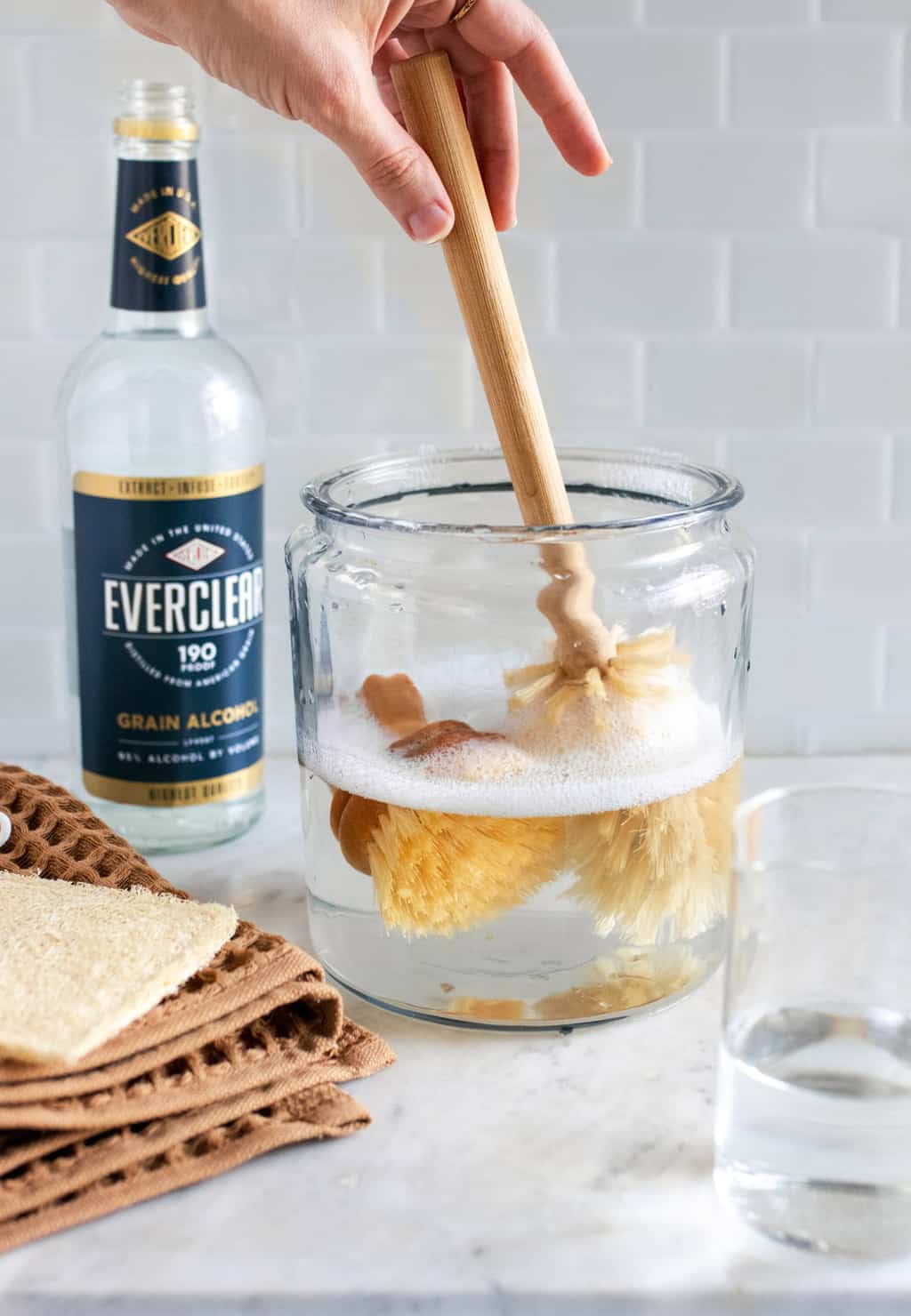 7. Refresh sponges and dish brushes
Instead of throwing away your dish brushes away when they start to get gunky, give them a thorough soak to kill germs and get rid of grime. Combine 1 cup Everclear with 1 cup water and a few drops of dish soap either in the sink or in a bowl.
Submerge your sponges or dish brushes and let them soak for 20 minutes. Rinse well and let dry before using.
8. Shine stainless steel appliances
What is it about stainless steel that attracts dust and fingerprints like a magnet? To make your appliances look shiny and new, combine water and Everclear in a 1:1 ratio in a spray bottle. Spritz onto appliances and wipe away. The alcohol evaporates quickly and doesn't leave a residue.
You can also simply pour some Everclear on a soft towel and gently buff away fingerprints. As an added bonus, it disinfects high-touch areas like handles, buttons and anywhere else germs tend to accumulate.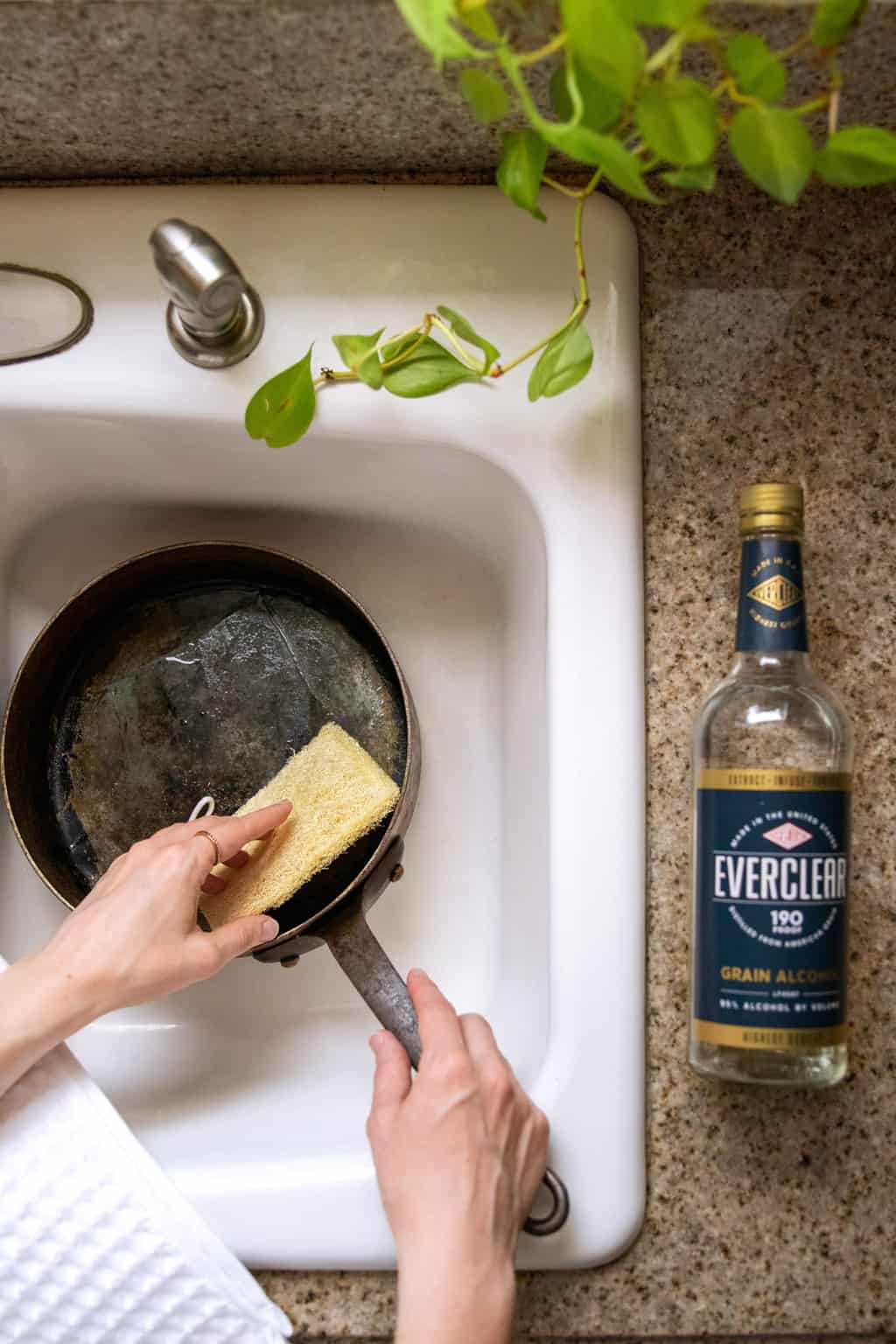 9. Degrease pots and pans
Sometimes, no matter how hard you scrub, pots and pans just don't seem to want to get clean. In those instances, Everclear can help cut through tough grease.
Simply pour a splash onto greasy pots and pans, let it sit for a few minutes then scrub thoroughly. Rinse it out and follow up with regular dish soap and water.
In the laundry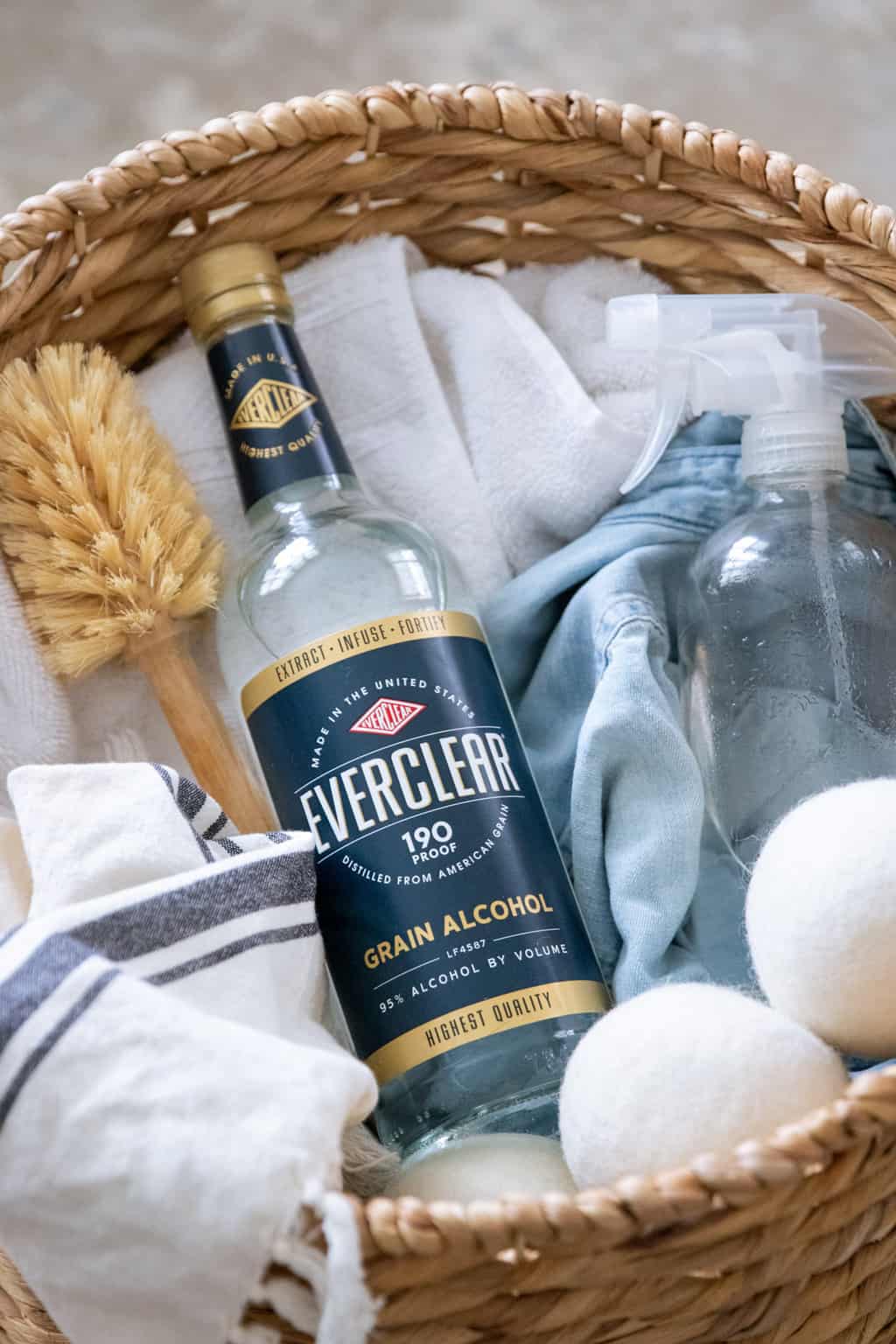 10. Deal with mildew in laundry
Have you ever forgotten a load of laundry in the washing machine for days, only to find it later reeking of mildew? Simply add ½ cup of Everclear to your washing machine as the tank fills. Pause the machine and let your clothes soak for 20 minutes to tackle mildew in laundry. Resume the wash cycle and let it continue as normal.
11. Remove odors from fabric
Whether you've been hanging out by a campfire or you're simply between weekly washings, grain alcohol really shines as a fabric odor remover. Combine 1 cup Everclear with ½ cup water and spray on clothes. As it evaporates, it removes the musty odors from the fabric.
Bonus: Whiten whites
Lighten your laundry load and keep your whites bright and spotless with the aid of Everclear. Here are three ways you can do that, from spot treatments to disinfecting.
Do not use on silk or dry-clean only clothes.
You can find Everclear at your local retailer or online via Cask Cartel, Caskers, or Drizly. You can also search Everclear's product locator page online.
70