You know what's the total pits? Insomnia. Especially the kind caused by stressing out about not being able to sleep. It's its own form of cruel and unusual punishment. But whenever sleeplessness rears its ugly head, I turn to my natural medicine cabinet for relief.
Recently, I've been having the best luck with melatonin, and when I saw melatonin gummies at the store, I knew they were onto something. No tea to brew, tinctures to swallow, or pills to pop? Sign me up. And just like our tummy-soothing charcoal gummies, they're fun to eat in addition to being functional.
Just eat a few of these cherry gummies at bedtime, and you're ready to catch some zzz's. Oh, and the best part? You control the dosage and ingredients.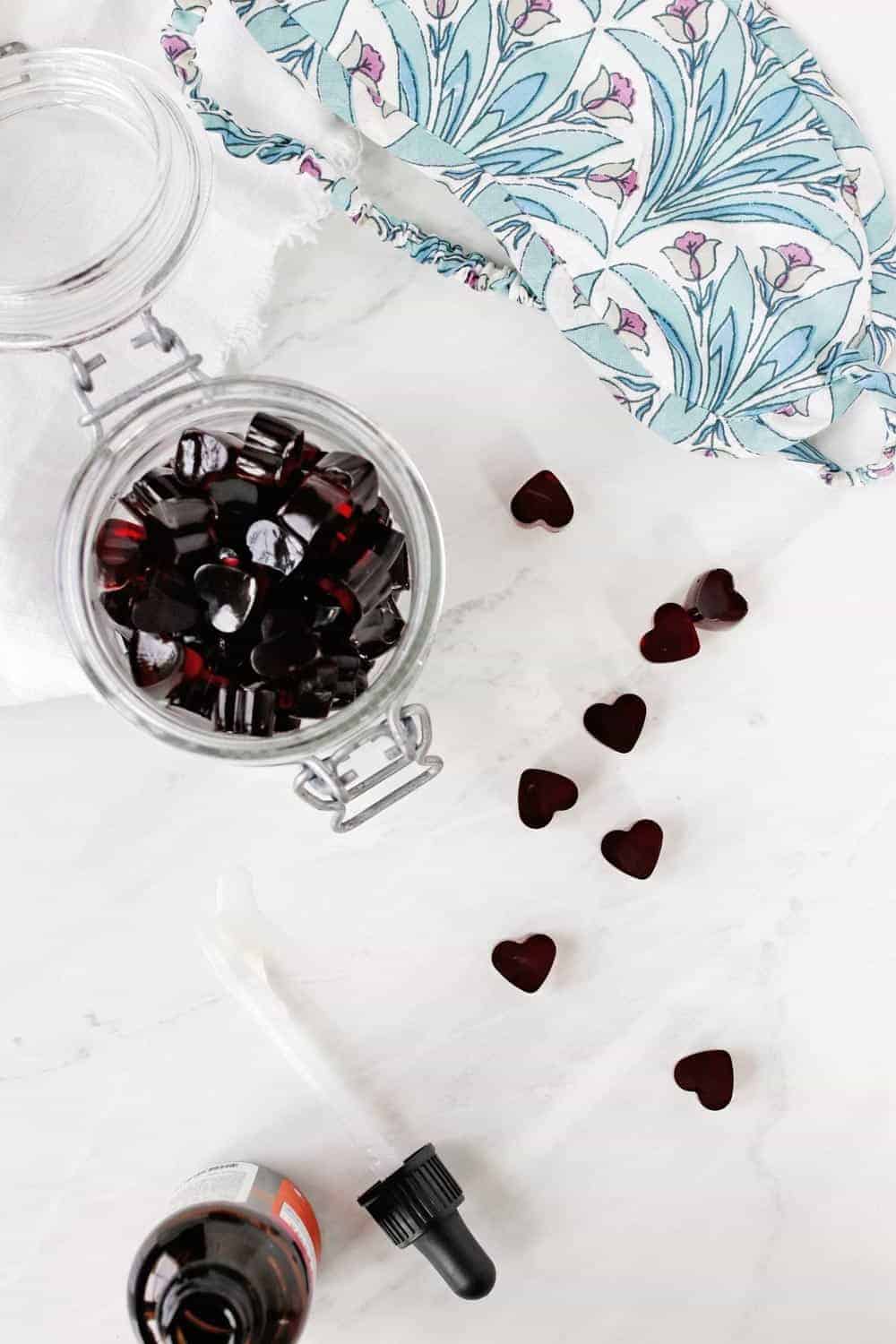 How to Make Melatonin Gummies
I have tried practically every insomnia remedy under the sun.
My go-to used to be sleepy time tea because, guys, that stuff works. But between boiling the water, steeping the tea, letting it cool, and then waiting for it to kick in, I could never time it quite right.
I was either falling asleep at 7 pm or midnight, neither of which was my goal. And if that wasn't enough, it would often keep me up half the night peeing, thus defeating the intended purpose.
And melatonin capsules are great, but the standard dose is 3 mg, and I don't always want to take that much. A dab will do, so they say.
That's what makes these single-dose gummies so perfect. They contain just enough melatonin to help you drift off to sleep, plus a few other natural ingredients specifically chosen to help you relax and stay asleep.
Melatonin
Melatonin is a hormone your body makes in response to darkness that makes you feel sleepy. If you have trouble falling asleep, supplementing with a bit of melatonin can encourage your body to relax and help you fall asleep more easily.
Sea Salt
Sea salt naturally contains magnesium, calcium, potassium, and a plethora of other nutrients said to help relax the body and calm the mind.
Tart Cherry Juice
While you can choose any fruit juice you like for flavoring, I'm a fan of tart cherry juice because it's rumored to have sleep-inducing properties. Plus, it's super low in sugar, so you don't have to worry about getting a sugar high right before bed.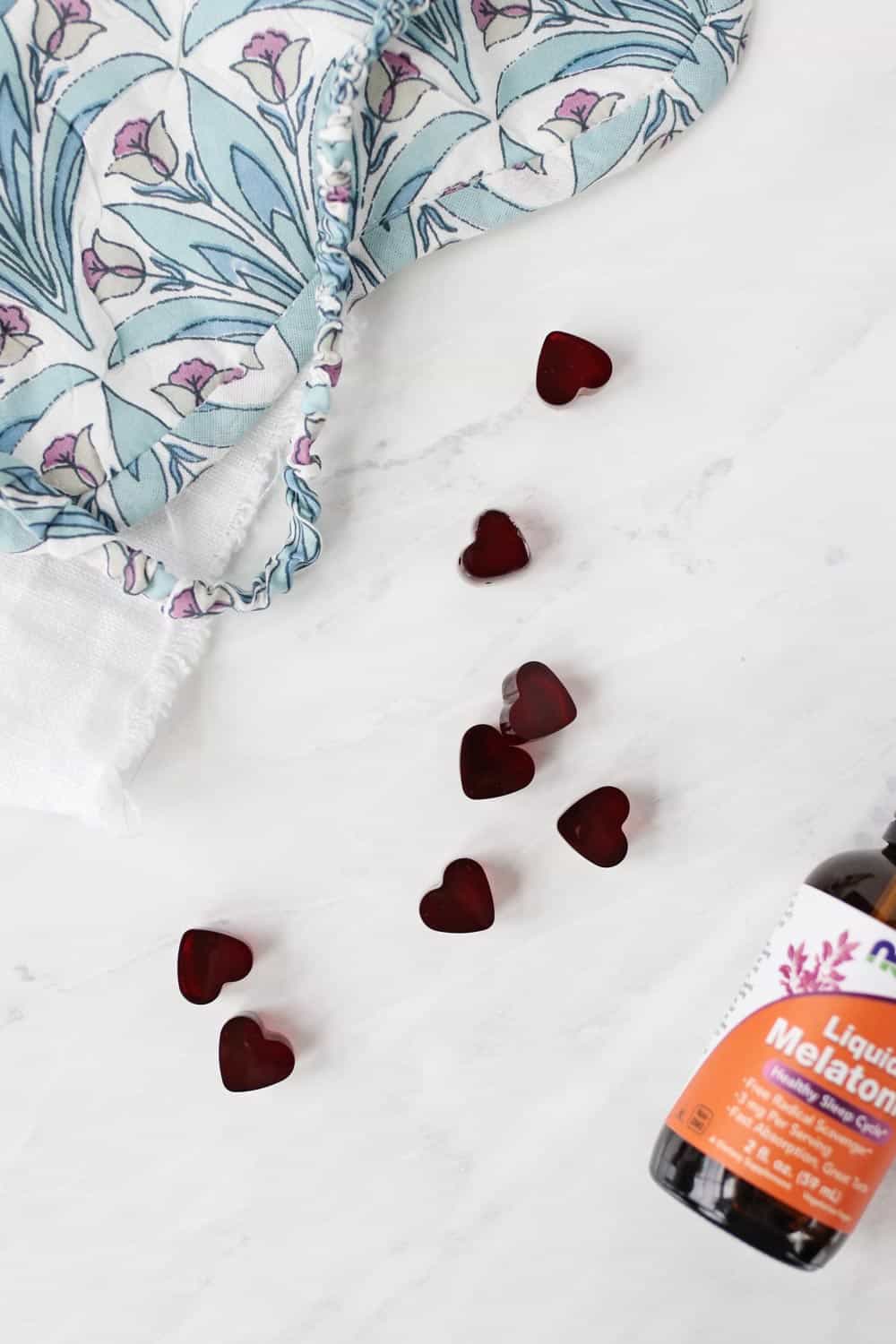 How Much Melatonin Do You Need
?
Figuring out how much melatonin you need per gummy depends on the brand of melatonin you choose and the size of your mold.
I use NOW Liquid Melatonin because it's effective, it tastes good, and it's cheap. If you would like to use another brand, go ahead. Just know that the dosage might be different, and you'll need to adjust the recipe accordingly.
And I use this heart mold. Again, a different size mold will require you to adjust the recipe.
For my gummies, I worked out that approximately 1 ounce of liquid melatonin (or ½ bottle of NOW Melatonin) would make about 110 gummies that contain 1 mg each.
How did I calculate my melatonin?
I figured out how many drops would give me 1 mg of melatonin. According to the NOW dosage instructions, 20 drops = 3 mg. So, 7 drops = 1 mg.
My silicone molds have 110 cavities (55 cavities in each mold), and since this recipe makes enough to fill both molds, that means I need 770 drops of melatonin in the entire batch of gummies (7 drops x 110 cavities = 770 drops).
Each 2-ounce bottle of melatonin contains about 1,320 drops (66 servings x 20 drops = 1,320 total drops). I rounded down and said that 770 drops is roughly half of 1,320. While, technically, that means each gummy will contain a little less than 1 mg melatonin, it's better to be safe than sorry!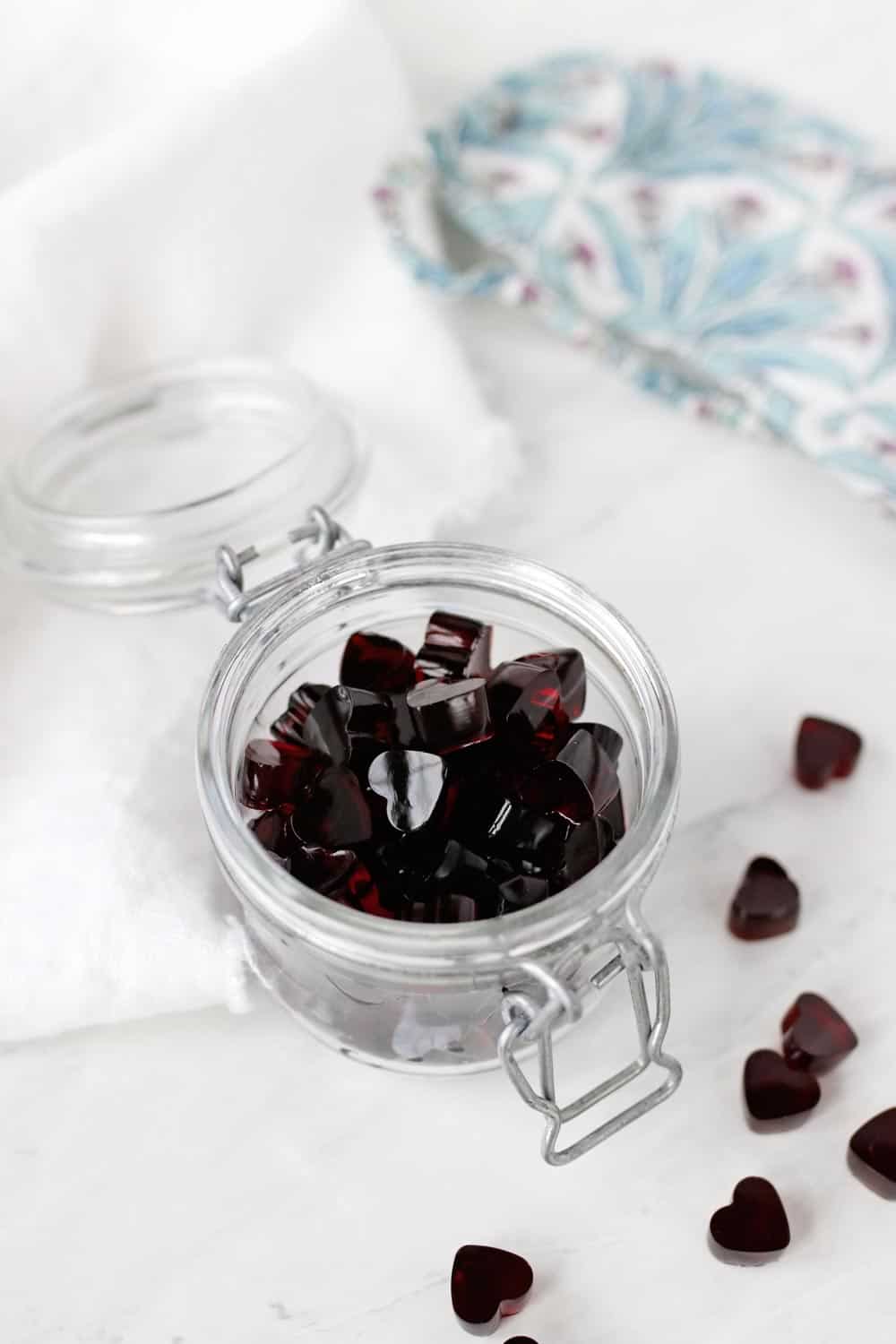 Once made, it's best to store your melatonin gummies in an airtight container in the fridge. If properly refrigerated (and not stored on the kitchen counter), they should keep for 2 weeks. If you can't possibly go through 100 gummies in that time, try halving or even quartering the recipe to make smaller batches.
Melatonin Gummy FAQs
Can I take a melatonin gummy every night
?
While melatonin has been shown to be safe to take every night for short-term sleeplessness, I prefer to only use it occasionally. It is important to speak to your doctor about the need for any long-term or repetitive use.
How long does it take for a melatonin gummy to kick in
?
They can take anywhere from 30 minutes to an hour for the onset of their effects.
What happens if you take too much melatonin
?
Too much melatonin can cause nausea, headaches, irritability, and dizziness. While it doesn't require a trip to the emergency room, it's definitely not pleasant.
Does melatonin make it hard to wake up
?
Too much melatonin can disrupt your circadian rhythm, making it harder to wake in the morning. If you find that taking 3 mg of melatonin at night makes you feel groggy when you get up, then cut back to 2 mg or even 1 mg.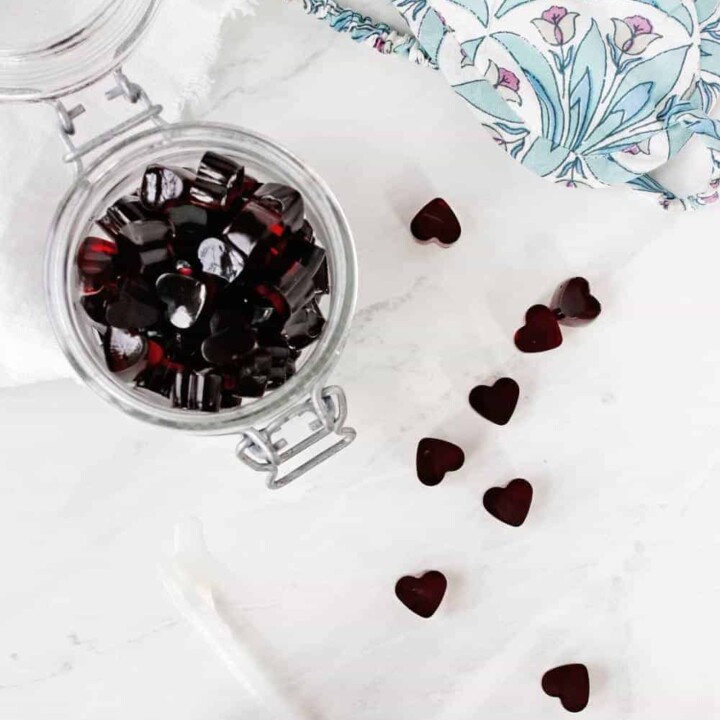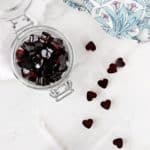 Print
Melatonin Gummies
Please note, the measurements used here are for a standard gummy bear-sized mold that makes approximately 100 gummies. If you use a mold with larger cavities, you will need to adjust the amount of melatonin used to ensure that the 1 mg/gummy dosage remains the same.
Equipment
Silicone mold

Spoon or dropper
Instructions
Mix juice and water in a small saucepan.

Slowly mix the gelatin powder into the juice. Then add the honey and salt.

Turn on low heat and gently whisk for 2 to 3 minutes until the gelatin has dissolved. 

Remove from the heat and add your melatonin.

Spoon the mixture into silicone molds and place in the refrigerator for 2 hours to harden.

Remove from molds. Store in an air-tight container in the fridge for up to 2 weeks.
Notes
Adults should take 2 to 3 gummies, and kids should take 1 gummy at bedtime (make sure to brush teeth after).
If you find it hard to use all 100 gummies within 2 weeks, try halving or even quartering the recipe to make smaller batches.
This article was medically reviewed by Dr. Gina Jansheski, a licensed, board-certified physician who has been practicing for more than 20 years. Learn more about Hello Glow's medical reviewers here. As always, this is not personal medical advice and we recommend that you talk with your doctor.
110