Every time I got sick as a kid, my dad would bring out the echinacea. If we got stung by an insect, he slapped activated charcoal on it. If we had a sore throat, he wrapped our necks in wool. My memory is peppered with crazy-sounding stuff like royal jelly and chaga.
As a surly teenager, I was convinced my dad, an osteopathic doctor, was totally weird. Now looking back, I realize he was practicing natural medicine way before it was cool.
I have a greater appreciation for herbal medicine when I treat my own kids' coughs and colds. When they're sick or hurting, I am desperate to help them find relief. But, when it comes to conventional medicine, the options are often pretty limited for a 2-year-old!
Because of this, an herb-infused balm that can soothe a headache or a scraped knee is something I'm definitely willing to try, even if my kids start thinking mommy is a little nutty like Grandpa. :)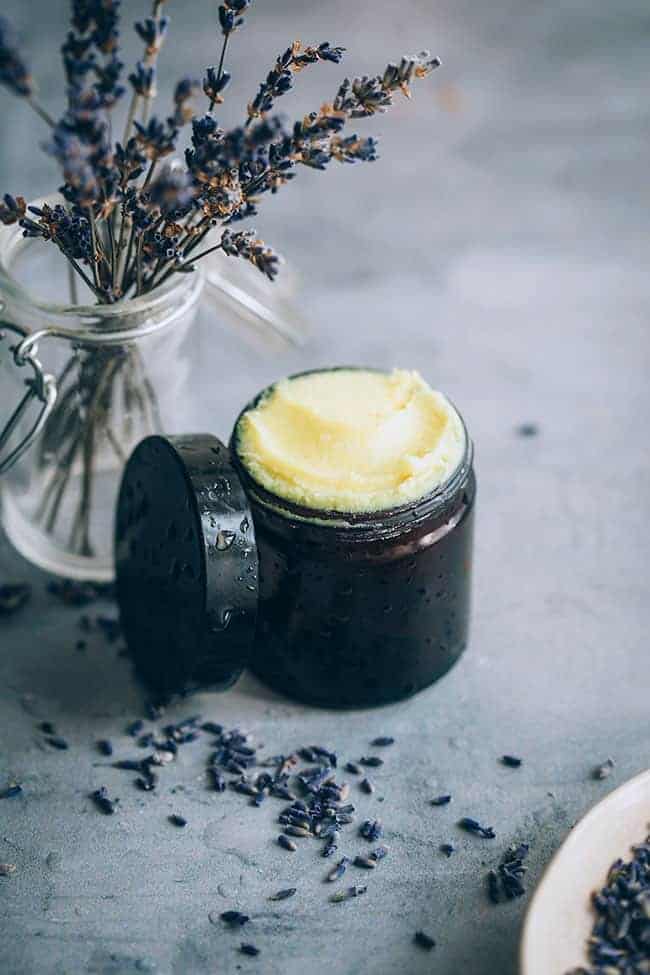 How to Infuse Oil with Herbs
For the past few weeks, I have been infusing several herbs on my windowsill using the solar method. There doesn't seem to be any sort of precise measurement for how much oil and how many herbs are needed, but here are the rough instructions:
1. Place a handful or two of dried herbs in a clean, dry jar (make sure it's completely dry—you don't want mold to start growing)
2. Cover the herbs with oil. I used olive oil and almond oil, but any carrier oil will work.
3. Seal the jar and keep it in a sunny place for a couple of weeks, giving it a shake every so often.
4. After its time in the sun, strain the mixture with cheesecloth, squeezing every bit of oil out of the herbs.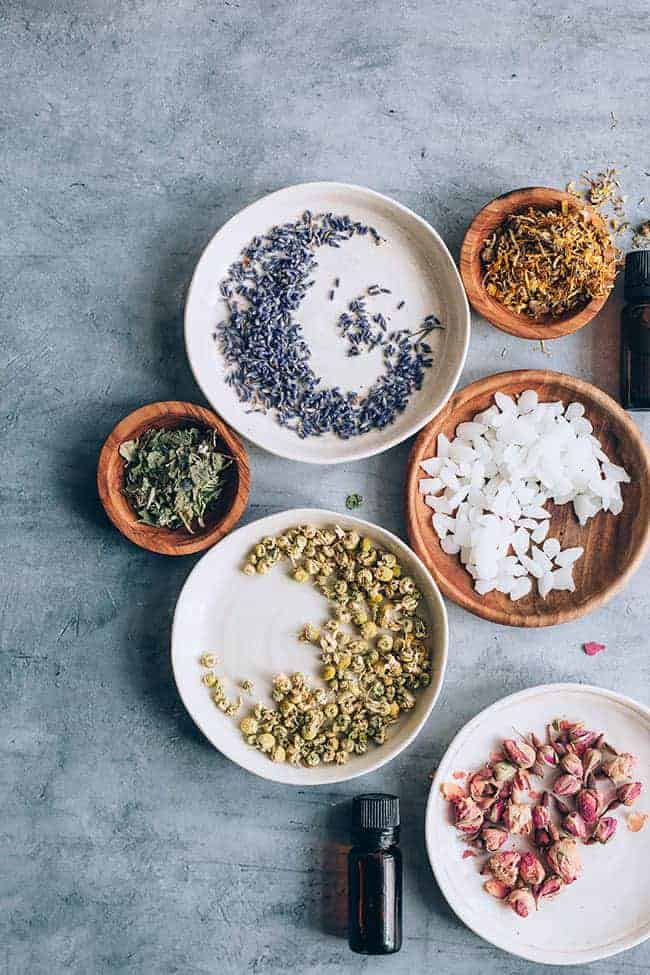 I've made several infusions:
Calendula for a general healing salve—great for

diaper cream

too [

source]

Rose + chamomile for calming and soothing—perfect for just before bedtime [

source]

Peppermint + lavender for headaches [

source]

But there are a myriad of other herbs you can use depending on your needs, like comfrey, rosemary, dandelion, lemon balm and astragalus.
After the oil is ready, it's time to turn it into a balm, which is simple because you're basically just combining the oil with beeswax.
How to Make an Herb-Infused Balm
The basic ratio of oil to beeswax that I used was 2 tablespoons of beeswax for each ¼ cup of oil. More oil will make a creamier balm, while more beeswax will make it more solid. So, if you find the consistency isn't right for you, you can melt it down again and add more oil or beeswax.
Combine the oil and beeswax either in a saucepan or use a metal bowl as a makeshift double boiler. Either way, I would highly recommend picking one pan or bowl and designating it to be used only for this purpose. You don't want to be eating beeswax remnants the next time you make soup.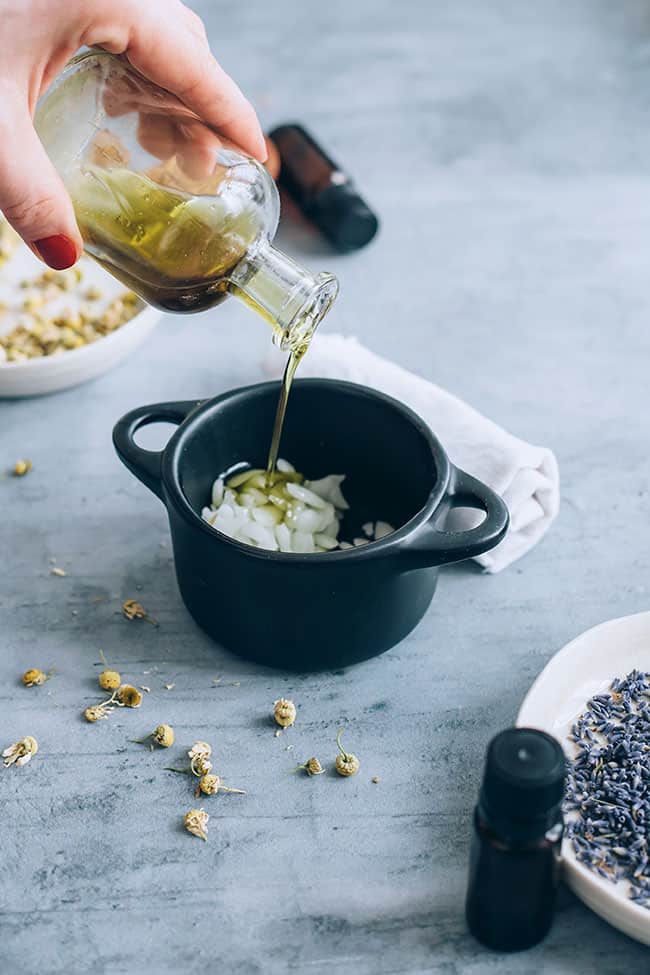 Melt the oil and beeswax together over low heat to make the salve. When the beeswax is completely melted, stir and pour the mixture into a clean jar or container. Add a few drops of essential oil if you want a stronger scent. Let your herb-infused balm cool and harden.
I'm generally too impatient to wait weeks for something to be ready, but seeing the pretty herbs on the windowsill was such a treat each day.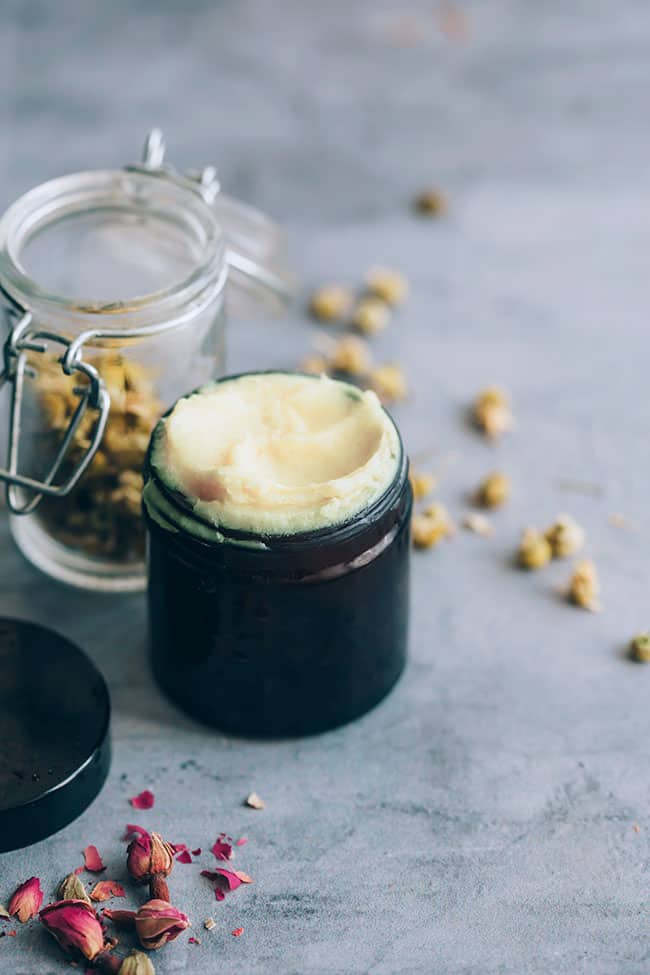 Two infusion options:
Lavender + Peppermint
Combine ¼ cup of dried lavender with ¼ cup of dried peppermint. Rub a tiny amount directly on your temples and the center of your forehead.
Rose + Chamomile Calming Balm
My other favorite infusion is ¼ cup of dried rosebuds and ¼ cup of dried chamomile. The soothing scent makes a wonderfully calming balm.
Infused Balm FAQs
Can I use fresh herbs?
Yes, with a couple caveats. You'll need to use more fresh herbs and blossoms than you would if using dried. You'll also need to keep a close eye on the oil as it infuses because fresh herbs can start to mold, especially when exposed to air. Keep them submerged in the oil and toss the whole batch if you notice any mold.
Is there a way to infuse the oil more quickly?
While it's a little more painstaking, you can use this quick-infusion method to make your oil in a hurry:
1. Place a small saucepan on the stove. Fill it approximately ¼ full of water and bring the water to a boil.
2. Place your herbs and oils in a 16-ounce sterilized glass jar. Use a dry, sterilized spoon to stir the mixture so the herbs are coated in oil and no air bubbles remain.
3. Put the jar in the water-filled saucepan and simmer on medium-low for 45–60 minutes. Using a clean kitchen thermometer, make sure the temperature of your oil stays between 120–140 degrees Fahrenheit. If the water level in the saucepan starts to run low, add enough water to bring it back up to ¼ full.
4. When done, strain out the herbs and use the oil to make your balm.
Will heating the oil ruin the medicinal properties of the herbs?
Too much heat can breakdown herbs, making them less potent. However, not letting the temperature of your oil go above 140 degrees will help keep this from happening. If you're worried about it, you can always use more herbs to make up for the degradation from the heat.
What's a good vegan wax to use in place of the beeswax?
I recommend all-natural carnauba wax.
Can I use coconut oil and leave out the wax entirely?
You can but it might affect the consistency. I recommend storing it in the refrigerator, especially during the warmer months, to keep it from melting.
How long will my balm stay good?
Store your balm in a lidded container away from moisture and direct sunlight and it should last a long time. If something starts to smell funky or the texture changes, you'll know it's time to toss it!
Where can I find good airtight containers?
Since sunlight can breakdown herb-infused balms, I recommend storing it in amber apothecary bottles, like these.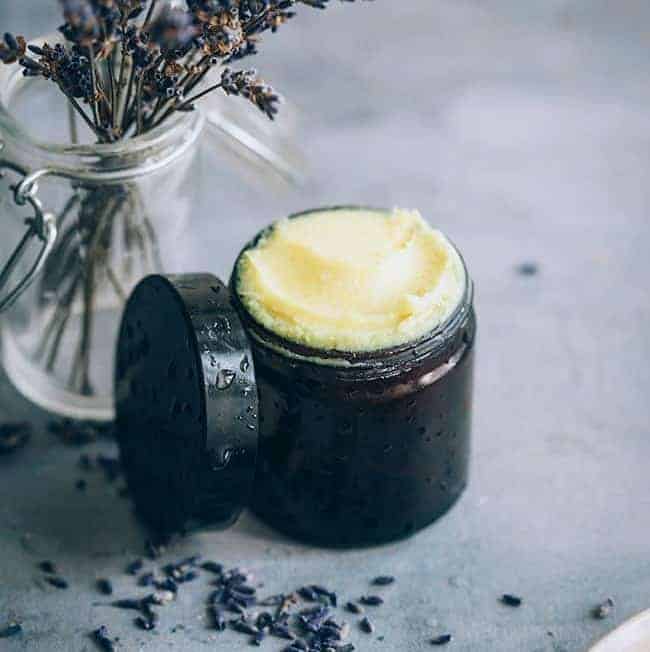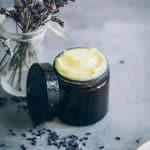 Print
Herb-Infused Balms
How to make herb-infused balms for rashes, headaches, and whatever else ails ya' in just a few simple steps.
Equipment
16-ounce glass jar

saucepan

8-ounce amber jar with lid
Materials
Instructions
Combine your choice of herbs with the carrier oil in a tightly sealed container and let it sit for 2–3 weeks. Strain out the herbs. (Note: If you see mold growing, you need to toss it and start again.)

Combine the remaining oil with beeswax in a saucepan or double boiler over low heat until just melted. Let cool slightly before handling.

Pour the mixture into a clean container, add essential oil(s) if desired and let cool completely.
Notes
Store in a lidded container in a cool, dry place. If stored properly, your balm should last for at least a year. 
This article was medically reviewed by Dr. Gina Jansheski, a licensed, board-certified physician who has more than 20 years experience. Learn more about Hello Glow's medical review board here. As always, this is not personal medical advice, and we recommend that you talk with your doctor.
Photos by Ana-Maria Stanciu
376