I'm totally hooked on probiotic drinks! I fell hard for kombucha, but it's out-of-this-world pricey, so I'll be making my own soon. In the meantime, I've found a yummy, easy-on-the-wallet way to drink my probiotics.
For centuries, people all over the world have relied on fermentation to preserve foods (think: kimchi, pickles) [source]. But beyond preserving food, fermentation has the added benefit of providing gut-friendly bacteria [source].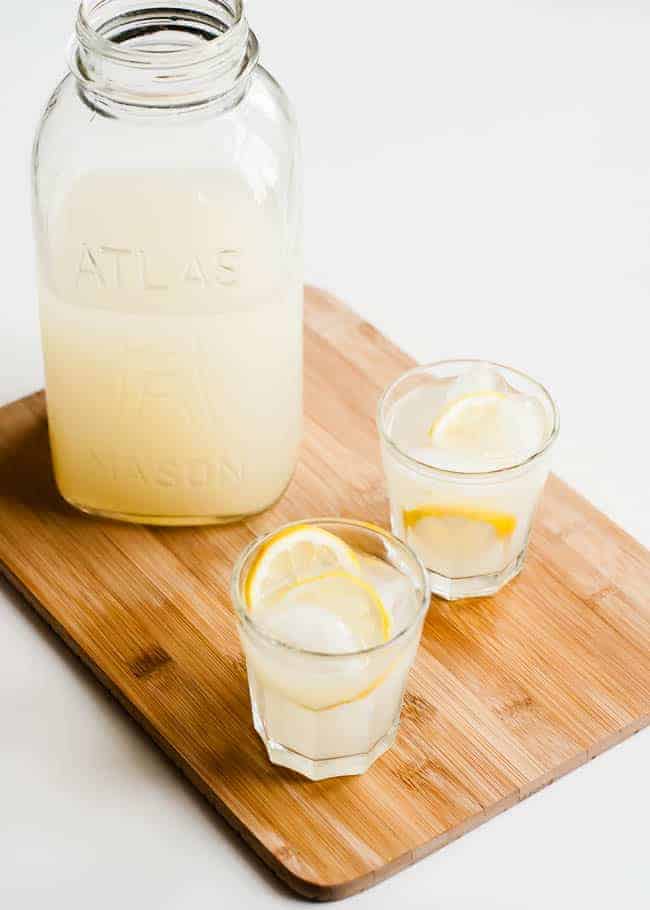 How to Make Probiotic Lemonade with Whey
This is why I tried my hand at making probiotic lemonade, and it turned out delicious! Making your own fermented probiotic drinks at home is game-changing, not only money-wise but also for maintaining a gut-friendly diet routine [source]. While most of the probiotic drinks from the market are partially pasteurized, this probiotic lemonade is natural and packed with live bacteria that will restore your gut health.
When your natural intestinal flora balance is interrupted, it causes problems in your gut and your health. This can happen when you take too many antibiotics, eat lots of processed foods, and a number of different ways. Eating foods rich in probiotics improves digestion and keeps things in check [source].
You can certainly eat plenty of yogurt and take probiotic supplements, but I also like sipping homemade lacto-fermented lemonade. The "lacto" part comes from whey that has been separated from yogurt, which is filled with healthy probiotic cultures [source]. It's super easy to do!
To make this fermented lemonade, you will use whey as a starter—yes, you can make your own whey at home, and it's simpler than you think! When you get the whey, all you need to do is combine it with lemon juice, sugar, and water and let the fermentation work its magic for 2 days on the counter at room temperature.
Once you have the whey full of those healthy bacteria, you need to give them something to eat. That's where the sugar comes in.
You can replace cane sugar with any other favorite sweetener - brown sugar, honey, maple syrup, or even Manuka honey work great. If you decide on using coconut sugar, prepare to get a slightly darker probiotic drink due to the deep brown color of this sweetener.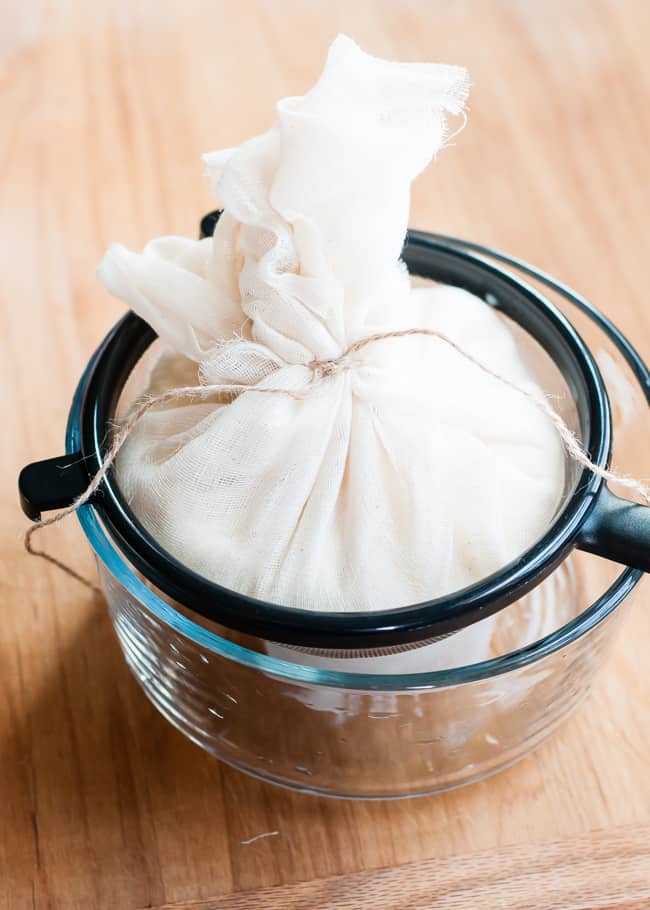 How to Separate Whey
Whey is the watery, protein-rich liquid left behind when milk is curdled to make cheese. It is also a component of yogurt [source]. The best way to separate whey from yogurt is to strain it through several layers of cheesecloth placed over a fine-mesh sieve. (Not only does this extract the whey, but it also produces a nice, thick yogurt cheese!)
Let the yogurt stand overnight in the fridge to extract as much whey as possible. Use immediately or store in the fridge for about 1 to 2 weeks. (It might last longer, but mine started to look iffy after 2 weeks.) Ideally, you want as much clear whey as possible, but if a little bit of the milky part ends up in the liquid, no biggie.
How Does Fermented Lemonade Taste?
Once the liquid has properly fermented, the sugar will be mostly used up and you'll be left with a tangy, slightly bubbly drink. It's not fizzy like soda, but there are some tiny bubbles that you'll notice.
The flavor is reminiscent of buttermilk but lighter. It's lightly sweet, which I really like, but if you want it a little sweeter, you could add a little more sugar.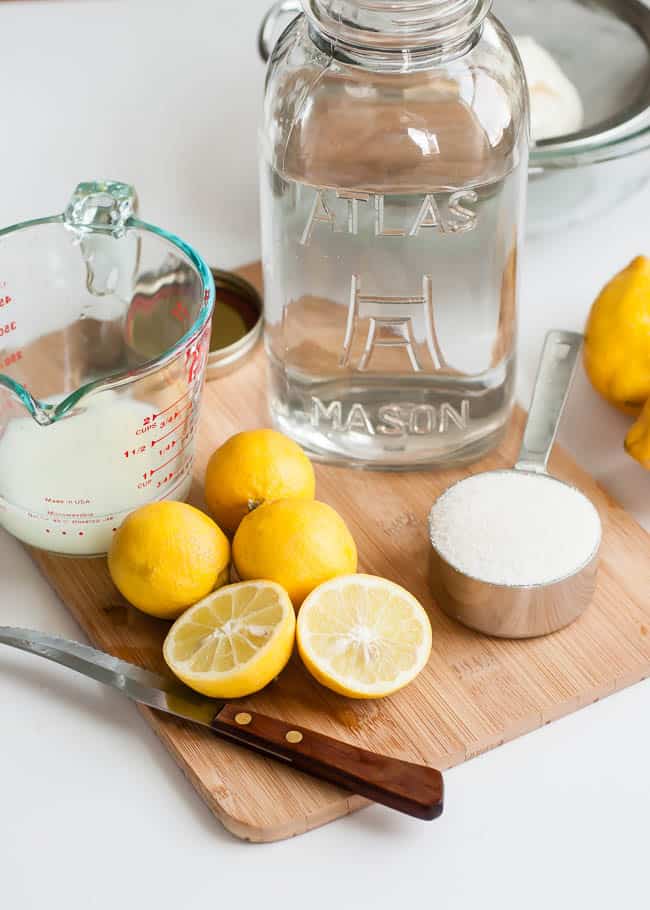 Note: only use fresh lemon juice. The bottled juice has preservatives and other things that will prevent the lemonade from properly fermenting. Any other citrus juice—grapefruit, orange, or lime—could be used instead.
After the initial 2-day room temp fermentation period, the lemonade should be kept in the refrigerator. The flavor supposedly improves the longer it sits in the fridge.
We drink it right away, but it does get a little fizzier after about a week and a half. It is SO good! If you've tried other probiotic drinks like Kevita, then you'll kind of know what this tastes like.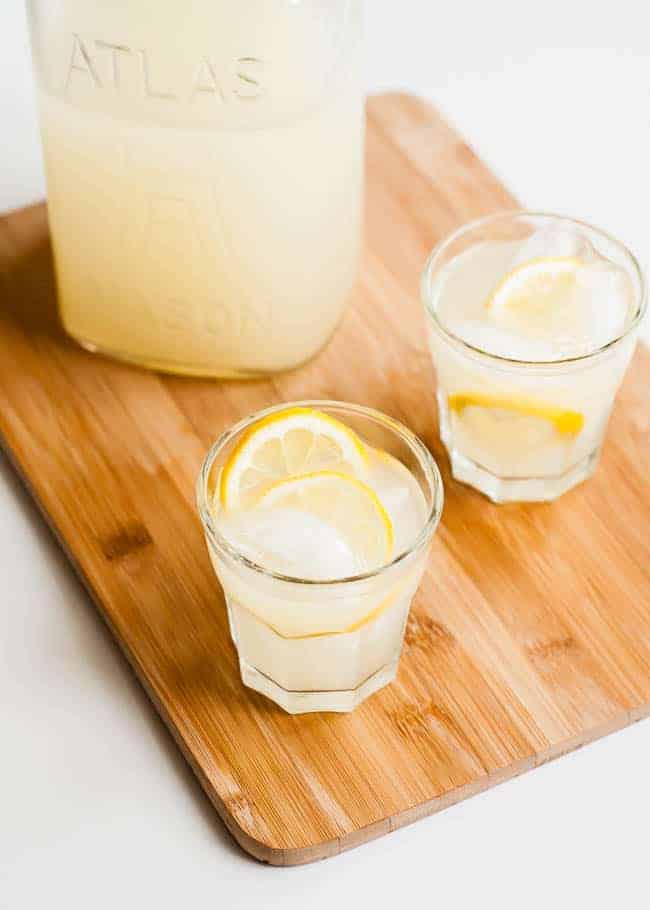 Pretty soon, I'm going to start experimenting with adding other flavors, like ginger and rose.
Have you tried lacto-fermenting at home
?
What do you think
?
Let us know if you try this probiotic lemonade, and don't forget to tag us #helloglowblog on Instagram so we can see and share it with the community.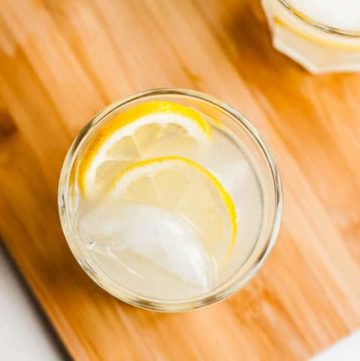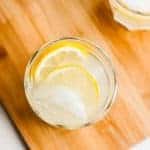 Print Recipe
Lacto-Fermented Probiotic Lemonade
Easy gut-health restoring lacto-fermented lemonade made with freshly squeezed lemon juice and whey. A great way to drink your probiotics!
Ingredients
6-½

cups

filtered water

½

cup

freshly squeezed organic lemon juice

½

cup

organic evaporated cane sugar

½

cup

liquid whey
Instructions
Place all of the ingredients in a large glass jar or pitcher with a tight-fitting lid.

Shake well to dissolve the sugar.

Let stand at room temperature for 2 days, then refrigerate. Tastes best after 1-½ weeks.
Nutrition
Serving:
200
ml
|
Calories:
31
kcal
320