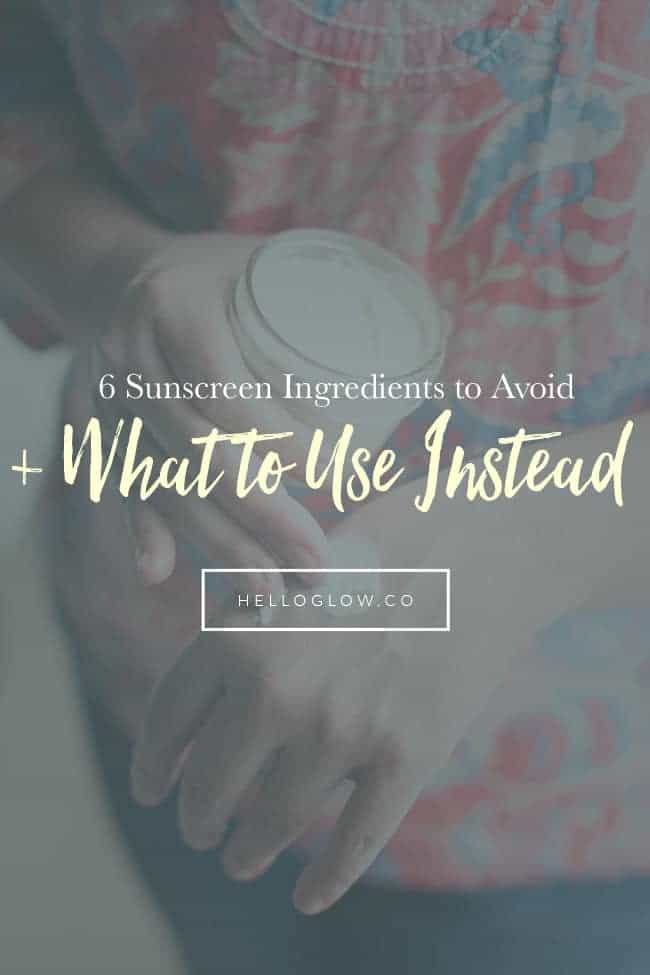 Last summer I had a total crisis over sunscreen. Dermatologists tell you to wear it! But then I started reading things from other doctors saying, no, don't wear it—lack of sun exposure can cause colon cancer! And while I knew that the chemical UV filters in many conventional sunscreens were dangerous, I also started to see speculation that nanoparticles in mineral sunscreens weren't so great either.
How can you decide what to do when there's someone out there railing against just about every option there is?! How do you know who to trust?
Sunscreen Ingredients to Avoid
I decided to go with the Environmental Working Group's recommendations because they seemed like a nice middle ground between "wear all the chemical sunscreens all the time" and "never wear sunscreen ever until your skin looks and feels like beef jerky." (Ew.) These are the ingredients they recommend avoiding:
Oxybenzone – Acts like estrogen in the body and has high rates of skin allergy. (High toxicity concern.)
Octinoxate – Hormone-like activity thought to cause reproductive, thyroid, and behavioral issues. (High toxicity concern.)
Homosalate – Disrupts estrogen, androgen, and progesterone. (Moderate toxicity concern.)
Octisalate + Octocrylene – Skin penetration found in lab studies. (Moderate toxicity concern.)
Retinyl Palmitate – May speed the development of skin tumors and lesions when applied to the skin in the presence of sunlight. Also avoid any other skincare products with retinyl palmitate, Vitamin A, retinol, retinal acetate, retinyl linoleate, and retinoic acid when you're going to be out in the sun.
Titanium Dioxide, Zinc Oxide, Avobenzone, and Mexoryl SX are all listed as UV filters with lower toxicity concerns—using sunscreens with these filters is a safer choice.
But then there's that pesky issue of nanoparticles. Some of the scaremongering articles I had read about them claimed that nanoparticles could penetrate the skin, causing damage to internal organs. The good news is that studies have shown that's just not the case. The bad news about nanoparticles is that they do cause lung damage when inhaled, so it's best to stick with lotions instead of sprays.
So here's what I decided:
It's true, we all need some sun. I decided to go outside with my daughter in the early morning, before UV rays are at their peak strength, without sunscreen so we could get our daily dose of Vitamin D.
When the sun is at its peak, we put on natural sunscreen with mineral, not chemical, barriers to UV rays.
We don't use spray-on sunscreens to protect against the inhalation of nanoparticles.
I always use a facial moisturizer with built-in mineral sunblock.
Physical barriers to the sun's rays are still best: hats, sunglasses, and staying in the shade.
Best Nontoxic Sunscreens
Now that you know what to avoid, here are some of our favorite nontoxic sunscreens. (Or you can make your own!)

1. Block Island Organics Natural Face Moisturizer // Shea butter, aloe, antioxidants and more keep the face and skin hydrated, and can easily be worn under makeup.
2. Sun Bum Baby Bum Mineral Based Moisturizing Sunscreen Lotion // Hypoallergenic and created with all natural, reef friendly ingredients, designed to protect babies' thin and sensitive skin from UVA rays.
3. Juice Beauty SPF 30 Sport Moisturizer // Made especially for an active outdoor lifestyle, SPF 30 Sport Sunscreen blends rich organic jojoba and soothing aloe with antioxidants and vitamins for the ultimate daily protection.
4. Badger SPF 35 Sport Sunscreen Face Stick // The ultra-moisturizing and soothing certified organic base of extra virgin olive oil, beeswax, cocoa butter and shea butter is ideal for summer. 
5. Alba Botanica Sensitive Fragrance Free Mineral Sunscreen Lotion // Fast absorbing, lightweight formula with light fragrance, with long lasting UVA and UVB protection, and a SPF of 30. 
6. Soleil Toujours Mineral Sunscreen // Not only does the hypo-allergenic formula protect against harmful UV rays, but it's also infused with a powerful combination of Red Algae, Vitamin C Ester and more, to hydrate and slow down the signs of aging.
7. Tom's of Maine Baby Sunscreen // Sensitive skin will benefit from this natural, US-made, baby skin-worthy sunscreen from Tom's of Maine.
Get more of our skincare picks here.
42