If you struggle with dry skin, chances are you've tried everything from slathering yourself in moisturizer and drinking more water to taking cold showers and switching up your diet. As someone who always has pretty parched skin, I know from experience that some "miracle cures" work better than others. Lately, I've been using this nourishing oatmeal soap to give my itchy skin a little relief.
A food that's long been touted for lowering blood pressure and improving digestion, oatmeal is equally great at soothing irritation and exfoliating flaky skin cells. Combine it with other moisturizing ingredients like goat milk powder and honey and you've got yourself the most luxuriously hydrating soap to get you through the last few weeks of winter.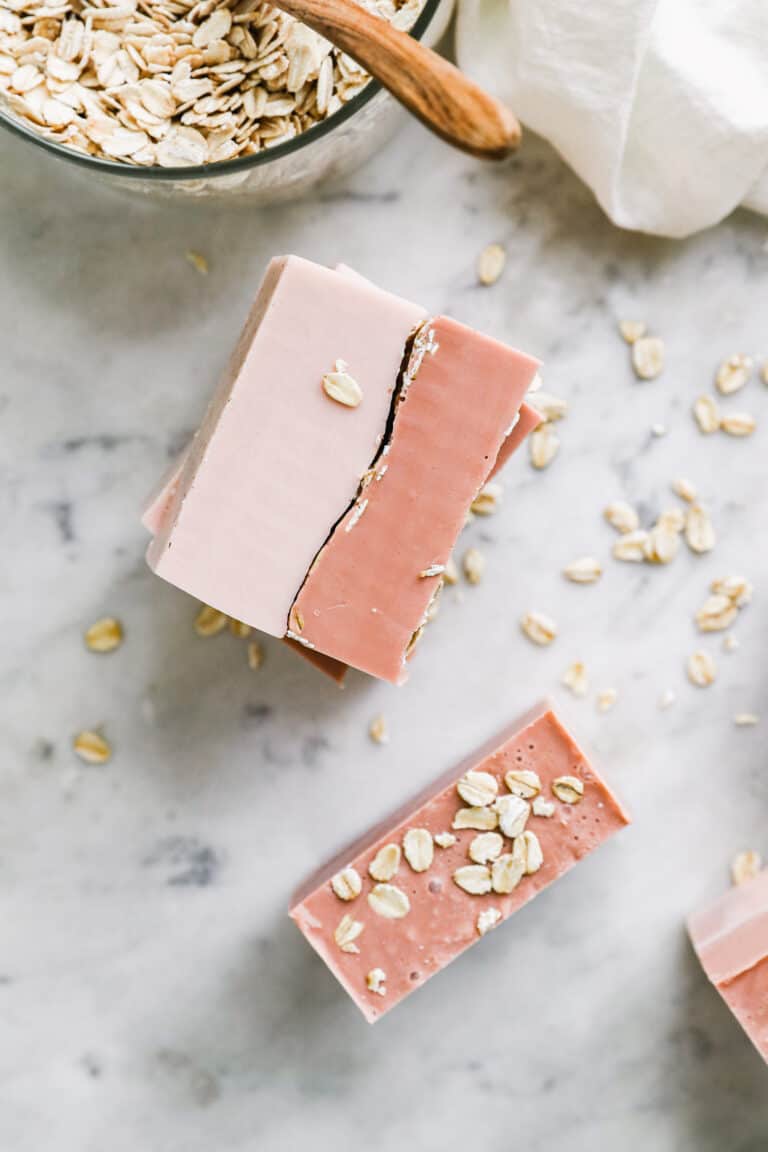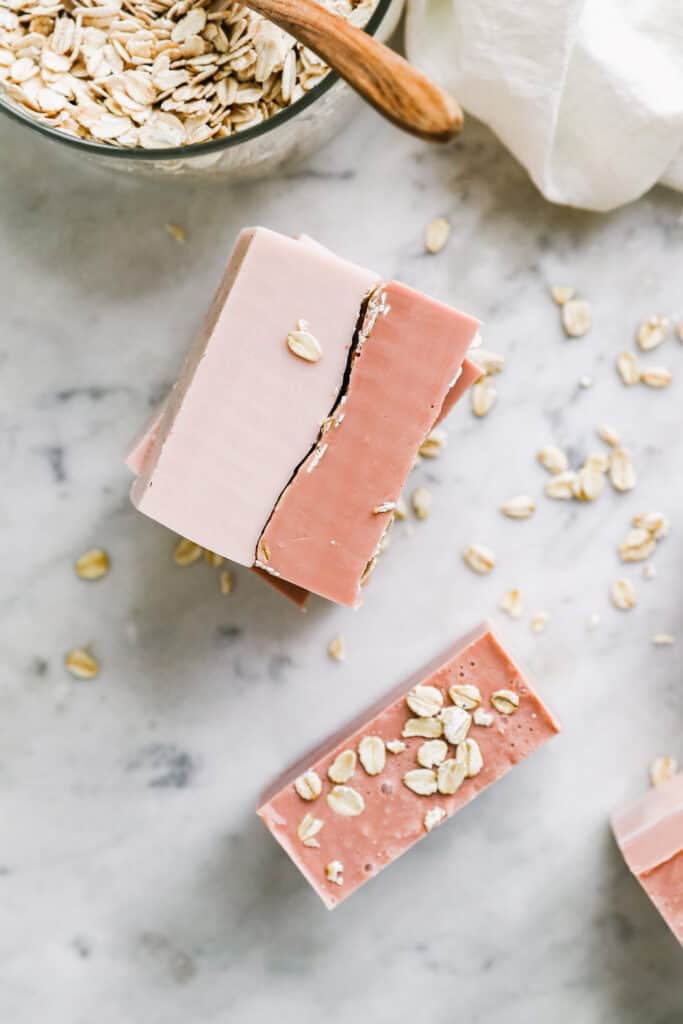 How to Make Moisturizing Oatmeal Soap
Oatmeal has long been known in the beauty world for its naturally exfoliating and dry-skin-soothing properties. When ground, oatmeal gently polishes away rough skin and cleanses dirt and grime without stripping skin of moisture.
And thanks to natural compounds called saponins, oats have antimicrobial and antioxidant properties that help keep skin healthy and looking younger, longer.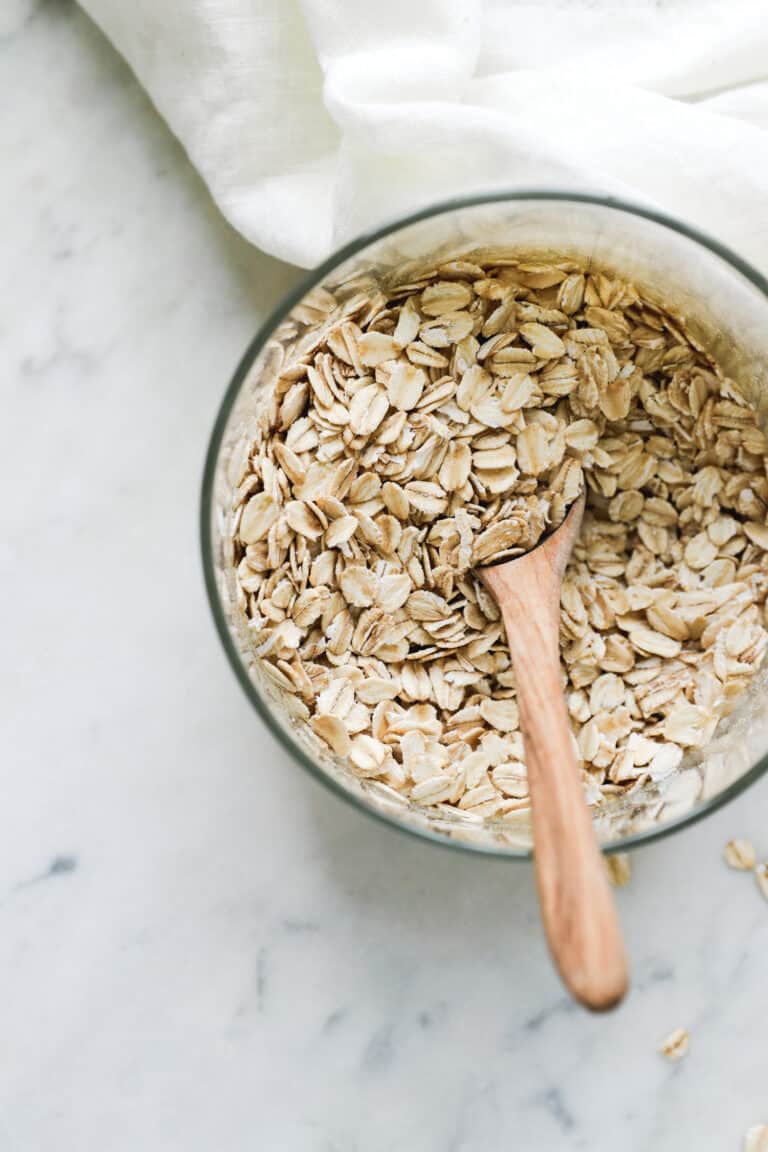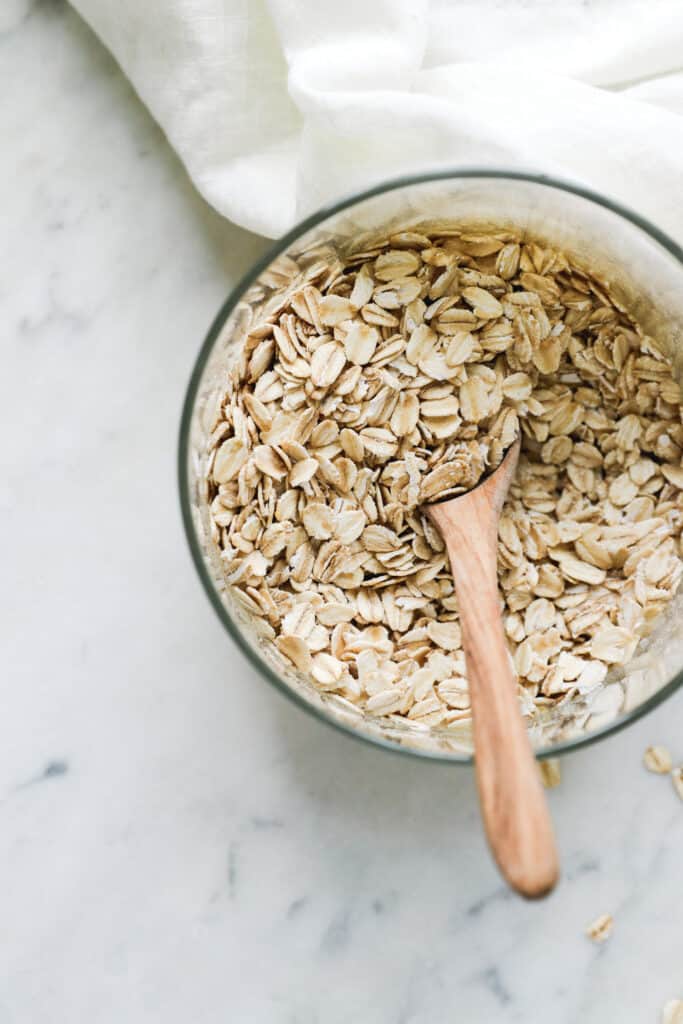 Any kind of oats will really work for this recipe, but since my skin is extra dry and irritated, I usually reach for colloidal oats. Despite the fancy name, colloidal oatmeal is simply oat kernels that have been finely ground for the purpose of being used as a skin protectant.
The grinding process breaks down the oat kernel and releases soothing properties that can help soothe eczema, bug bites, sunburns, poison ivy and other itchy and inflammatory skin conditions. When applied topically to skin, colloidal oatmeal attracts moisture to the skin's surface and forms a protective barrier, thereby locking it in.
You can buy colloidal oats online to save time or you can make your own using whole organic oats and a coffee grinder. Work in small batches, grinding the oats into as a fine a powder as you can.
Add it directly to your oatmeal soap and store any leftovers in an airtight jar in the refrigerator to be used in other beauty recipes.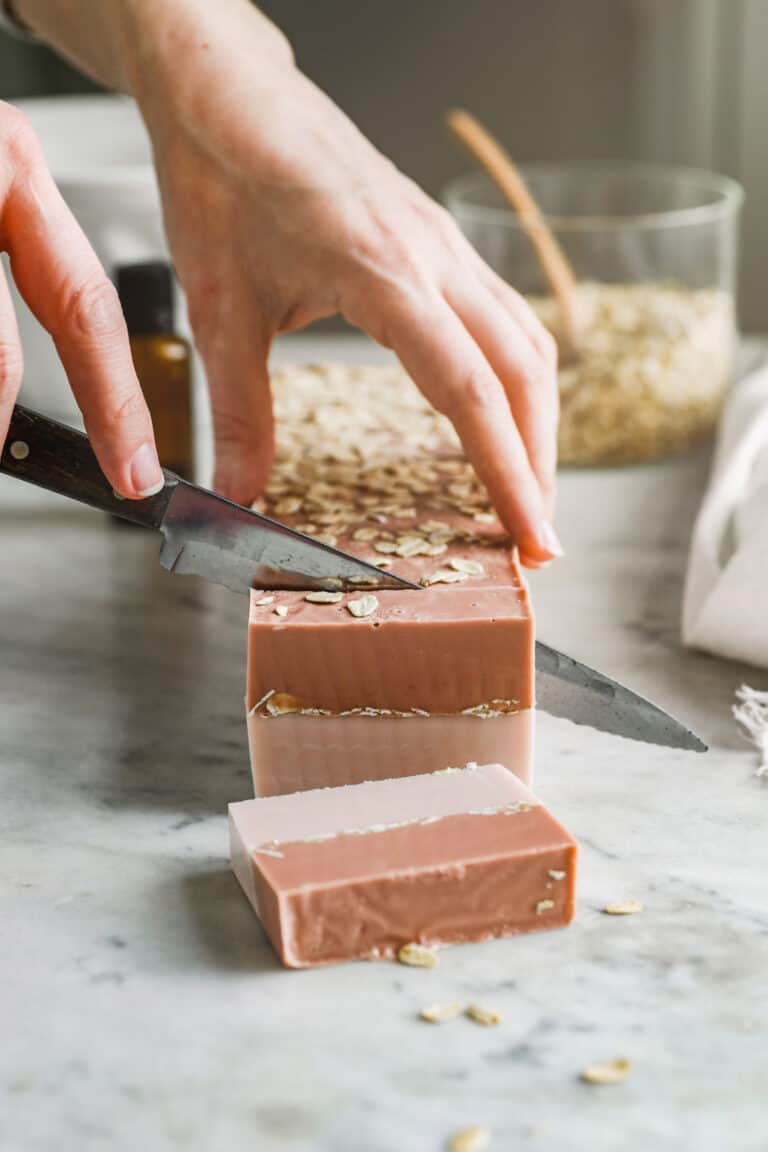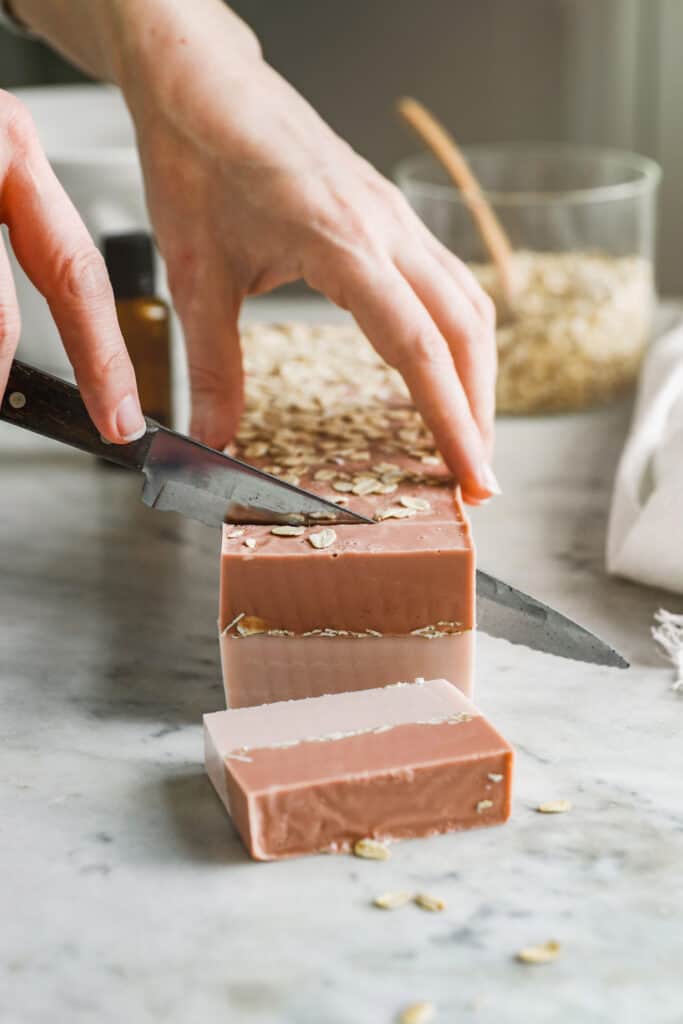 While oatmeal is the star of this recipe, I think bar soap can never have too many soothing ingredients. So I like to add things like goat milk, lavender essential oil, honey and olive oil to give it just a little extra hydration.
Goat milk. Goat milk is rich in lactic and alpha hydroxy acids which help exfoliate skin. It's also high in essential fatty acids that form a protective barrier on the skin and lock in moisture.
Lavender oil. A naturally soothing oil, lavender essential oil has been shown to help keep redness and irritation at bay.
Raw honey. The sugars in honey act as natural humectants and emollients, which help increase the water content in skin and reduce dryness, even after the soap is rinsed off.
Olive oil. Pure olive oil contains a number of antioxidants, vitamin E, vitamin K and other wonderful ingredients that replenish skin and keep it looking radiant.
I gave my oatmeal soap some color with a pinch of pink clay. It's said to help detoxify skin, remove dead skin cells and refresh skin's overall appearance.
And while it's not totally necessary, I love the way it looks in soap while still being nontoxic and safe for sensitive skin. Feel free to use any colorful herbs or botanical powders you prefer for color.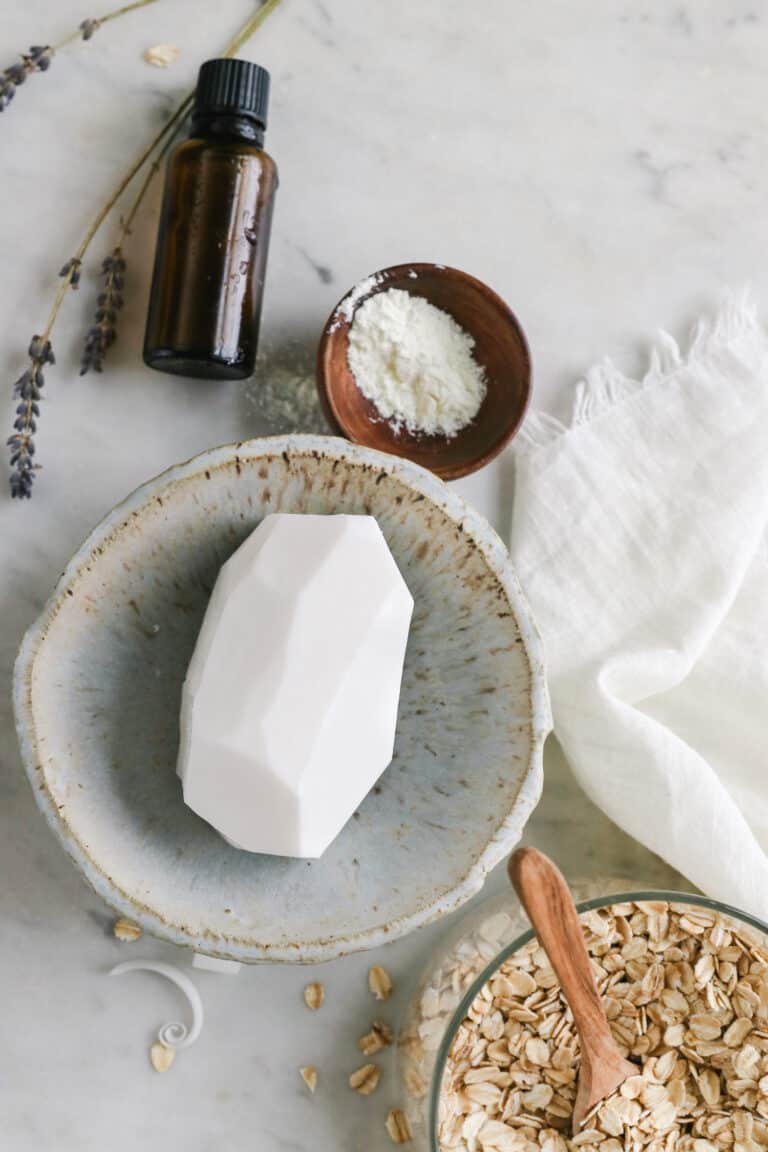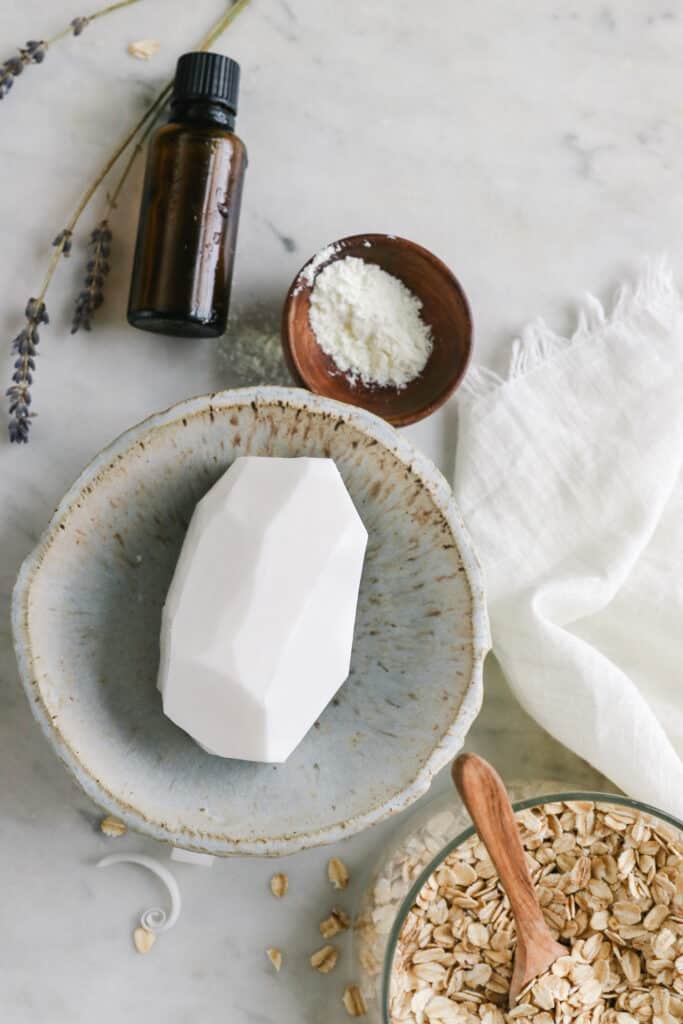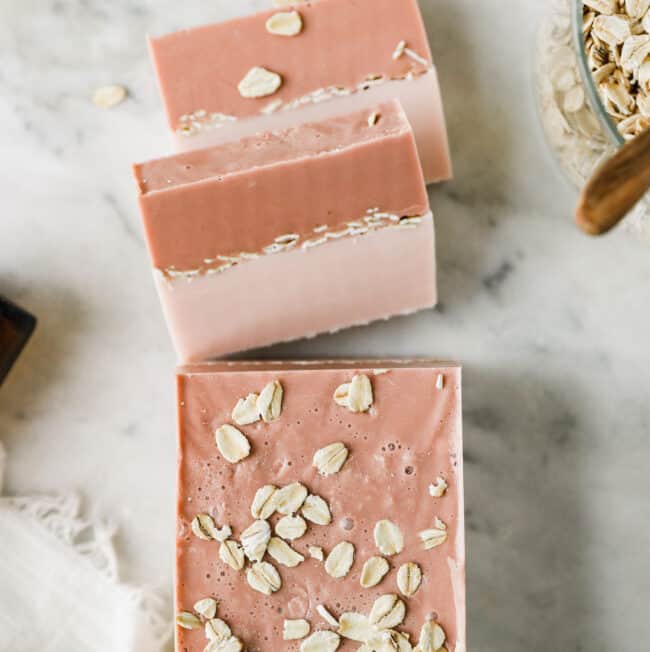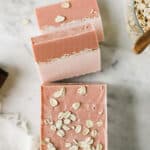 Print
Soothing Homemade Oatmeal Soap with Raw Honey + Goat Milk
Dry skin driving you crazy? This soothing oatmeal soap uses the healing power of colloidal oats and honey to soothe irritation and lock in moisture.
Equipment
Microwave safe bowl

Silicone soap mold
Instructions
Cut your soap base into 1-inch cubes and place in a microwave safe bowl.

Microwave in 30-second intervals until completely melted. Stir well to break up any lingering soap chunks, then add the remaining ingredients. Stir again.

If making two-colored soap like I did, simply separate the soap mixture into bowls and add more clay to one bowl than the other.

Pour the soap into the soap mold and top with extra whole or ground oats.

To make two-colored soap, pour one color and let it cool slightly before pouring the other color over top of it (you may need to re-melt the second color if it's cooled too much to pour). Feel free to sprinkle oats in between the layers and on top of the soap.

Let cool for several hours before slicing into bars.

Store soap in a dry cabinet or pantry indefinitely.
Notes
The most important part of this soap is the oats, so feel free to add as much or as little as you like to meet your skin's needs.
This post was medically reviewed by Dr. Jennifer Haley, a board-certified dermatologist with extensive experience in medical, cosmetic and surgical dermatology. Learn more about Hello Glow's medical review board here. As always, this is not personal medical advice and we recommend that you talk with your doctor.
149