What we eat and drink really can affect our skin's appearance. A diet rich in fruits and vegetables will help skin look refreshed, hydrated, and—dare we say?—even younger.
So stop dieting to be skinny, and start eating to look and feel beautiful. These three juice recipes in our Juicing 101 series include the 5 best vitamins for skin, as well as other minerals and nutrients needed to help skin glow from the inside out.

1
.

Vitamin C Super Juice

I'm calling this one Vitamin C Super Juice. It includes orange, apple, and broccoli, all of which are great sources of that powerful anti-aging vitamin. Vitamin C is essential for collagen production and also helps to protect the skin from UV rays by increasing the effectiveness of sunscreen.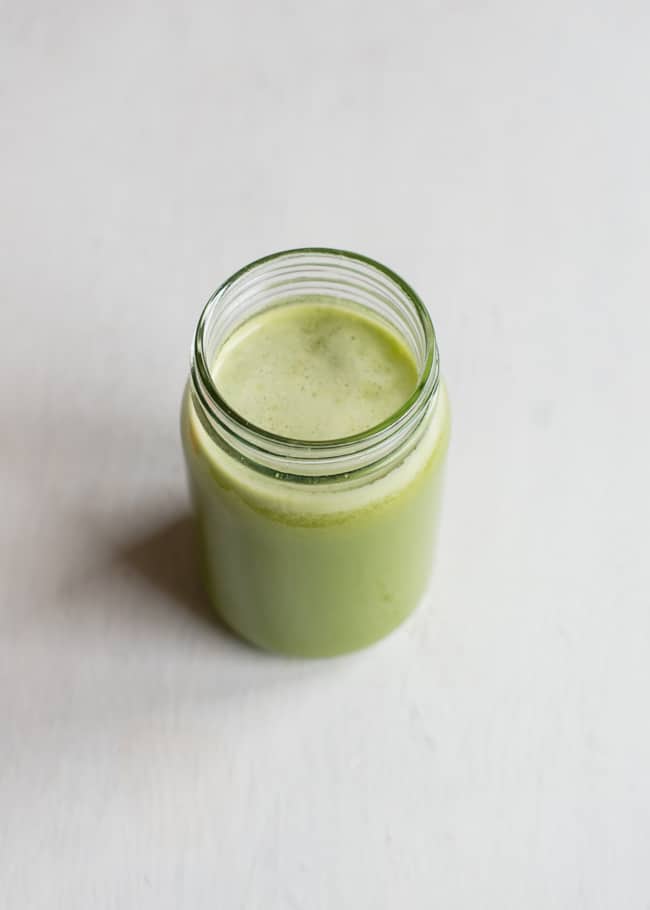 Broccoli might seem like a strange juice ingredient, but it's absolutely delicious! Be sure to include the stalks, stems, and any leaves in addition to the crown. The stalk is very juicy.
Use organic, if possible, and make sure the broccoli isn't dried out or yellowing. Broccoli contains high amounts of vitamins C and K folate and also small amounts of selenium [source], which scientists believe may help prevent skin cancer by protecting skin from sun damage [source].
Oranges add another sweet element to this juice, along with B vitamins, copper, and potassium, all of which are important for healthy skin. Copper works to develop elastin and collagen [source], which helps support your skin's structure from beneath the surface.
Fresh raw apple juice is full of nutrients, including vitamin C, vitamin K, and potassium. It also contains a potent anti-inflammatory, quercetin [source], which has been shown to help blood vessels, lower blood pressure, and prevent cancer [source].
2
.

Vitamin A Plus Juice

Orange fruits and vegetables, like the ones in this Vitamin A Plus Juice, are high in vitamin A in the form of carotenoids which are the orange-colored antioxidant compounds our bodies convert to beta-carotene. Vitamin A is one of the most important antioxidants for beautiful skin, and it helps reduce wrinkles and acne [source].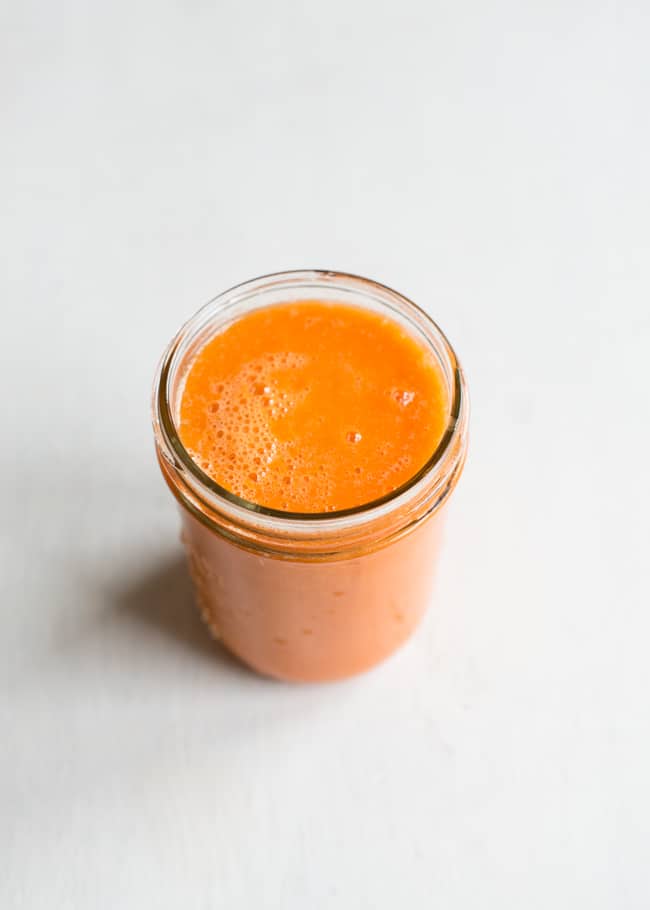 If the juice is too sweet, add a little fresh lemon juice, which will also give it an extra burst of vitamin C and more antioxidants. Because the cantaloupe and mango are soft fruits that don't do well in my juicer, I will often juice the carrots first, then add the fresh juice plus the cantaloupe and mango into the blender. It has a thicker, smoothie-like texture and retains more of the fiber. It's a very refreshing juice on a hot summer day.
3
.

Hydrating Cleanser Juice

This tangy juice is one of my favorites. It's a hardcore cleansing juice that also hydrates and is full of skin-friendly vitamins and minerals. It has potent sources of vitamin K, typically found in green leafy vegetables, which helps in blood coagulation and repairing wounds [source].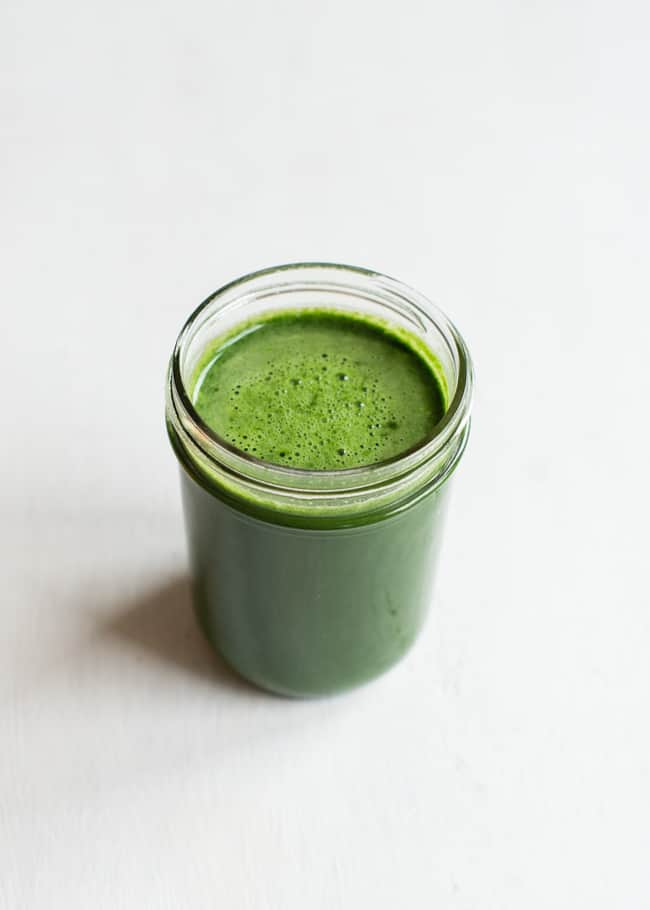 Kale, one of the cancer-inhibiting brassica vegetables, is high in vitamins A, C, K, and contains smaller amounts of B6, B1, B3, E, and omega-3 fats [source], all of which are beneficial for the body and great for the skin.
Parsley is one of the best vitamin K sources and contains moderate amounts of vitamins C and A, folate, iron, and copper. It has multiple beneficial effects in the body, including protecting the liver and stomach, preventing blood clots, and helping to keep blood sugars down [source].
Lemon is very high in vitamin C, of course, which helps the body neutralize free radicals that cause damage to healthy cells and cell membranes and is a major player in supporting the immune system [source].
Cucumbers are not only a great source of vitamins (A, B, C, and K) and minerals (magnesium, potassium, and silicon), but they are also filled with phytochemicals and known to be protective against cancer [source]. They are also very hydrating, made up of 95% water. Their anti-inflammatory properties are beneficial for the body, both inside and out.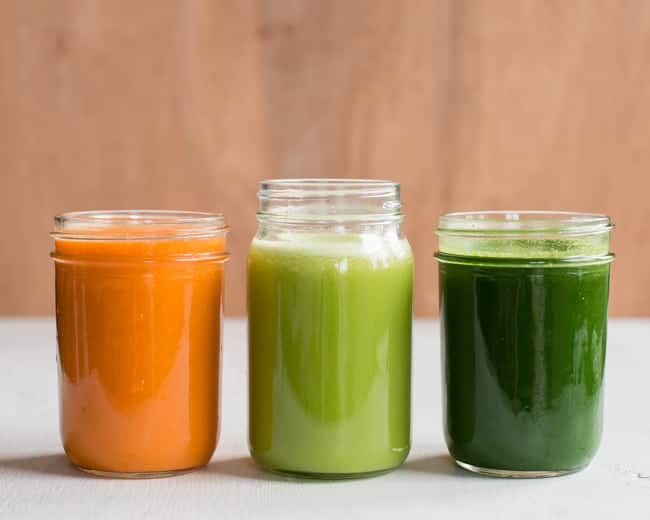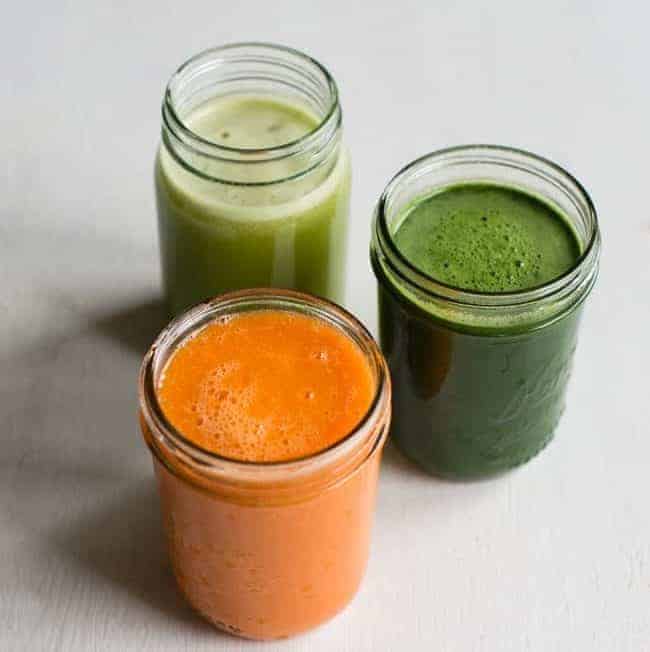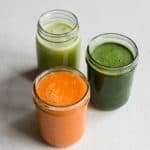 Print Recipe
3 Juice Recipes for Great Skin
Drink your way to a healthy glow with these three fresh juice recipes for good health and great skin.
Ingredients
Vitamin C Super Juice
1

whole head of broccoli

2

oranges,

peeled and seeded

1

large apple,

peeled and cored
Vitamin A Plus Juice
½

cantaloupe,

rind and seeds removed

4

carrots,

peeled and ends trimmed

1

large mango,

peeled and seeded
Hydrating Cleanser Juice
1

bunch kale,

stem ends trimmed

1

large English or 2 regular cucumbers

1

small bunch parsley

½

lemon
Instructions
Vitamin C Super Juice
Trim a little of the broccoli stem and cut into 2-inch pieces.

Place broccoli and fruit into juicer according to manufacturer directions.
Vitamin A Plus Juice
Juice carrots and fruit according to manufacturer directions.

Alternatively, puree in a blender with ½ to 1 cup water until smooth.
Hydrating Cleanser Juice
Juice kale, cucumber, parsley, and lemon according to manufacturer directions.
Notes
Drink the juice immediately. If needed, store in an airtight container in the refrigerator for up to 24 hours.
This article was medically reviewed by Dr. Gina Jansheski, a licensed, board-certified physician who has been practicing for more than 20 years. Learn more about Hello Glow's medical reviewers here. As always, this is not personal medical advice and we recommend that you talk with your doctor.
191