A few years ago I decided to purchase a juicer. That was a huge step for me. I didn't realize just how quickly I would be hooked on fresh vegetable and fruit juice. (I even did a crazy 10-day juice fast!)
Juicing has so many amazing health benefits, but it might also leave you wondering if it's really something you want to dabble in or if you'd rather just chew your fruit and veggies.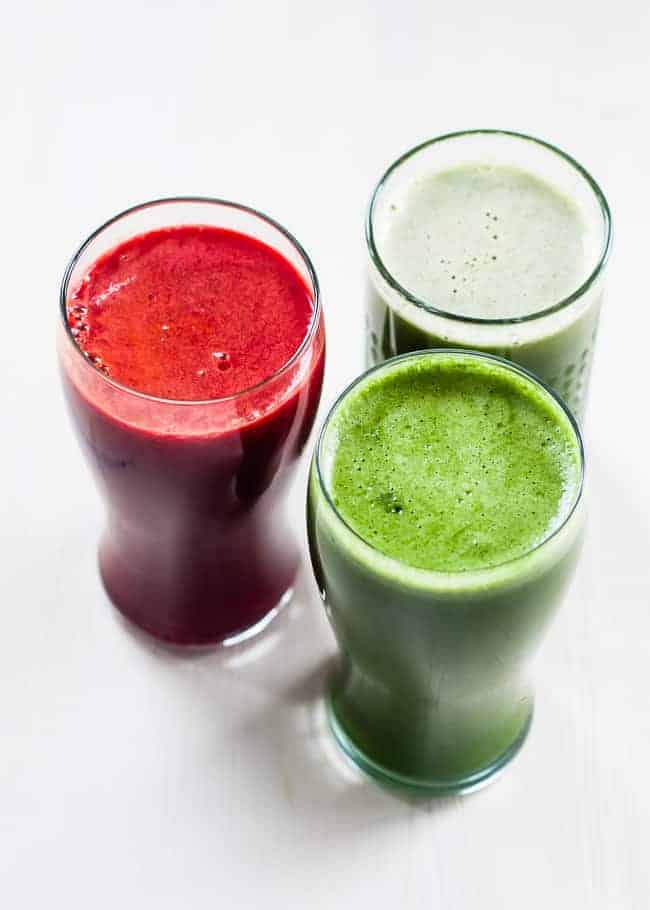 When I first started juicing, I got a lot of questions from family and friends. Why are you doing this? Isn't making smoothies the same thing? How does it taste? What kind of juicer should I get? Why are you doing this again???
Juicing 101
I started juicing as a way to get more nutrients from fresh fruits and veggies into my day. I mean, I can only eat so much salad! It's been a great way to supplement my otherwise healthy diet. And that holds true for people who maybe aren't eating a very healthy diet. Everyone can benefit from consuming more fruits and veggies.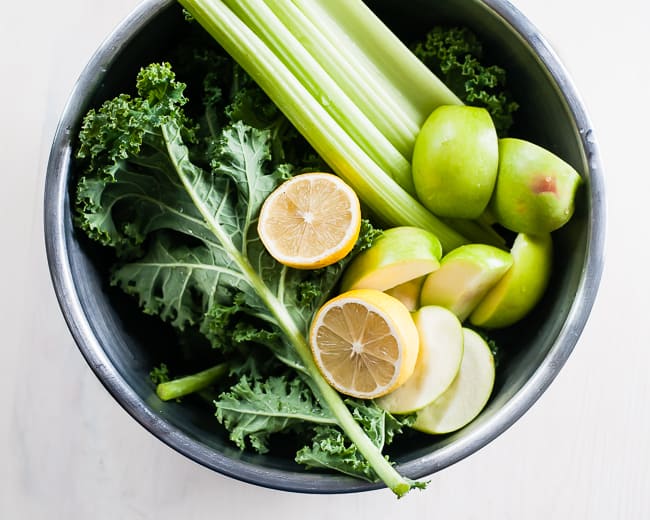 As I'm sure you've noticed, some fruits and vegetables have a higher water content (i.e., are juicier) than others. Oranges, cucumber, melon, carrots, beets, celery and the like are going to produce more juice than say, a handful of spinach. It's important to do a mix of high- and low-yielding fruits and veggies.
All fruits and veggies have vitamins and nutrients, but those low-yielding leafy greens are especially packed full of nutrition. Unfortunately it takes such a high volume of greens to yield just a few tablespoons of juice.
That's why you see small shots of wheat grass juice as opposed to an 8 ounce cup. But those juices are highly concentrated, so it's good to mix them with those juicier veggies and fruit. It also helps dilute the strong flavor, which can be a little off-putting if you're not used to it.
Foods to start with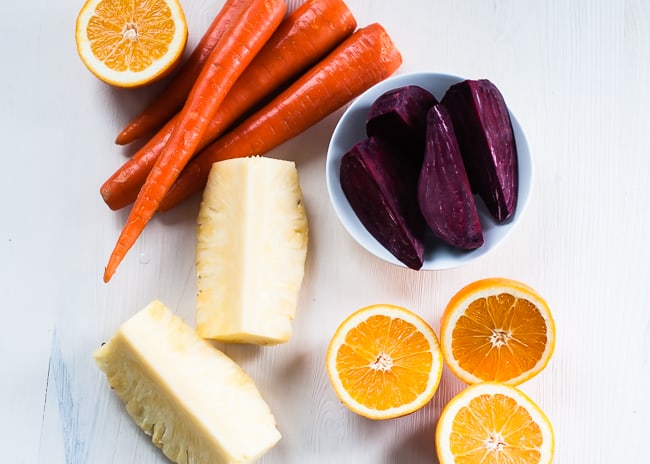 Some fruits and veggies are sweeter than others too. When I started juicing, I would mix just about anything together and try to choke it down. Nope. Totally the wrong tactic. If you're unsure where to start, seek out some tried-and-true juice recipes. Here are some tips:
Good starter foods
If you're not used to the strong flavor of juiced greens, start out by using a lot of apples or carrots, which are sweet and higher-yielding.
Surprising green goodness
Remember that just because it might smell funky, it doesn't mean it's going to taste bad. One of my favorite green juices is broccoli juice, which smells pretty much like death. But that's just the pulp. The juice is very sweet.
And you wouldn't believe how much juice you can get out of the light green stalks. Don't throw those away! Juice 'em!
Watch the sodium
I used to hate cucumbers until I started juicing. It's incredibly refreshing and turned me into a big cuke fan in a hurry. Celery is naturally high in sodium and the flavor is pretty strong. It's good for juicing and will produce a good amount of juice, but go easy unless you really, really love it.
Sweet stuff
Beets, sweet potatoes, carrots, apples, pear and oranges are going to add a lot of sweetness to fresh juice. I tend to go easy on them because my body doesn't do well with a big sugar rush. But if you're trying to cut down on refined sugar, a sweet juice in the afternoon is a nice little pick-me-up.
Add ins
You can also add a lot of flavor and pep to your juice by adding small amounts of onion, garlic, ginger, or herbs. Don't go crazy with the garlic unless you're trying to scare away vampires. A little goes a long way.
Ginger is a great and produces a moderate amount of juice, but it can get spicy quickly. I like it, but consider yourself warned! Herbs are packed with nutrition and vitamins. Good herbs to add into your juices include basil, mint, cilantro, and parsley.
What not to juice
I don't juice berries, mangos, bananas, and other softer fruits because they clog up my juicer. If I want to incorporate them into a fresh juice, I will juice the other fruits or veggies first, then blend them up with the softer fruits in my blender. (And extra step and extra thing to wash, so usually I'll just make a smoothie instead.)
3 Basic Healthy Juice Recipes
Pineapple Beet Carrot Juice
This juice is a great one for beginners because it is super sweet and delicious. Make sure to peel the beets or the juice will taste like dirt. (Trust me.)
I don't peel the carrots, but will give them a good scrub. The juice blend can be overly sweet depending on the fruit you use, so it can be diluted with water if it's too sweet for your taste.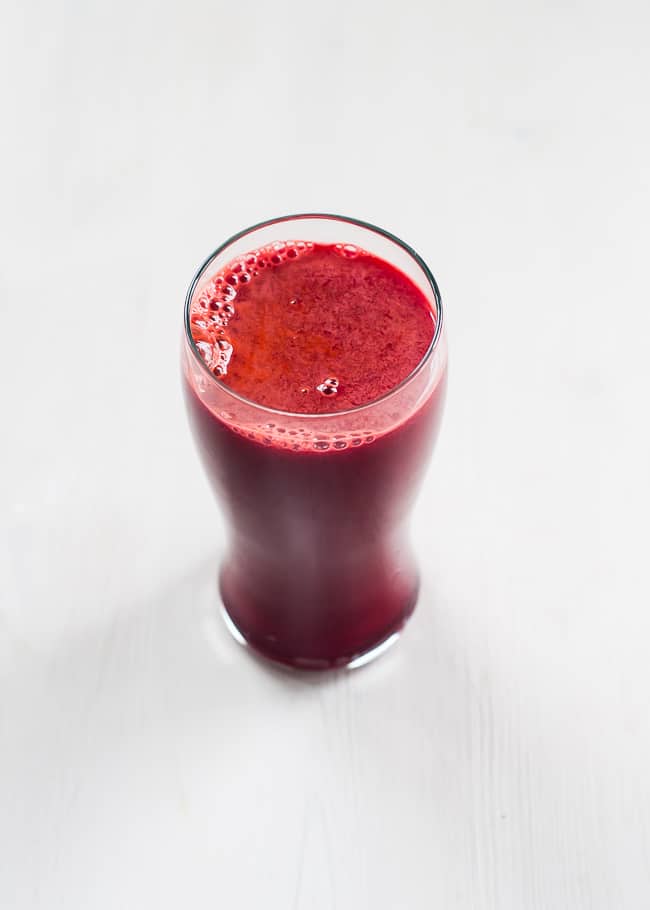 Beet Carrot Pineapple Orange Juice
A refreshing, super sweet fresh juice recipe full of vitamins A and C for beautiful skin and a healthy immune system.
Ingredients
1

large or 2 small beets

peeled

4

large carrots

1/2

pineapple

do not remove core

2

medium oranges

peeled, seeds removed
Instructions
Juice all ingredients according to manufacturer directions. Serve immediately. Makes about 25-30 ounces.
Notes
This is a very sweet juice. Sometimes we add sparkling water to this for a fun bubbly drink. Water can also be used to dilute it if desired.Add ginger for extra kick.Add the beet greens for even more nutrition.Some juicers can't handle big pieces of fruit or veggies, so it becomes necessary to chop the vegetables before juicing which will add a little more prep time.
Minty Cucumber Melon Juice
This is hands down one of my very favorite juices. I would drink it every single day if I could, and during the summertime I do. Cucumber and melon go really well together – they are related.
Try to use a very ripe melon for the sweetest juice. The spinach gives it some added nutrition. I love the addition of mint and lime. It almost tastes like a healthy cocktail.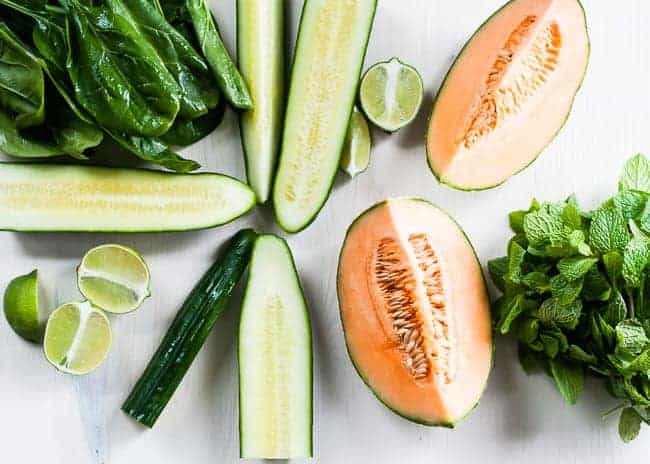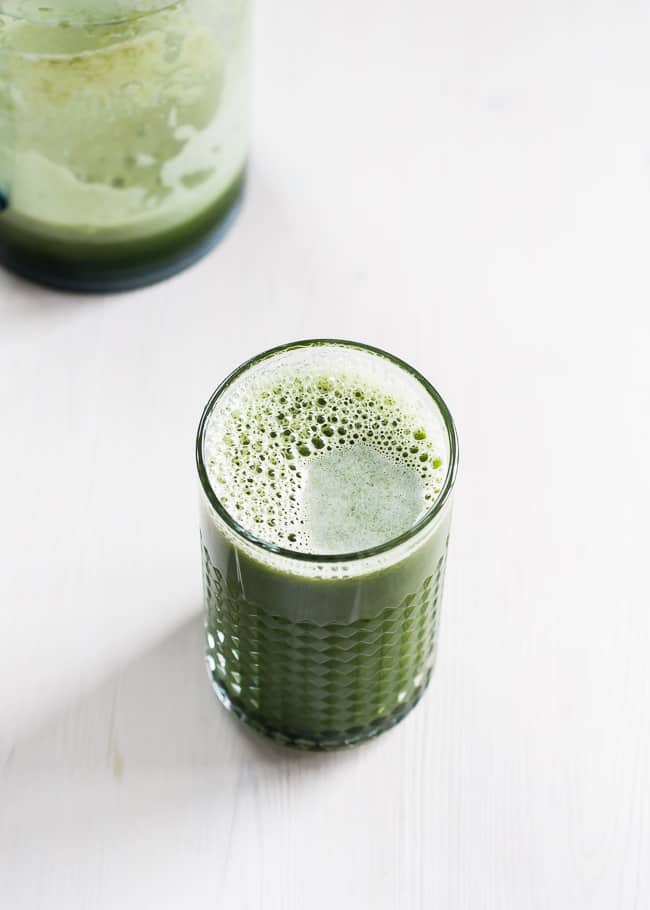 Minty Cucumber Melon Juice
A refreshing juice full of vitamins and minerals with a little minty kick.
Ingredients
1/2

medium canteloupe

rind and seeds removed

1

large English cucumber

peeled if waxed

1

large bunch fresh spinach

about 4-5 cups, stems included

1

small bunch fresh mint

leaves and tender stems

2

limes

rind removed
Instructions
Juice according to manufacturer directions. Serve immediately. Makes about 25 ounces.
Notes
I don't like to waste the stems, so I always trim them and include them in the juice.Any melon can be substituted for the cantaloupe.My juicer doesn't do a great job with citrus rind. I also find it adds a lot of bitterness to the juice, so I cut it away. It is edible, so that part is optional.Some juicers can't handle big pieces of fruit or veggies, so it becomes necessary to chop the vegetables before juicing which will add a little more prep time.
Mean Green Juice
Mean Green Juice is one of the first juices I started making. It's not sweet! The celery and ginger pack a punch in this juice. It's not for pansies. :)
I love it because it feels zingy and helps clear things out…if you know what I mean. Celery is one of the highest natural sources of sodium, so this juice also tastes a bit salty.
For a yummy veggie juice, sub 1/4 of an onion for the ginger, and use tomatoes in place of the apples.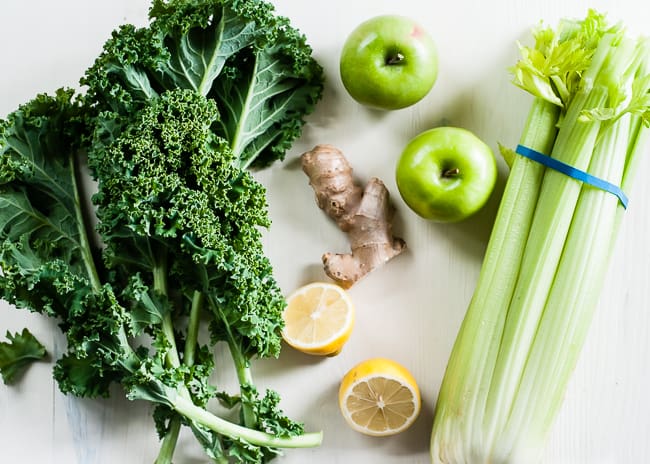 Mean Green Juice (Kale, Celery, Apple, Ginger)
A nutrient-packed green juice that also packs a punch.
Ingredients
6-8

kale leaves

washed well, end of stems trimmed

4

celery stalks

2

green apples

peeled if waxed

1

lemon

seeds and rind removed

3-4

inches

fresh ginger

peeled
Instructions
Juice according to manufacturer directions. Serve immediately. Makes about 15-20 ounces of juice.
Notes
This juice is not sweet by any means. It's tart and concentrated. For added sweetness, add an orange or pear.I use the kale stems. They contain more juice than the leaves.Some juicers can't handle big pieces of fruit or veggies, so it becomes necessary to chop the vegetables before juicing which will add a little more prep time.Variation - swap tomatoes for the apples and use 1/4 of an onion for the ginger for an awesome veggie juice.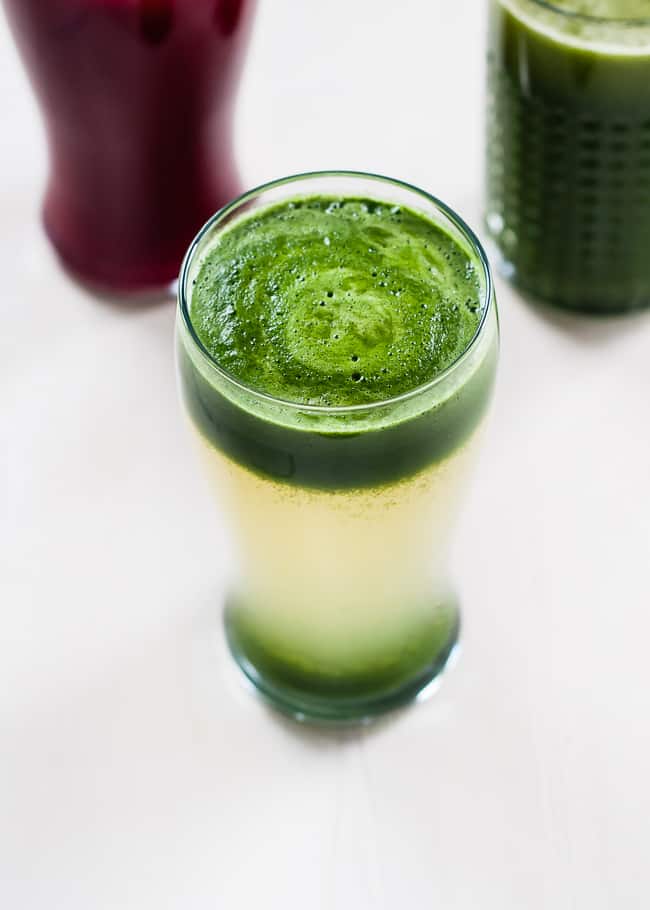 Fresh juice can and will naturally separate as it sits. You can see in the picture above how much water there was in the green juice above. The upper layer is the concentrated kale juice. The rest came from the celery, lemon and ginger. If it separates, just give it a stir and drink.
The physical effects of juicing might catch you off guard. I mean, it has to be said. You will probably run to the bathroom a few minutes after your drink your first juice. That's a good thing. One benefit is to help clear out your digestive track and keep things moving along, even without all the extra fiber. Don't do a juice fast without talking to your doctor first.
Once your body gets used to fresh juice, you will crave it!
33