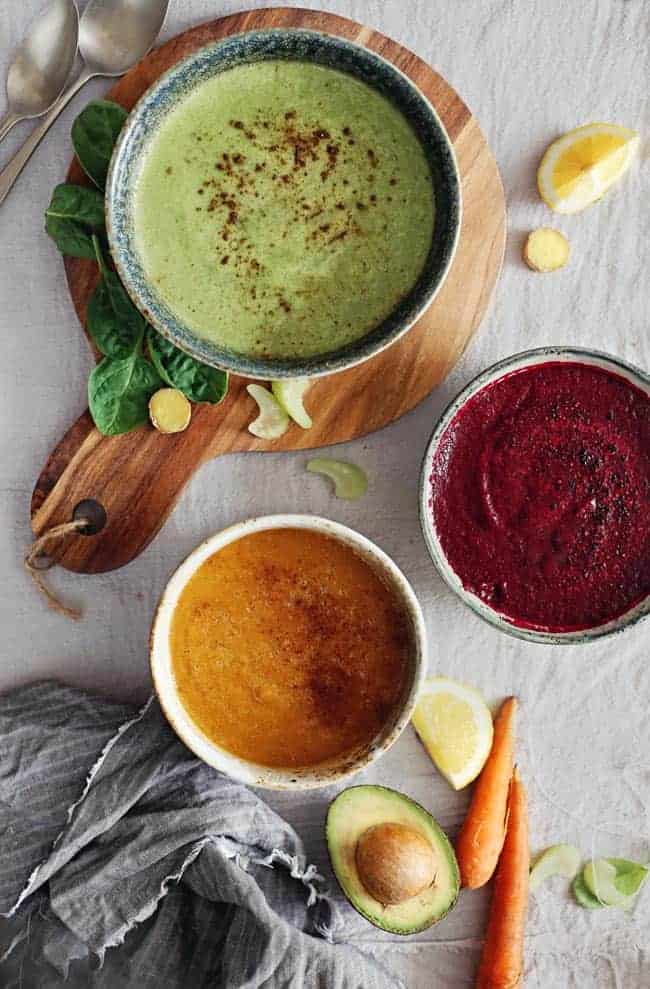 Who says soups are only for fall and winter? During the summer, sometimes salad gets old—and a cool, creamy bowl of soup is all you need.
Pour yourself a bowl (or 2) of these 3 easy summery detox soup recipes, full of fresh ingredients like beets, avocado, tahini and spinach. They're all raw and vegan, and take about as much effort as making a smoothie!
3 Raw Soup Recipes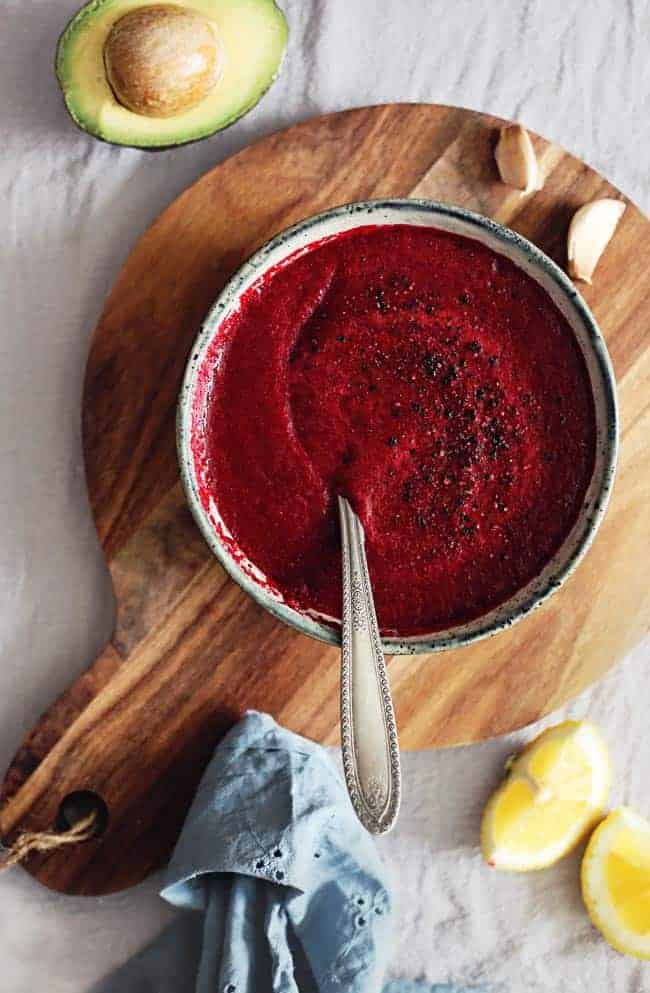 Creamy Beet Detox Soup
Beets are responsible for the beautiful color of this soup. But it's not just looks - betanin, the compound that gives beets their typical color - is actually considered beneficial to our health in itself [source].
Beets are also known to contain a great amount of antioxidants, iron, folate, iron, Vitamin C and magnesium, making it a well rounded ingredient you should include in your meals as often as possible. All that with a very high content of water (87%), a good amount of fiber, and being low in carbs.
But, of course, you can't just blend beets and call it a soup! To make this recipe flavorful, we used garlic, cayenne, and carrots. For creaminess, we added avocado. For the extra boost of hydration, we used coconut water, which you can easily supplement for water if needed.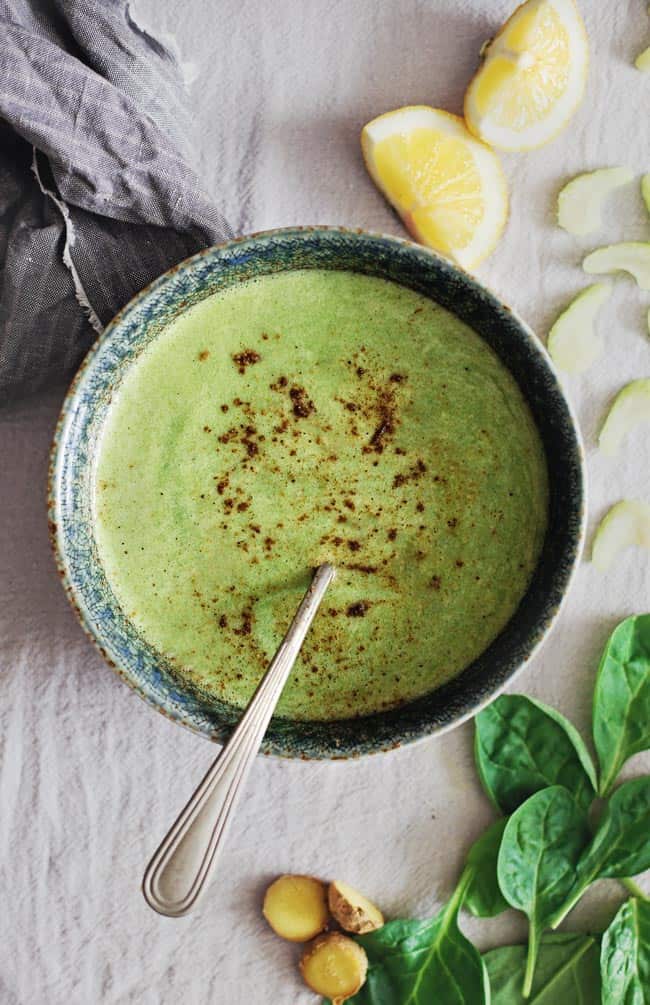 Detox Spinach Soup
When it comes to this green soup, spinach is the main star. Spinach is 91% water, meaning it's hydrating and easily digestible. It's also packed with insoluble fiber, which prevents constipation and comes with many other health benefits as well [source]. A powerhouse of vitamins, spinach contains vitamins C, A, and K1, in addition to iron, folate, and calcium.
To add creaminess to this raw detox soup, we used both avocado and dairy-free milk. Garlic, ginger and cumin add flavor, but they also bring their immune-boosting properties to the table.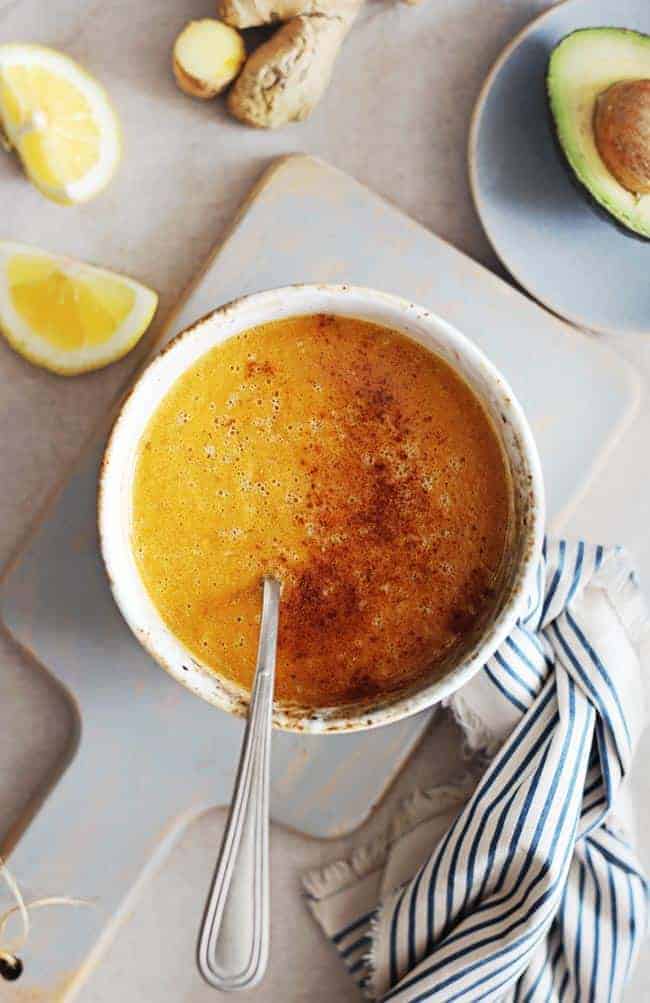 Raw Carrot Detox Soup
This easy-to-make recipe is based on carrots, which give it a pretty color, as well as several heath benefits. Beta carotene, potassium, fiber, vitamins K1 and B6, and antioxidants are all part of carrots' repertoire.
Carrots make you feel full easily, making it less likely to fill up with empty calories, which is why they're often recommended in weight-loss diets [source]. Combine raw carrots with ginger, cinnamon and tahini, and you've got yourself a refreshing, yet satisfying meal that makes summer 'cooking' a breeze.
Scroll down for all three recipes and let us know in the comments: which one would you like to try first?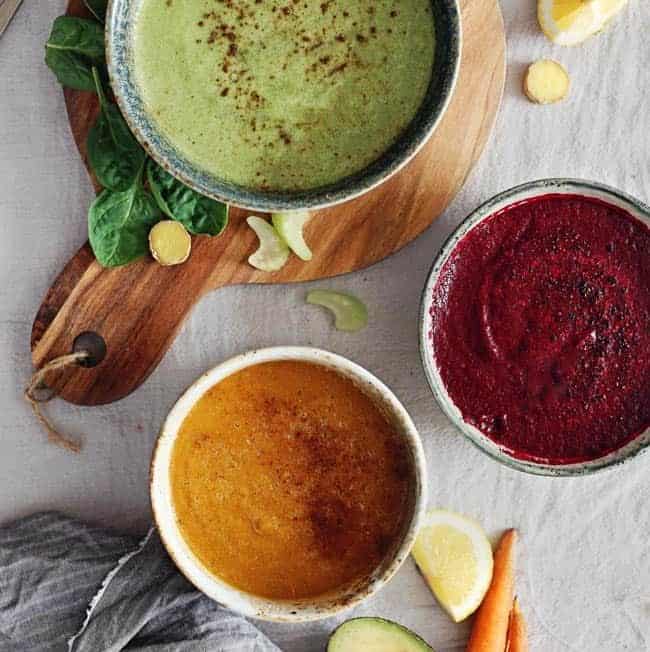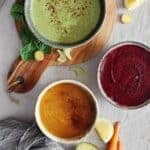 Print Recipe
3 Raw Detox Soup Recipes for Summer
These detox soups are all raw and vegan, and take about as much effort as making a smoothie!
Ingredients
Creamy Beet Detox Soup
1

avocado

½

medium beet chopped

2

carrots chopped

1

clove

of garlic

2

tablespoon

raw apple cider vinegar

Pinch

cayenne

½

teaspoon

sea salt

1

cup

of water or coconut water

Juice of 1 lemon

Pepper to taste
Detox Spinach Soup
1

cup

water

1 ½

cups

spinach

1

avocado

1

stalk celery

1

clove

garlic

1

teaspoon

ginger root

½

teaspoon

sea salt

½

cup

dairy-free milk

dash

cumin
Raw Carrot Detox Soup
1

avocado

2

medium carrots chopped

¾

cup

dairy free milk or coconut water

1

teaspoon

ginger

½

teaspoon

cinnamon

3

tablespoons

tahini or sunbutter

½

onion

¼

lemon juice

Pinch

cayenne pepper
Instructions
Place all ingredients into a high speed blender and blend to a smooth and creamy texture.
Photos by Ana Stanciu
133