The t-shirt is probably the most popular, universal piece of clothing there is (next to jeans, of course). And we tend to get very attached to certain t-shirts – whether they remind us of something or someone, or they just make us feel confident somehow. So parting with a t-shirt can be hard – no wonder I still have band t-shirts from high-school! But, instead of storing them in the back of the closet for no good reason, how about repurposing them into something cool? It could be anything – jewelry, decor pieces or just an upgrade in style. Which one of these 50 ways to reuse an old t-shirt would you try?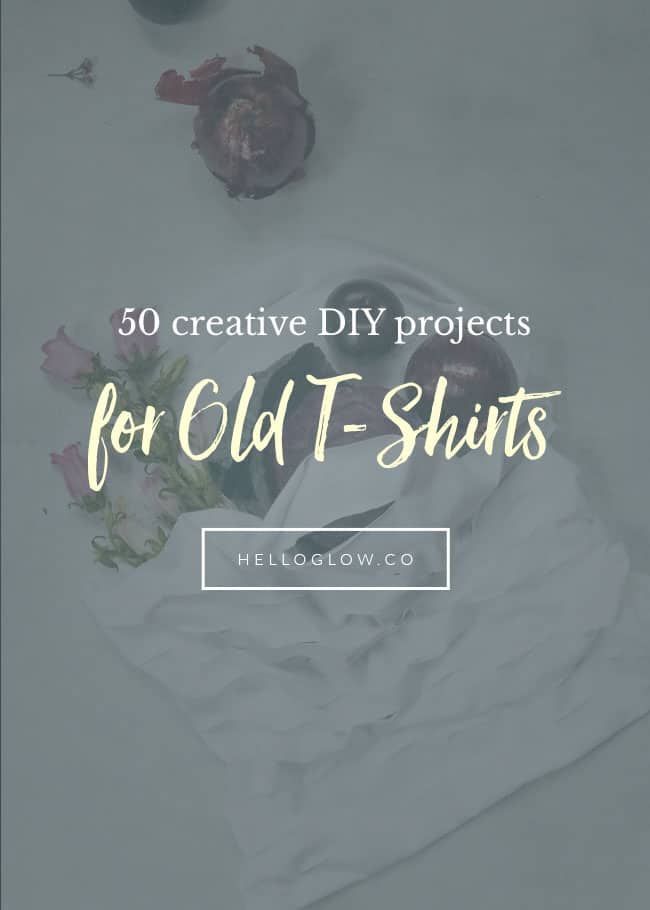 50 Ways to Reuse Old T-Shirts
1. Sequin heart DIY T-shirt by Hello Glow. If your favorite t-shirt has a stain or a hole, don't hurry into throwing it out! Mend it with a sparkly sequin trim and it will look better than before.
2. Produce Bag from T-shirts by Hello Nest. Reusable bags made of fabric are great, but they're even better when the fabric itself is reused! Take this produce bag made from a tee, for example!
3. Recycle an old tee into a pillow case by C is for Crafting. An easy as can be solution to keeping your favorite t-shirt without having to actually wear it.
4. DIY crochet cord necklace by Miss Amy Phipps. Using a chunky hoot and some t-shirt yarn, you can crochet anything! Including this cool necklace in your favorite color.
5. Ombre four-strand head wrap by Whistle & Ivy. Start with a white t-shirt and create a fun ombre effect to wear on your head.
6. Homemade wipes by Hello Nest. No matter how old or torn the t-shirt, you can always turn it into reusable wipes for zero waste cleaning!
7. How to make t-shirt pompoms by Recycled Fashion. Pompoms are even chunkier and more fun when they're made of t-shirt yarn!
8. Shirt into bracelet by Lana Red Studio. A friendship bracelet that's made of t-shirt strips is chunkier and more fun!
9. No sew hobo bag tutorial by Crafty Gemini. T-shirts have the perfect shape and size to be turned into a bag – and a roomy one too!
10. DIY soy wax candle gift by Hello Glow. Use the fabric from an old tee to nicely wrap up a gift. Tie it with some twine and add a gift tag to make it absolutely lovely.
11. Braided t-shirt rug by My Poppet. Use a bunch of your old t-shirts at once and turn them into a trendy braided rug.
12. Embroidered t-shirt art by Buttons and Paint. A printed t-shirt gets a new life as wall art, with an embroidery hoop and some thread.
13. Shaggy t-shirt pillow by Just Crafty Enough. A super fun and cozy pillow for your couch, that also allows you to reuse the fabric from a basic tee.
14. Kids play campfire by Making Things Is Awesome. Turn old shirts and socks into a great play idea for kids: a fabric campfire, complete with marshmallows!
15. No sew grocery bag by Hello Glow. Discolored armpits? Cut off the sleeves and turn that tee into a reusable grocery bag.
16. Denim jacket quilted appliqué by The House That Lars Built. Upgrade a denim jacket with a quilted appliqué made from strips of your old t-shirts.
17. Cat tent by Peek It Magazine. Your furry friend will soon be all about this tent! Bonus points if you're using a t-shirt your cat would always sit on.
18. Two layered gathered lace skirt by Pearls and Scissors. Use a t-shirt as lining for a pretty lace skirt, which is easy to sew and looks great.
19. The t-shirt rug by Scratch and Stitch. Rather than throwing away a big sack of t-shirts you can no longer wear, use them to create a big rug. This project uses 80 tees and takes a while, but it's so worth the effort!
20. DIY T-Shirt bracelet by Hello Glow. Braid t-shirt strips with chunky beads and make yourself the coolest eco-friendly bracelet/necklace.
21. Rainbow storage basket by My Poppet. T-shirt yarn is great for crocheting! You can use this tutorial to make your own storage basket.
22. Infinity scarf by The Craft Patch Blog. With just a few cuts here and there, you'll turn an old tee into a new scarf in no time.
23. DIY T-Shirt Dusting Mitt by Muslin and Merlot. Make reusable dusting mitts using the fabric from your old t-shirts!
24. Manatee pillow pet by We Lived Happily Ever After. Any kid will love hugging this Manatee pillow pet, and you can make it in no time with the downloadable pattern and easy instructions.
25. DIY lace insert t-shirt by Gina Michele. If you have a tee that doesn't fit anymore, add some lace to the sides and you'll be able to wear it again.
26. Refashioned tiger t-shirt by Eat Sleep Make. Turn a regular sized t-shirt into a kid's t-shirt with this easy tutorial.
27. Father's Day superhero wipes case by Haberdashery Fun. Wipes can be masculine! If you wrap the case in a masculine t-shirt scrap, that is.
28. Pom pom making ninja by A Piece of Rainbow. How aren't we making t-shirt yarn pom poms already?
29. Woven fabric necklace by A Beautiful Mess. Cut, knot, and wear! That's all you need to do to get this pretty statement necklace.
30. DIY recycled shirt bracelet by Hello Glow. Another great bracelet made of braided t-shirt strips, this time with a metallic chain accent.
31. T-shirt to skirt refashion by Second Chances. If you don't want to wear it as a top, how about as a skirt?
32. T-shirt necklace DIY by Stars for Streetlights. A stylish layered necklace made from straps of different colored t-shirts and different chains.
33. Patchwork shorts from outgrown tees by Scattered Thoughts of a Crafty Mom. If your kid is having a hard time parting with outgrown tees, turn them into pants instead of throwing them out.
34. T-shirt yarn by Nur Noch. A super useful tutorial on how to make continuous t-shirt yarn without sewing or knotting.
35. DIY double t-shirt sun dress by Gina Michele. Turn two mens t-shirts into one stylish dress for yourself!
36. Braided t-shirt bracelets by Hello Glow. Easy. Cheap. Totally customizable.
37. Watermelon summer top by One O. Turn a t-shirt into a crop top and make it really fun with potato-stamped watermelon print.
38. Easy tee dress by Francois et Moi. Make a dress starting with a pre-made jersey t-shirt – nice for kids and adults alike.
39. Woven wall hanging by TrashN2Tees. Woven wall art is very trendy these days, and it can easy be done with t-shirt scraps.
40. Reusable dryer sheets by Hello Glow. Use white vinegar and essential oils together with old t-shirt scraps to make these reusable dryer sheets.
41. Rag rug by A Piece of Rainbow. Make your own loom and use it to weave a fun and colorful upcycled rug.
42. DIY T-Shirt Dress by Coral + Co. Add a skirt to a no-longer-fitting t-shirt and you have a new dress! This is especially useful for quick-growing kids.
43. Full length dress DIY by Mark Montano. This maxi dress/beach cover-up is made from four t-shirts which were tie-dyed and sewn together.
44. Two in one t-shirt by Oh Everything Handmade. Use up two old t-shirts by combining them in a cool new colorblock one.
45. Braided t-shirt key chain by Crafts by Amanda. An easy way to find your keys is if the key chain is large and colorful enough. This one is made by braiding several colors of t-shirt strips.
46. Upcycled knotted baby hat by Alice & Lois. Those cute knotted baby hats can be sewn very easily, using fabric from an old tee.
47. Old T-shirt hair scrunchie by Lana Red Studio. Rather than throwing away that pretty print t-shirt that gained a few holes… turn into lots of hair scrunchies!
48. Tie-dye bustle sundress by The Tiptoe Fairy. Your daughter will this colorful, ruffled dress, and you'll love getting rid of unwanted tees.
49. DIY twist back top by A Beautiful Mess. Give your t-shirt a new life by cutting off the back and adding twisted jersey strips (from another t-shirt).
50. DIY t-shirt infinity scarf by Hello Glow. Tie-dye an old tee and quickly turn it into an infinity scarf, with no sewing required.
11