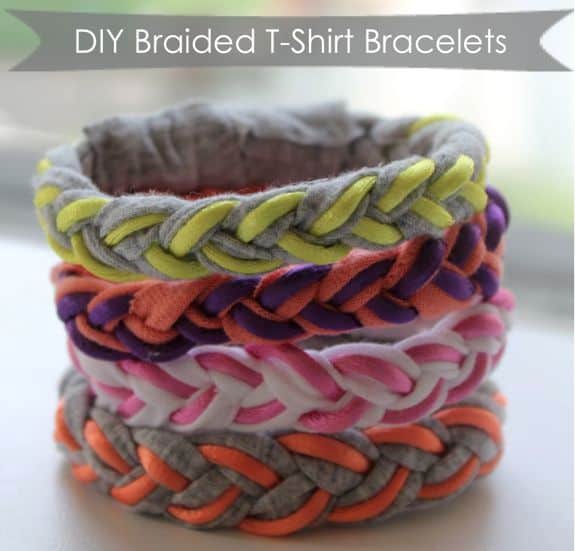 Here's the DIY I promised last night! I spotted these pretty Roarke NYC braided bracelets in Elle magazine and loved their bright, feminine colors. I wanted a bunch of braided bracelets to wear stacked on my wrist but $60 each was out of my reach.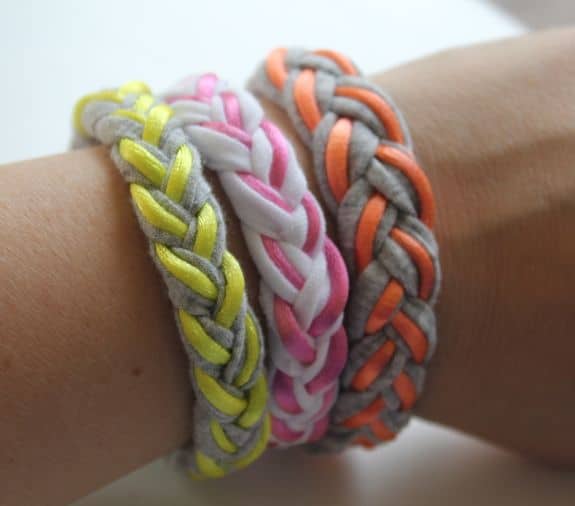 I've made braided bracelets before - like this cool braided bracelet and even a necklace - so I figured how hard could this braided t-shirt bracelet be? The price tag of these braided bracelets alone was a sign for me. Turns out it's pretty easy and a great craft project. Otherwise, let's be honest, I wouldn't have figured it out. And it's saves you money! Yahoo! Braided bracelets look good with virtually any outfit, and it's a great way to reuse the old t-shirts you or your kids have outgrown. If you want to make your own DIY braided bracelets, keep reading. We'll show you how.
You can use any colors that match, but I love how striking pink, purple, blue and green looks when combined with a simple grey or white T-shirt, but you can also play around with one color, e.g. using different shades of yellow, orange or brown. Explore your options with a color chart or by laying the different strips of fabric cut from your old clothing next to each other to see which ones match.
You'll need:
Cotton or jersey T-shirt you don't mind cutting up. Or you can pick up a shirt at Goodwill. White and grey make good base colors for pastel or neon cord, but you can use any colors that match.

1 yard of rattail cord for each braided bracelet. You can find lots of fun colors at JoAnn's for 50-99 cents a yard.

Magnets. I got a package of 10 for $2.

Glue. Either hot glue or tacky glue or both.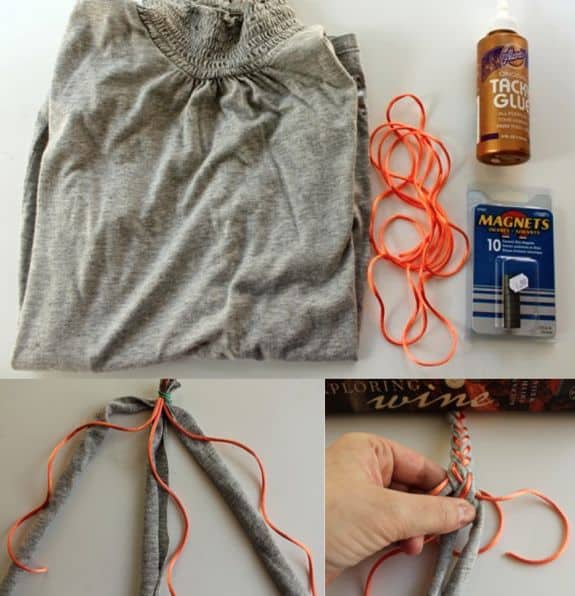 Instructions:
1. Cut the shirt into 3 strips roughly 1-inch wide and about 12 inches long. These make up the strings of the bracelet. But don't stress cutting this precisely. The ends will roll in so you don't need it to be pretty.
2. Cut the rattail cord into 3 10-inch strings.
3. Anchor the top with a bobby pin or rubber band, separate into 3 strings, and start braiding.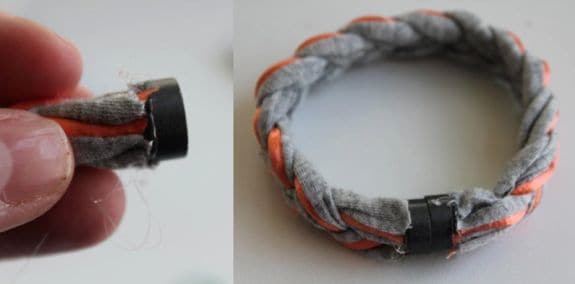 4. When you get to the end of the braid, snip the ends, bunch all of the pieces together, and glue the magnet to your braided bracelet or friendship bracelet.
5. Do the same to the other end. Wrap it around your wrist and make sure you have the right length before attaching the second magnet.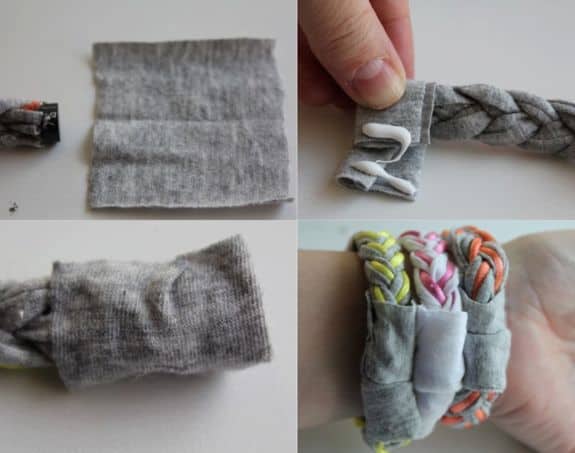 6. Cut two little pieces of fabric to cover over the magnet ends.
7. Fold the fabric over the magnet and glue together and your braided bracelet or friendship bracelet is done!
Variations
Now that you know how to make a braided bracelet, you can start making a few variations to give away as friendship bracelets or just to pass the time on those rainy days where your hands are itching for a new craft project.
One variation that I really love is one where you use string or embroidery floss to create your braided bracelets. Embroidery floss is a smooth cotton string with a nice shine. It's available in neon and metallic, so you can create them in any color scheme you like. I like DMC's embroidery floss range but you can use any other brand you like. Embroidery floss is much thinner, so if you are making braided bracelets I'd use a safety pin to move the outer string to make your braid of your friendship bracelet.
What do you think about these funky braided bracelets? Would you make one? What colors would you use?
FAQs About Braided Bracelets
What are braided bracelets and friendship bracelets?
Braided bracelets and friendship bracelets are types of jewelry that are made by weaving or braiding together strands of thread, string, or other materials to create intricate patterns and designs. Braided bracelets are considered a symbol of friendship or a meaningful connection between individuals.
How are braided bracelets and friendship bracelets made?
There are several methods for making a braided bracelet or friendship bracelet, but it usually involves weaving several strands of material or threads together in a special design. Some braided bracelets and friendship bracelets may also incorporate beads, charms, or other decorative elements. They are a great way to repurpose old T-shirts.
What materials can I use to make braided bracelets and friendship bracelets?
You can use cotton thread, nylon cord, leather, suede, silk, hemp, embroidery floss, or even metal chains. The material you use can affect the durability, comfort, and overall appearance of the bracelet, so choose carefully. If you are making a friendship bracelet, it's worth taking a look at the symbolism behind different colors. Pink can symbolize childhood, blue means freedom, green means new beginnings while purple can mean magic! Your friendship bracelet can also contain charms that carry special meaning to you or your shared history with your friend.
How can I wear and style braided bracelets and friendship bracelets?
Braided bracelets and friendship bracelets are really versatile and chic. They can be worn individually or stacked together for a trendy layered look that match any outfit. They can also be combined with other types of bracelets, watches, or jewelry to create a unique and personalized arm candy! They can also be worn by men and women!
What's the best way to gift a friendship bracelet?
Giving a friendship bracelet can be a special gesture to show someone that you care about them. You can give a friendship bracelet as a gift on special occasions like birthdays, graduations, or holidays, or simply as a spontaneous gesture of friendship. You can tie your friendship around your friend's wrist, or even attach it to a card or a small gift to make it extra special.
302