Here at Hello Glow, we're on a mission to find the safest and most effective beauty and wellness products. And one of the first things on our detox to-do list is the makeup bag. Natural makeup has come a long way and now there are so many amazing organic makeup and beauty brands. It's a difficult task to narrow down a list of favorites!
Here's our list of the best natural makeup brands based on personal experience, ingredients, packaging and company values. We hope you'll find this list useful in creating your own natural glow.
10 Best Natural Makeup Brands

This is the line created by none other than Gwyneth Paltrow. I know what you're thinking since GP has a reputation of endorsing products with hefty price tags. So I was surprised to learn that the line is pretty affordable, and in my book, if it has GP's seal of approval, it must be good!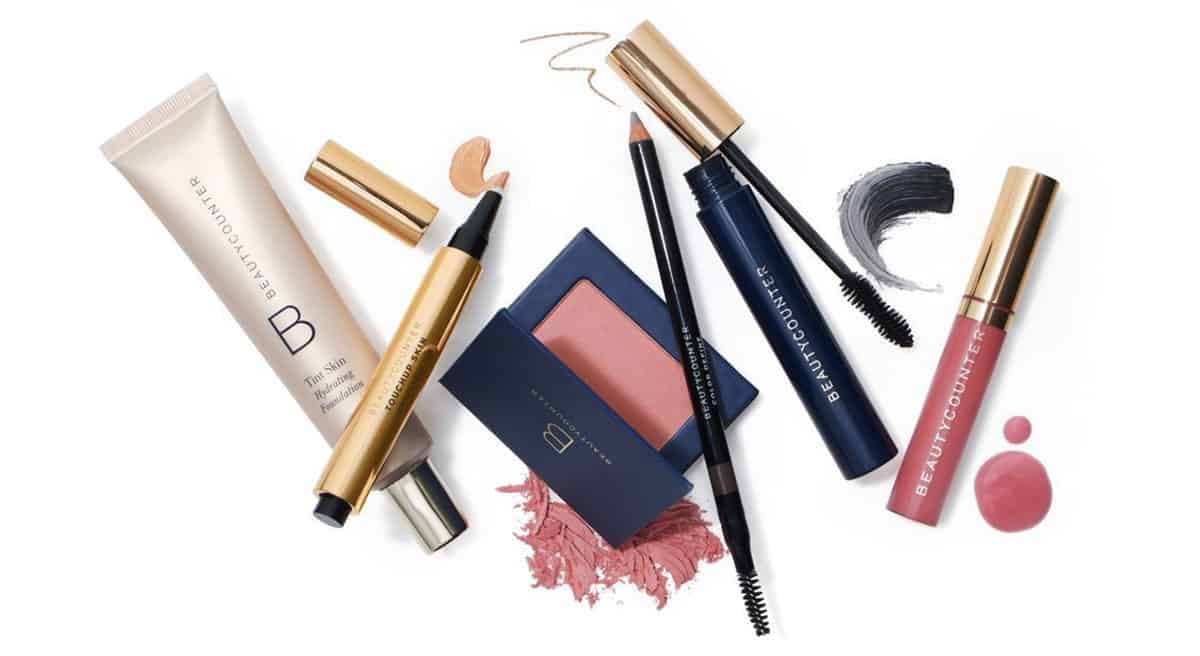 We've shared our BeautyCounter favorites in the past (and even a few of their makeup artist tricks!). Devoted to transparency about how their products are made, BeautyCounter's mission is to make safe products available for everyone, simply by banning toxic chemicals from their cosmetics. A staple in Stephanie's daily makeup routine, their skincare and makeup gets two thumbs up from us.

This company takes its name seriously! All products are completely free of any damaging chemicals, artificial fragrances, harmful toxins and skin irritating parabens. They'll also help fight against premature aging with their jam-packed naturally occurring antioxidant goodness. Plus, how can you not love that their makeup is pigmented with fruit dye?!

This popular brand centers its whole line around 100% pure, fair trade and organic argan oil. They also offer the option to ship your makeup containers back to them for free in order to have them recycled, a zero waste beauty idea we can definitely appreciate.

Free of gluten, preservatives and dyes, this brand has awesome natural lipsticks, glosses, pencils and crayons. But they're not just about lip color! Their mineral-based FlowerColor Makeup uses natural flower wax to shield skin and lock in natural moisture.

Dr. Hauschka Skin Care is a line of skin care and makeup products with a foundation in natural medicine and respect for the rhythms of nature. It's not cheap, but you can feel good knowing each product is made with the highest quality ingredients from nature, including selected medicinal herbs and plants.

Created by makeup artist Rose-Maris Swift, this coconut oil-based makeup line is not only non-toxic, but it actually heals and nourishes skin.

We love the rich colors in this mineral-based makeup line. Their minerals are specially processed to provide deep pigment, opacity and shimmer without any toxins, irritants or preservatives. Bonus: their packaging is made out of 100% post-consumer recycled paper and eco-friendly soy-based inks.

I own a couple of lipsticks and love them! Each Ilia product is filled with certified organic bio-active botanicals that nourish and rejuvenate the skin. The combination of on trend pigments and super nourishing elements is what sets ILIA apart in organic beauty.
10. Mad Hippie
You might know Mad Hippie from their skincare line (their vitamin C serum is a huge hit). Now they're bringing their skin expertise to clean makeup that also addresses underlying skin concerns. We love the creamy concealer that comes in a variety of natural shades, and with brightening antioxidants and peptides it does more than just cover up. Check out their vegan, cruelty-free mascara and cheek and lip tints that all come in eco-friendly packaging.
Do you guys swear by a brand worth mentioning? Any favorites in your makeup arsenal? Let us know!

This post was medically reviewed by Dr. Jennifer Haley, a board-certified dermatologist with extensive experience in medical, cosmetic and surgical dermatology. Learn more about Hello Glow's medical review board here. As always, this is not personal medical advice and we recommend that you talk with your doctor.
454