It might seem obvious, but long, beautiful hair starts with a healthy scalp. Hair grows an average of about a half-inch per month. But by nourishing your scalp and preventing breakage, you can help jump-start the process and keep your hair healthier. Things like eating healthy fats, popping vitamins, and massaging your scalp may make hair grow a bit faster.
Personally, I'm a fan of using castor oil for hair growth as an all-around panacea. Not only does it strengthen strands, reduce inflammation, improve circulation, and prevent bacterial growth, it also provides your scalp with the vitamins and minerals it needs to grow more quickly.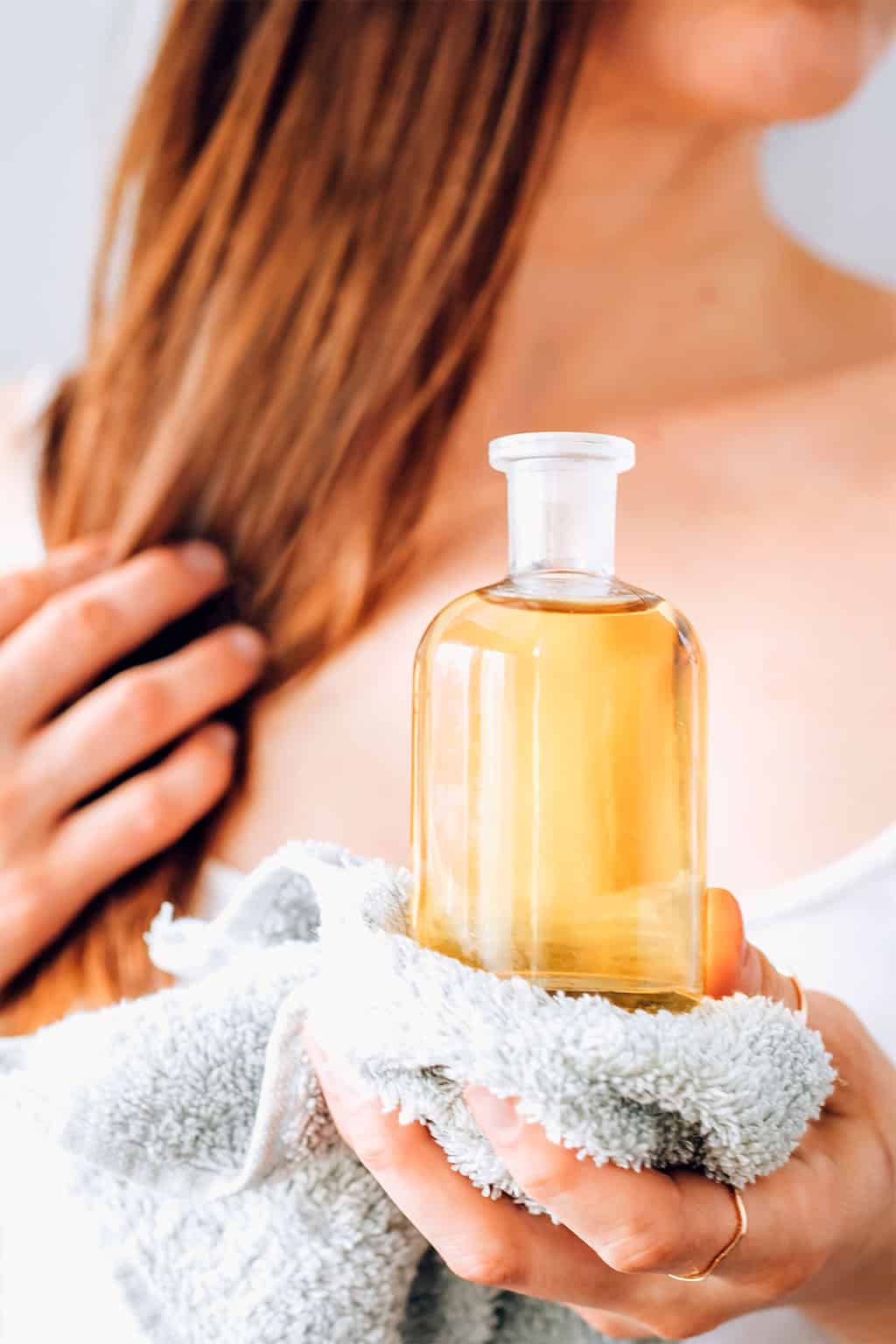 What is castor oil?
Caster oil is a vegetable oil that comes from the seeds of a caster plant, explains New York City-based hairstylist, Kim Bonondona. "It is made by pressing the beans of a caster plant which yields a viscous liquid," she says. "Odorless , thick and usually pale yellow or colorless, caster oil is known for containing triglycerides and fatty acids." While castor oil has a myriad of benefits, one of the most popular is its use as a hair thickener and strengthener.
Castor Oil for Hair Growth
Since caster oil is loaded with fatty acids and antioxidants, it is incredibly moisturizing for the hair, explains Bonodona. "Moisturization helps prevent hair from splitting, keeps it very shiny and keeps the cuticle closed," she says. "Because castor oil is also antibacterial and anti-fungal, it can help soothe an itchy scalp and reduce dandruff."
Castor oil for Dandruff
Castor oil can also be a wonderful remedy for dandruff thanks to its anti-fungal properties that can help keep the scalp regulated. "When your scalp is at its healthiest it promotes the growth of stronger, smoother and shinier hair," explains Connor Wells, colorist at Oscar Blandi Salon. He recommends applying a couple of drops to your scalp and massage in. "This allows blood flow to stimulate the scalp and promote hair growth," he says.
How castor oil works
Unlike other oils, castor oil is composed of a powerful mix of proteins, vitamins, fatty acids, and antioxidants. Rich in ricinoleic acid that gives the oil its remarkable anti-inflammatory effects, per research published in the journal Lipid Insights, castor oil balances the skin's and scalp's pH to foster better hair growth. Plus, it contains omega-6 and -9 fatty acids that are components of the hair shaft and vitamin E that helps to strengthen the hair root at the scalp, notes Bonondona.
And because castor oil has antibacterial and antifungal effects, it's great at treating scalp infections and dandruff. While applying it to the scalp has been used to help hair grow faster, applying it to the middle and ends of your locks strengthens the cuticles, preventing breakage and taming split ends. Just remember to use it after heat styling, not before.

Castor Oil's Ayurvedic Tradition
Castor oil features prominently in Ayurveda, also known as traditional Indian medicine. The castor plant has been used to treat a wide variety of ailments, per research published in the Pakistan Journal of Pharmaceutical Sciences, but is most famous as a remedy for thinning hair.
Ayurveda is one of the world's oldest systems of medicine—so these remedies have been tried and tested for these uses over centuries. A combination of regular massage and all of the nurturing vitamins, proteins, and antioxidants in castor oil was and still is a surefire way to encourage new hair growth and strengthen hair.
I mean, is there anything else that I need to say about castor oil? The fact that it's been used for so long in an ancient, traditional form of medicine speaks volumes about how well it works!
How do I use castor oil?
What I love most about castor oil for hair growth is that a little goes a long way. You don't need to drench strands in oil (and then struggle to get it out). Like a lot of things in life, more is not always better.
Simply rub a nickel-sized amount between your hands (remember, it is thick and it could be hard to wash out) and then rub your hands through your hair. I work it in from the roots to ends, then I go back to my scalp and spend a couple of minutes really massaging the mixture in. Massaging helps your hair to get the most out of the oil by boosting circulation. Plus, it's just super relaxing (even better if you can get someone else to massage your scalp for you!).
You can leave caster oil in as long as you want. Bonondona likes to sleep with it in and wears a shower cap to bed so it doesn't stain the bedsheets. "You can leave it for 15 minutes, 2 hours or sleep with it," she says. "If you are using for dandruff I would apply and leave for 20 min then rinse and do a light shampoo to make sure you got it all out and it won't be greasy."

It's important to keep up a regular schedule to ensure that you're giving your hair the biggest growth boost possible. Plus, castor oil also hydrates hair, protecting it against split ends and keeping it feeling silky and moisturized.
I get the best results when applying the oil to slightly damp hair. When I put it on dry hair, it's just too tempting to use more oil than I need and end up with crazy greasy hair that won't rinse out!
For the ultimate hair boost, I leave it in my hair as long as possible. It's perfect for a lazy day at home—you can even make a whole spa day of it!
Or, you can get castor oil to work for you while you're sleeping as an intense overnight treatment. It can get a little messy and has the potential to ruin bedsheets, so definitely lay a towel over your pillow before you do this. I know some people like to sleep with a shower cap on to protect their sheets—experiment and figure out what works best for you.
Can I add essential oils?
Combining castor oil with nourishing herbs and essential oils for hair can help support a healthy scalp and boost growth. Essential oils benefit the hair and scalp in different ways, and using a few different essential oils can tailor the hair mask to your individual needs.
Oils like rosemary and clary sage help to improve circulation and boost follicle health, which could help support new hair growth. Lavender soothes the scalp naturally, relieving any itching and dandruff. Cedarwood essential oil helps to thicken hair, nourishing it right where it originates at the follicle.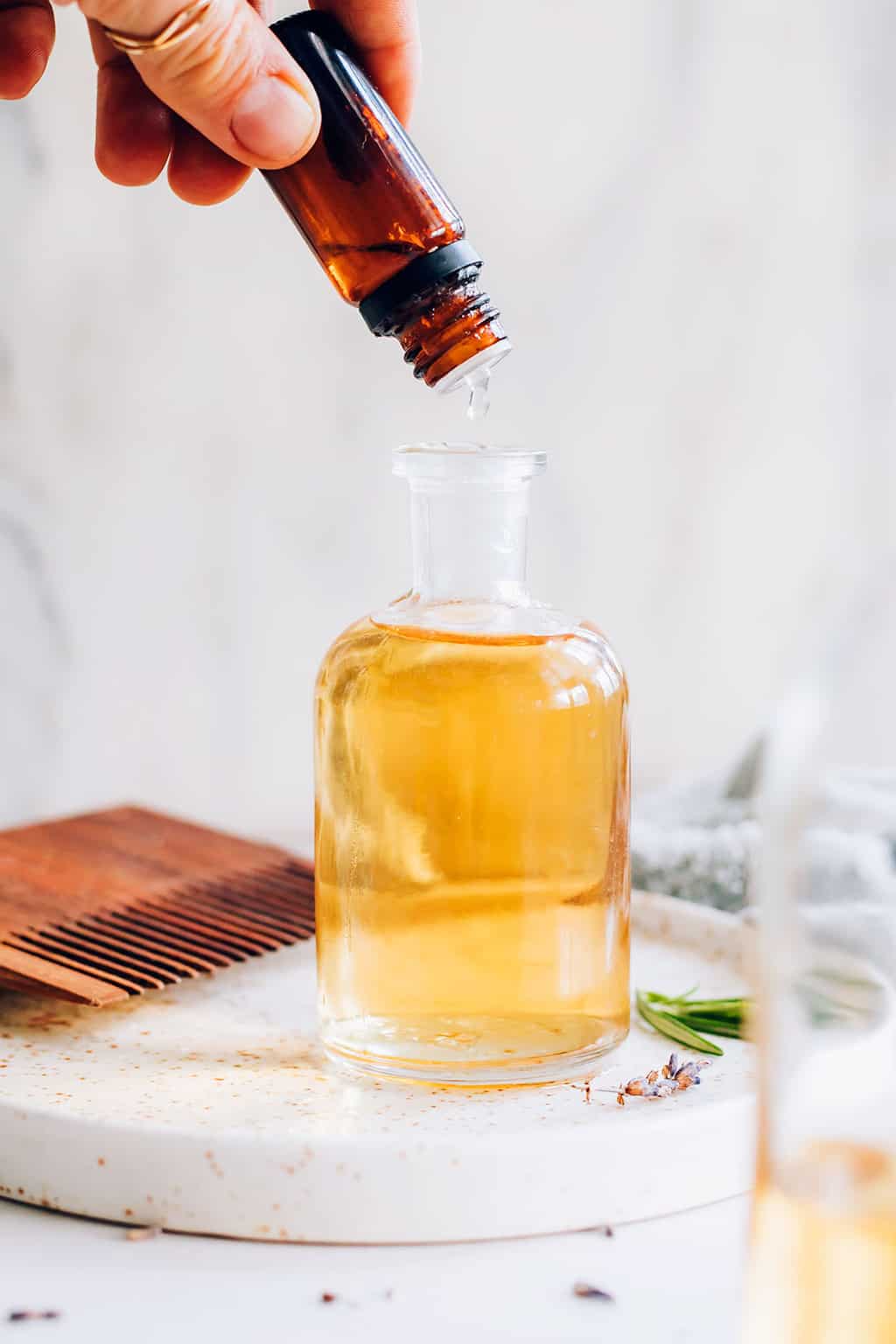 Other essential oils that are amazing for hair are peppermint, tea tree, ylang ylang, and lemongrass.
Peppermint adds a cooling, tingly effect while boosting circulation for a healthy scalp.
Tea tree is a natural antibacterial and antifungal, so it tackles any scalp breakouts and banishes dandruff. Ylang ylang can help to encourage sebum production for painfully dry, itchy scalps. Lemongrass purifies the scalp and hair, leaving it naturally cleansed and incredibly fresh-smelling.
As always, feel free to add whichever oils you like—or don't add any at all—it's totally up to you. No matter what you choose to add to your castor oil hair mask, you can be sure that you're nurturing your hair with essential moisture, proteins, and antioxidants to boost its health and growth.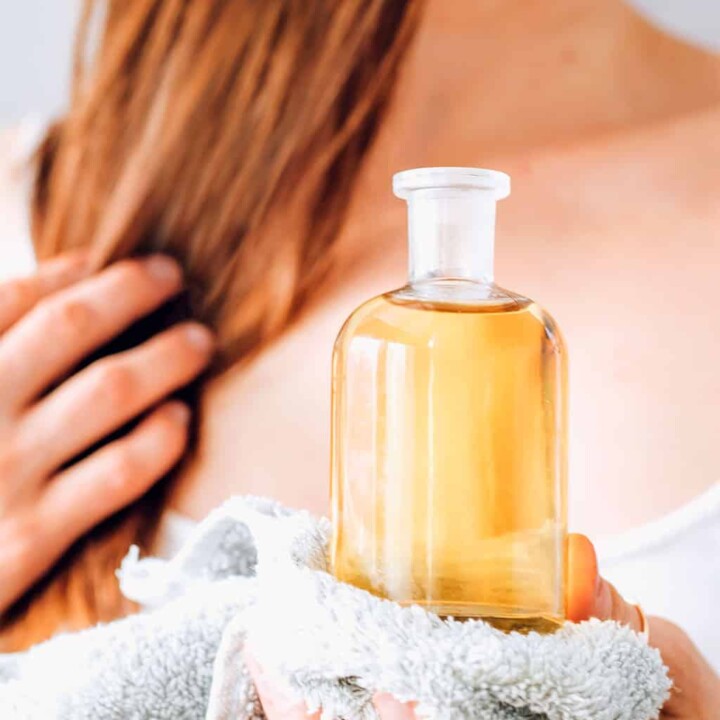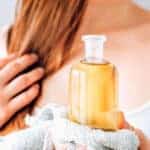 Print
Castor Oil for Hair Growth
We'll show you how to use castor oil in a simple recipe for DIY hair growth serum made with a blend of essential oils.
Instructions
Combine castor oil and essential oils in a small glass bottle.

Using a spray bottle, lightly wet your hair (damp is better than sopping wet).

Place the glass bottle of oil in a bowl of hot water, and wait a few minutes for the oil to heat.

Apply a nickel-sized amount to damp hair, from root to ends, and massage into scalp.

Cover with a shower cap and leave on for 15 minutes.

To remove, shampoo as usual.
Notes
For the ultimate hair boost, leave it in your hair as long as possible. It's the perfect thing to do for a lazy day at home—you can even make a whole spa day of it!
If you need extra clarifying power, add a bit of baking soda to your shampoo.
Repeat 1–2 times a week until hair is soft and split ends appear less noticeable.
This post was medically reviewed by Dr. Jennifer Haley, a board-certified dermatologist with extensive experience in medical, cosmetic, and surgical dermatology. Learn more about Hello Glow's medical reviewers here. As always, this is not personal medical advice, and we recommend that you talk with your doctor.
Photos by Ana-Maria Stanciu
418