Tea tree is by far one of the most versatile and popular essential oils. Not only can it be used in a myriad of ways, but it is also one of the gentler essential oils, making it safe to use even on children. Originally native to Australia, tea tree essential oil is harvested from the leaves of the melaleuca tree. It has been valued and used for decades for its many therapeutic properties and there are countless uses for tea tree oil.
Tea tree oil is naturally antimicrobial and useful for a plethora of issues, making it a must-have essential oil for any home. In fact, in The Illustrated Encyclopedia of Essential Oils, the author states that tea tree oil is effective against all three types of infectious organisms–bacteria, virus, and fungi–elevating it to a class of its own.
As mentioned above, tea tree oil can be used for a number of issues ranging from fighting germs to soothing skin issues. It's a wonderful addition to your natural first-aid kit for the summer, as well as a necessity to help combat winter viruses as well. I personally make sure that I always have a bottle on hand and find myself using it for most occasions. It's great as a stand-alone oil or you can combine it with other essential oils to maximize their synergistic properties.
Below, I'm going to list just a few of the many uses for tea tree oil. My hope is that you will see just how exceptional tea tree oil is and that you will be inspired to take advantage of its numerous therapeutic properties for yourself.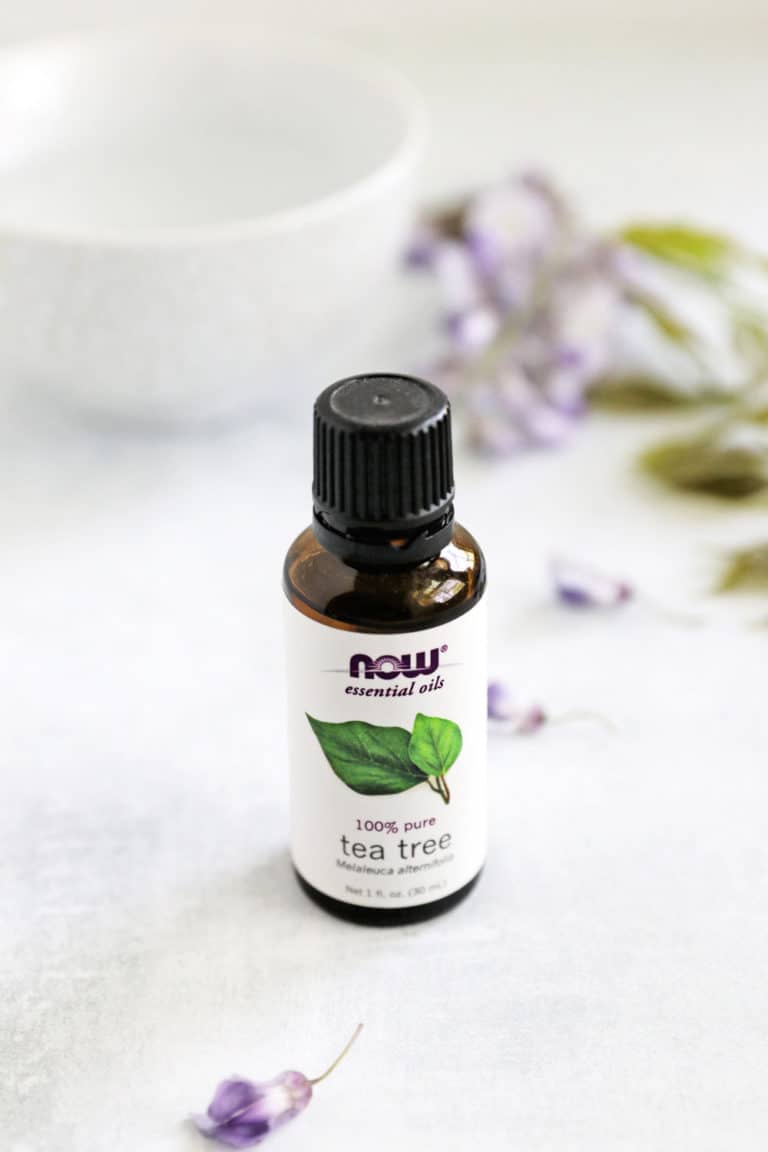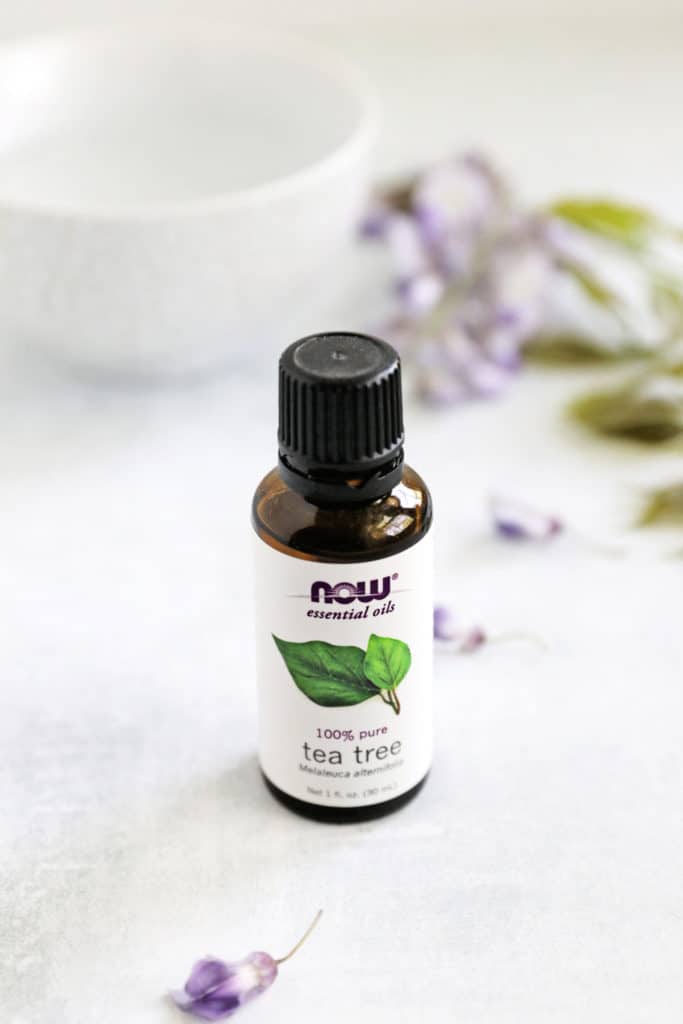 1. Germ Fighter
Since it is antiviral, antifungal, and antibacterial, tea tree oil is a wonderful germ fighter. It can easily be used to sanitize surfaces throughout your home, purify the air, or even use it as a cleanser on your skin. To use it as a natural, yet powerful germ fighter, simply add it to hand soaps and homemade cleaners. You can even use it to make your own hand sanitizer or diffuse it throughout your home to help keep sickness at bay.

2. Soothe Skin Irritation
Tea tree oil is well-known for its anti-inflammatory properties. This makes it ideal to use on itchy, irritated, or inflamed skin. In fact, it's a common ingredient found in natural products formulated to help soothe irritated skin. And to top it off, it's one of the gentler essential oils, meaning it can be used on just about anybody. Combined with lavender essential oil and jojoba, it makes an effective skin-soothing ointment that you'll find yourself using again and again.
3. Acne
Acne can be caused by a number of reasons, including bacteria and clogged pores. Due to its anti-inflammatory and antibacterial properties, tea tree oil is commonly used as an effective natural remedy to treat acne. Not only is it beneficial as an acne spot treatment, but it can also help reduce scarring associated with it as well. It is commonly paired with lavender and can be used as a spot treatment or even added to facial cleansers and serums.
4. Coughs & Colds
Crushed tea tree leaves have long been used as a cough remedy by the Aborigines. Additionally, the essential oil is a popular choice when treating the common cold, due to its powerful antiviral properties. It can easily be added to a homemade chest rub with other illness-fighting essential oils or diffused throughout the home to help keep coughs and colds to a minimum.
5. Allergies
Naturally anti-inflammatory, tea tree oil is considered to be beneficial for allergies as well. Not only is it effective when used for seasonal allergies, it's also great choice to use for rashes and hives. For seasonal allergies, diffuse throughout the home or create a personal inhaler. To use for hives or rashes, simply mix 1 tablespoon of jojoba oil with 10-12 drops of tea tree oil and rub on the affected area.
6. Natural Bodycare
Tea tree oil is an excellent choice to add to your natural body care products. Because of its powerful antimicrobial properties, it can be a great addition to deodorant, toothpaste, shampoo, and even facial products. In fact, it's a staple in my own personal body care formulations because of its powerful antimicrobial benefits. It can also help maintain scalp and gum health, making it a no-brainer when choosing ingredients to formulate your own personal care products.
7. Wounds
For decades, tea tree oil has been used to treat wounds. In fact, during WWII, it was considered so invaluable that it was provided to all military personnel for their first aid kits. Not only can it help prevent infection, it can also clean and soothe wounds as well. In fact, with its effective antimicrobial and anti-inflammatory properties, it can be useful for just about any issue dealing with the skin.
8. Warts
It is widely believed that tea tree oil is also beneficial for warts. Warts are caused by the human papillomavirus and can be passed from person to person. And due to its antiviral and immune-boosting properties, tea tree oil is a commonly used for many different skin infections, including the treatment of warts.
9. Fungal Infections
It should come as no surprise that tea tree oil is also widely used for fungal infections. Particularly with athlete's foot, tea tree is considered especially effective due to its antifungal properties. Athlete's foot, ringworm and jock itch are all tinea fungal infections. Because of this, tea tree oil can be a useful treatment for ringworm and jock itch as well. And remember, because of its gentle, soothing properties, it can even be used on children.
10. Lice
Not only does tea tree oil help support scalp health, it is considered an effective natural remedy for the treatment of head lice as well. In fact, this study found that a 1% concentration of tea tree oil killed 100% of lice after 30 minutes of washing. Another study conducted in 2011 found a combination of tea tree and lavender essential oils to be effective when treating head lice and and even suggest it should be recommended as a first line of treatment. This is great news considering the fact that the CDC estimates there are 6-12 million lice infestations every year!
And this really only scratches the surface on the many uses for tea tree oil! Because of its powerful antimicrobial properties, it can be useful in most situations, making it an invaluable essential oil for every home. I have no doubt that it'll quickly become one of your favorite essential oils-if it's not already!
58