If you're making the switch to natural hair care ingredients, don't forget about essential oils. Whether you're looking to nix dandruff, stimulate hair growth, or just get stronger strands, essential oils are one of the few natural ingredients that can actually make your hair healthier.
And there are so many good essential oils for hair, no matter what your hair type is. Oily hair? Dry hair? Yep, there's an oil for that.
Pick an oil that works for your hair needs, then try one of these simple ways to apply it. If you make your own shampoo or hair spray, you can easily customize the recipe with essential oils to improve your locks. (Bonus: your hair will smell good too!)
If you're not into DIY, you can add essential oils to your favorite natural hair products. Just don't apply essential oils directly onto your scalp, as this can cause burning, redness, or irritation. Always dilute first!
How to Use Essential Oils for Hair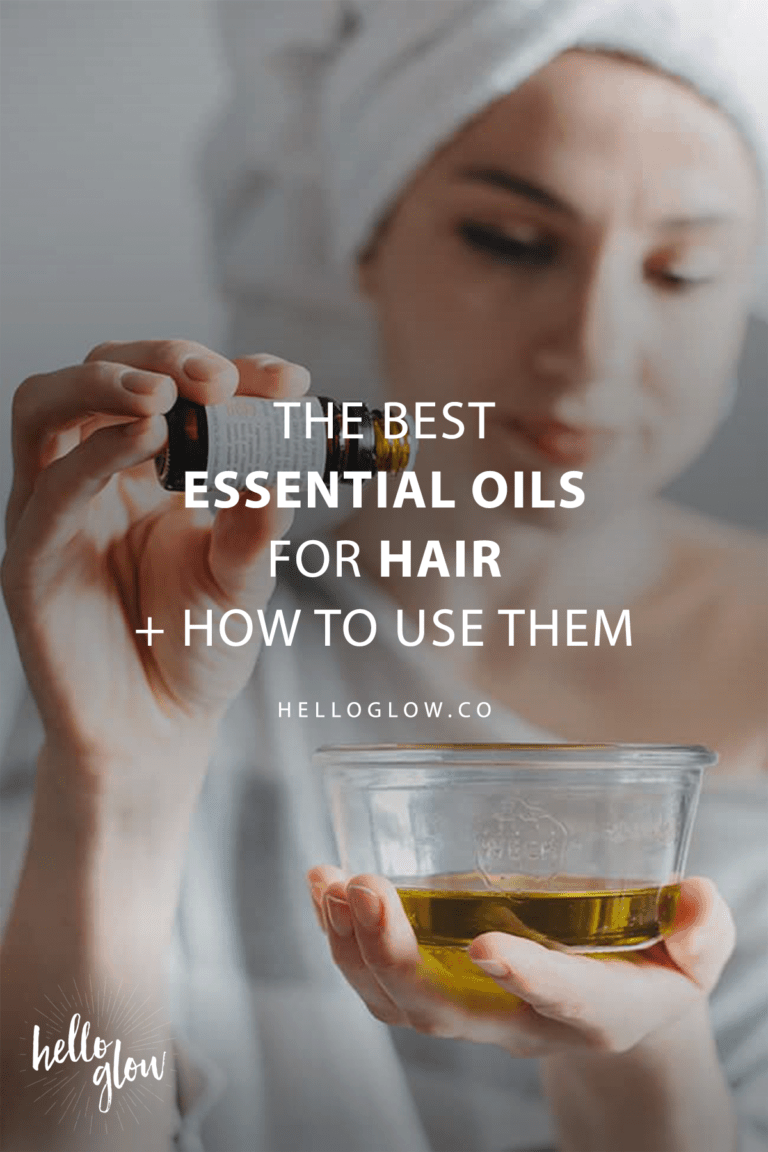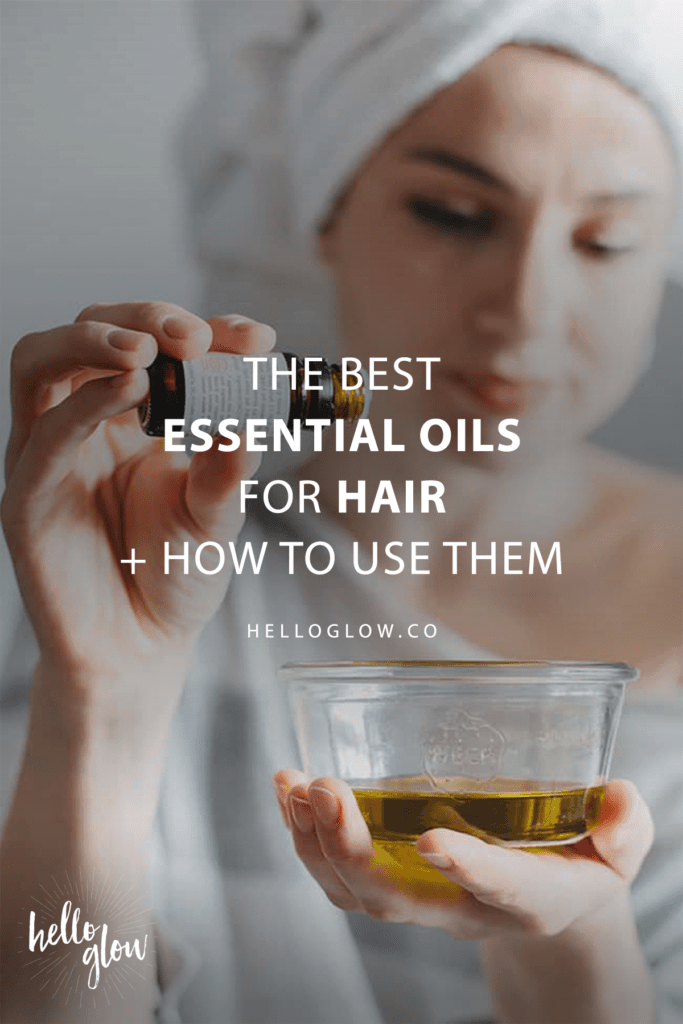 1. Nourish dry hair
Essential oils are the perfect ally in keeping your locks strong and healthy. Applied to the hair via a nourishing carrier oil, the essential oils help seal moisture into damaged hair.
Lavender and geranium are especially helpful for dry hair; they both naturally condition hair and help balance the scalp's oil production.
Add 10 essential oil drops to 1 tablespoon of nourishing jojoba, coconut, or olive oil, and add to an 8-ounce bottle of shampoo. Shake to combine. You can also use essential oils in a weekly hot oil treatment or apply daily via a DIY hair strengthening spray.
2. Manage oily hair
If your hair is oily, you may need to 'train' it by shampooing less often. Pick one of these oils (no, they won't make your hair greasy) that can cut through grease and also help your scalp balance its oil production.
Add 1 teaspoon bentonite clay and 20 drops of essential oil to your usual shampoo bottle (if your bottle is fairly full). A salt spray is an excellent way to deliver essential oils to the hair and also absorb excess oil.
Spritz the roots of your hair before or after styling. You can also add a few drops of essential oil to a DIY dry shampoo.
3. Stimulate hair growth and prevent hair loss
Numerous studies have shown the effectiveness of essential oils for stimulating the scalp in cases of hair loss. When used for six months, rosemary essential oil works as well as conventional topical hair loss treatments [source].
Add 10 drops of rosemary and 5 drops of peppermint (or 15 drops of any combination of the other oils of your choice) to an 8-ounce shampoo or conditioner bottle and shake to combine. Massage into your scalp each time you wash your hair.
Use this rosemary hair serum for a weekly scalp-stimulating massage. Apply to the roots of your hair and press firmly into the scalp with your fingertips. Leave it on your hair overnight, and wash it out in the morning.
4. Get rid of dandruff
Many essential oils are naturally antifungal, so why not put their flake-fighting power to use? Lemongrass is especially effective if the dandruff is a result of yeast overgrowth [source].
Add 20 drops of essential oil to shampoo or conditioner. Try this overnight hair mask with tea tree and peppermint essential oils.
5. Soothe inflammation in dry, itchy scalps
Essential oils help soothe irritated skin, so why not use them on itchy scalps? These oils are naturally anti-inflammatory to help relieve the symptoms and improve healing.
In one study, lemongrass oil was shown to be effective for dandruff [source]. Tea tree, rosemary, and lavender are antimicrobial oils that can also help address issues like underlying dermatitis.
Add essential oils to this anti-inflammatory apple cider vinegar scalp scrub to gently exfoliate and soothe. If your scalp is tender, you might want to replace the pink salt with a finer-grain salt or skip it altogether. Add a couple of drops of chamomile or lavender to a honey hair mask to speed scalp healing.
References:
1. Panahi Y, et al. Rosemary oil vs minoxidil 2% for the treatment of androgenetic alopecia: a randomized comparative trial. Skinmed. 2015.
2. Wuthi-Udomlert M, et al. Inhibitory effect of formulated lemongrass shampoo on Malassezia furfur: a yeast associated with dandruff. Southeast Asian J Trop Med Public Health. 2011.
3. Chaisripipat W, et al. Anti-dandruff hair tonic containing lemongrass (Cymbopogon flexuosus) oil. Forsch Komplementmed. 2015.
This post was medically reviewed by Dr. Holly Smith, a board-certified physician in nephrology and internal medicine with a background in nutrition. Learn more about Hello Glow's medical reviewers here. As always, this is not personal medical advice, and we recommend that you talk with your doctor.
825