Last year, the whole family had a month-long ritual of pouring olive oil all over our hair at night. Yes, it was lice (totally gross, I know). While only my daughter had it, we lived in fear of it spreading, and wearing oil overnight is one of the best ways to avoid the dreaded reoccurrence. The experience was a total hassle, but one upside: my hair became super shiny and healthy.
That's because hair masks should be a regular part of your regimen for healthy hair. When hair is dry, it's more likely to split and break, particularly on the weaker ends of the hair. Natural oils and conditioners help repair damaged hair and restore its protein, known as keratin.
Up your intake of protein and healthy fats, brush gently with natural hair tools, drink plenty of water, and avoid hot styling tools when possible to keep your hair moisturized and healthy. Then apply one of these strengthening masks once a week to nourish, heal, and help prevent split ends.
How to Heal Split Ends - 4 Ways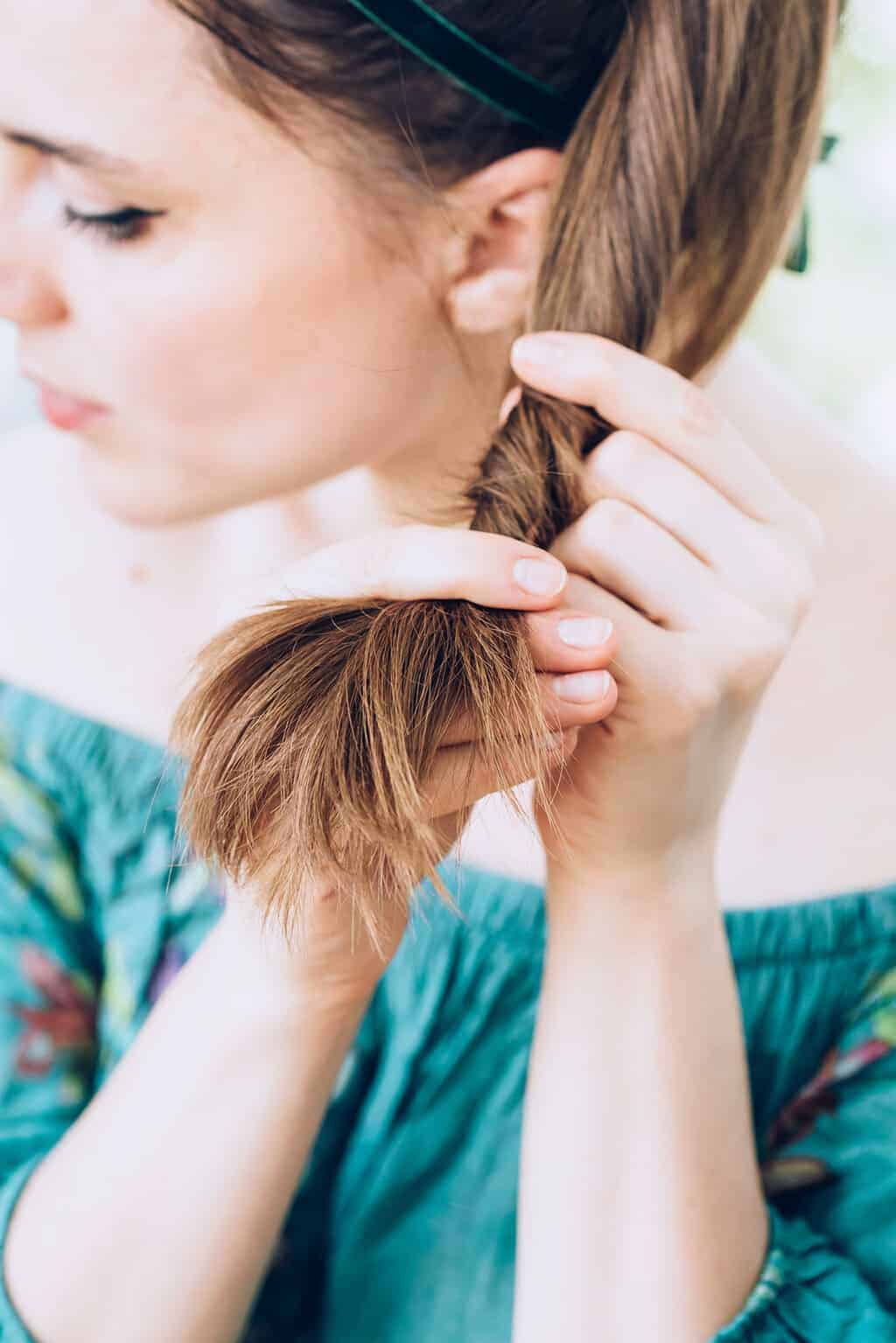 1
.
Yogurt and Olive Oil Hair Mask
Mix ¼ cup full-fat yogurt with 1 tablespoon of olive oil. Apply the mask to your hair and leave it on for 15–30 minutes, then wash and rinse.
Olive oil contains fatty acids that coat hair, locking in moisture and protecting the hair against damage. While this is a fantastic mask for split ends, it can also be applied from roots to tips. The yogurt contains lactic acid, which helps rid the scalp of dead skin cells, and a healthy scalp can then produce healthy hair with healthy ends.

2. Egg Yolk and Honey Hair Mask
Combine 1 egg yolk with 1 teaspoon of honey. Apply the mask to your hair and leave it on for 2 hours before washing and rinsing.
Honey is a natural humectant that locks in moisture and prevents dry, brittle hair. And eggs are packed with amino acids that prevent split ends from worsening. They also restore hair shine, strength, and volume.

3
.
Hot Coconut Oil Treatment
Coconut oil is one of the best oils for your hair. Warm ¼ cup of coconut oil for about 10 seconds in the microwave and add 6 drops of rosemary essential oil.
Apply to dry hair, beginning either on the whole scalp or just to the ends, to prevent split ends. You can also use shea butter or argan oil (like in this deep hair conditioner) if you have really coarse hair.
Wrap your head in a towel or put on a shower cap and leave the mask on for at least 20 minutes. The longer, the better, even overnight. If you have trouble getting the oil out of your hair, you might need to shampoo twice or add a bit of dish soap to your shampoo.

4
.
Herbal Apple Cider Vinegar Hair Rinse
A vinegar rinse will make your hair so soft! The acetic acid in apple cider vinegar clears out product residue and adds shine, while the herbs strengthen hair.
Boil 1 cup of water and pour over 1 tablespoon each of dried nettle, dried sage, and dried rosemary. Steep for 10 minutes and strain.
When the tea cools, add 2 tablespoons of apple cider vinegar. Apply it to your hair in the shower after shampooing. Pour the rinse over your scalp and strands, and let it sit on the hair for at least a minute or two before rinsing.
Tips & Tricks for Healthy Ends
Sleeping on a silk pillowcase can increase hair hydration and keep hair smooth and frizz-free. Silk pillowcases lack the friction that is often found with cotton. And while cotton pillowcases absorb moisture from hair, a silk pillowcase will leave the moisture where it should be—in your hair.
Add biotin to your daily vitamin intake to help strengthen hair shafts.
Avoid towel drying hair after washing, as frequent rubbing can cause further breakage. Gently squeezing excess water from the hair is best to help with drying.
Avoid over brushing and wearing high ponytails. Be gentle with your hair and avoid tight hair bands that can cause breakage.
Regular hair trims can help prevent split ends from worsening and creeping up the hair shaft.
Are there any remedies you have found to help heal damaged hair? Often it takes a little TLC, patience, and time to get hair back to a healthy place.
This post was medically reviewed by Dr. Jennifer Haley, a board-certified dermatologist with extensive experience in medical, cosmetic, and surgical dermatology. Learn more about Hello Glow's medical reviewers here. As always, this is not personal medical advice, and we recommend that you talk with your doctor.
385