I know the experts like to say that breakfast is the most important meal of the day. But you know what? They're wrong. The mid-afternoon snack is the most important meal of the day—by a landslide. But instead of hitting the vending machine for a sugar-laden pick-me-up, this cookies and milk combo will give you the energy you need, minus the junk.
This post was created in partnership with Naked Nutrition.

A Better-For-You Afternoon Snack
Come 3 o'clock, when my energy starts to wane and my productivity drops off a cliff, it's the only thing getting me through 'til bedtime. And because I'm usually desperate for a boost, I'll do just about anything to get it.
Naked Nutrition's Chocolate Chip Protein Cookies are a quick, healthy, energy-packed treat perfect for the afternoon slump. They're made with almond flour, instead of wheat, and contain a whopping 10 grams of grass fed whey protein per cookie. And although they taste sweet, like you'd expect, they only contain 1 gram of sugar and 11 net carbs, so they won't leave you feeling tired later.
Since nothing goes better together than cookies and milk (well, except maybe peas and carrots), I like pairing my cookie with a warm glass of spiced chai milk.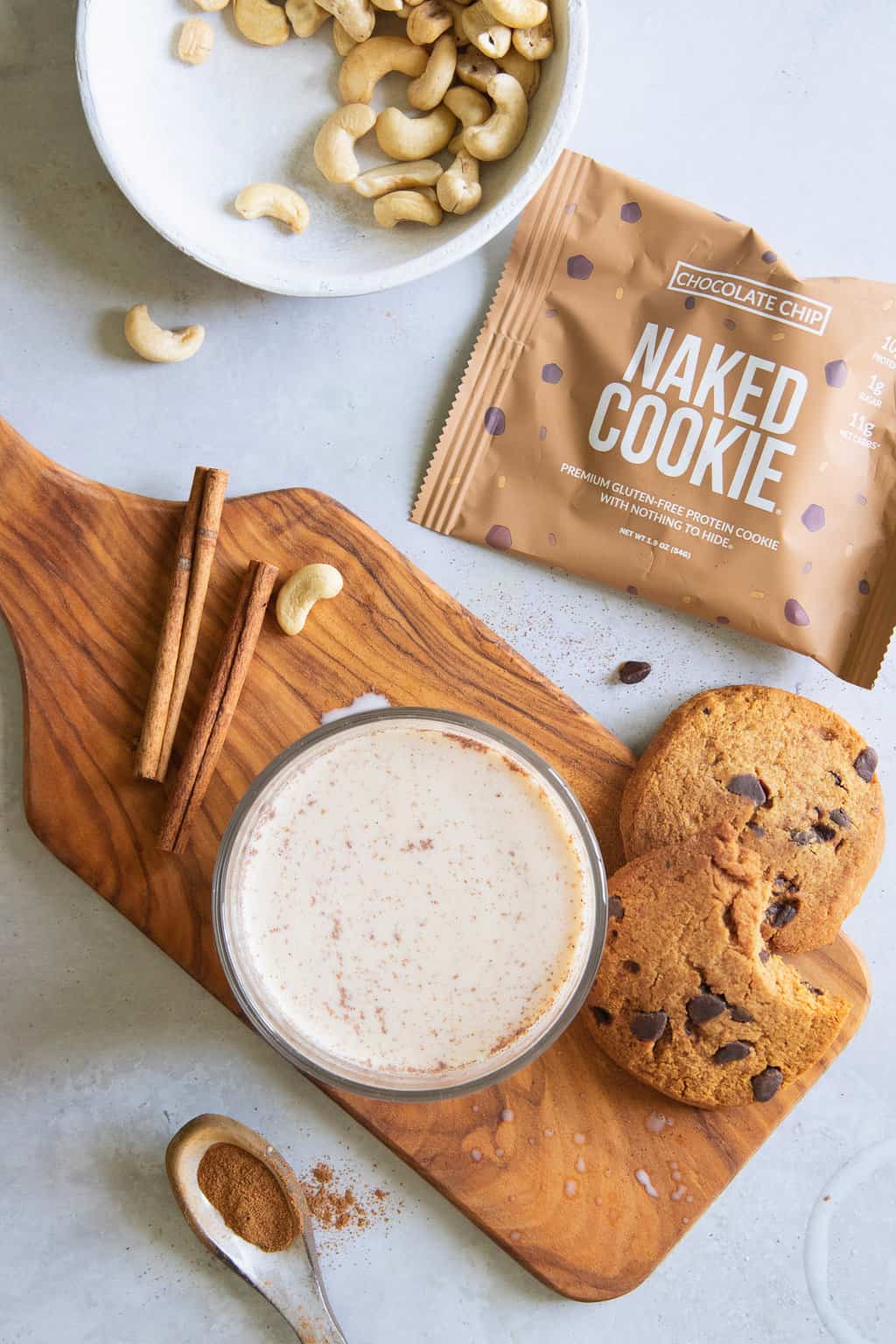 How To Make Spiced Chai Cashew Milk
Made from raw, soaked cashews, this milk blends up completely smooth, so there's no need to pour it through a nut milk bag before drinking. Simply add a few chai spices, like cinnamon, cardamom and nutmeg, some dates and a shot of black tea for the ultimate energy boost. Then warm it directly in the blender or over the stove for a couple minutes.
When you're done, you've got my permission to dunk your way to quitting time!
If you're short on time, feel free to crumble Naked Cookies over oatmeal, dip one in your afternoon coffee, or pair it with a smoothie for a quick energy boost. They're lifestyle friendly, which makes them easy to incorporate into the drinks and recipes you're enjoying throughout the day, no matter the meal. And they're delicious, too.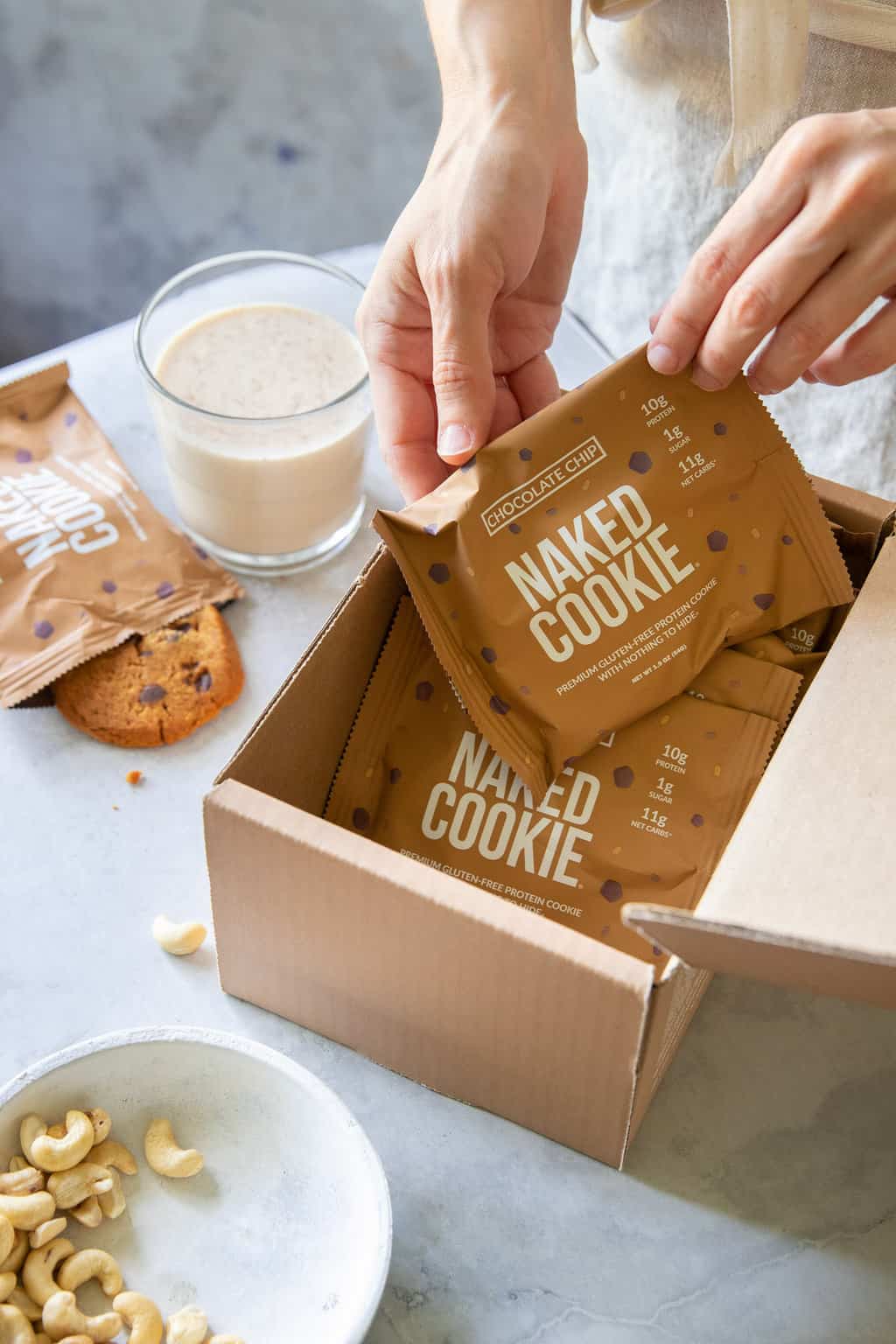 Does chai milk have caffeine?
This recipe contains just enough caffeine to boost your energy levels without keeping you up all night. Obviously, if you need a bigger boost, just add more tea. Or skip it entirely if you're sensitive to caffeine.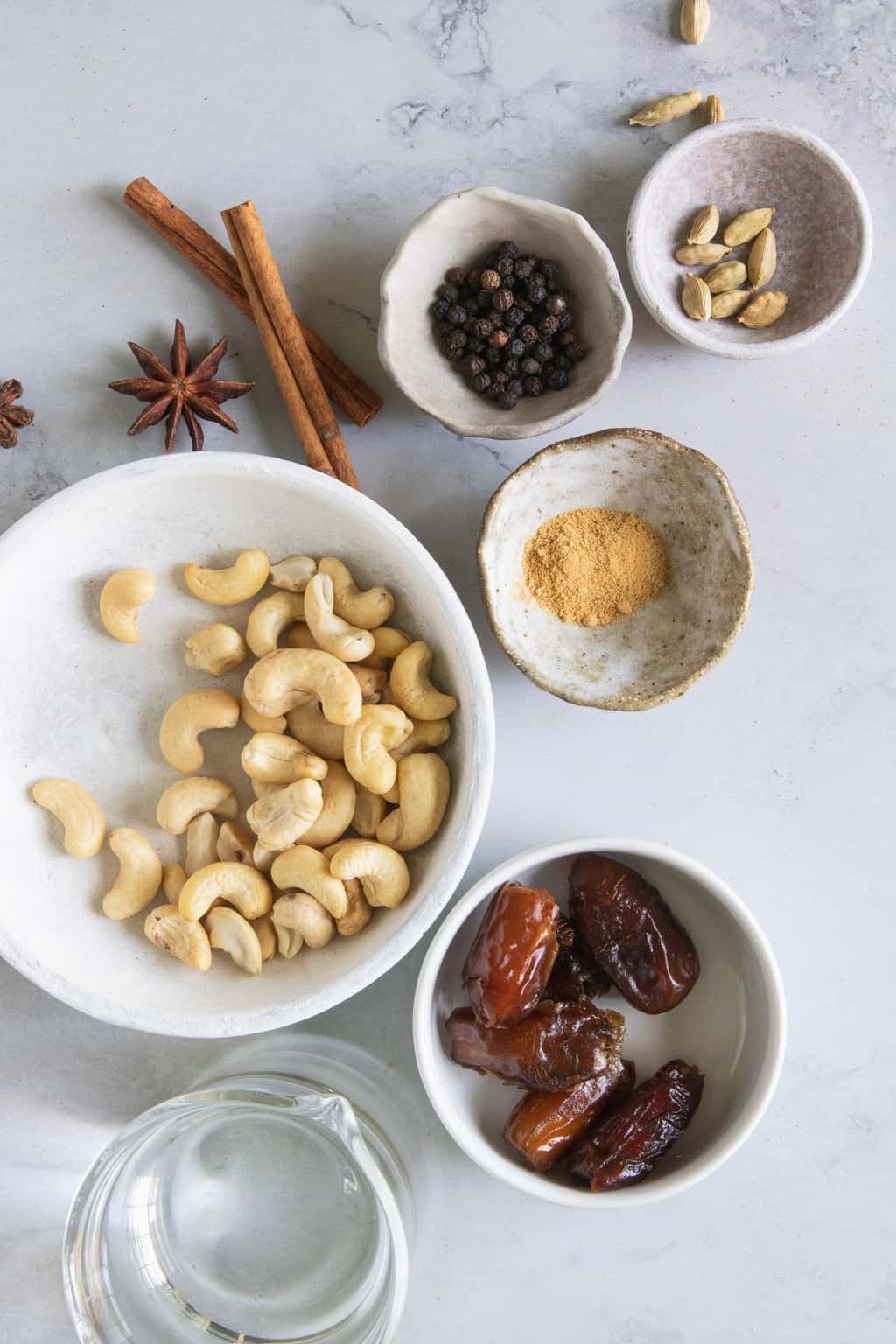 Cashew Chai Milk Ingredients
Makes 2-3 servings
—1 cup raw cashews, soaked overnight
—4 cups filtered water
—4 dates, pitted
—1 teaspoon ground cinnamon
—½ teaspoon dried ginger
—½ teaspoon ground cardamom
—½ teaspoon ground nutmeg
—Pinch ground cloves
—Pinch black pepper
—1 teaspoon vanilla extract
—½ cup black tea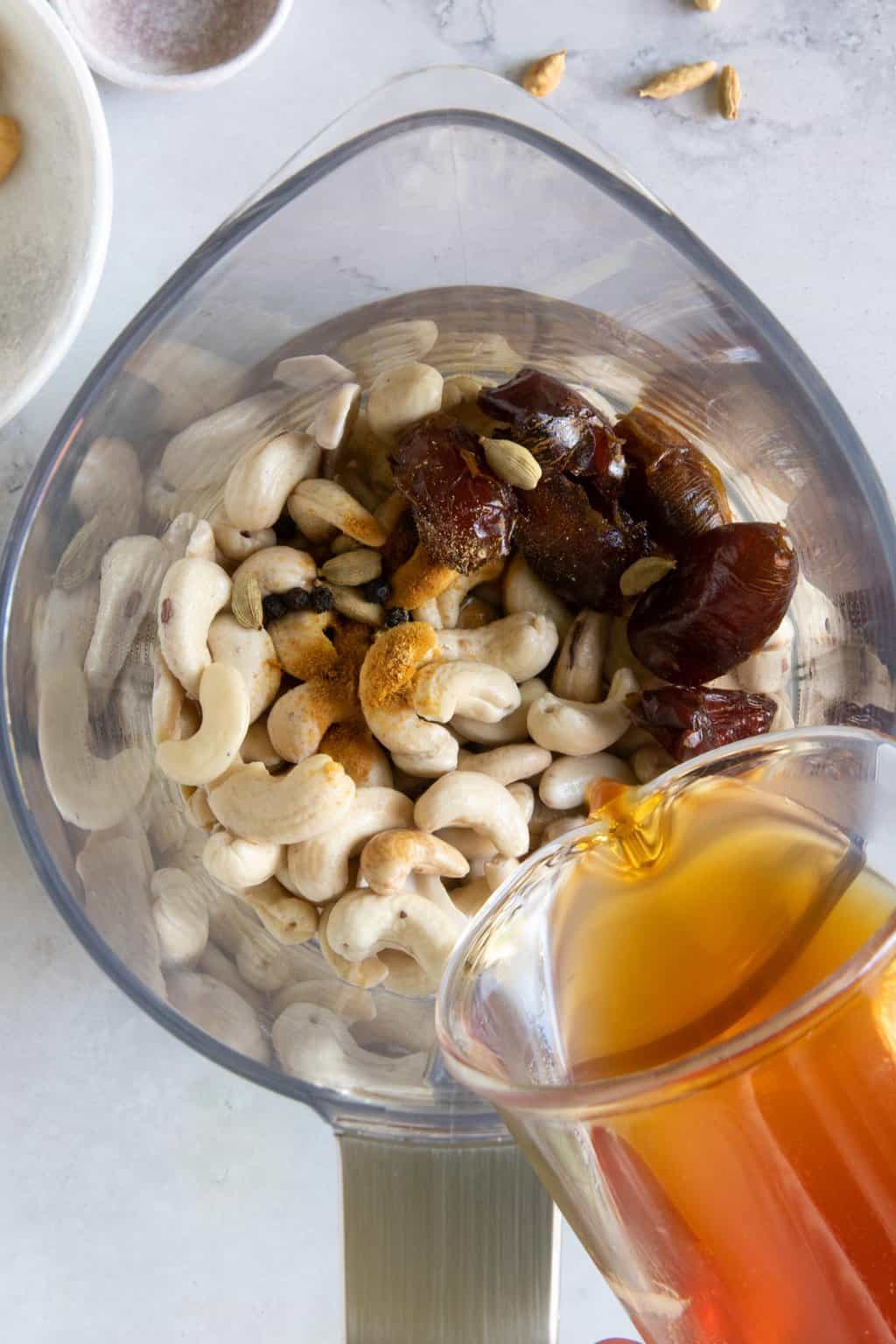 Step 1 | Prepare cashews
Rinse and drain the cashews.
Step 2 | Blend ingredients
Combine all ingredients in the base of a high speed blender. Blend on high until smooth. Either continue to puree in the blender until warm (approximately 3-4 minutes) or transfer to a saucepan and heat on the stove over low heat until warm.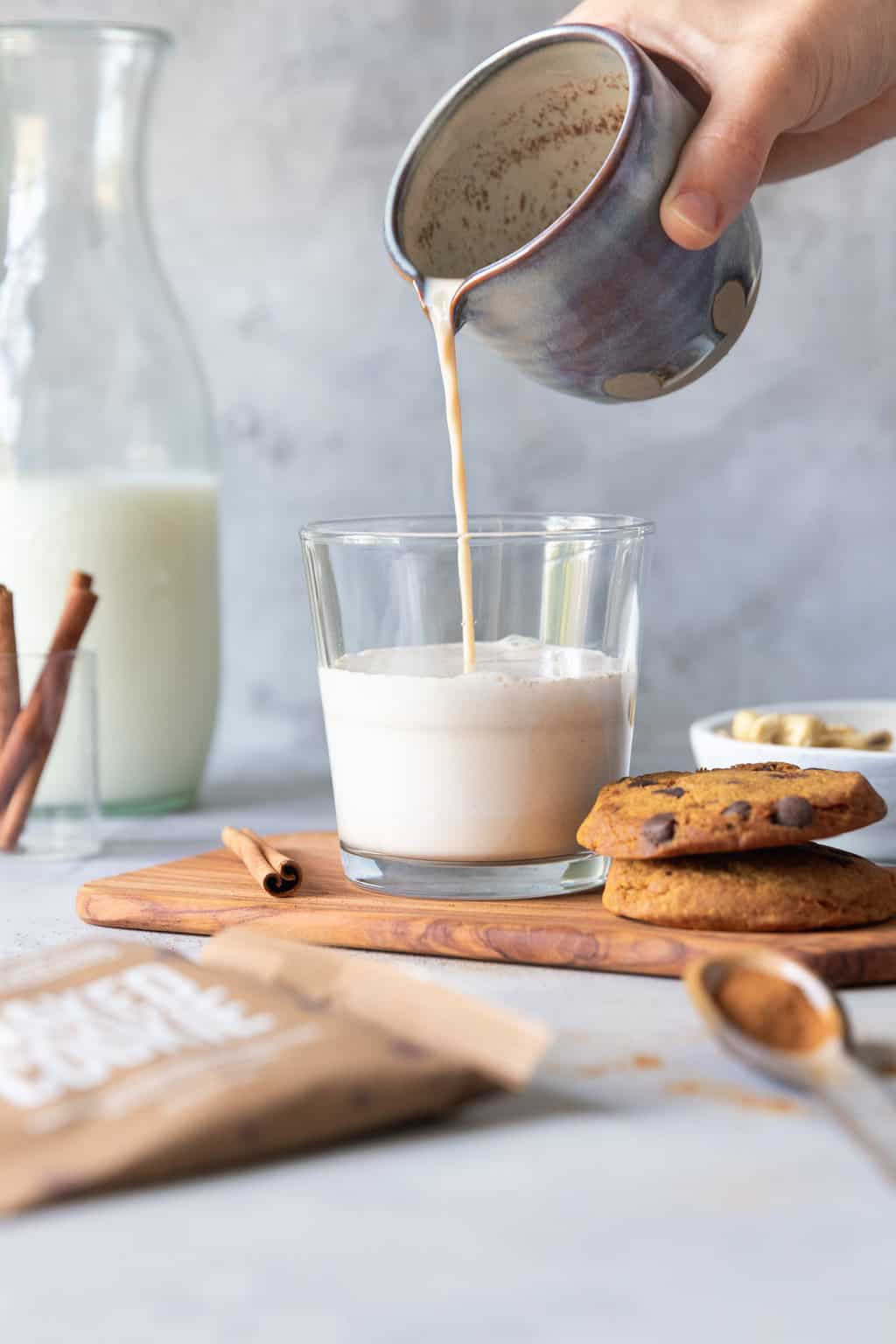 Step 3 | Enjoy your milk + cookies
Serve with Naked Cookies for a hit of protein. Store any extra cashew milk in an airtight container in the refrigerator for up to three days. Use any leftover chai milk in coffee, with oatmeal or in smoothies.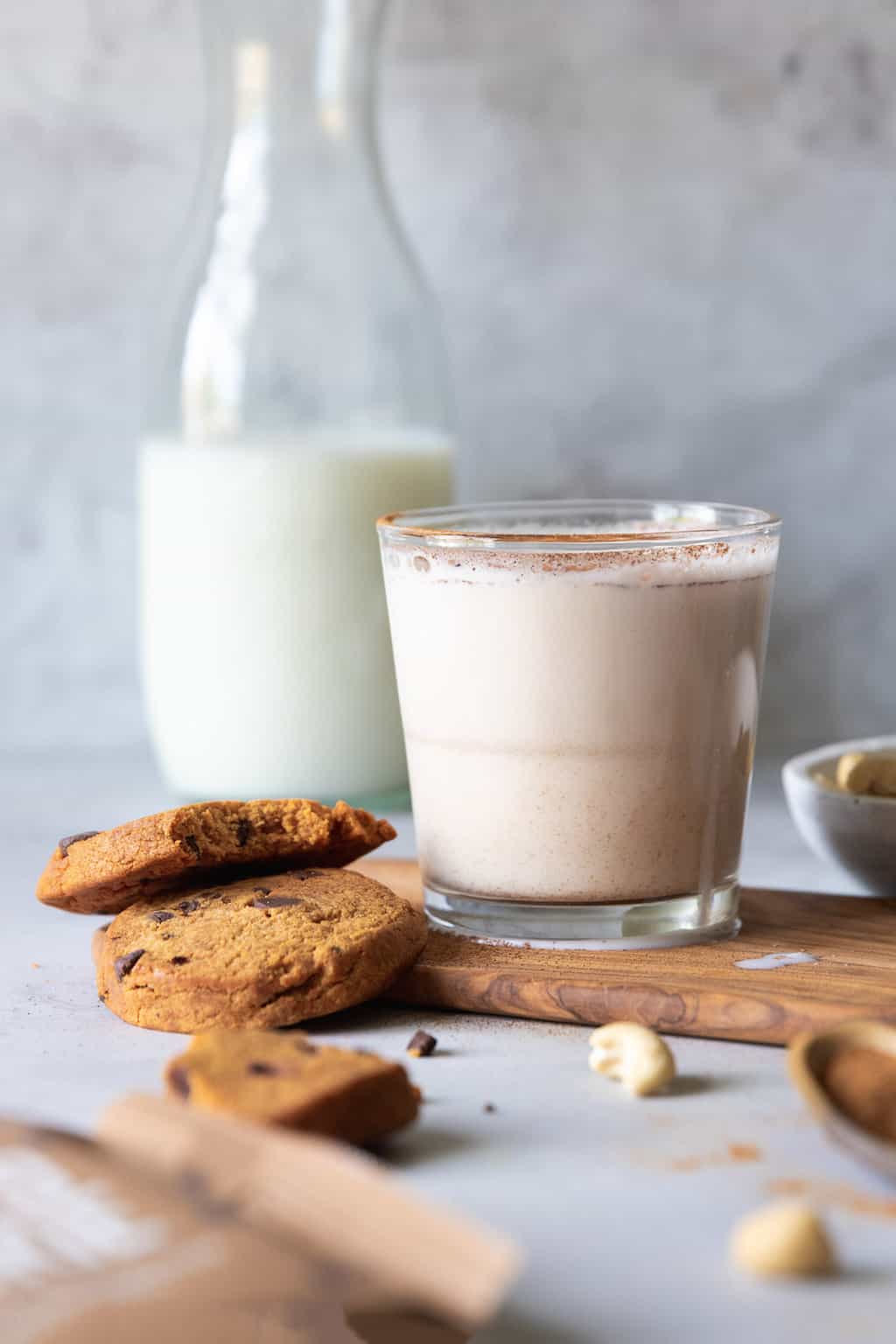 1