​​Last night, after a long week on the road visiting family, I rolled up to our house, unloaded our stuff, and immediately hit the self-care button. I look forward to family time all year, but the second it's over, I breathe a huge sigh of relief and break out the bath oils.
Stress can be tough on skin. But factor in poor sleep, a scary amount of junk food, and one too many alcoholic beverages, and my skin looks downright scary. We're talking itchy-and-flaky-with-a-mysterious-rash kind of scary.
Needless to say, I always keep a bottle of this calming chamomile bath oil up my sleeve for times like these. It's wonderfully soothing, not just for skin [source] but also for an anxious mind [source]. Plus, it smells incredible and leaves skin insanely hydrated.
Just pour it into your bath as the tub fills, and then hop on in. It lightly coats the skin and sinks in as you soak, leaving you feeling super soft and rejuvenated afterward.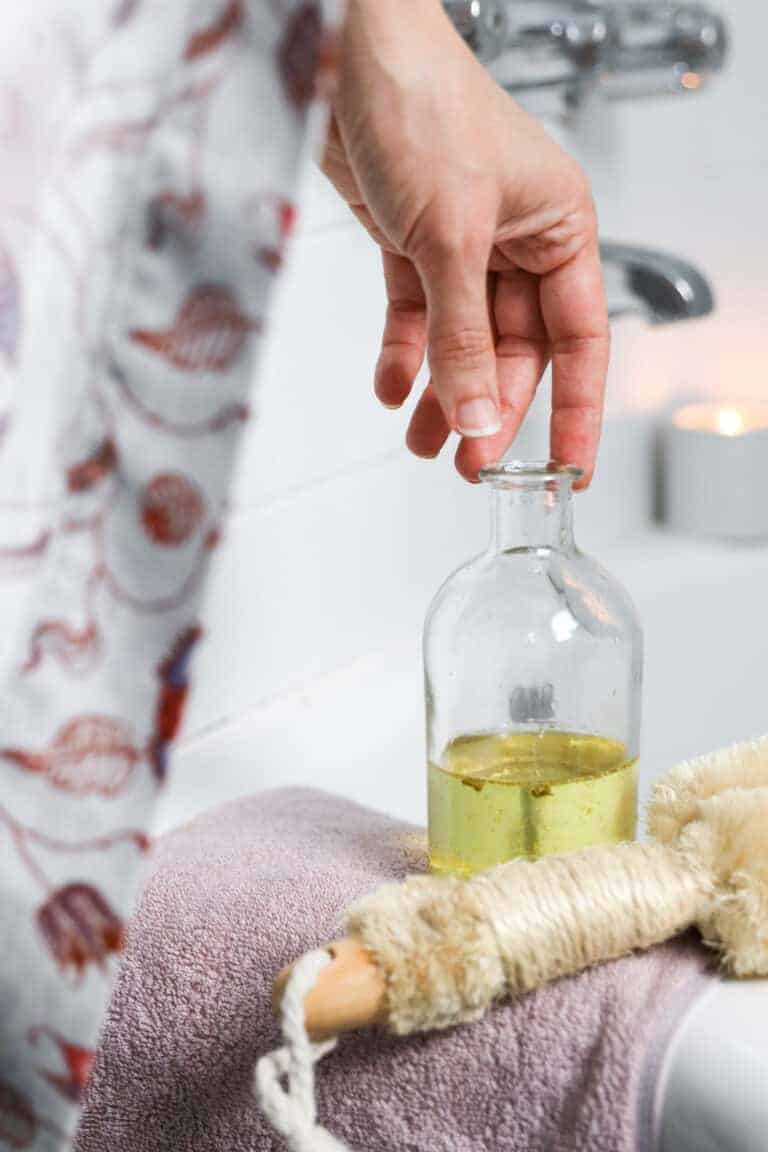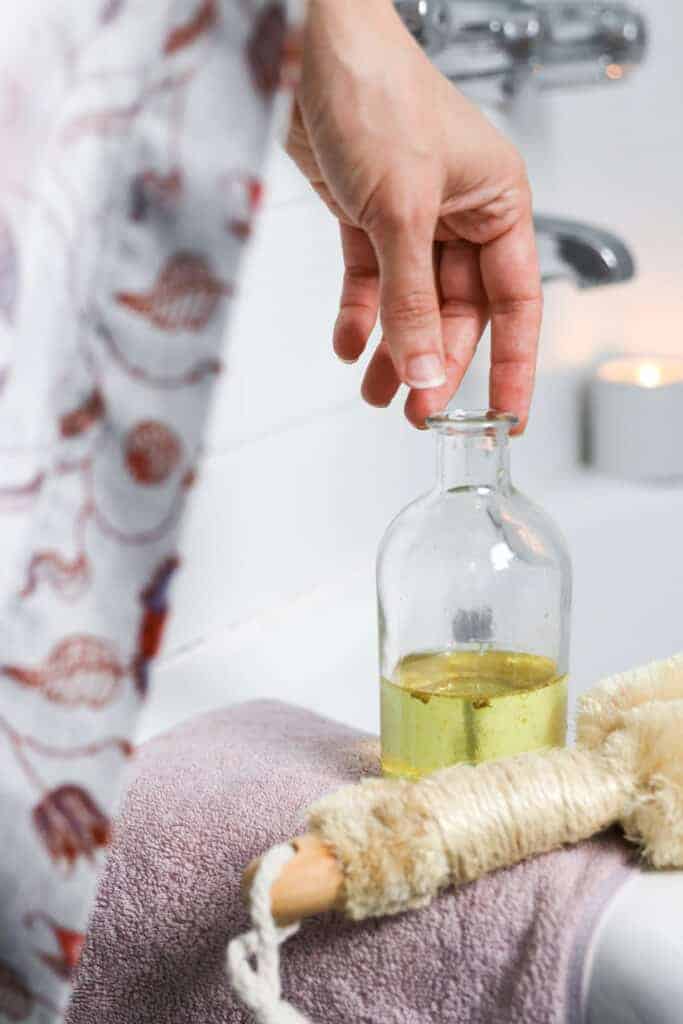 Calming Chamomile Bath Oil
This herb-infused bath oil is perfect for soothing irritated skin and calming your mind, so you can unwind and fall asleep more easily.
It's made with coconut and sweet almond oils to replenish moisture [source], and chamomile to help you relax [source]. Lavender, cedarwood, camphor, and rosemary essential oils give it a wonderful scent that's soothing and creates that spa-like feeling. Don't forget the candles and your favorite calming music.
How to make infused bath oil
Before combining the oils, you'll want to infuse the almond oil with dried chamomile flowers.
Since I'm usually not in a hurry, I prefer the cold infusion method, which requires combining dried chamomile and almond oil in a jar and letting it infuse. While it does take a bit of time, it's a lot gentler so you wind up with more active chamomile compounds in your oil.
To speed up the process, you can do this in a crockpot or on the stove using a double-boiler. Or you can skip the extraction process altogether and just go with 15–20 drops of chamomile essential oil instead.
It's completely up to you!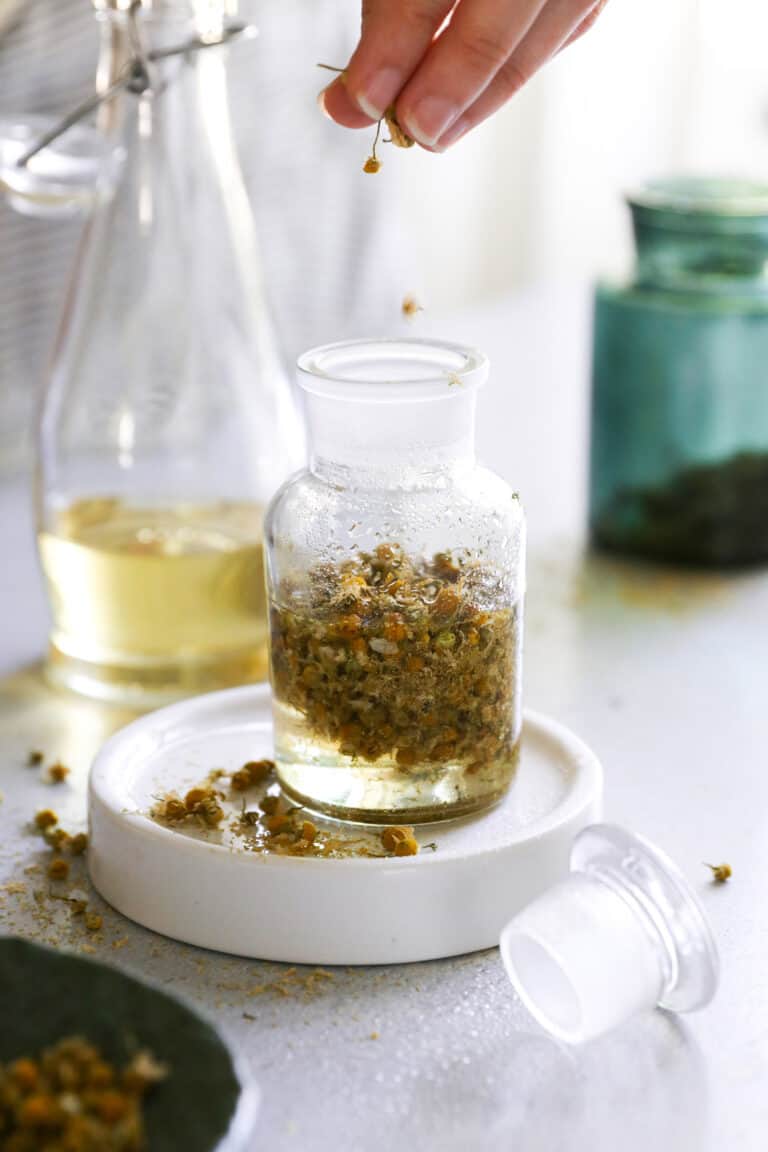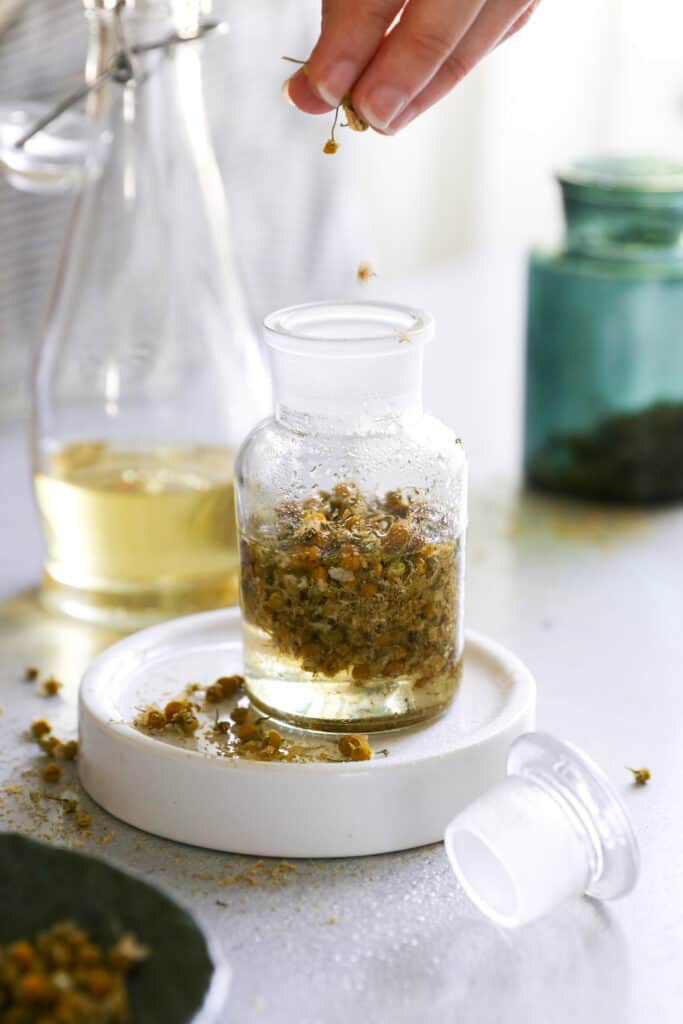 How to Use Bath Oil
Before hopping in the tub, pour the chamomile bath oil under the faucet as the bath fills up and allow the oils to disperse throughout the water.
Soak for about 30 minutes, letting the oil coat your skin and sink in thoroughly.
There's no need to rinse off afterward unless you'd like to. But stay away from soap or body wash, which can strip moisture from the skin. When you're done, gently towel off so as not to wipe off all the oil.
And always make sure to climb out of the tub slowly because the oils often coat the bottom of the tub, making it slick.
DIY Bath Oil FAQs
Will bath oil make my skin feel greasy
?
Since the oils disperse throughout the water and sink into skin while you soak, you shouldn't feel super greasy after your bath. But if you do, feel free to rinse off after.
Can I use another oil besides almond / coconut / chamomile?
Yes, this recipe is completely customizable. If you don't have almond or fractionated coconut oils on hand, then feel free to use another oil, such as avocado, sesame, or olive oil. You can also replace the recommended essential oils with some oils you already have at home.
Will bath oil damage my tub or drain
?
Using 1–2 tablespoons of oil per bath shouldn't damage anything. However, it may leave the floor of your tub a little greasy. When you're done, climb out of the tub very carefully and wipe it down well to prevent anyone from slipping later on.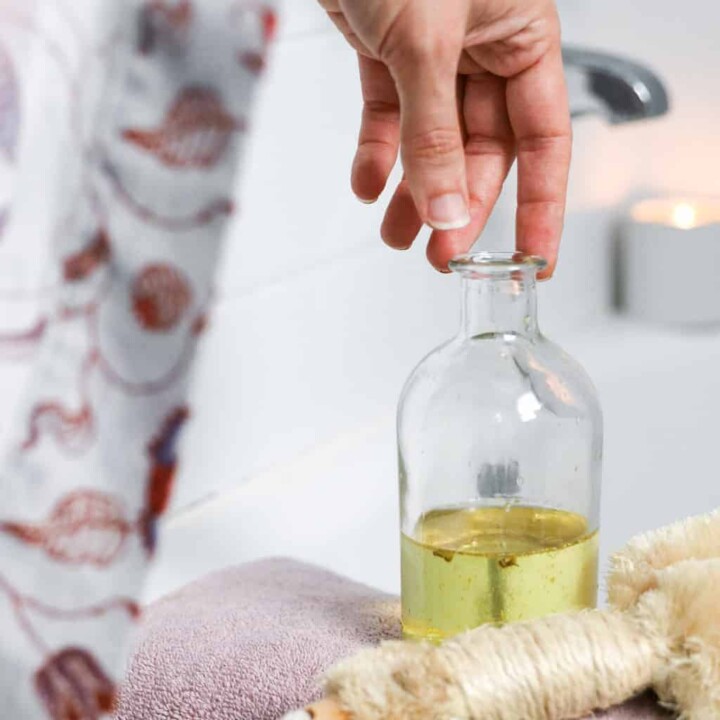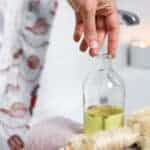 Print
Chamomile Bath Oil
This DIY Chamomile Bath Oil soothes dry winter skin and eases tension and stress with the power of infused chamomile flowers.
Equipment
Glass mason jar (for infusing the oil)

8-ounce glass bottle with lid
Instructions
If you are using the dried chamomile flowers, start by infusing the oil. For the slow extraction method, combine dried flowers with 1 cup of almond oil in a glass mason jar. Replace the lid and set aside to steep for 3–4 weeks, then strain out the chamomile.

To save time, combine the chamomile flowers and almond oil in a small saucepan. Warm over low heat for 5 to 10 minutes, then turn off the heat and let the chamomile infuse in the oil for an hour.

Strain out the chamomile and transfer the infused almond oil to a clean glass jar.

Add the coconut oil and essential oils (if using chamomile essential oil, add it now). Feel free to add more chamomile blossoms or other dried herbs if you like.

Screw the lid on well and shake to combine.

While filling up the tub, pour 1–2 tablespoons under the running faucet. Allow the oils to disperse throughout the water before climbing in. Soak for 30 minutes, then gently towel off.
Notes
The tub may be slick when you hop out, so be careful! To get rid of any oils lingering on the floor of the tub, sprinkle with baking soda and give it a quick scrub. Then rinse everything down the drain. 
Use within 1 year.
This post was medically reviewed by Dr. Rina Mary Allawh, M.D., a dermatologist who practices adult and pediatric medical dermatology, skin cancer treatment, and cosmetic dermatology. Learn more about Hello Glow's medical reviewers here. As always, this is not personal medical advice, and we recommend that you talk with your doctor.
90