I often underestimate the power of a bath. Whenever I wasn't feeling well as a kid, the answer was always to have a warm bath. I did, in fact, feel much better afterward. But I tend to forget about that feeling these days until I finally settle into the warm water, and the reassuring memories return.
Baths are great for all sorts of ailments from cold and flu to achy, sore muscles, and everything in between. And DIY bath salts are super simple and inexpensive to make at home.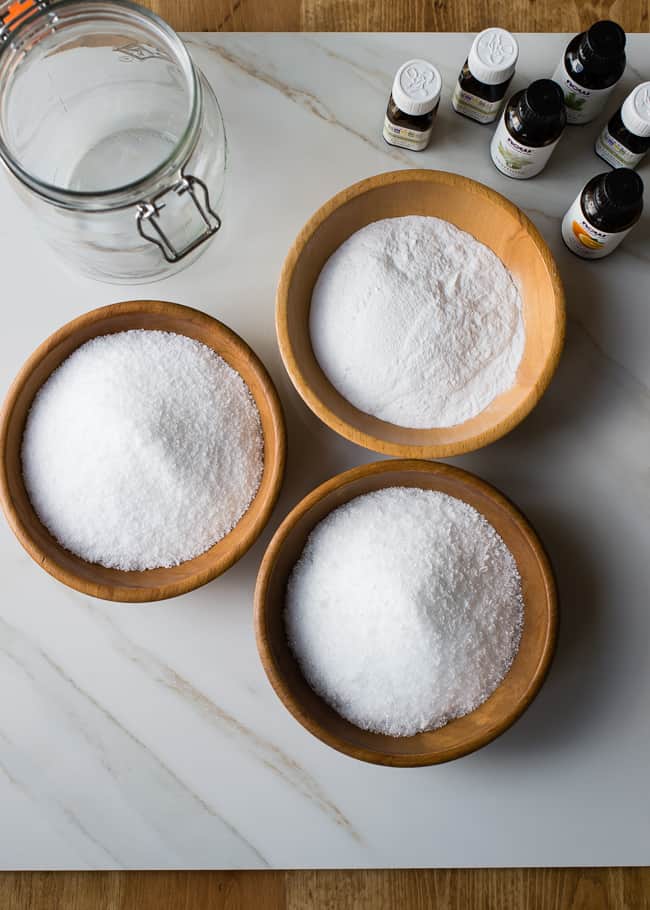 How to make bath salts with essential oils
A great all-purpose bath salt is made with 2 parts Epsom salt, 2 parts kosher salt, and 1 part baking soda. The salts contain minerals that are absorbed through the skin to help ease muscle soreness and relieve tension, while the baking soda soothes the skin surface.
Kosher Salt
Kosher salt is my bath salt of choice because it contains a plethora of vitamins and minerals that are great for skin. Plus, it has a very fine grain, so it dissolves quickly under running water. But feel free to use any natural salt you like.
Epsom Salt
This not-really-a-salt salt is a great source of magnesium, a mineral that has many benefits. Magnesium helps your body produce energy, and when you're deficient, you might feel more anxious, experience more painful PMS symptoms, and have muscle aches [source].
An Epsom salt soak is a simple way to boost magnesium levels because it can be absorbed into the skin while you bathe. Just make sure you do not use magnesium internally because it can be toxic [source].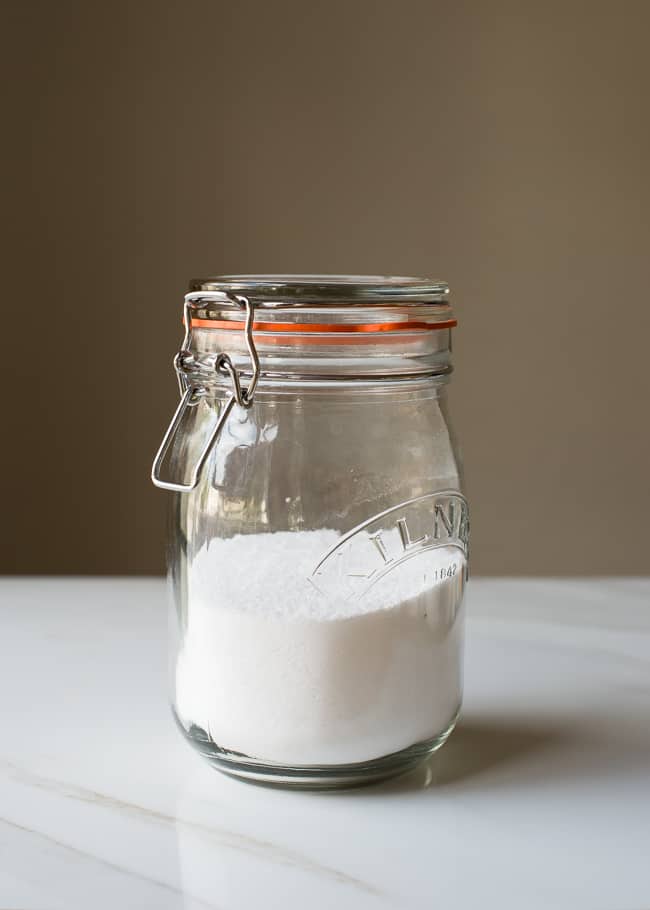 Baking soda
Baking soda helps prevent the bath from being too irritating to the skin. As soon as you add baking soda to water, you can feel the difference—the water feels a little silkier, without being outright slippery on your skin. Taking a baking soda bath can reduce skin irritation, scaly skin, and itching, too [source].
Essential oils
Ready to add essential oils to your bath? Infusing bath salts adds aromatherapy benefits. And, depending on the blend you decide to use, they can help with relaxation [source], better sleep, clearing the mind, rejuvenation, and even relief for stuffy noses.
It just so happens that these are a few of my favorite blends. Don't feel like you have to stick to these particular ones, though. Feel free to make up your own blends using any combination of essential oils you already have on hand.
1. Clear breathing: Combine eucalyptus and peppermint
2. Romantic: Use a blend of rose absolute, cardamom, and vanilla
3. Relax: Mix up clary sage, bergamot, lavender, and Roman chamomile
4. Clear your mind: Nix anxious thoughts with lemon and rosemary
5. Balancing: Invite calm with sage, mint, and tea tree
6. Calming: Make a peaceful blend with Egyptian geranium, lavender, and rose absolute
7. Sore muscles: Combine juniper berry, lavender, and ylang ylang
8. Energizing: Try lemon, sweet orange, and rosemary
9. Stress relief: Blend lemon, clove bud, cedarwood, and orange essence
Important note: The time to add your bath salts is after the bath is full, and you're in it. If you add them while the water is running, then the aromatherapy scents will evaporate before you get into the tub.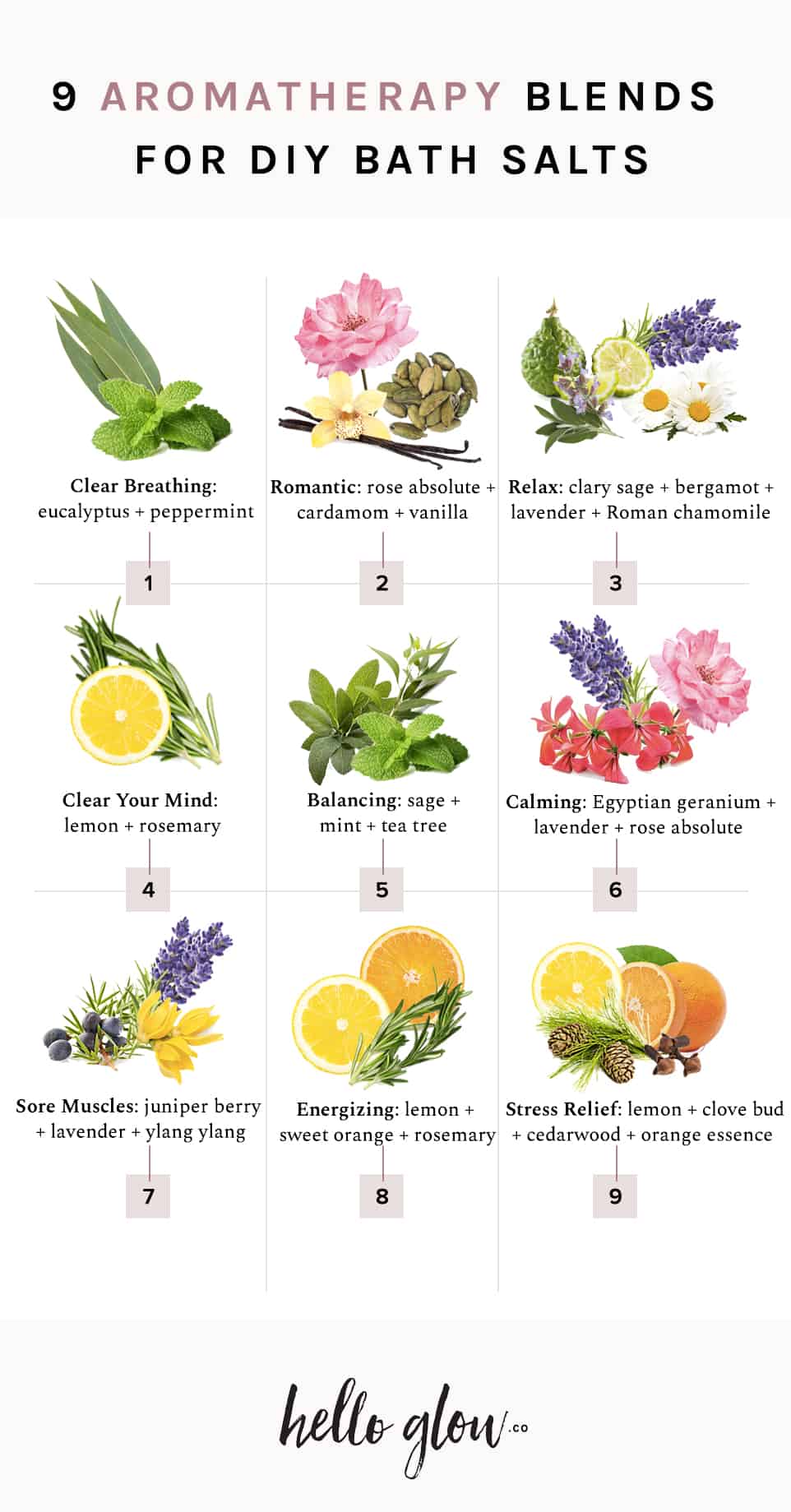 Homemade Bath Salt FAQs
Can I use fresh herbs instead of essential oils?
If you plan to use your bath salts right away (say, within the next couple of days), then go for it. Otherwise, you run the risk of the herbs going bad and ruining your bath salts before you have a chance to use them. When you have them cut and ready for the bath, put them in a small mesh or net bag to keep them in place while they diffuse into the water, so they won't scatter while you bathe.
Can I use sea salt instead of kosher salt? Or Himalayan salt?
Sure. Natural sea salt contains a plethora of minerals, just like kosher salt, so it makes a great substitute. Any kind of sea salt will do, so go ahead and pick a fine-ground favorite or use whatever you have on hand.
One note about Himalayan salt: the salt pieces tend to be larger than with sea salt or kosher salt, and sitting on them can be a little uncomfortable in the bath. You can pulse them in the food processor to make more finely ground pieces or just give them a few extra minutes to dissolve before getting into the tub. You can also choose this extra-fine grain Himalayan salt.
What's the shelf life of homemade bath salts?
I recommend using your salts within 1–2 months simply because they'll start to clump if left sitting for too long.
How can I keep my bath salts from clumping?
It's the moisture in your bath salts that eventually makes them clumpy and unusable. To fix that, combine all the ingredients in a bowl, then spread evenly on a parchment-lined baking sheet.
Pop them in a 200°F oven, and bake for 15–20 minutes, stirring occasionally throughout. Let cool completely before transferring to a storage container.
Help! My glass jar exploded. What gives?
Although I have never had this happen with my bath salts, a few readers mentioned this in the comments. Something in the bath salts, whether it be the essentials oils or mixing baking soda with the salt, can cause pressure to build inside airtight glass containers.
I use this jar to store my own DIY bath salts and have never noticed a build-up of pressure, probably because it doesn't create an airtight seal.
You can also use Weck jars without the rubber gasket, and you shouldn't run into any issues. To be safe, pop the lid on your container every couple of days to release any pressure that may have built up, but make sure not to let any moisture from the bathroom get in.
More Aromatherapy Bath Salt Recipes
How To Make Bath Salts - 3 Ways
How to make bath salt blended with cocoa butter and almond oil for a super soothing, moisturizing soak. Three scent combinations to try!
Check out this recipe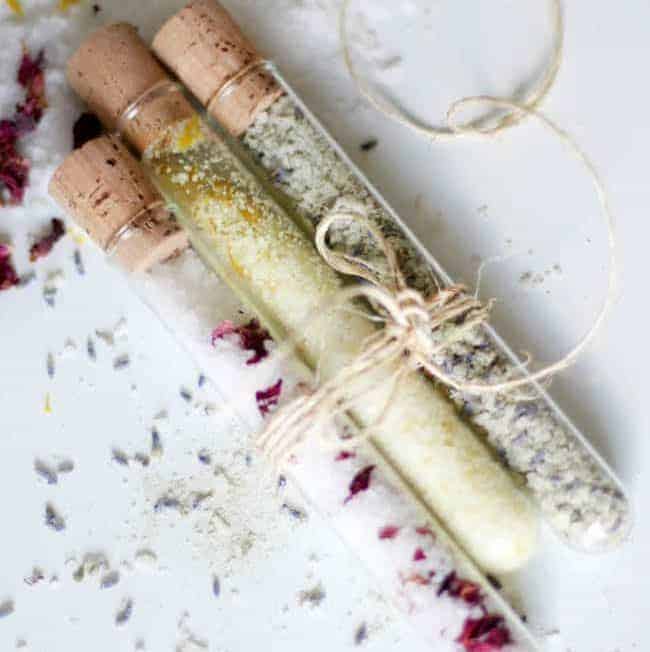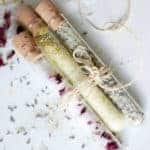 Minty Mojito Homemade Bath Salts
An easy mint mojito homemade bath salt recipe - the cooling, refreshing scent of mint and lime are perfect for summer soaking!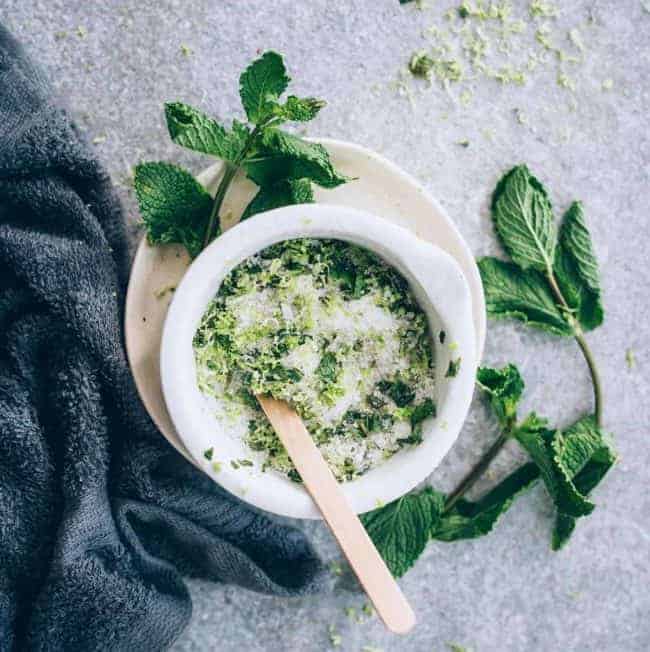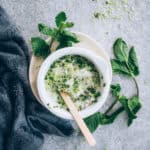 Lavender Bath Salts
Learn how to make easy, inexpensive homemade lavender bath salts. A recipe that calms and relaxes as well as helps you sleep.
Check out this recipe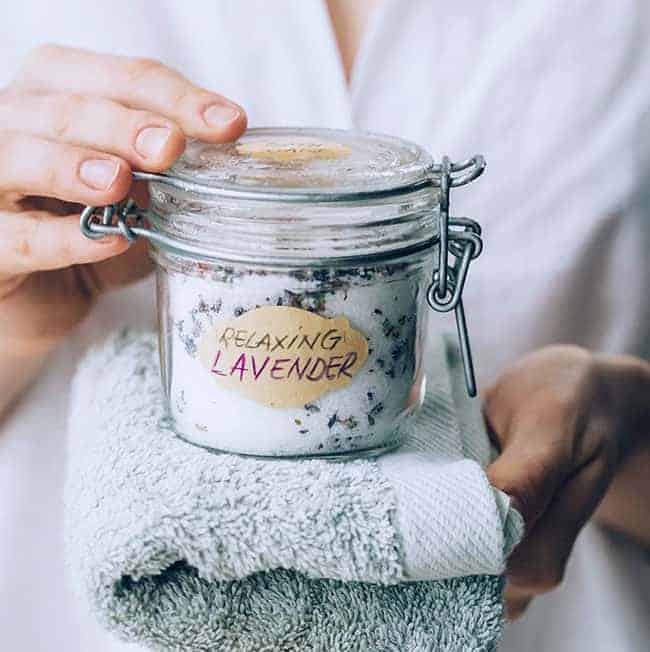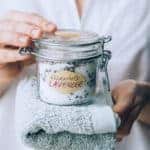 Sea Salt Bath Salts with Jasmine + Orange
Make a jar of these big batch sea salt bath salts and have them on hand whenever you need a long soak. The orange-jasmine scent is amazing!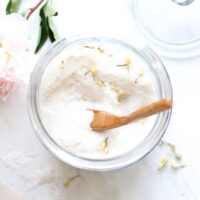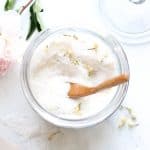 Detox Pink Salt Bath Soak
Harness the 84 minerals in Himalayan pink salt with an easy recipe for a detox bath soak.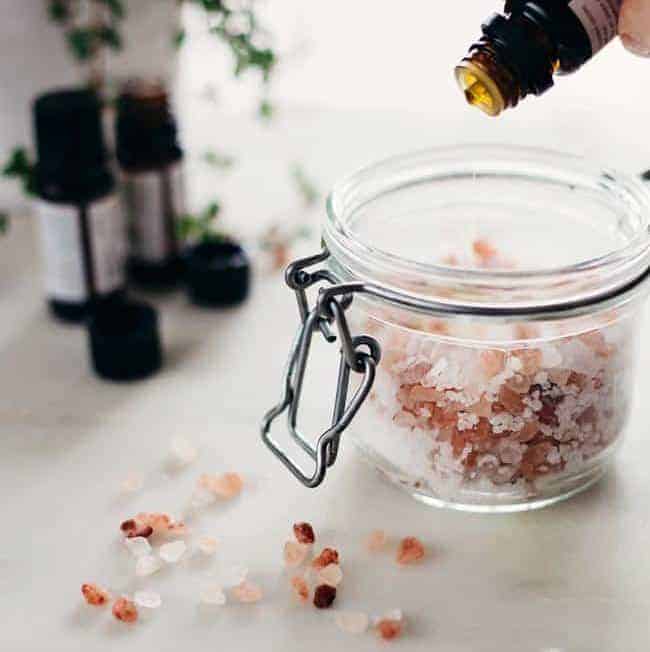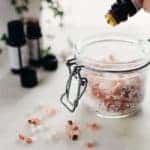 Which blend would you add to your next bath?
References:
1. Gröber U, et al. Magnesium in prevention and therapy. Nutrients. 2015.
2. Philips CA, et al. Severe liver injury due to Epsom salt naturopathy. BMJ case Rep. 2017.
3. Milstone LM. Scaly skin and bath pH: rediscovering baking soda. J Am Acad Dermatol. 2010.
4. Hongratanaworakit T. Aroma-therapeutic effects of massage blended essential oils on humans. Nat Prod Commun. 2011.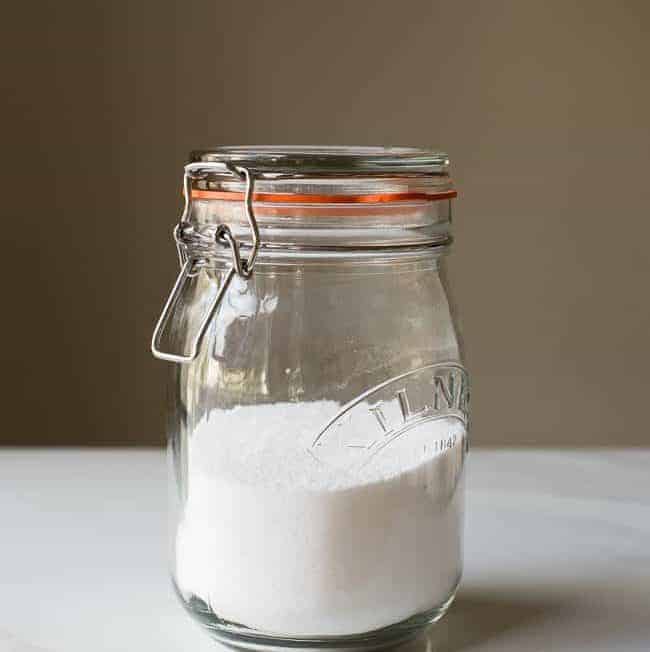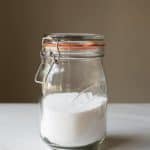 Print
Scented Wellness Bath Salts
DIY bath salts are inexpensive and great for all ailments. Learn how to make bath salts for those times when you have a cold or flu, achy muscles, and everything in between.
Instructions
Combine salts and baking soda in a small bowl.

Separately, combine the essential oils and carrier oil.

Add oil mixture to the salts and stir until fully incorporated, breaking up any clumps.

Store in a lidded container in a cool, dark place. Use about 1/2–1 cup per bath.
This post was medically reviewed by Dr. Holly Smith, a board-certified physician in nephrology and internal medicine with a background in nutrition. Learn more about Hello Glow's medical reviewers here. As always, this is not personal medical advice, and we recommend that you talk with your doctor.
900