Nothing soothes the soul like a good long soak. Especially when relaxing herbs, skin-soothing botanicals and nourishing essential oils are involved. But you know what's not very soothing? Cleaning the tub afterwards.
That's where these easy breezy tub tea bags come in. Steep one in your bath or drape it over your faucet and let the salts, oils, and flower essences diffuse into the water. It's the perfect way to relax in cold winter months and the ingredients will do wonders for your dry, itchy skin. Plus when you're done, simply toss the bag in the trash (or empty it out and use it again later).
And voila! No messy clean up or herbs to pick out of the drain.
How to Make Tub Tea
These DIY bath teas are a lot like teas for drinking. Choose herbs based on their stress-relieving qualities and let them steep in hot water before taking a dip. Lavender and chamomile make great additions to tub tea, but you can always use dried or fresh herbs found at your local grocery store.
Herbal Benefits
Here's a breakdown of a few of our favorite herbs and their most powerful wellness benefits:
Chamomile Flowers – calming effects on children and adults, soothing anti inflammatory properties, and aids in relaxation during nighttime routines. Also known to help reduce hemorrhoids, alleviate anxiety and reduce skin irritation.
Lemon Balm – calming properties that help alleviate anxiety, menstrual cramps, and restlessness. It also is believed to reduce the growth of certain viruses.
Lavender – both calming and cleansing for the mind and skin, natural pain remedy, eases menstrual hot flashes, and minimizes the formation of scar tissue.
Rosemary – invigorating with pain relieving properties, which can also soothe skin irritations. Known to promote hair growth, increase circulation, and reduce joint inflammation. Not recommended for pregnant women, however.
Rose Petals – naturally high in antioxidants, beautifully fragrant, relieves headaches, tones and moisturizes the skin. Rose petals can also can reduce stress, reduce skin redness and irritation, and contains antiseptic and antibacterial properties. Many believe rose water can reduce the appearance of wrinkles.
I also love adding some powdered milk to soften skin and sea salt for added minerals. Essential oils will add a little aromatherapy action, while the herbs will soothe your skin and the hot water relaxes tense muscles.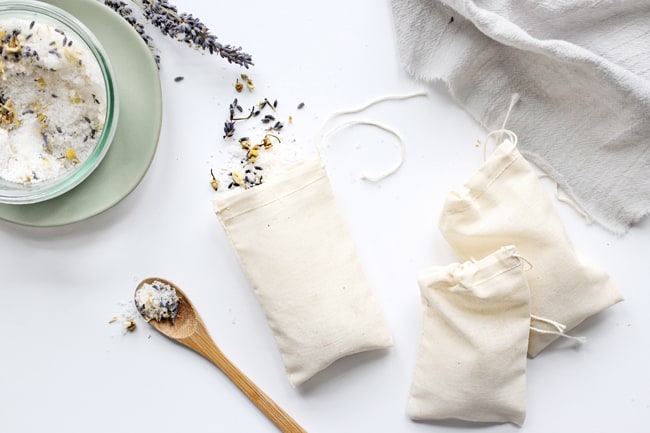 To make the sachets, I purchased a few muslin tea bags from a nearby health food store. But you can make your own by wrapping a double layer of cheesecloth around your herbs, and tying it at the top with some kitchen twine. Add a loop at the top so you can hang it over the faucet. And make sure it's loose enough to let the water run through, so the herbs can diffuse in the bath water.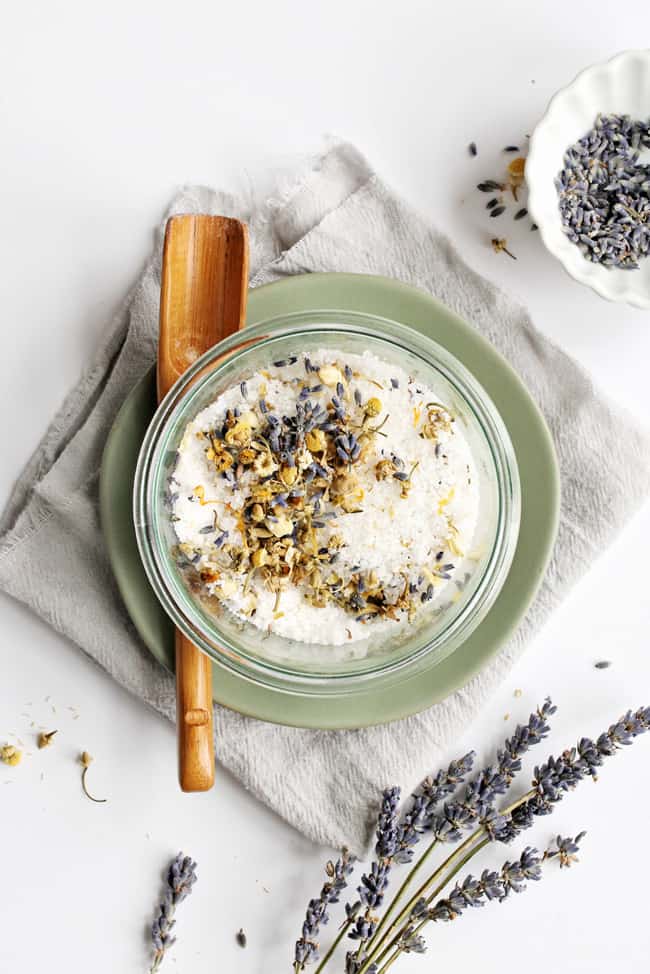 When you're done, simply toss the herbs in the trash can, rinse out the tea bag and let it dry. The muslin bags are completely reusable, so next time you're in the mood for a bath you can simply refill it with your favorite bath salts or herbs.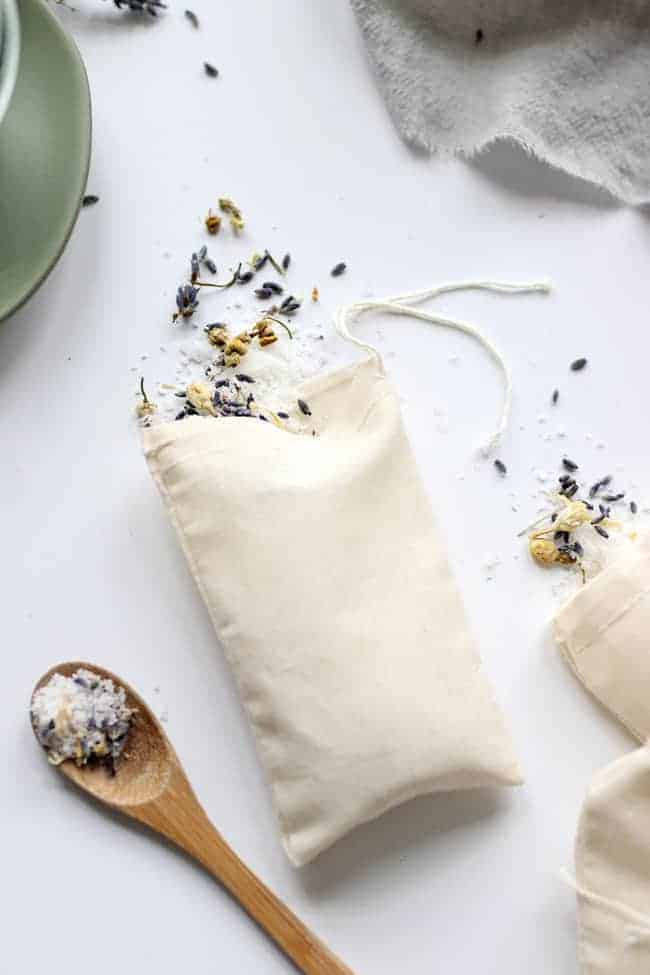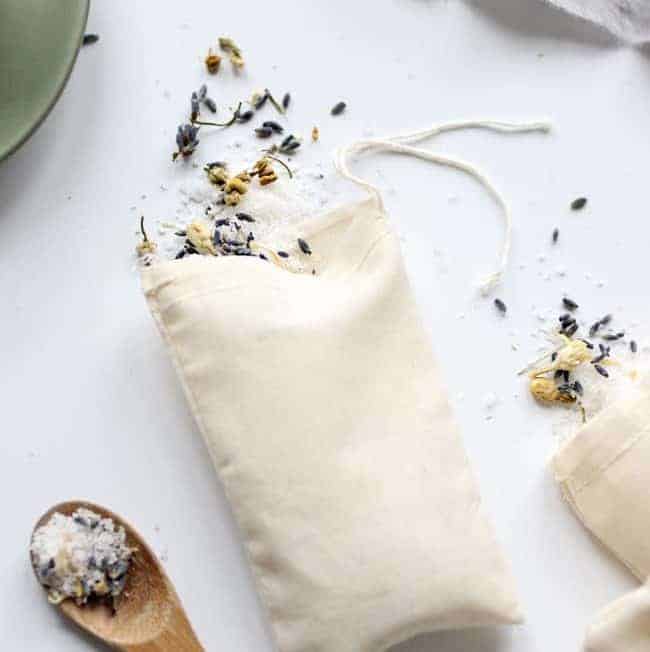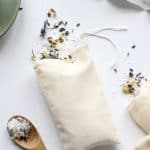 Print Recipe
Tub Tea Recipe
With mineral-rich sea salt, soothing herbs, and nourishing essential oils, these DIY tub tea bags are the perfect way to keep dry skin at bay this winter.
Instructions
Combine all the ingredients in a small bowl and mix well.

Spoon into muslin tea bags until the bag is 2/3 of the way full. Cinch the drawstring tightly and store tea bags in an airtight glass jar.

To use, place a tea bag in the tub or drape it over the faucet and let the water run through it while the tub fills. Allow the herbs to infuse the bathwater.
Notes
Toss the herbs in the trash can after use and rinse the tea bag so you can use it again later.
64