Everyone can agree that taking a bath is wonderful for both the body and the mind. Scroll down to learn how to make bubble bath from scratch—no fancy ingredients required. And we're sharing 6 homemade bubble bath recipes that are free of harsh chemicals and artificial scents. And did we mention they are totally easy, too?

Taking a shower might get the job done, a soak in the tub actually feels like a treat. And a bubble bath? That is next-level awesomeness! The kids love it, and you love it, so there's no reason why you shouldn't include a luxurious bath in your weekly/monthly/whenever-you-can routine.
If you've been reading Hello Glow for a while, you might already know that we like to make our own stuff around the house—that includes bubbles! And we're going to show you how to make your own!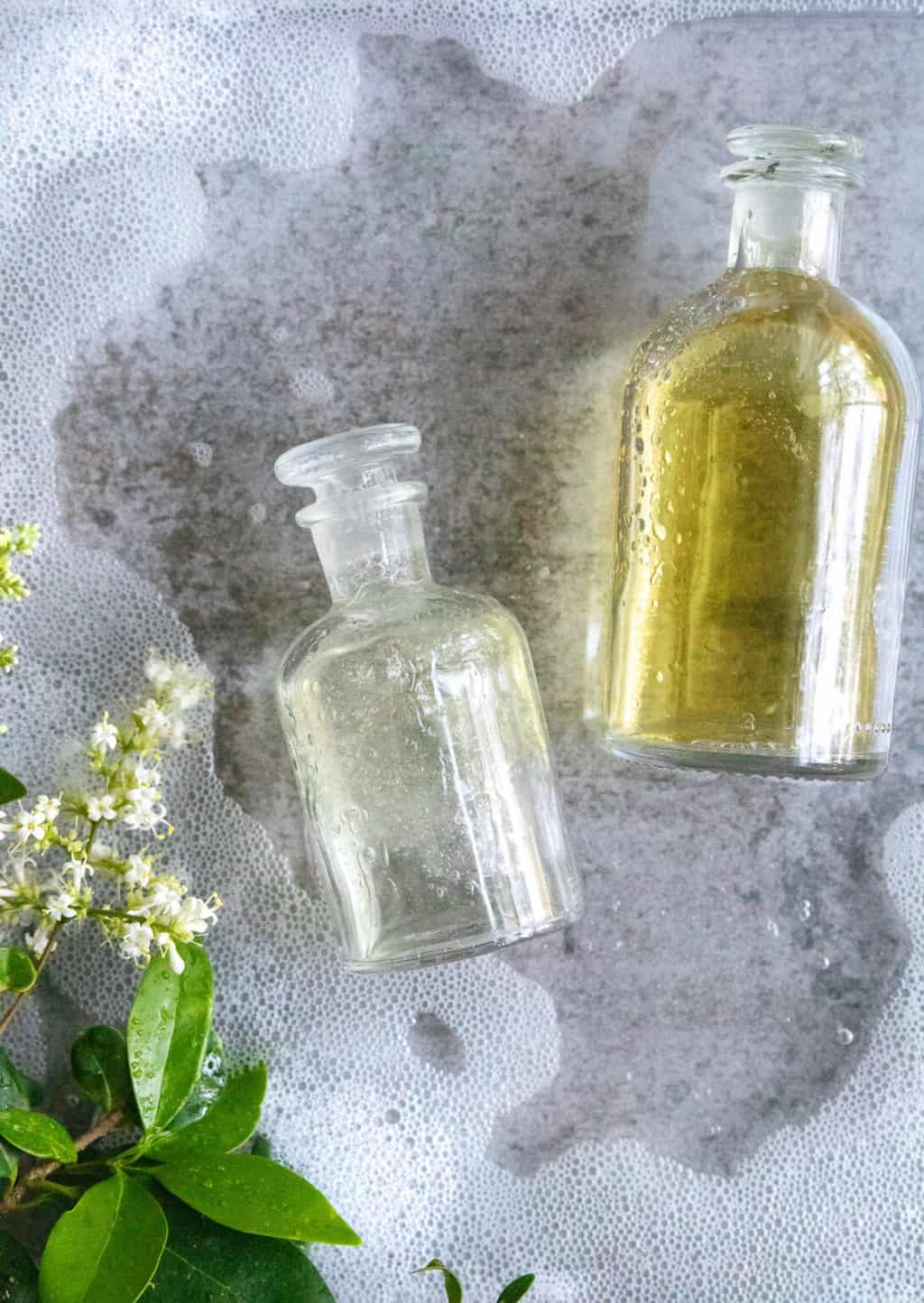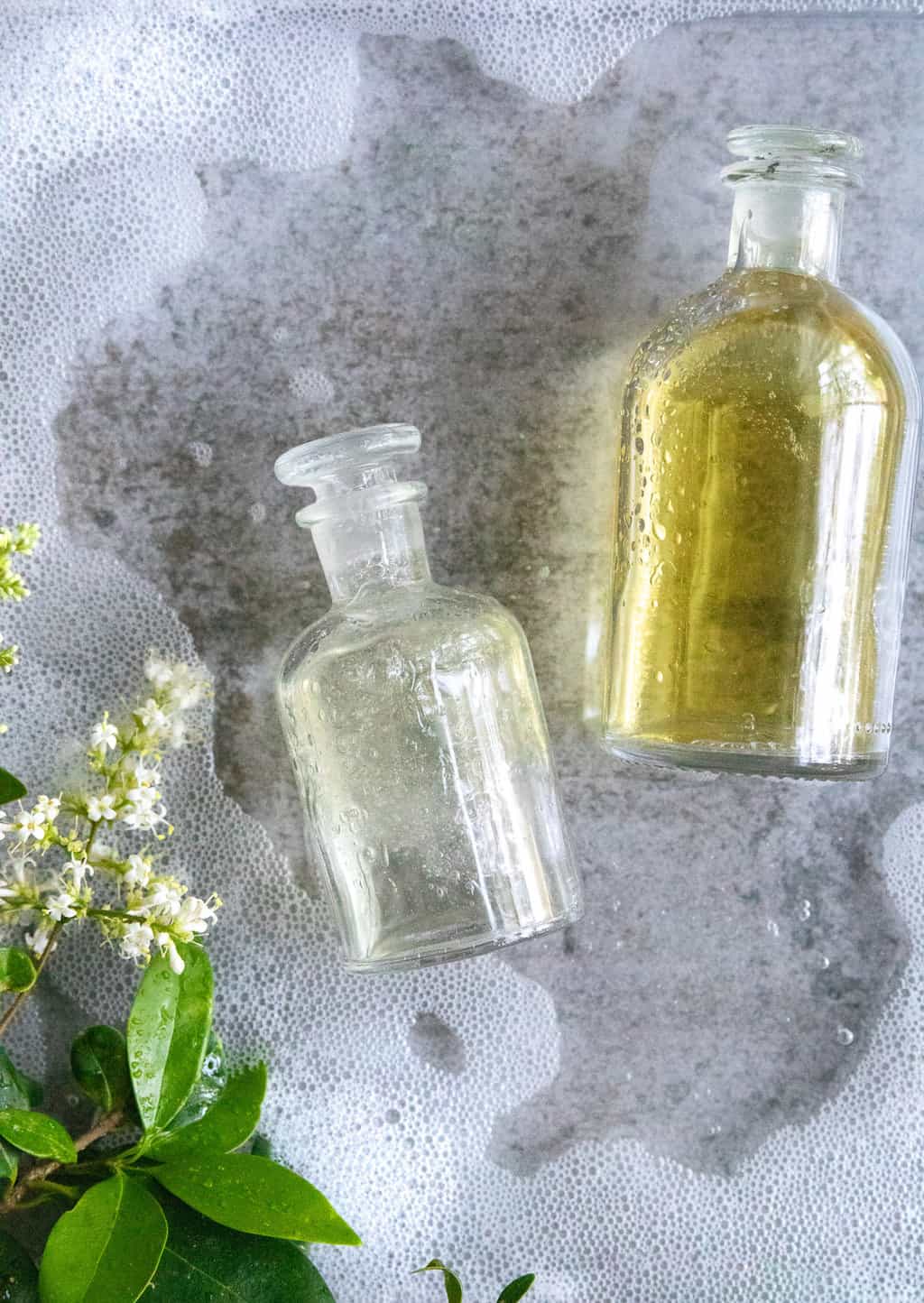 How to Make a Homemade Bubble Bath Recipe That Bubbles!
You only need three basic ingredients to make bubbles: soap, water, and air. But if you've ever tried making your own bubble bath using Castile soap or baby shampoo, you may have been surprised to learn that not all soap creates suds.
In order to get high-quality bubbles, you need what's called a surfactant, a chemical that adds a bit of stretch, allowing the water molecules to expand and trap air inside. Soap itself is a mild surfactant, but unless it contains added surfactants, it won't give you that luxurious layer of bubbles when added to bath water.
Once you've chosen a soap with a good amount of surfactants, you can start adding extra ingredients to soothe and soften skin. Some of my favorite add-ins include aloe vera, honey, brewed tea, essential oils, and powdered goat milk—but this is a time to get creative!
If it's something you can put in a face mask or beauty treatment, chances are you can put it in a bath.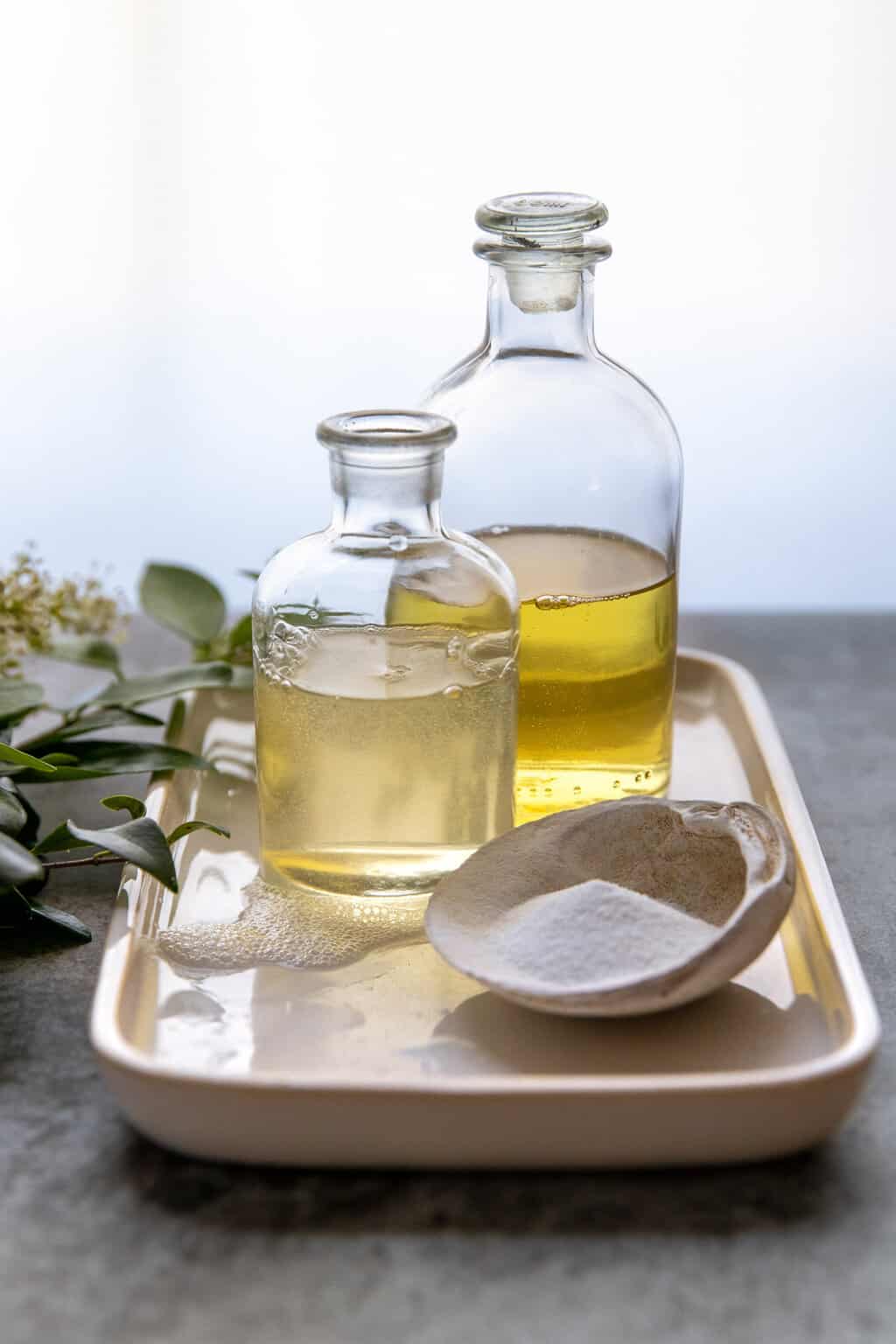 The Best Soap for Homemade Bubble Bath
There's really no way around it: because you need surfactants, you'll need to use a store-bought soap or strong chemical surfactant to make your own bubble bath.
Mild Body Wash or Shower Gel
I highly recommend using a mild body wash as your bubble bath base for two reasons: it's made especially for skin and not full of harmful, drying ingredients, and it creates a ton of bubbles.
Stick with a natural-ish body wash, like one from The Honest Company or Avalon Organics.
Shampoo
Shampoo is another great option because it foams really well and is somewhat natural, so it should be safe to use in the bath. Again, choose a brand that's known for using clean ingredients, without things like parabens, sulfates, or phthalates. My favorite shampoo brands for bubble bath are Alba and Puracy.
SLSa
If you've hung around the beauty scene long enough, you've probably heard of SLS (sodium laureth sulfate), a chemical surfactant often used in bath bombs, shampoo bars, and toothpaste. It gets a bad rap because it can easily irritate the eyes, skin, and lungs and should be avoided if you have sensitive skin.
Well, SLSa (sodium lauryl sulfoacetate) is a surfactant that looks and sounds similar but is actually completely different from SLS. SLSa is a safe, non-irritating cleanser derived from coconut and palm oils. At the molecular level, SLSa has a large molecule (unlike the small molecule of SLS), which doesn't penetrate the skin easily or cause irritation like other surfactants. It's also the main ingredient in many store-bought shampoos and body washes.
You can skip the expensive shampoos and body washes and add a few teaspoons of SLSa to your next bath for an inexpensive and sudsy good time. Or mix it with water and skin-soothing add-ins for a more traditional bubble bath.
What Soap Not to Use
Some soap fails to form good bubbles, and you'll want to avoid these when making homemade bubble bath:
Castile Soap
Despite what you might have read elsewhere on the internet, Castile soap is a horrible (really horrible!) homemade bubble bath. Because it's a mild, oil-based soap with very little sudsing ability, you'll be hard-pressed to get any bubbles out of it. Oh, and it turns the water gray, which makes your soaking experience a little gross.
Baby Shampoo
From my experience, baby shampoo doesn't create a ton of bubbles, either. That being said, I haven't tried every baby shampoo on the market, so you may know of one that's natural, gentle on skin, and able to create a nice lather. In that case, go ahead and test it out in your next bath. Otherwise, stick with one of the tried and true soaps listed above.
Dish Soap
No matter how you cut it, dish soap is too hard on the skin to be used in a bubble bath. Even green dish soaps contain ingredients that cut grease and kill germs (aka skin killers), so I don't recommend adding them to your next bath.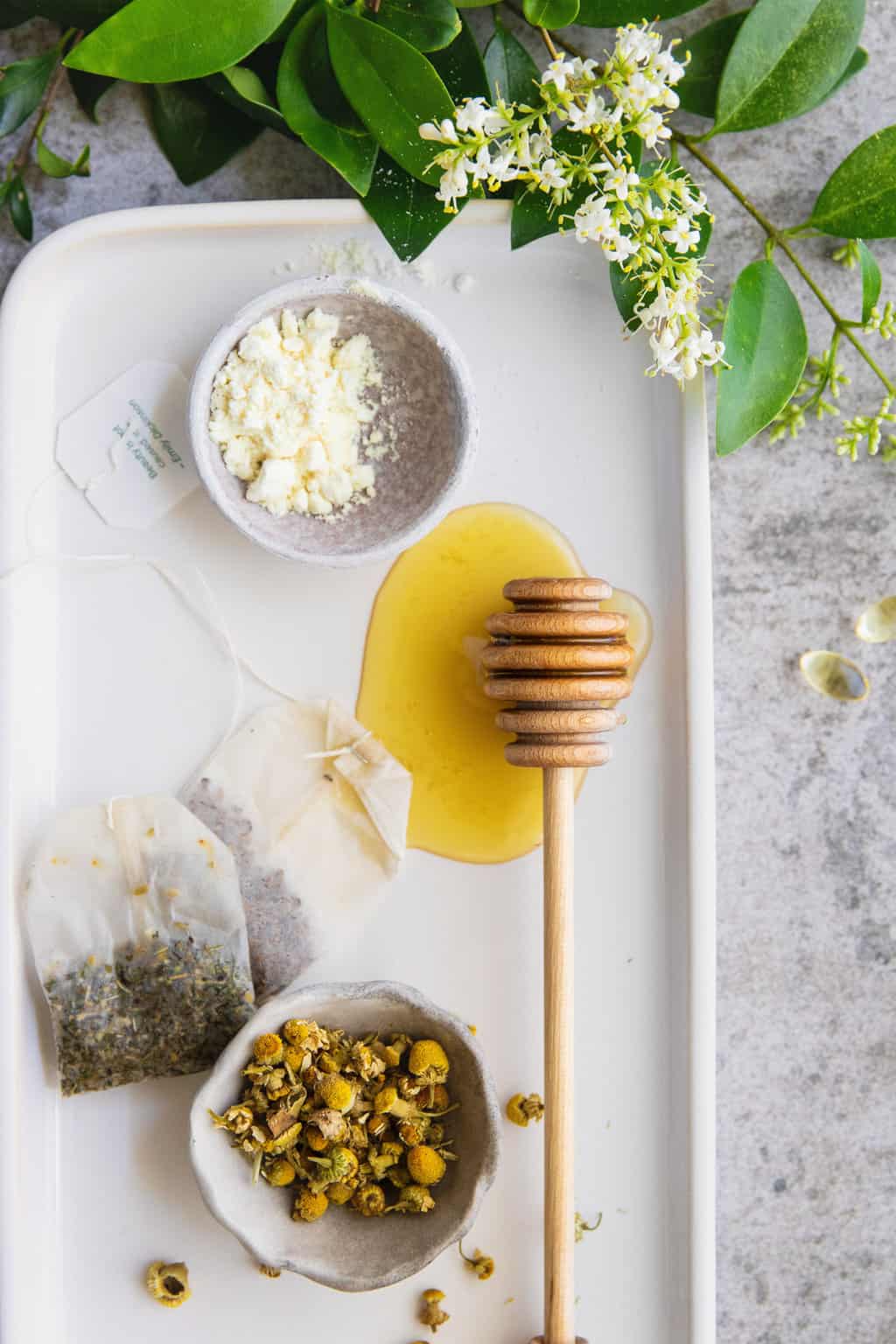 Additional Bubble Bath Ingredients
This is where you can make homemade bubble bath truly your own: the add-ins. Any soothing, nourishing ingredients that you would use in DIY bath and body recipes are fair game, as long as they don't clog your drain.
Try adding:
—Steeped green tea
—Dried flowers, such as chamomile, lavender, or rose
—Whole milk
—Powdered coconut or goat's milk
—Essential oils (avoid citrus oils, which can cause skin sensitivity)
—Coconut water
—Skin oils, such as sweet almond, jojoba, or olive
—Aloe vera
—Honey
—Rosewater
—Magnesium flakes
—Sea salt
—Glycerin
—Egg whites
—Ground oatmeal
—Baking soda
—Seaweed
—Turmeric powder
—Vanilla extract
There's really no perfect ratio of add-ins to soap, but here are some rules of thumb that will help get you started:
For every ¼ cup soap base (e.g., body wash), add:
—⅛–¼ cup liquid, such as milk, rose water, or green tea
—1 tablespoon oil or glycerin
—12-24 drops essential oil
—2–3 teaspoons liquid ingredients, such as honey, vanilla extract, or aloe vera
—1–2 tablespoons dry ingredients, such as seaweed, baking soda, or sea salt
6 Ways To Make Homemade Bubble Bath
This basic bubble bath recipe can be tweaked by adding your own ingredients and oils. For extra bubbles, just add more body wash.
1. Basic Homemade Bubble Bath

Who doesn't love the idea of slipping into and enjoying the peacefulness of a hot bubble bath? This simple, easy-to-make recipe is just what you need for a fun, relaxing soak.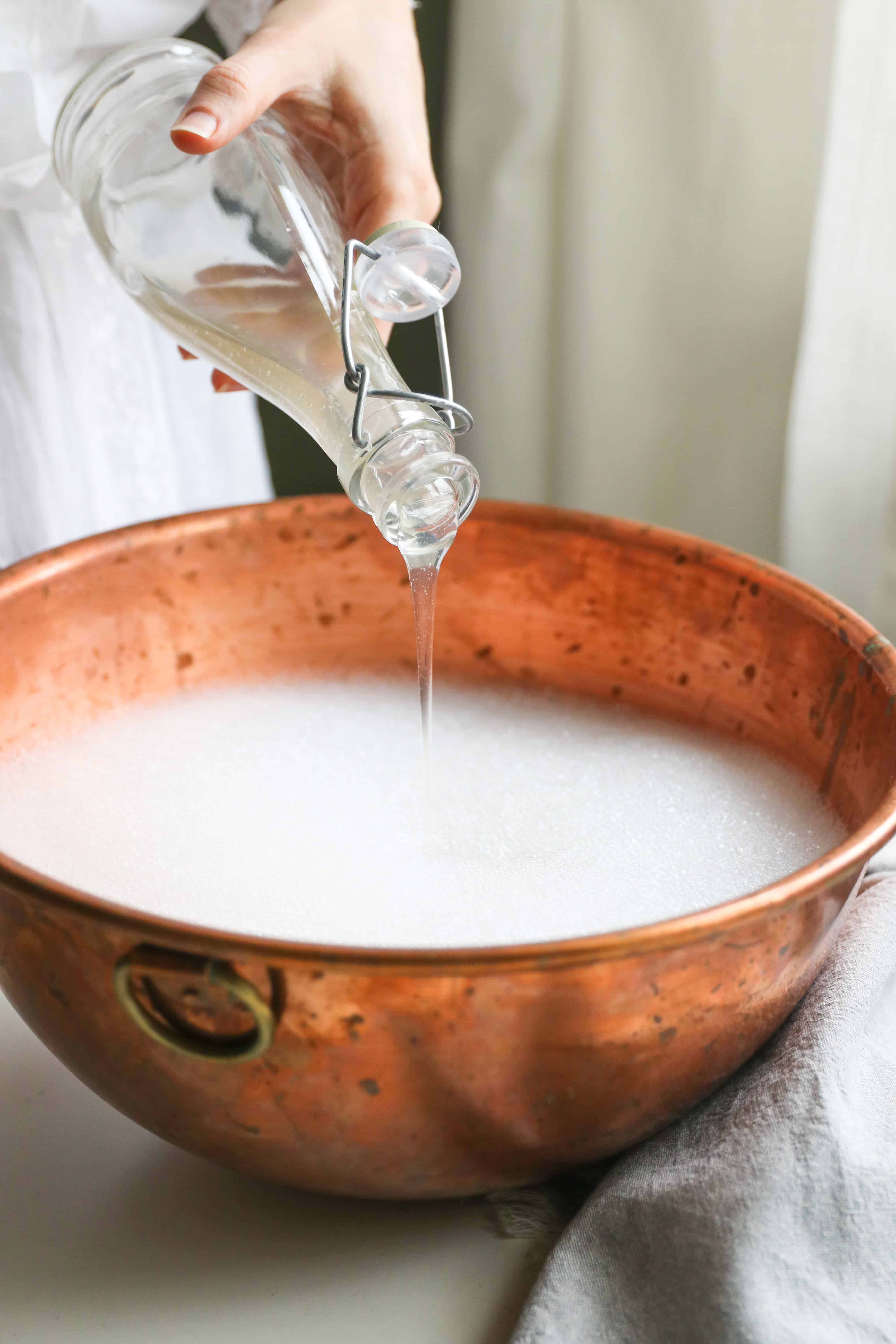 Basic homemade bubble bath recipe
—¼ cup natural body wash or shampoo
—⅛ cup water or brewed tea
—12-24 drops essential oil
—1 tablespoon sweet almond oil
Instructions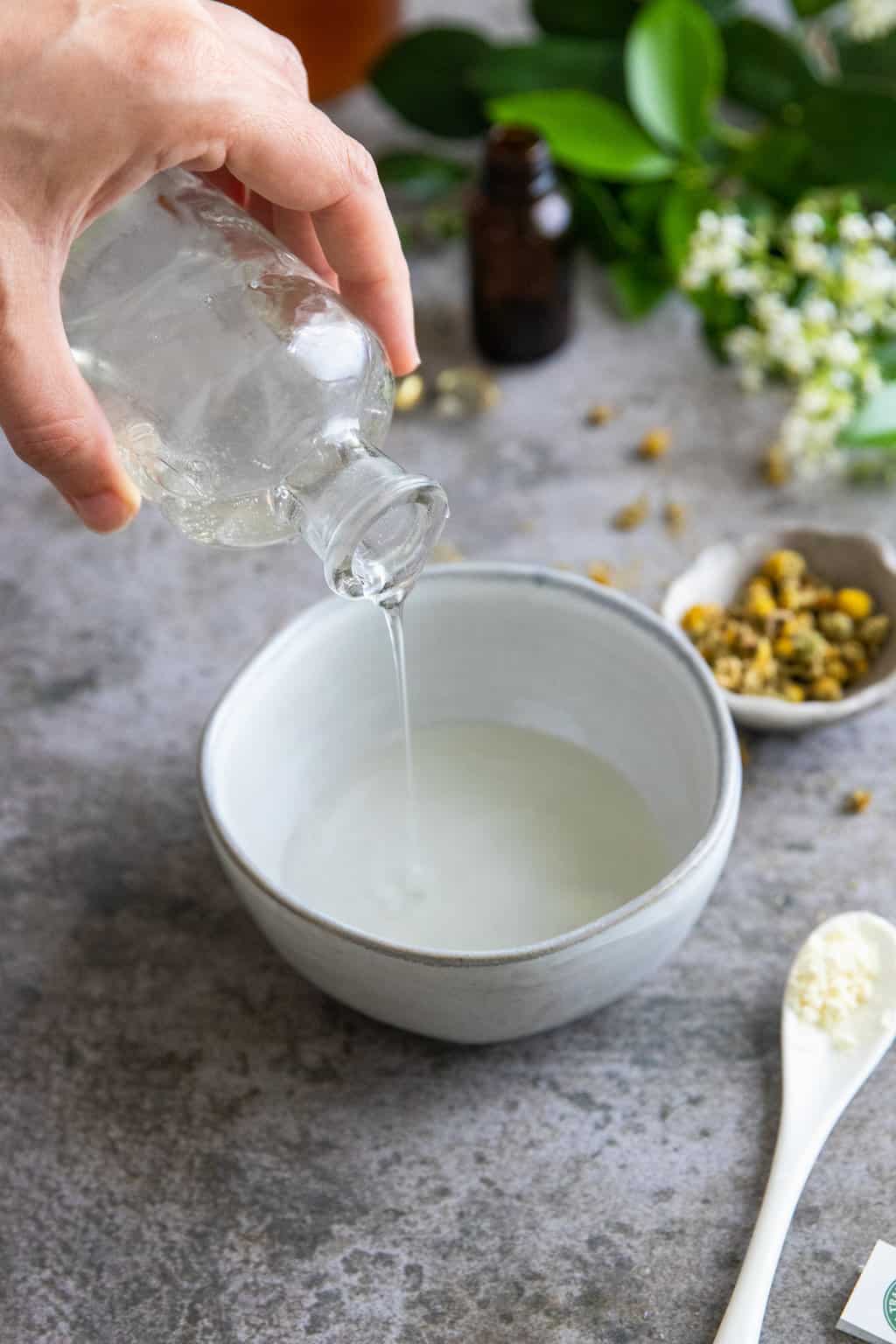 Step 1 | Add the soap
Pour the soap (e.g., body wash or shampoo) into a small bowl.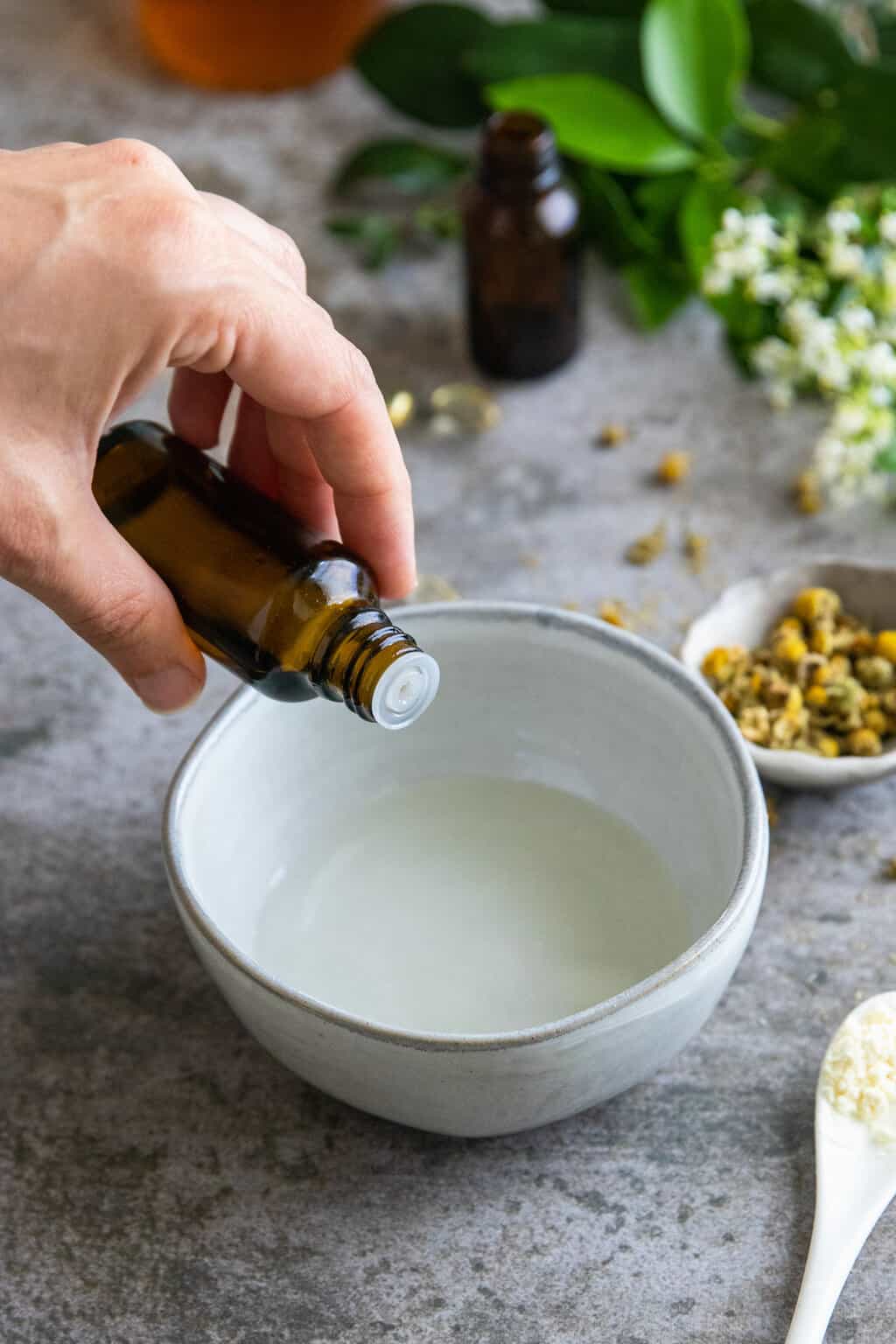 Step 2 | Combine extras

Add the remaining ingredients. If you would like to make your own custom bubble bath with ingredients you have on hand, add them now. Stir the mixture gently to blend everything together without creating any bubbles.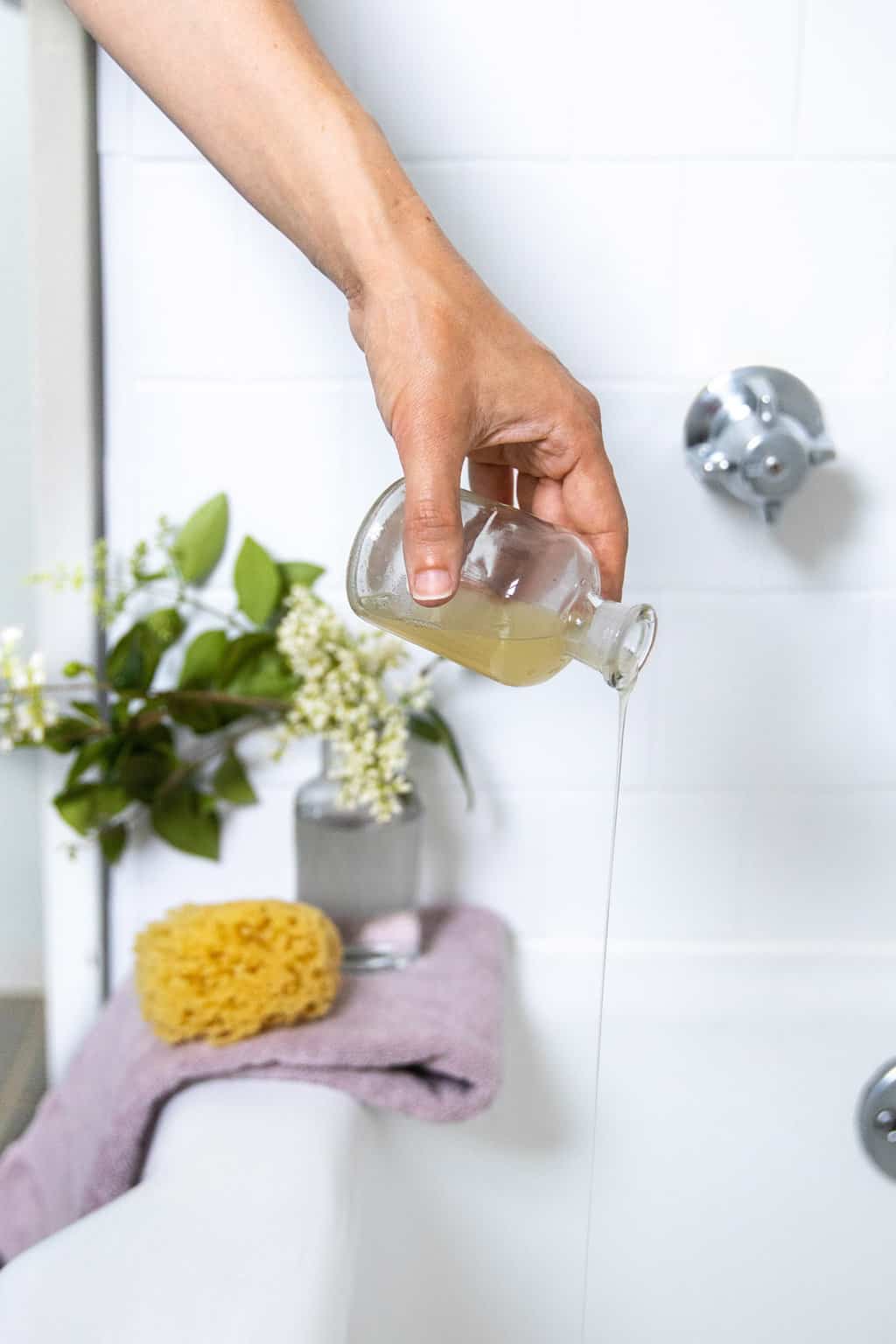 Step 3 | Create bubbles

Drizzle bubble bath under running water as the tub fills. Add more bubble bath as needed to create more bubbles.
How To Create Lots of Bubbles
By far, one of the biggest questions we get is, how do I make my bubble bath more bubbly?
As I mentioned earlier, bubbles are created when water molecules stretch with the help of a surfactant and trap air inside. So to make an extra bubbly bath, you need to force more air into the soapy water molecules. Here are some tips for getting a ton of bubbles out of your next bath.
1. Turn on the bath faucet as high as it will go. Remember, more air = more bubbles.
2. Pour ¼ cup of bubble bath slowly into the running water. As the water and soap hit the bottom of the tub and bounce around, it creates more air pockets and larger bubbles.
3. If needed, add more soap before turning off the tap.
4. If the bubbles deflate as you soak, simply turn on the tap for a couple of minutes while adding more bubble bath to revive them.
2. How to Make Bubble Bath with SLSa
Instead of using a store-bought shampoo or body wash, you can create your own bubble bath by mixing SLSa powder with water. A little goes a long way, so one package of SLSa can be used for many, many baths.
—1 cup hot water
—2 tablespoons SLSa powder
—10 drops essential oil
—1 tablespoon glycerin
Instructions
1. Combine the hot water and SLSa powder in a glass measuring cup or bowl. Whisk until the SLSa is completely dissolved.
2. Add the essential oil and glycerin and whisk again.
3. Drizzle bubble bath under running water as the tub fills and you get the desired amount of bubbles.
3
.

Honey Vanilla Bubble Bath with Egg White

The secret ingredient in this homemade bubble bath is the egg white! It helps to create bigger bubbles that last even longer (although still not huge). Give the water some splishing and splashing to activate the soapy-ness.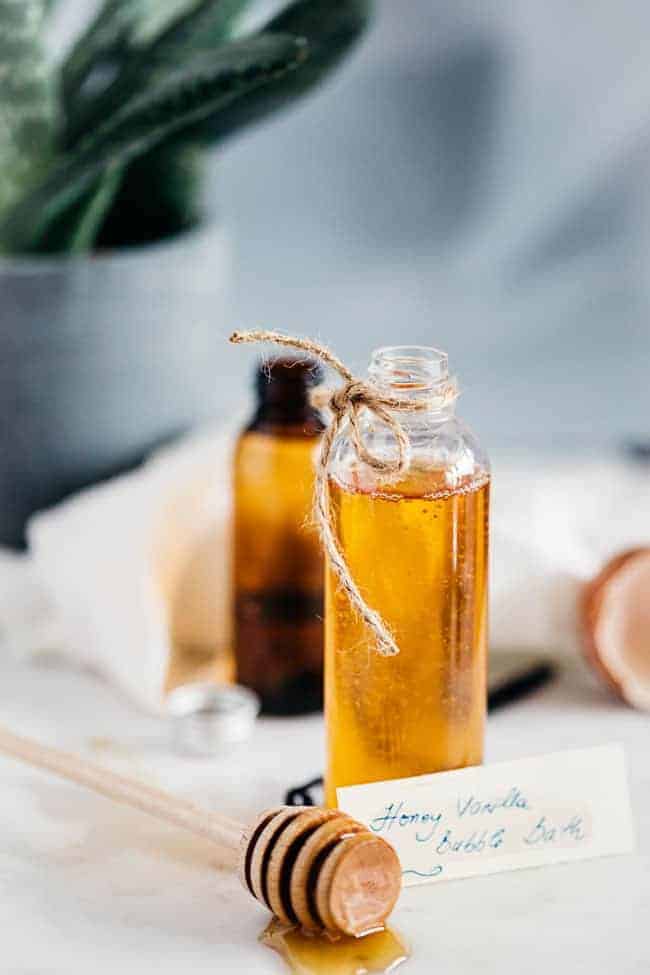 Bubble Bath Recipe with Egg White

—½ cup light almond oil
—¼ cup honey
—½ cup mild liquid hand or body soap (don't use castile soap!)
—1 egg white
—1 tablespoon vanilla extract
Instructions
Combine all of the ingredients in a mixing bowl, and pour ¼ to ½ cup under running water. You can keep any excess in the refrigerator for up to 3 days.
Why it works
Almond oil: Almond oil is high in essential fatty acids, which help dissolve excess oil on the skin and improve skin tone [source]. It's loaded with retinoids that increase cell turnover and make skin appear younger.
It's also gentle enough for most skin types, so you don't have to worry about it causing breakouts or irritation. Substitute a different carrier oil if you're allergic.
Honey: Honey is a humectant, meaning it draws moisture to the skin and locks it in. Plus, it has well-known antibacterial and antimicrobial properties, and it's packed with antioxidants [source].
Egg white: Not only are egg whites nourishing for skin, but they can also help boost your bubble bath's foaming action. If you're vegan or opposed to adding eggs to your bath, feel free to leave it out. And no, it won't cook in the bath!
4. Calming Chamomile Bubble Bath
Another perk of homemade bubble bath is that you can sneak in essential oils like lavender and chamomile that calm little ones and get them ready for bed. Adding these scents to the bath is a great way to get them to wind down after a full day, and should hopefully get them to sleep faster afterwards. Or you can try one of these aromatherapy bath blends for stress, balancing or sinus relief.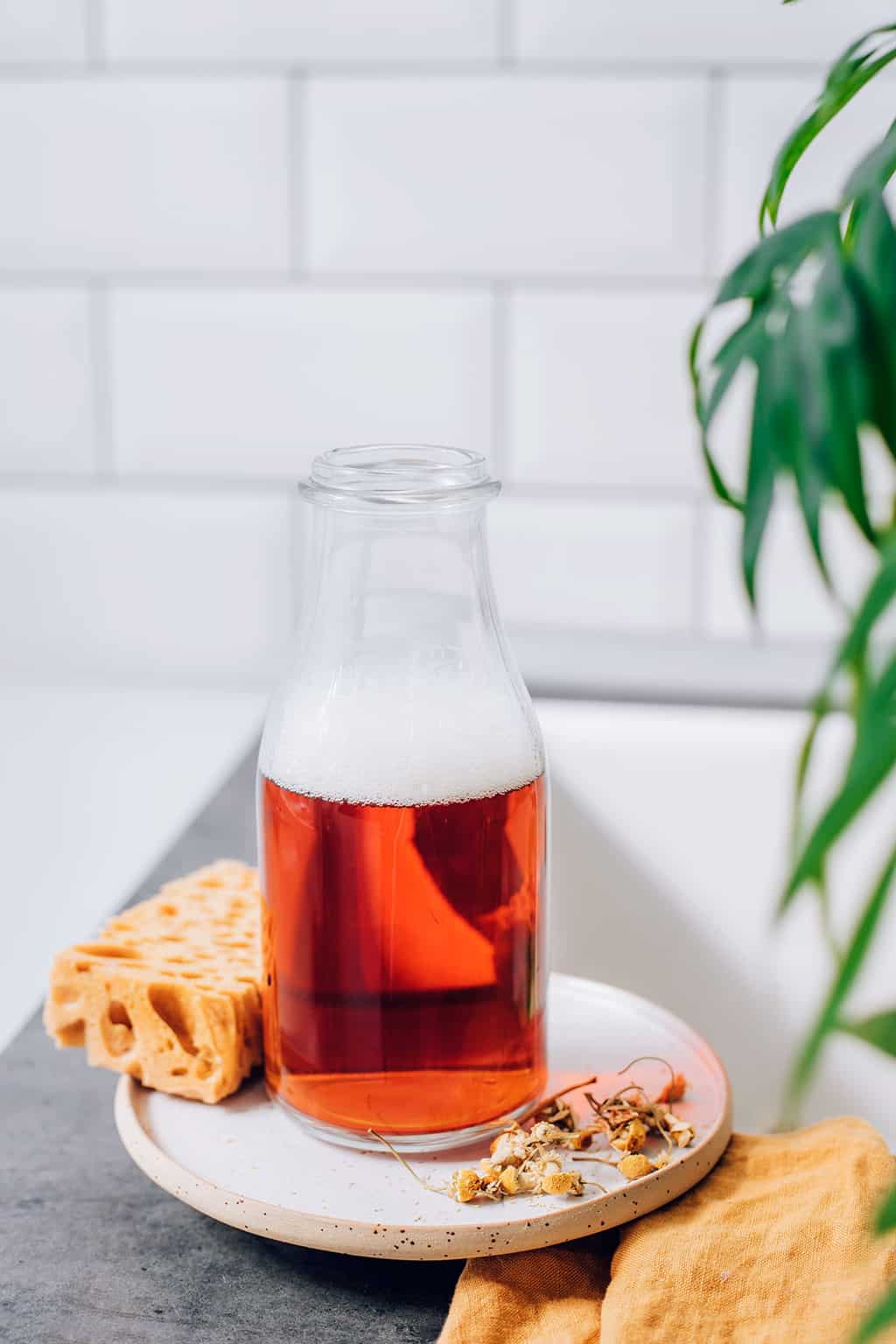 Sleepy Time Bubble Bath Recipe
—1 cup mild liquid body soap
—¼ cup pure vegetable glycerin
—1 teaspoon pure vanilla extract
—1 teaspoon chamomile essential oil
—2-3 drops red food coloring (optional)
Instructions
1. Combine all ingredients in a bottle with a lid. It's probably better to use a plastic bottle if you plan to store it in the bathroom.
2. Stir ingredients gently; you don't want to make bubbles just yet!
3. To use, pour about ½ cup under running water and agitate water to create bigger bubbles. This goes really well with chamomile bath oil.
Why it works
Essential oils: We put essential oils in practically everything. And for good reason: they work! While you can choose any oils you like, chamomile, lavender and frankincense are notoriously hydrating and healing, making them perfect for irritated skin.
Vanilla extract: Vanilla has anti-inflammatory and antibacterial properties [source]. Plus, real vanilla extract makes your bubble bath smell uh-mazing.
5
.

Bubble Bath for Sensitive Skin

Store-bought bubble bath is often full of nasty ingredients that can irritate the skin and cause breakouts. That's why you should always aim to make your own! This recipe is especially suited for sensitive skin.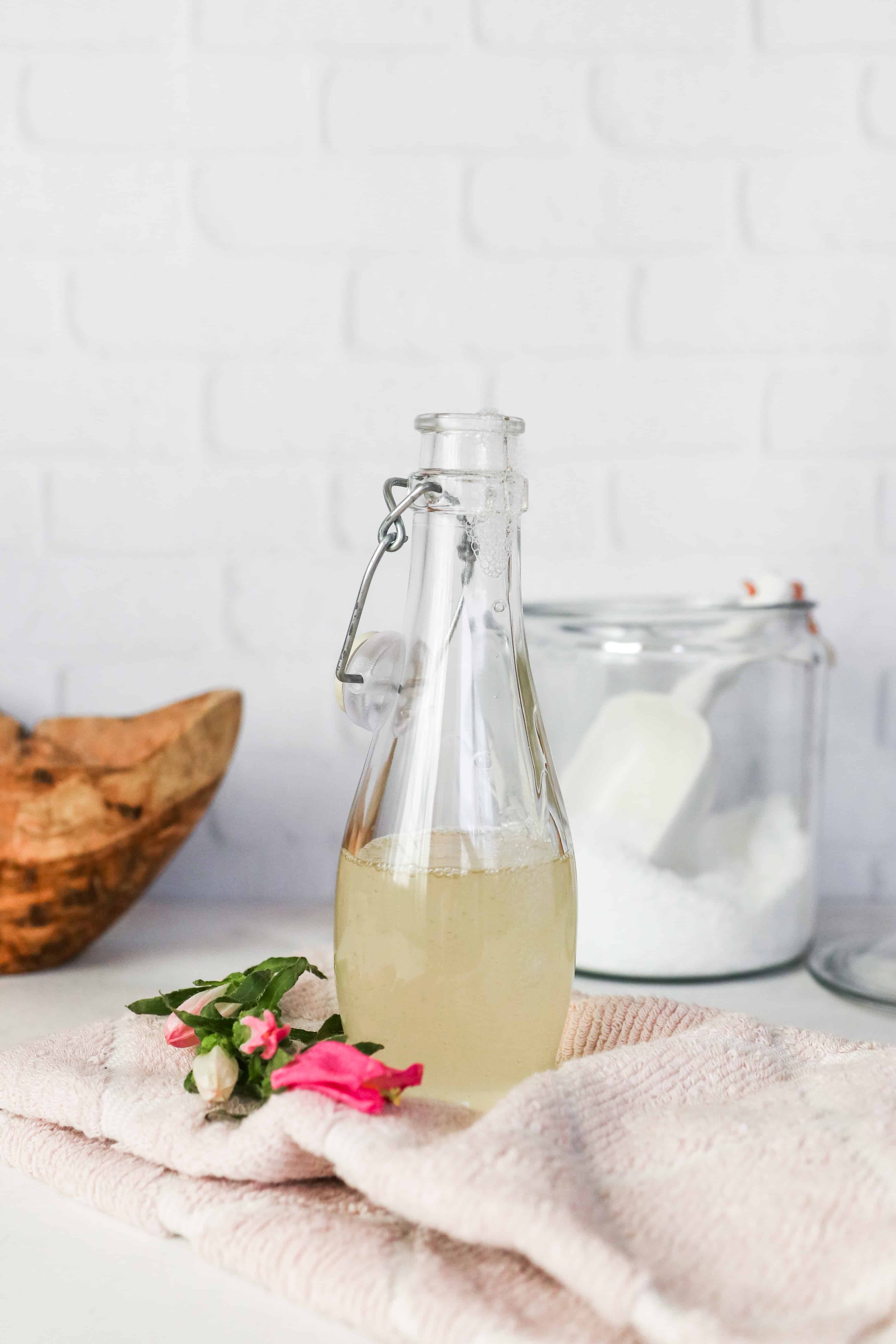 Sensitive Skin Bubble Bath Recipe
—1 cup sensitive skin body wash
—2 tablespoons aloe vera gel
—1 teaspoon vitamin E oil
—1 tablespoon honey
—10 drops chamomile essential oil
—20 drops lavender essential oil
—15 drops frankincense essential oil
Instructions
1. Combine all ingredients in a small bowl and slowly stir with a spoon (you want to gently fold in the tea so as not to create too many bubbles).
2. Transfer the mixture to a lidded glass bottle.
3. To use, pour ¼ cup bubble bath under the running faucet while the tub fills with water.
4. Store bubble bath in the refrigerator and use within 1-2 months.
Why it works
Aloe vera: Aloe vera is a skin-healing powerhouse. It's been shown to encourage wound healing, reduce the fragility of skin, and soothe inflammation [source]. While you can always use fresh aloe for this recipe, the fresh stuff tends to go bad within a couple of days, so it's best to make it in smaller batches. If you'd like to make a large batch of bubble bath ahead of time, stick with natural aloe vera gel, which has a longer shelf life.
Honey: Honey has long been used to treat skin disorders, especially slow-healing wounds and infections. While all raw honey has healing properties, Manuka honey is particularly good at treating skin conditions thanks to its antimicrobial and immune-modulating properties [source].
Vitamin E: A potent antioxidant, vitamin E helps reduce the effects of oxidative stress and inflammation in the skin [source]. It's not vital to this recipe, but I've noticed that it helps my skin feel softer and less itchy, so I always make sure to add some to my bubble baths.
Rather than making bubble bath in a bottle, try making this solid version! Each one is just the right amount for one bath, so you're never wasting any of it. Plus, they're highly giftable, if we do say so ourselves.
Homemade Bubble Bath FAQs
What else can I use as bubble bath if I don't have body wash?
Most natural shampoos will also work, but I recommend sticking with something made specifically for the body (like body wash or shampoo). I would avoid dish soap because it can be incredibly hard on the skin, but that's just me. Feel free to experiment with different kinds of soap to find something you like.
How do you make tear-free bubble bath?
Try using tear-free shampoo. While shampoo might not foam quite like body wash, you should get some suds.
Can I use this bubble bath for babies?
Honey and some essential oils aren't safe for babies, so either leave them out or consult your pediatrician before using them in homemade bubble bath. And always choose a body wash, shampoo or other soap made specifically for babies as the base of your bubble bath.
Do you need to rinse after bubble baths?
That's up to you. The ingredients used in this bubble bath should actually nourish skin and boost moisture, so you don't have to rinse. But if you find soap irritating, then go ahead and rinse off after your bath.
Can I still use this bubble bath as a body wash?
Yes, in fact I highly recommend using the leftovers as body wash. It will only stay fresh for 1-2 months, so use it quickly to keep it from spoiling.
Looking for more luxurious bath recipes?
—Try a skin-soothing oatmeal bath
—Soak like Cleopatra did with a rose milk bath
—Try an Epsom salt soak to soothe sore muscle and boost magnesium levels
—Learn how to make bath bombs with glitter or surprises inside
This article was medically reviewed by Dr. Gina Jansheski, a licensed, board-certified physician with more than 20 years of experience. Learn more about Hello Glow's medical reviewers here. As always, this is not personal medical advice, and we recommend that you talk with your doctor.
53