Face oils are all the rage in the skincare community, and for good reason. Once shunned for shine-inducing effects, oils are now appreciated for their hydrating benefits, and we embrace the dewy look they support. It was a glorious day when the powdery matte, shine-free, dry look ended its trendy reign!
If you are hesitant to incorporate face oil into your routine, maybe you've fallen victim to some misconceptions. Let's discuss a few common mistakes that face oil users might make and a simple DIY for making your very own custom face oil.
Common Face Oil Mistakes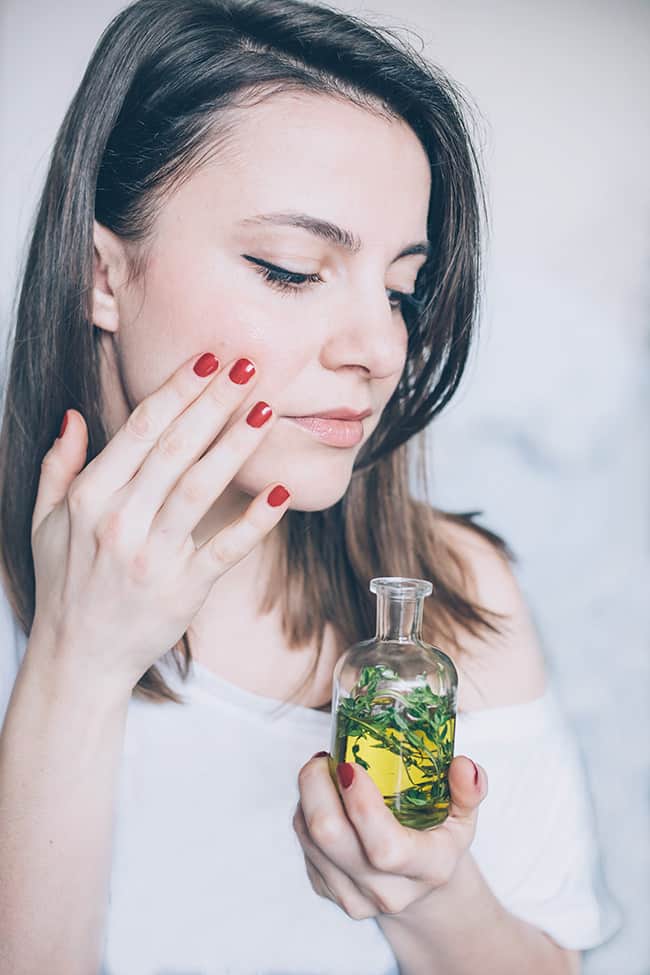 1
.
Choosing the wrong oil
With all the varieties available, it's an overwhelming task, and a person can easily pick the wrong oil for their skin. Some oils are nourishing and rich, and others are ideal for clogged or oily skin. Some oils' molecular structures make them quickly absorbable, and others not so much.
If you've picked an oil for oily skin and yours is dry, you might be wondering why your skin doesn't feel very hydrated. This list is extremely helpful in finding the right kind of oil for your skin type.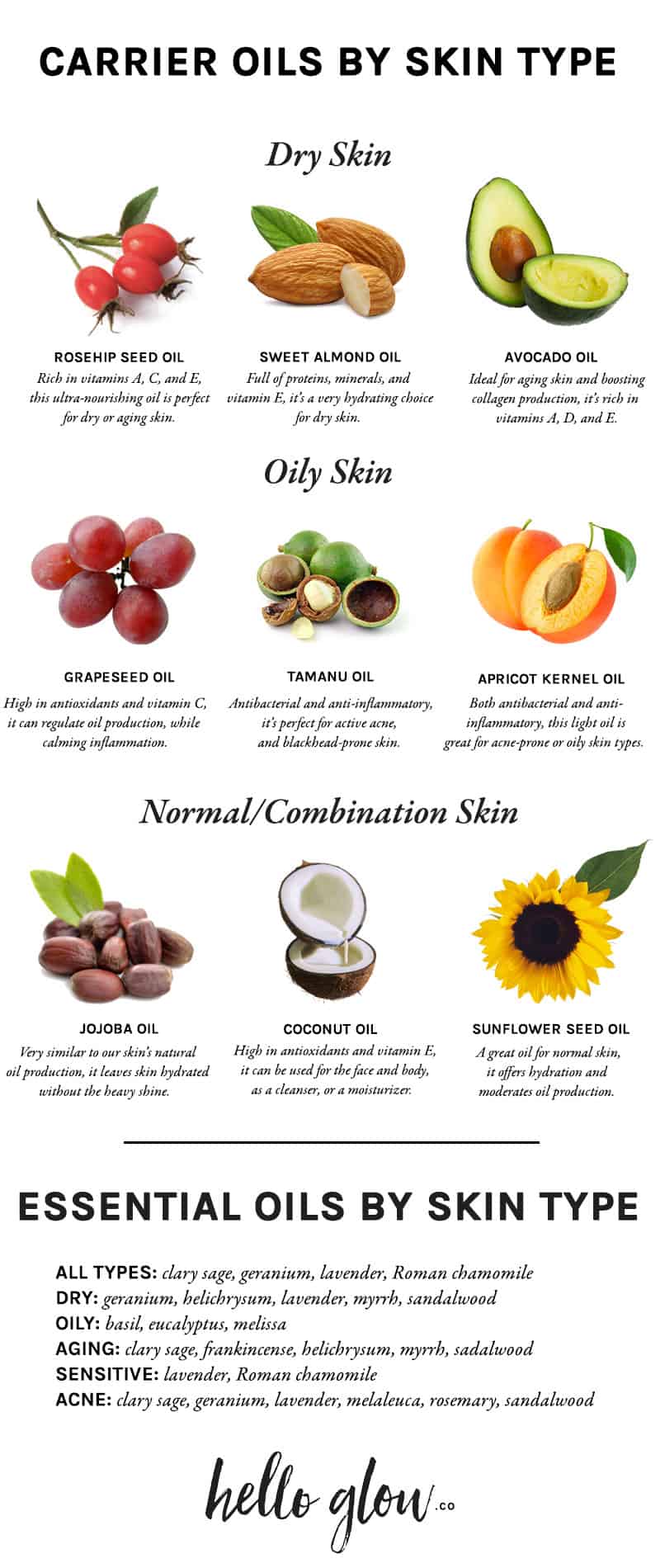 2. More is better
,
right
?
Wrong. Face oils are concentrated derivatives from plant-based extracts, so a little goes a long way. I recommend a maximum of 6 drops total for your face and neck.
Some days 3 drops might be sufficient. When it comes to face oils, less is more.
3. Applying it last
Not the best way. The most important products you apply on your face need to touch your skin first. If you layer oil last, meaning on top of sunscreens or other products, you will not benefit from the effects of the oil penetrating the skin.
Instead, oil should be the first item (sometimes it might even be the only item!) applied to the face and neck after cleansing and toning. The only exception would be in a multistep product. In that case, always adhere to the guidelines of your product in the order for its application.
4. Rubbing it in longer
Not necessary. Oils do not need to be rubbed into the skin for absorption. Drop some oil into the palm of your hands, press your hands together to warm it up a bit, and then gently pat the palms of your hands into your face and neck, lifting your hands off your face and repositioning them in a different spot to spread the oil evenly. When using oils designed for the eye area, a gentle dab and tap around the brow bone and underneath the eye will suffice—never tug or pull on the fragile skin in this area.
5. Not exfoliating
When you have dry skin, a common misconception is that you just need more and more moisturizer, serum, or oil. A key to alleviating dry skin is to exfoliate regularly. Exfoliation will allow your custom face oil to absorb properly into your skin.
When there is a layer of dead skin cells sitting on the face, a treatment or oil has difficulty penetrating the skin, often being blocked by this layer. Use this guide to help introduce exfoliants into your skincare routine.
6. Not customizing for your skin
Once you've decided on the correct oil for your skin type, you are almost done with your custom face oil—it's that easy. Don't be scared to mix two oils together to treat different needs.
For instance, if you have dry skin and you also struggle with a loss of elasticity, use equal parts sweet almond oil and avocado oil to address both issues. The last ingredient you'll add to the recipe will be an essential oil—use 2 drops of essential oil per 1 ounce of carrier oil.
Here are some to consider: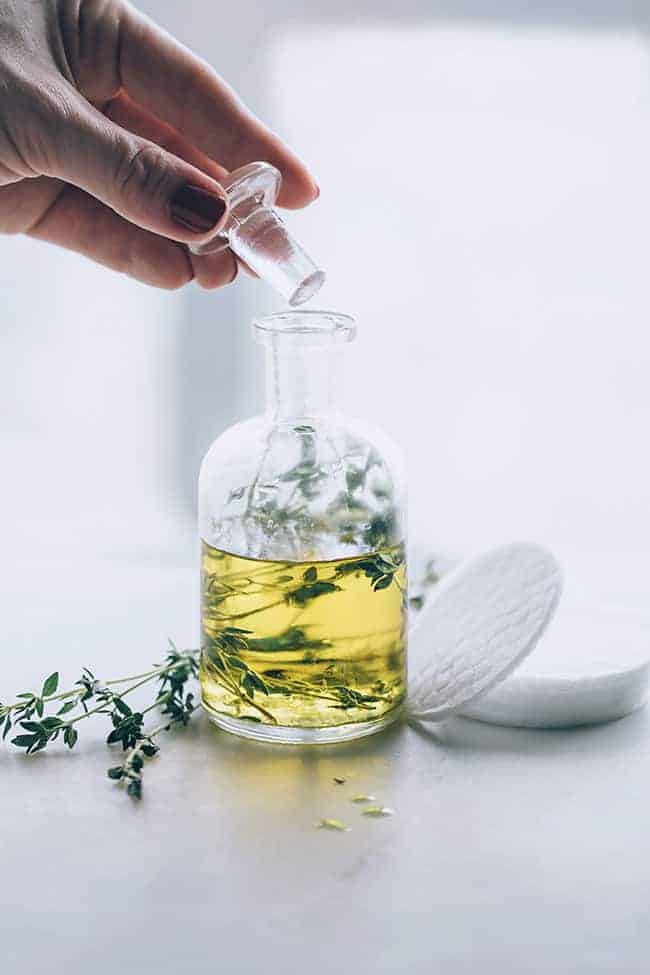 All skin types: clary sage, geranium, lavender, Roman chamomile
Dry skin: geranium, helichrysum, lavender, myrrh, sandalwood
Oily skin: basil, eucalyptus, Melissa
Aging skin: clary sage, frankincense, helichrysum, myrrh, sandalwood
Sensitive skin: lavender, Roman chamomile
Acne-prone skin: clary sage, geranium, lavender, melaleuca, rosemary, sandalwood
The combined oil should be stored in a dark glass jar in a cool, dark spot to prolong its efficacy and potency. Just place a few drops of your custom face oil into the palm of your hand, warm your hands by rubbing your palms together, and then pat the oil onto your cleansed face and neck each evening before bed. If possible, customize a few different oils to have on hand to rotate seasonally or for different areas of your face.
Essential Oil and Face Oil
Making face oils using essential oils can be a great way to incorporate natural and nourishing ingredients into your skincare routine. Essential oils, which are highly concentrated plant extracts, are known for their therapeutic properties and can provide a range of benefits for the skin.
To make your own face oil using essential oils, start by choosing a carrier oil, such as jojoba, grapeseed, or argan oil. Then, add a few drops of your favorite essential oils to the carrier oil, making sure to use no more than 6 drops of essential oils per 1 oz. of carrier oil. Some popular essential oils for skincare include lavender, tea tree, frankincense, and rosehip. Once you have blended your carrier oil and essential oils, store the mixture in a dark glass bottle to help preserve its potency. Using a face oil made with essential oils can be a luxurious addition to your skincare routine, helping to hydrate, soothe, and rejuvenate the skin. Try this recipe:
5 drops lavender essential oil
5 drops frankincense essential oil
5 drops tea tree essential oil
5 drops geranium essential oil
Instructions:
Choose a clean, dry dropper bottle to store your face oil.
Add 1 oz. of your chosen carrier oil into the dropper bottle.
Add 5 drops each of lavender, frankincense, tea tree, and geranium essential oils into the dropper bottle.
Close the dropper bottle tightly and shake well to mix the ingredients.
Your DIY face oil is ready to use! Apply a few drops onto your fingertips and massage gently onto your face in circular motions.
Note: Be sure to do a patch test on a small area of your skin first to check for any allergic reactions to the essential oils. Also, store your face oil in a cool, dry place away from direct sunlight to maintain its quality.
We like this mix because one essential oil that is particularly good for use in face oils is lavender essential oil. Lavender essential oil has anti-inflammatory and antiseptic properties, making it ideal for soothing and healing the skin. When added to a face oil blend, lavender essential oil can help to reduce inflammation, soothe irritated skin, and promote a healthy, glowing complexion. So if you're looking for an essential oil to use in your DIY face oil, lavender essential oil is definitely worth considering!
This post was medically reviewed by Dr. Jennifer Haley, a board-certified dermatologist with extensive experience in medical, cosmetic, and surgical dermatology. Learn more about Hello Glow's medical reviewers here. As always, this is not personal medical advice, and we recommend that you talk with your doctor.
729