Multitasking gets a bad rap these days. Maybe I shouldn't scarf down a Clif bar for breakfast while I drive or attempt to read a magazine while playing with the kids, but my beauty products can still do double—or even quadruple—duty.
This all-in-one DIY body balm works on chapped lips, ragged cuticles, rough elbows, and flyaway hairs. That is a multitasking product every mom needs!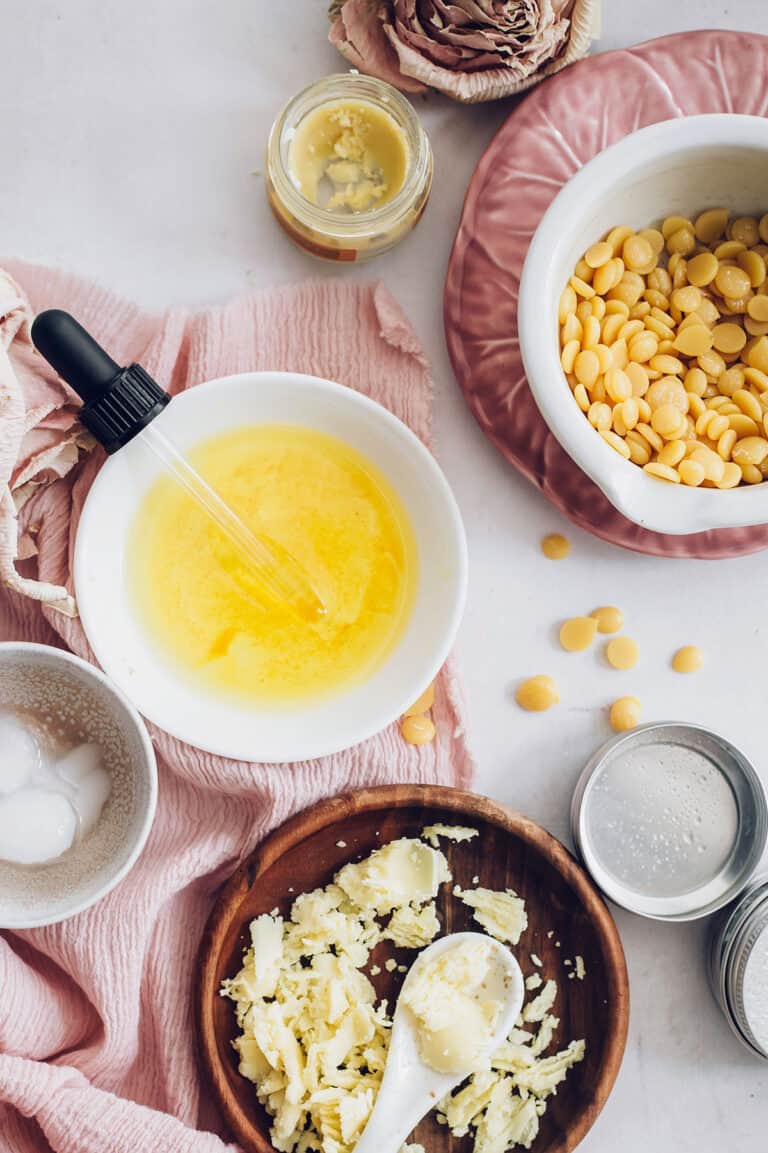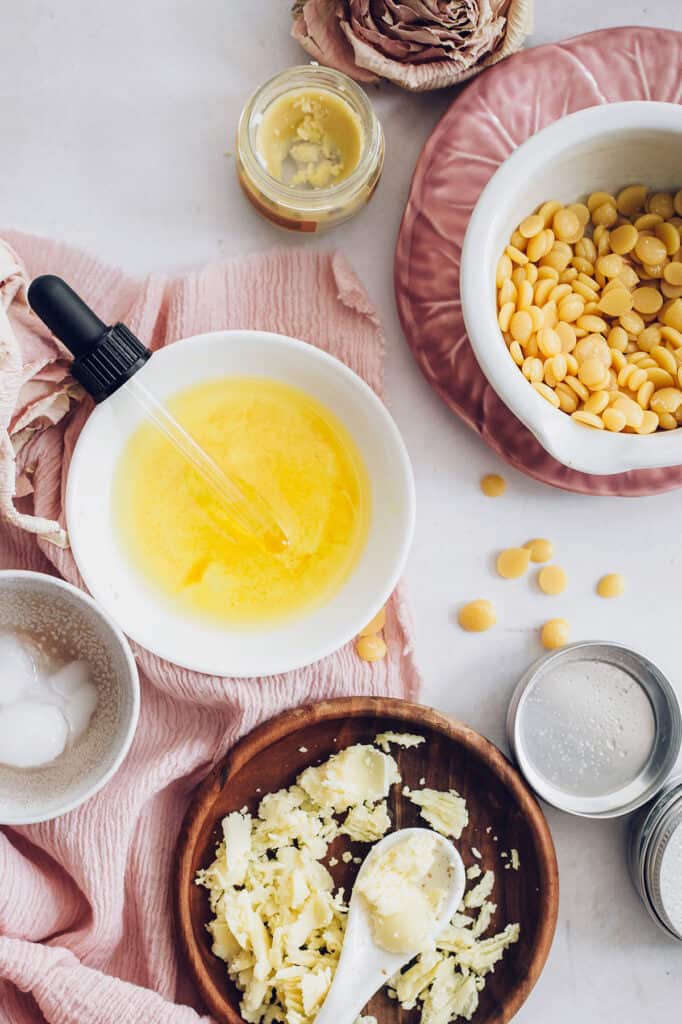 All-N-One DIY Body Balm
This does-it-all body balm contains my three favorite moisturizers: coconut oil, jojoba oil, and cocoa butter. All three work to enrich and soften dry skin. You know we love coconut oil so much, we could eat it on a cracker (and maybe even do on occasion), but jojoba is a close second when it comes to moisturizing skin.
Coconut Oil
Coconut oil is sooo refreshing for super dry skin. It feels heavenly, and the light coconut scent makes me feel like I'm hanging out at a tropical beach. Go ahead and use it to seal split ends, relieve itching, prevent premature aging, and soothe skin conditions.
Jojoba Oil
You can use jojoba oil on your face without fear that it will clog pores or make you feel all greasy. Full of fatty acids and vitamin E, it's incredibly moisturizing without leaving a heavy residue.
Jojoba oil not only acts as an antioxidant [source] and anti-inflammatory [source], but it also has antibacterial effects, and it's non-comedogenic—meaning it can be helpful to control acne breakouts. It's great for combination skin, can be used to nourish dry skin, and even helps oily skin regulate oil production as it mimics your skin's natural oils.
Cocoa Butter
And cocoa butter, well, let's just say any product that smells like chocolate is a win in my book. But cocoa butter does more than just smell amazing; it's an awesome multitasker.
A natural anti-inflammatory [source], cocoa butter is chock full of essential fatty acids to help it hydrate the skin and lock in moisture so skin stays soft and supple. It contains oleic, palmitic, and stearic acids [source], all of which nourish the skin.
Beeswax
Adding a little beeswax keeps this DIY body balm from melting and provides a protective layer on the skin to lock in that moisture.

How to Use Body Balm
You can use this balm anywhere—hands, feet, hair, elbows, and lips.
I find it best to apply body balm just after a bath or shower while my skin is still damp to help lock in moisture. Simply pat the skin dry with a towel before applying a thin layer of balm wherever you need a bit of extra moisture.
You can also put a tiny bit on your fingertips to tame flyaway hairs and then apply it to chapped lips. Use leftovers to tame unruly brows and moisturize under the eyes.
This body balm does wonders for the inflamed elbows I get every year as soon as sweater season returns. And why not make use of that time in the car wash line to massage a bit o' balm into your cuticles? Who said multitasking was a bad thing, right?
Body Balm FAQ
What can I use instead of coconut oil / jojoba oil
?
If coconut oil doesn't agree with you, go ahead and leave it out. If you find that the balm is too soft once it cools, re-melt it and add a pinch more beeswax to create a firmer balm.
In place of jojoba oil, use olive, avocado, or grapeseed oil.
Can I add essential oils to my balm
?
Which ones do you recommend
?
Essential oils would be wonderful in this. Try carrot seed, rosehip, chamomile, or lavender oils, which have soothing and regenerating properties. Just add a maximum of 18 drops of the essential oil of your choice per 3 ounces of carrier oil (the amount in the recipe) to create a safe dilution for your balm.
Where should I buy my ingredients
?
Mountain Rose Herbs and Amazon are our go-tos for beauty ingredients.
Is there a good alternative to beeswax
?
Carnauba wax is a vegan alternative to beeswax, but you can also use soy wax.
Why do little pellets form in my DIY body balm as it cools
?
If your ingredients get too hot, they have a tendency to separate as the mixture cools. But stirring can help keep everything mixed well while your balm comes to room temperature.
This post was medically reviewed by Dr. Rina Mary Allawh, M.D., a dermatologist who practices adult and pediatric medical dermatology, skin cancer treatment, and cosmetic dermatology. Learn more about Hello Glow's medical reviewers here. As always, this is not personal medical advice, and we recommend that you talk with your doctor.
Photos by Ana-Maria Stanciu
373