Do you know that lips lack the oil glands necessary to keep their thin, delicate skin moisturized, which can quickly lead to dryness, cracks, and redness? Once your lips become chapped, it's pretty much impossible to ignore them.
And when that delicate skin becomes compromised, your lips just get worse as it gets colder outside, and the air gets drier. Don't let fall and winter be such a bummer!
If you're suffering from dry, flaky, or even painfully chapped lips, here are a few natural ways to heal them and keep them soft and moisturized.
11 Ways to Avoid Chapped Lips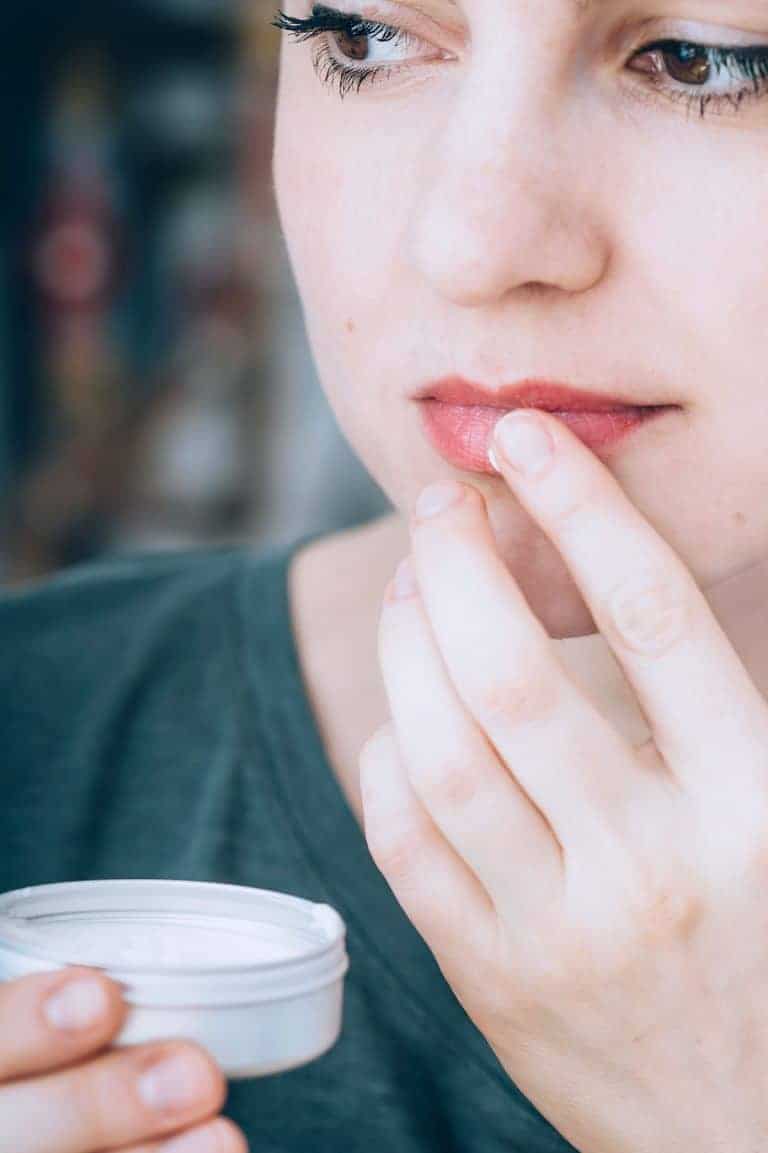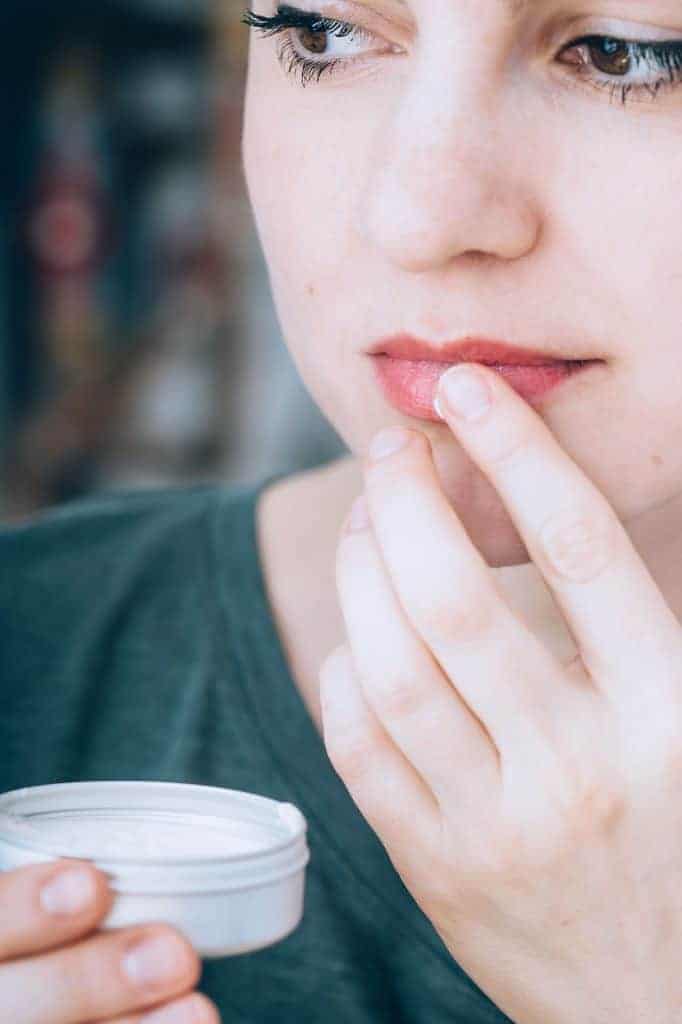 1. Gently exfoliate
It is super simple—and tasty—to do a lip exfoliation. You can go crazy making lip scrubs using fun flavors like peppermint or vanilla, but a simple combo of oil and sugar, plus a dash of honey, will do the trick. This honey sugar lip scrub is a simple classic.
Honey is a humectant [source], which means it locks moisture into your skin. A little honey combined with sugar (to gently exfoliate) and almond oil rubbed gently onto the lips will slough off dead skin while it moisturizes. This fabulous scrub is completely edible! We also have a pumpkin spice version (complete with lip balm recipe) if you want to change it up with the seasons.
Here's a recipe for guidance, but precision isn't necessary—you basically want equal parts liquid and sugar. Then use your fingertip to apply the mixture to your lips and gently scrub. Rinse with warm water when you're done.
If slathering honey and sugar on your lips doesn't sound appealing (hey—to each her own), try a very gentle scrub with the softest toothbrush you can find, one to two times per day, to exfoliate.
2. Repair overnight
Follow up the exfoliation with a simple overnight lip repair mask. Once those dry, dead layers are gently exfoliated, your lips will be primed for maximum absorption of moisture. You can try a collagen-infused mask or make your own.
Honey helps your skin retain moisture, and vitamin E treats the dry patches. Wear the mixture on your lips overnight and then wipe off any excess in the morning.
1 teaspoon

vitamin E oil

(about 3 vitamin E capsules)

1 teaspoon honey
Even easier, just slather some coconut oil on your lips at night. By morning, they'll be soft, supple, and crack-free.
3. Make your own lip balm
You can DIY lip balm. Seriously, it's easy, go do it! That way, you can skip ingredients like lanolin (aka sheep grease—Ew!), parabens, and fragrances. I highly recommend using honey in your lip balm; it makes an effective chapped lips treatment.
Manuka honey from New Zealand has antibacterial properties [source] and is especially anti-inflammatory [source]. You can also skip animal products altogether with a vegan lip balm recipe without beeswax or honey.
4. Use thick emollients
Waxes coat the lips, forming a protective layer that tends to stay on longer than an oil. For a DIY approach, make this all-purpose body balm. It's soft enough for really dry lips, but the beeswax creates a protective layer—so you won't be reapplying on the hour. It also includes cocoa butter and coconut oil and has a ton of other uses.
Coat your lips with a thin layer of oil, like sweet almond or coconut. This rich body oil can be used head to toe—including on dry, chapped lips. We love it in this DIY warming vanilla-chai oil, which is totally safe for your lips.
5. Soothe cracks with vitamin E
If your lips are starting to get cracked and painful, open up a vitamin E capsule and put a little of the gel right on the problem spots (this works well for the corners of your mouth, too). Layer it over homemade lip balm or coconut oil to heal overnight.
6. Try a lip mask
My chapped lips love this soothing lip mask mixture that uses milk's lactic acid to exfoliate, rather than a scrub. Rose oil is packed with antioxidants [source] and works as an anti-inflammatory [source] to ease irritated skin.
All that, and the subtle rose aroma and flavor, is a relaxing bonus.
Combine the milk and essential oil in a small dish. Dip a cotton ball into the mixture and apply to the lips. Let the liquid sit on your lips for 5 minutes (you can hold the cotton ball to your lips if you want). Refrigerate any extras and use within 2 weeks.
7. Skip menthol and camphor
If you're not ready to DIY, then at least toss the balms made with menthol or camphor. Those ingredients draw moisture from your lips, which just makes chapping worse! Plus, you don't want to be licking your lips and ingesting that all day.
Look for balms that contain coconut oil, shea butter, cocoa butter, or beeswax, or try one of these natural lip balm options.
8. Make smart lipstick picks
And don't forget about your lipstick! Some of those "long-lasting" lipsticks will turn your lips drier than the Sahara desert. They suck the moisture out of your lips, and when the color settles into the grooves of your lips, it's not a pretty sight.
Try a lip gloss with a hint of color from raspberry or cranberry. For lipstick diehards, Burt's Bees is one that uses natural moisturizing ingredients like moringa oil and raspberry seed oil.
9. Protect lips from the sun
No matter the season, sun exposure will dry out your lips. And no joke, sunburns on the lips are super painful and can lead to lots of miserable peeling. The sun can also be a trigger for cold sores. So when you're putting on your daily sunscreen, don't forget to protect your lips.
10. Hydrate from the inside
I was the person who hated hearing everyone preach about drinking more water until I actually started doing it. And for me, the biggest benefit of drinking at least 32 ounces a day (with the goal of 64 ounces) was that I could finally break my lip balm addiction. That's because I was no longer constantly licking my dry lips!
Lesson learned: If you're hydrated, your lips will be too. Drinking water can be even harder to do when it's cold in winter, so if you're having trouble getting to 64 ounces each day, try these hydration hacks. I find I'm relying more on herbal tea when the temperature drops—and when you're ready to venture beyond peppermint, here's a great breakdown of new types to try.
11. Invest in a humidifier
The other skin game changer for me was running a humidifier at night. Rather than suffering through dry skin and lips, invest in an inexpensive warm mist humidifier to stop the dryness before it starts.
P.S. Now that you have the perfect pout, try cinnamon to give you plumper lips the natural way!
This post was medically reviewed by Dr. Jennifer Haley, a board-certified dermatologist with extensive experience in medical, cosmetic, and surgical dermatology. Learn more about Hello Glow's medical reviewers here. As always, this is not personal medical advice, and we recommend that you talk with your doctor.
119