Quick question: what's your holy grail beauty product? You know, that one product you would break into a Sephora for in the event of an apocalypse? For me, it's a simple, do-it-all rosebud salve.
Soothing, moisturizing, and the most gorgeous shade of pale pink, rose salve can replace 90% of the products in your beauty stash (or at least it has in mine!). But if you don't have the Sephora budget, breathe a sigh of relief: it's incredibly easy to make at home.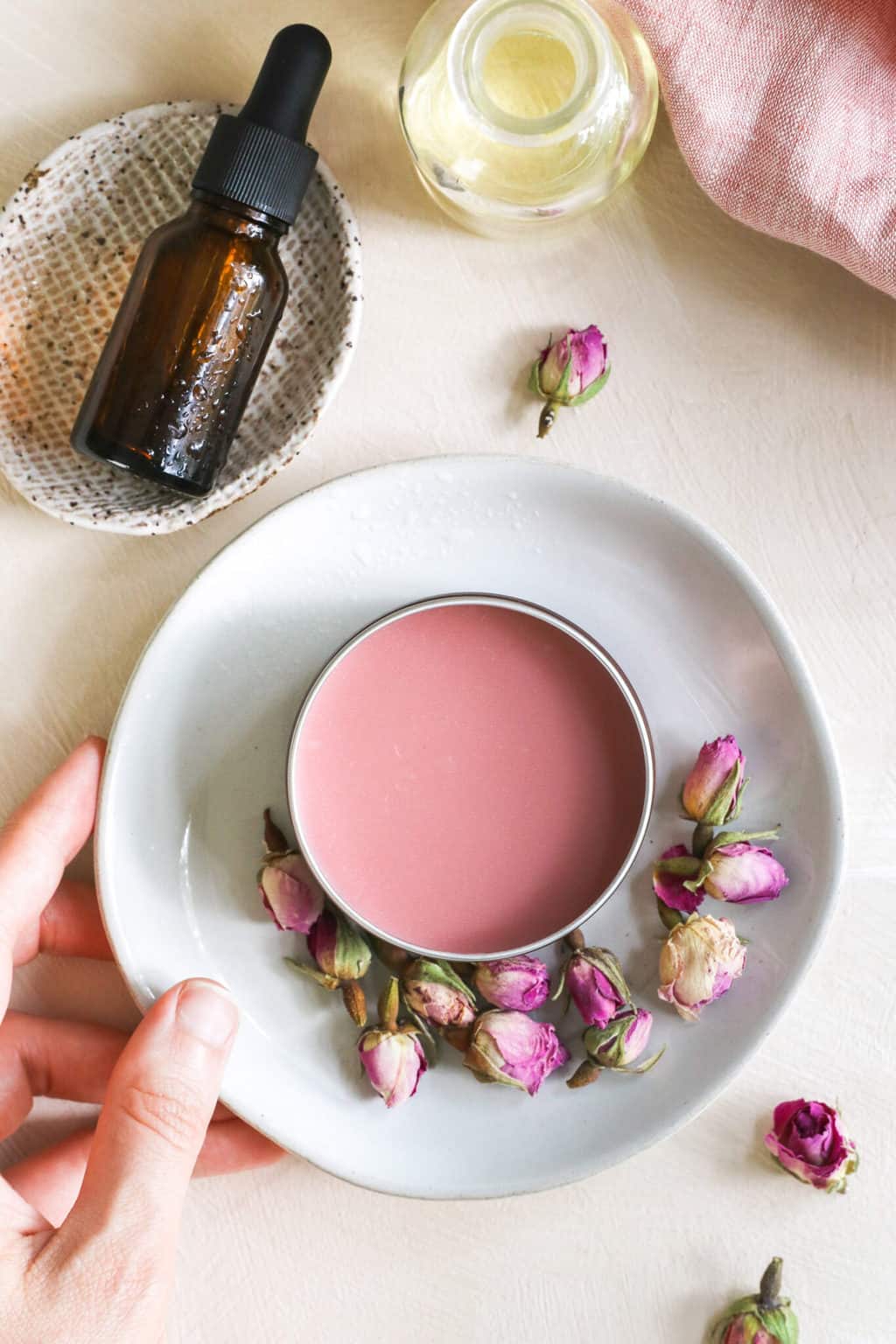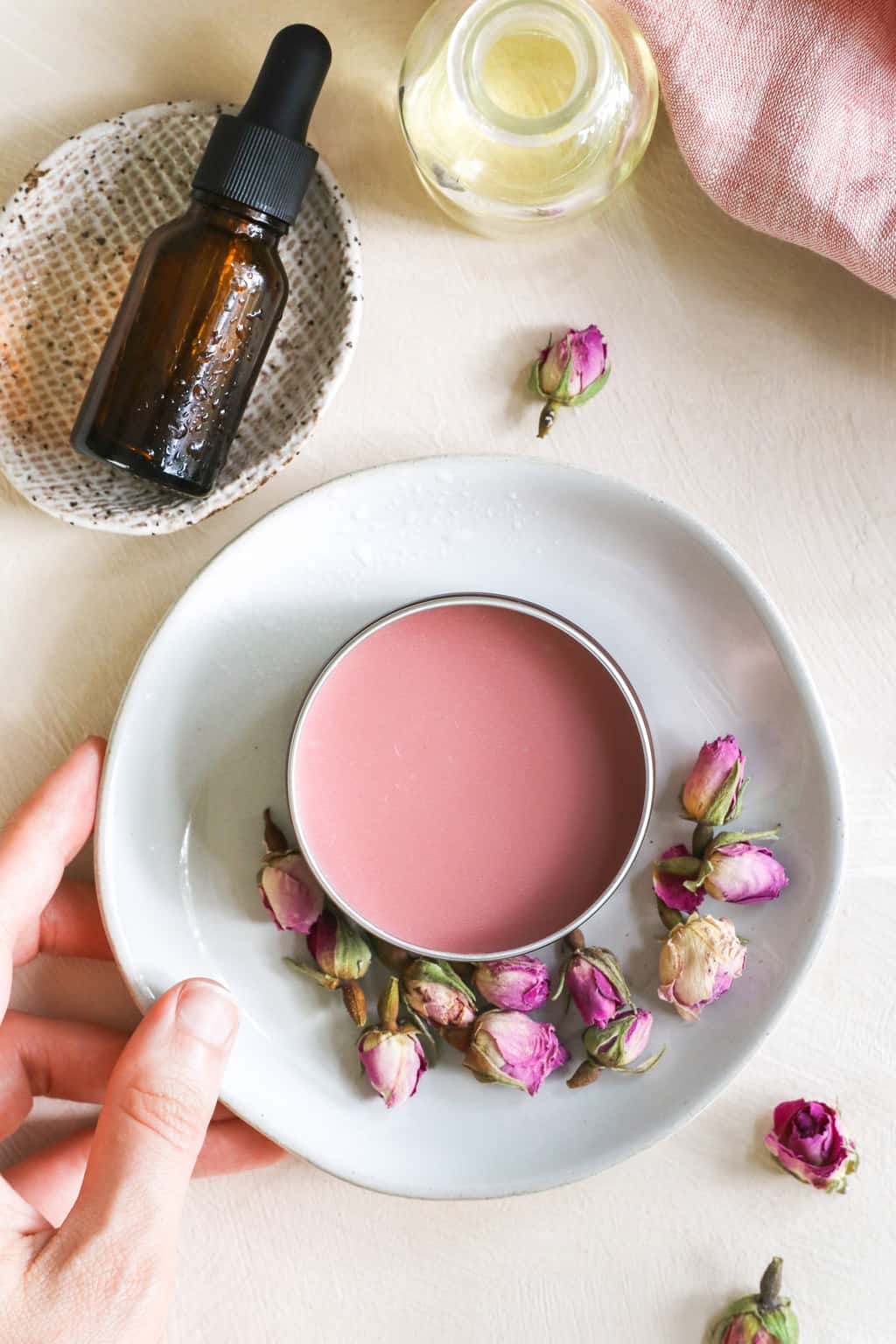 Benefits of Rose Oil
We've talked about rosehip oil and rosewater before, but rose oil is the star of this salve—thanks to its amazingly strong fragrance and concentrated beauty benefits.
Rose oil is packed with antioxidants [source], such as vitamins A and E, making it a fantastic anti-aging remedy to have in your beauty toolkit. Thanks to its antibacterial and antifungal properties, rose oil can help prevent skin infections [source]. And it's also anti-inflammatory [source] and has been used to improve wound healing and lessen the appearance of scars [source].
But the benefits of rose oil don't stop there. The aromatherapy benefits of rose range from easing menstrual pain [source], reducing back pain [source], and relieving anxiety [source] to easing depressive symptoms [source] and boosting sex drive [source].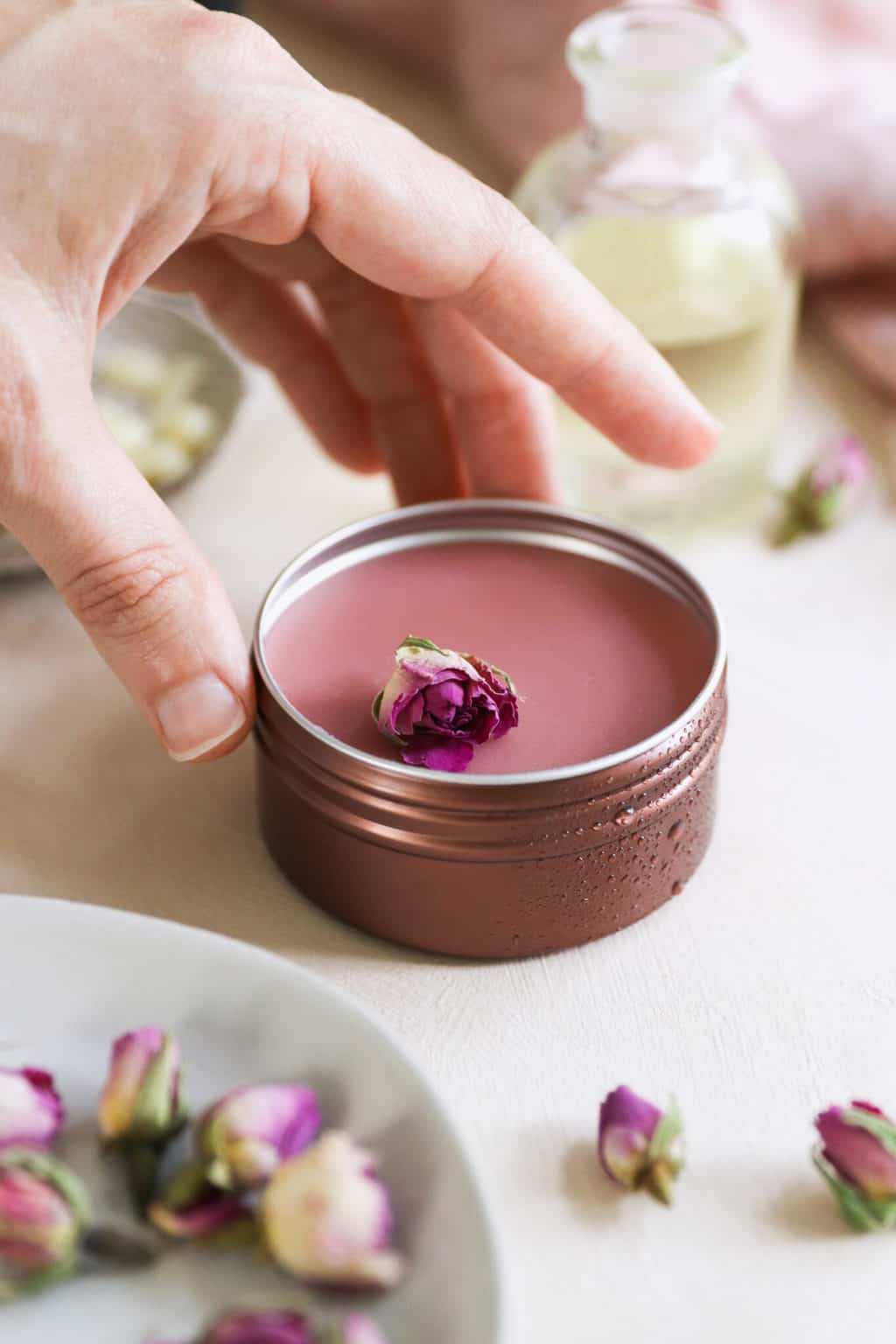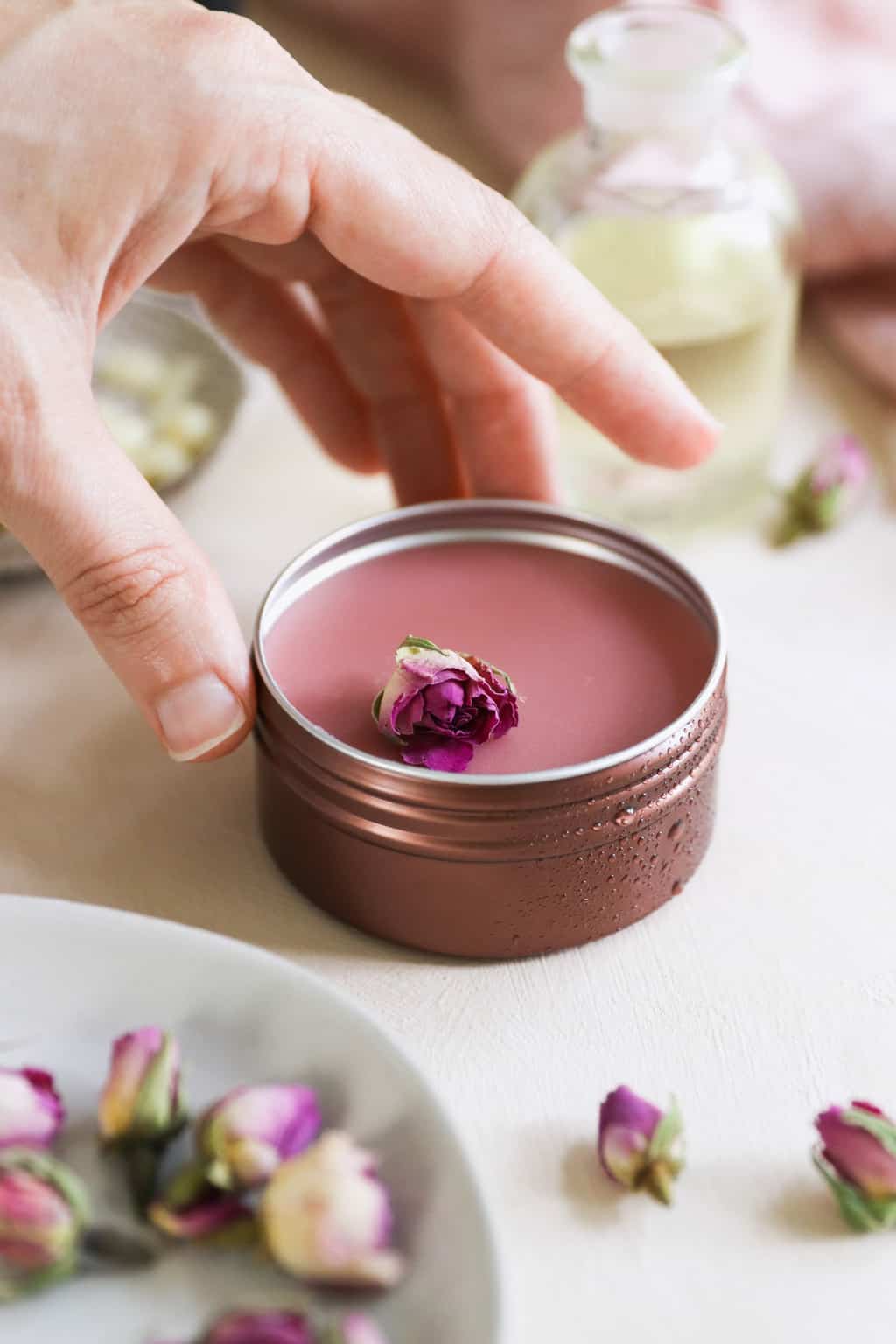 How to Use Rosebud Salve
As a beauty product, rose salve does it all. And because of that, it's earned a prime spot in my purse and on my nightstand.
You can use rose salve as:
Lip balm – Slather it on dry, flaky lips to lock in moisture and give lips a pretty, rosy hue.
Highlighter – Pick up a small amount of rose salve with your fingertips and go over the cheekbones, brow area, nose, and forehead for radiant skin.
Moisturizer – Decadently moisturizing, rose salve can help tame dry patches on knees, elbows, feet, and wherever else you experience dry skin.
Wound healer – Remember those antibacterial benefits I mentioned before? Dab rose salve on wounds or irritation to encourage healing.
Cuticle oil – Soothe dry cuticles, prevent hangnails and reinvigorate dry, cracked nails.
Frizz fighter – Smooth dry, frizzy locks and nourish hair, so strands look sleek.
Blush – Rose salve gives skin a subtle rosy glow. Dab a tiny bit on cheeks and massage in for a boost of moisture-rich color.
How To Make Your Own Rose Salve
Don't let the term salve intimidate you. A salve is simply a healing butter-like balm you put on your skin like a lotion. We're huge fans of them around here because they're uh-mazing for skin and great to keep in your emergency kit.

What's in a salve?
If you've made one salve, you've made them all. Here's what's in this rose salve:
Beeswax
Often used as a binding agent, beeswax helps give the salve a solid consistency. If you're not a fan of beeswax, go ahead and use carnauba or soy wax, both of which are great vegan substitutes.
Shea butter
Shea butter is one of my favorite natural moisturizers, and I swear by it for hydrating dry, itchy, irritated skin [source]. It's not required for this recipe to work, but it will make your salve creamier and help it glide over skin.
Carrier oil
I use avocado oil for my rose salve because it's what I have in my pantry, and it's amazing for skin. But you can use any oil you want. Sweet almond, jojoba, olive, and coconut oils are inexpensive, easy-to-find alternatives.
Rose essential oil
The easiest way to reap the benefits of rose is by using a high-grade rose essential oil. Rose oil is highly concentrated, so a little goes a long way, and you'll have plenty left over to make extra batches.
But if the price is a turnoff, you can buy a pre-diluted version or make your own by infusing rose buds in a carrier oil. If you decide to go that route, this post will show you how to infuse oils.
Simply replace the coffee with dried rose petals, and you're good to go. And when it comes time to make your salve, skip the essential oil, and just use your rose-infused oil in place of the carrier oil.
Colorant
There are a lot of different ways to get that pretty rose color: pink clay, beet root powder, mica. Personally, I like to melt a small amount of nontoxic lipstick into my salve.
It's highly concentrated, so it shows up on lips and cheeks. Plus, it's oil-based, which means it will melt fully into the salve without leaving a grainy residue at the bottom of the tin.
Rose Salve FAQs
Is rosebud salve good for eczema
?
Rose salve is amazing for any form of skin irritation. Go ahead and apply it to eczema, dermatitis, mild sunburn, bug bites, or pimples.
Can I make this salve with other oils
?
This is a basic salve recipe that you can customize with any carrier oil you like. You can even use 2–3 different essential oils at a time. Just make sure to keep the oil ratios relatively the same, or it might affect the consistency and safety of your salve.
How often can I use rosebud salve
?
It's safe to use this salve several times a day. As always, keep an eye out for redness and irritation (or a worsening of existing skin problems) and stop using if you start to notice a reaction.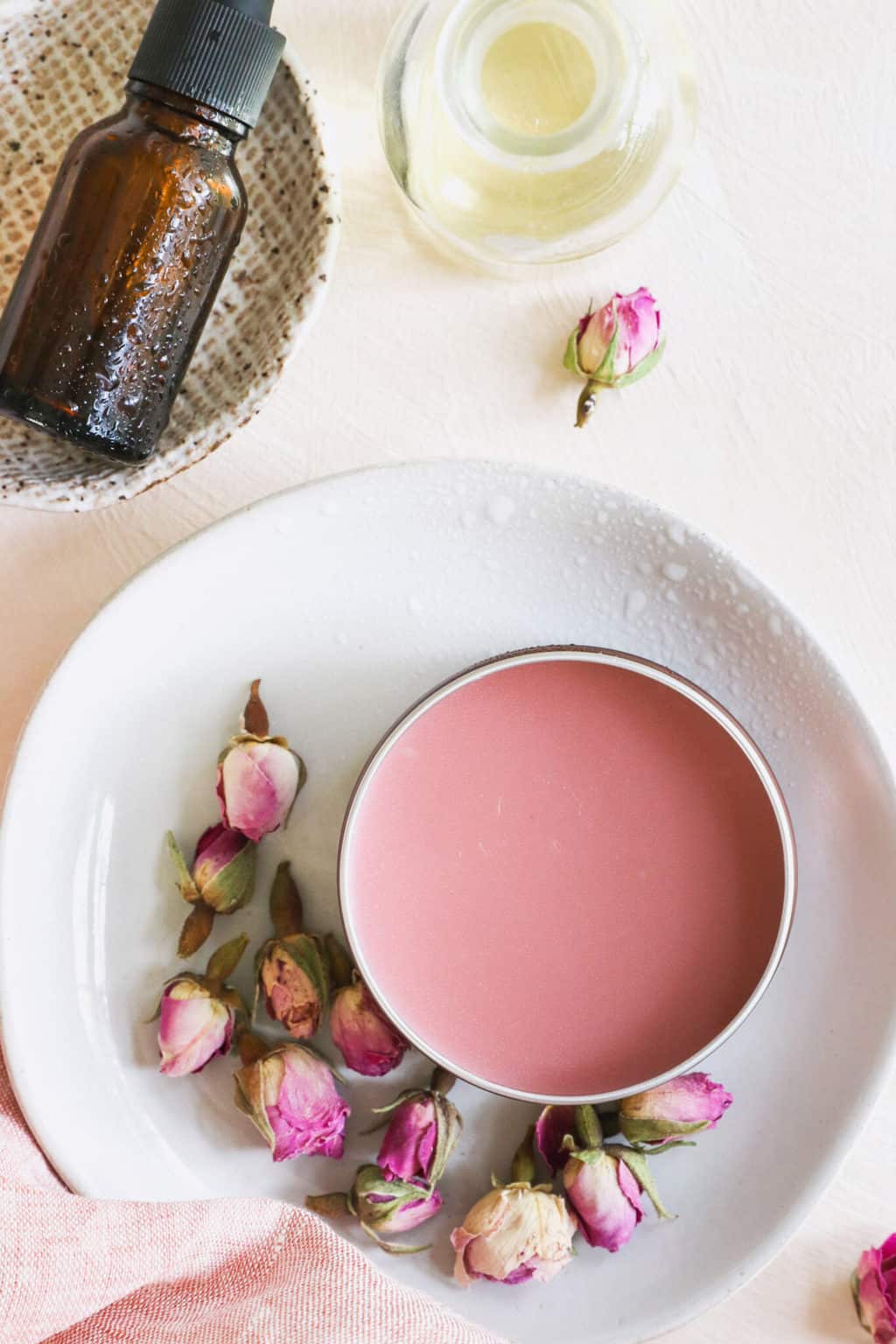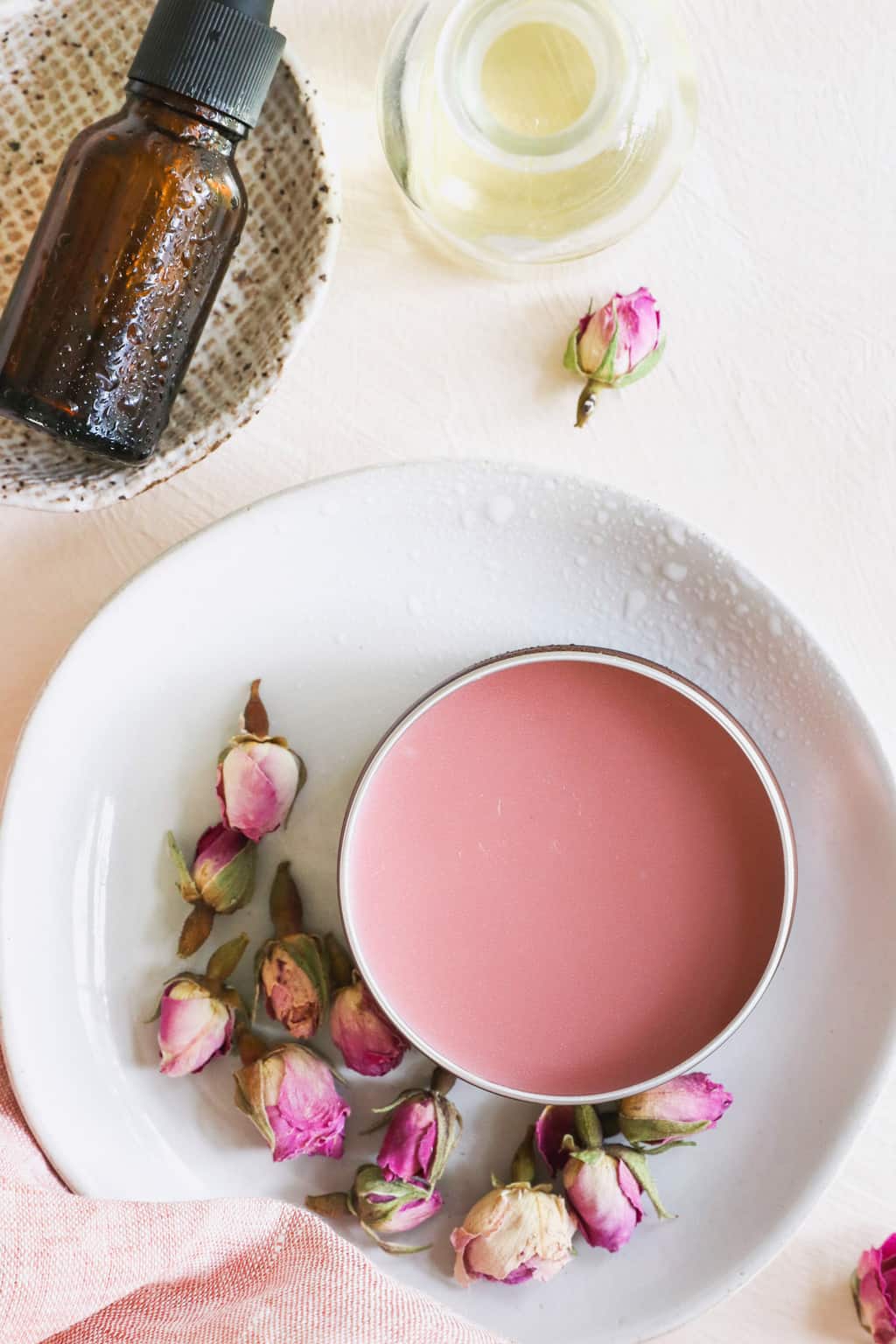 For more rose oil recipes, check out this post.
View this post on Instagram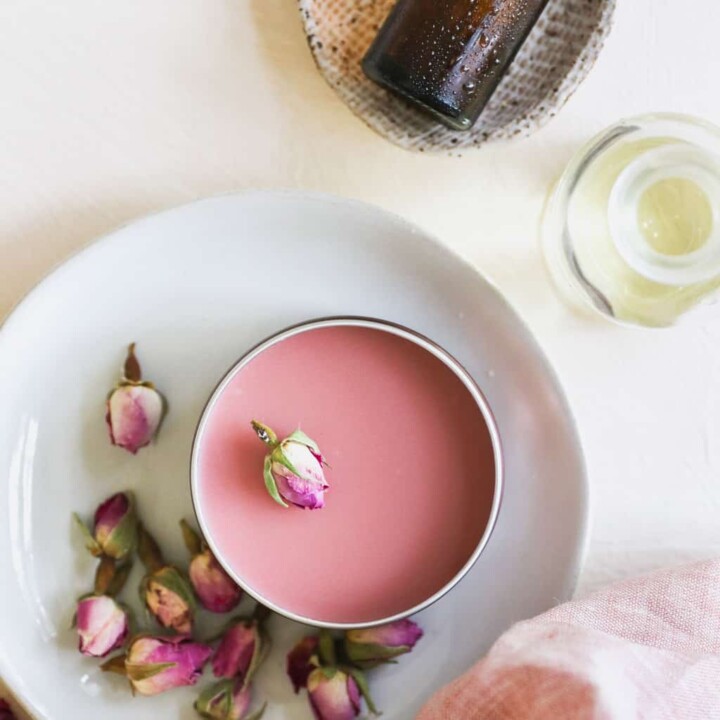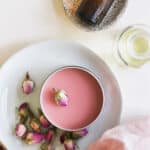 Print
How to Make a Natural Rose Salve
This DIY 5-ingredient rose salve is perfect for taming flyaways, healing chapped lips, soothing irritation and making skin glow.
Equipment
3-ounce tin with lid

Microwave safe bowl or measuring cup
Materials
1

tablespoon

beeswax

(or carnauba wax, if you're vegan)

2

tablespoons

shea butter

¼

cup

avocado oil

(or another oil, such as almond, jojoba, or coconut)

20

–25 drops

rose essential oil

Non-toxic lipstick, beetroot powder, or pink clay

(optional for color)
Instructions
Combine beeswax, shea butter, and the carrier oil of your choice in a microwave-safe bowl. Microwave in 30-second intervals until melted.

Let the oil mixture cool for 1–2 minutes before adding rose essential oil and colorant.

Pour into a 3-ounce tin and let cool completely before using.
Notes
Apply salve directly to your skin 2–3 times a day or as needed for wound and skin healing.
This salve should last for at least a year if stored in a cool, dry place.
This article was medically reviewed by Dr. Gina Jansheski, a licensed, board-certified physician who has been practicing for more than 20 years. Learn more about Hello Glow's medical reviewers here. As always, this is not personal medical advice and we recommend that you talk with your doctor.
271