Homemade bubble bath is one of my favorite gifts to give this time of year. I think I've given it to friends, neighbors, coworkers and even my favorite mail lady. But rather than give the same gifts year after year, I thought I would spice it up this year and give bubble bars instead.
These pretties aren't nearly as complicated as you might think. Just combine all the ingredients and set them aside to dry. When it's time to use 'em, simply crumble a couple under running water while the bubbles fill the tub and the sea salts dissolve. That's it!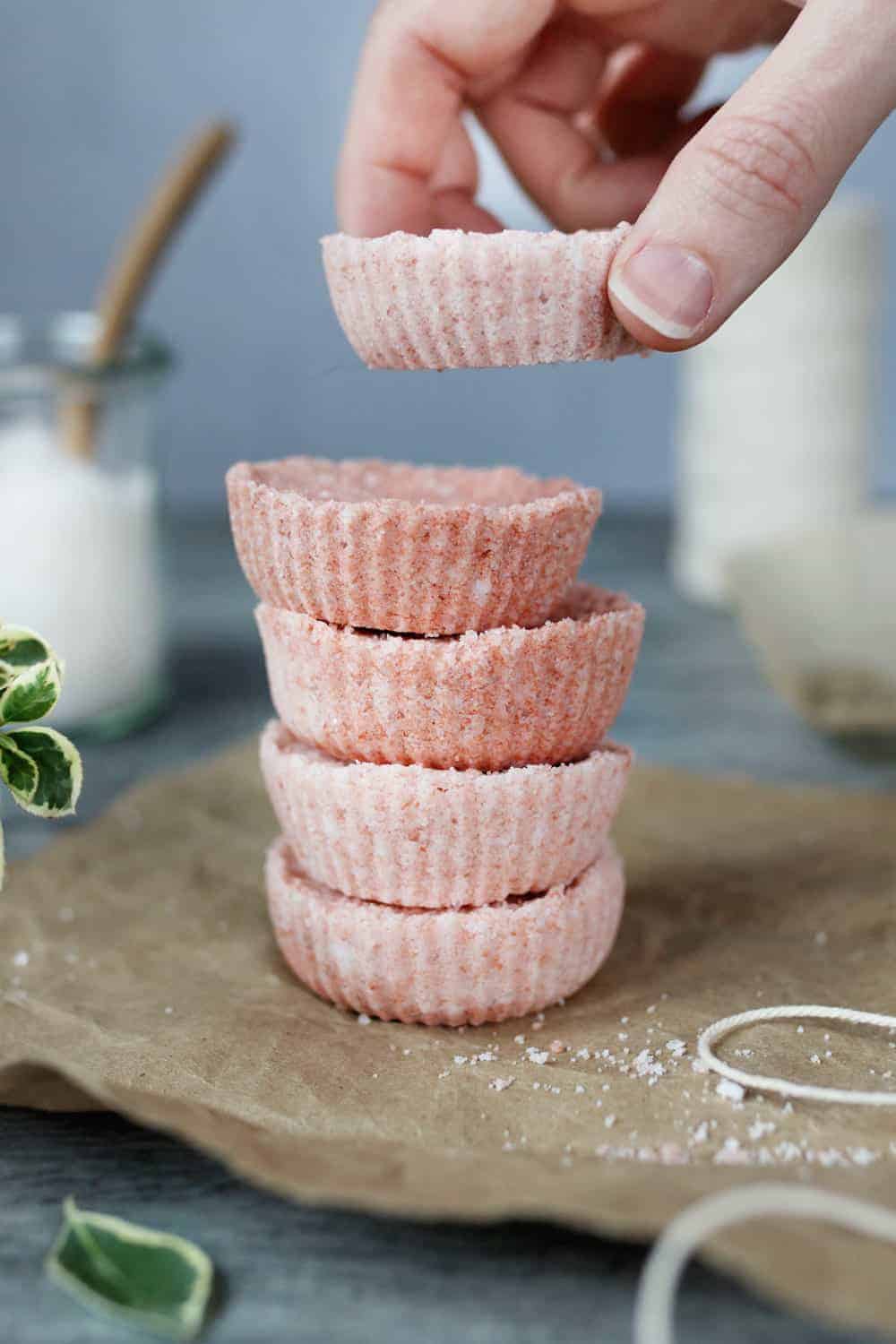 DIY Bubble Bars
Unlike their store-bought cousins, these guys don't contain Sodium Lauryl Sulfoacetate (or SLSA for short). And that means they're a little trickier to make than their SLSA-loaded cousins. SLSA, which sounds a lot like the chemical SLA, is actually a non-toxic foaming agent used in bath products.
SLA comes from coconut and palm oils and is a safe, skin-friendly ingredient used in foaming soaps and washes. It has the unique ability to remove surface oil and debris from the skin while preserving our protective skin barrier. But because it's a super fine powder, it can easily irritate eyes and lungs if you don't wear proper gear (like goggles and a face mask) while making your bars.
That's not really my idea of a good time.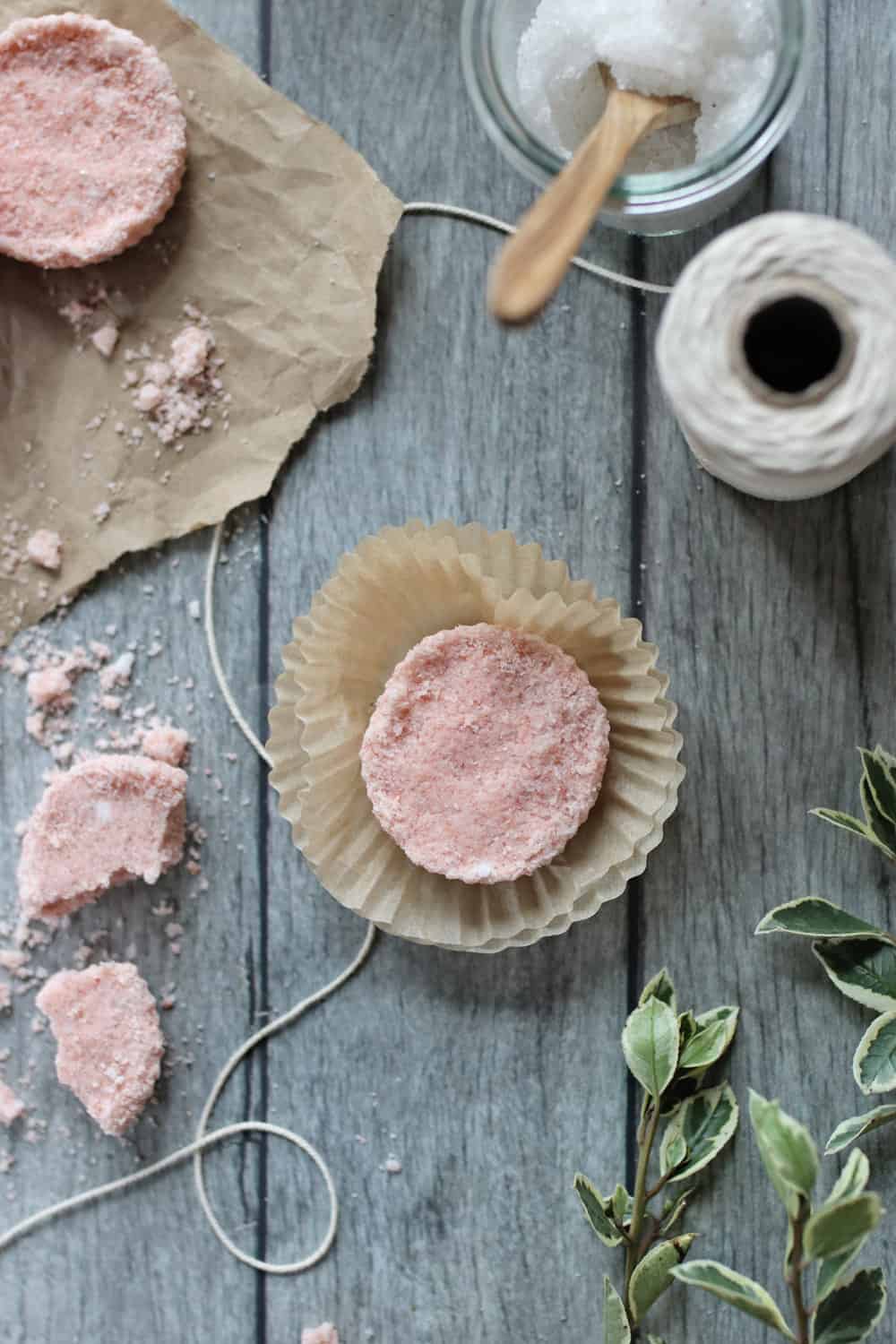 Instead, I used bubble bath as to make my bars nice and foamy. While you can use any bubble bath you'd like, I chose Honest Company brand since I wanted them to foam like the store-bought kind but still be safe for sensitive skin. Sadly, castile soap doesn't lather like normal bubble bath, and while you can use it in these, you won't get the amount of bubbles you'd expect in a bubble bar.
For the dry ingredients, you'll need Epsom salt, baking soda and corn starch to soothe and nourish skin. And essential oils like lavender, peppermint, or sweet orange for a fun, festive scent.
For color, I added a pinch of beetroot powder to give them a nice rosy glow. If you want to play around with colors, I recommend sticking with dry herbs and spices, like spirulina powder, turmeric or cinnamon, instead of liquid colorants. I originally made mine with liquid food coloring but they mysteriously foamed up and turned into a hot mess that never really dried out. I didn't have the same problem with the beet powder, however, so I assume it was just a weird chemical reaction to ingredients in the food coloring.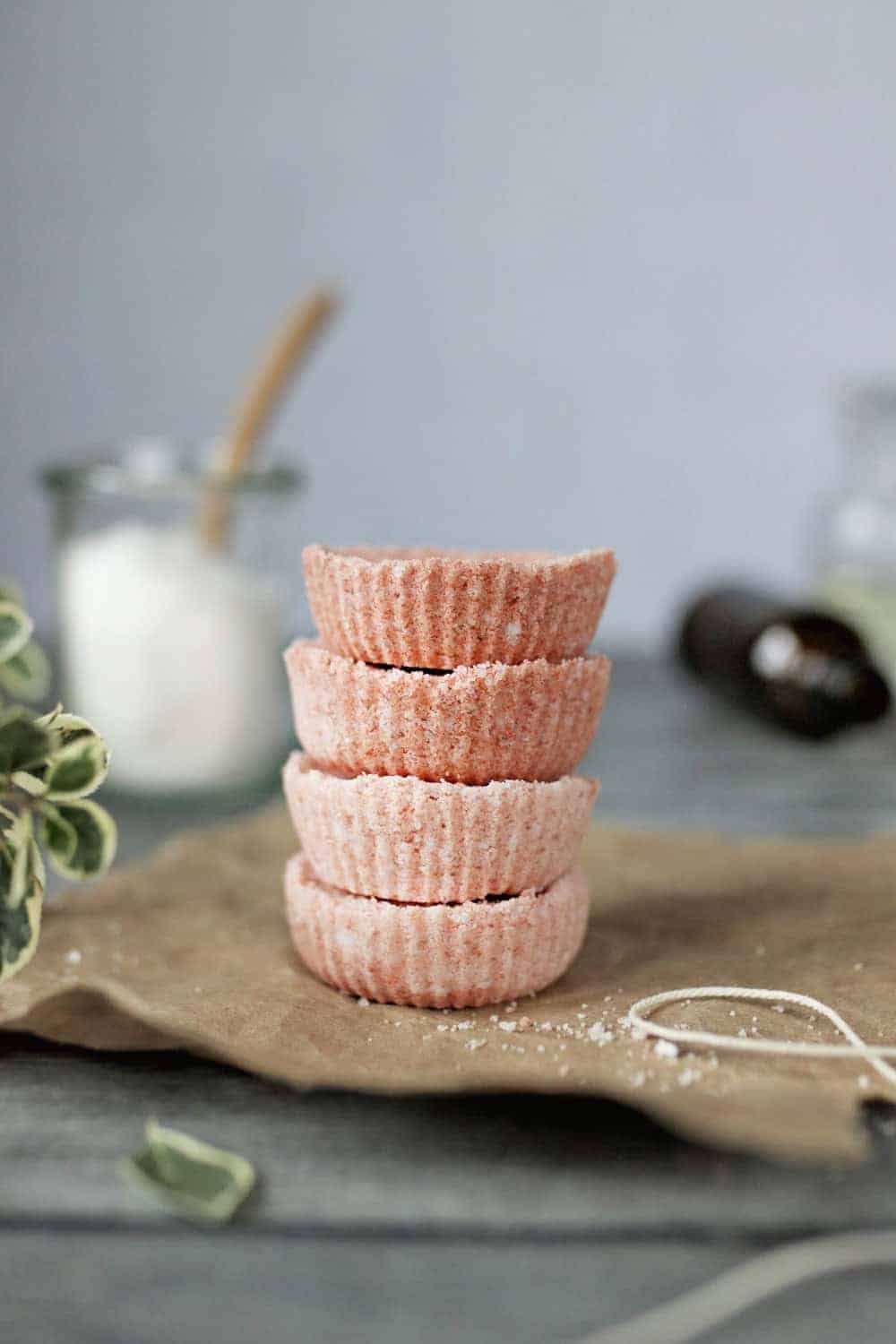 This post was medically reviewed by Dr. Rina Mary Allawh, M.D., a dermatologist who performs adult and pediatric medical dermatology, skin cancer treatment and cosmetic dermatology. Learn more about Hello Glow's medical review board here. As always, this is not personal medical advice and we recommend that you talk with your doctor.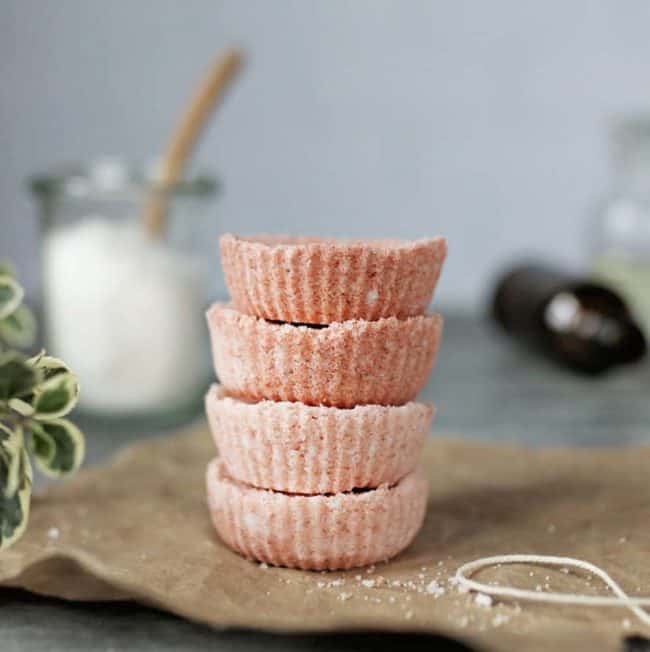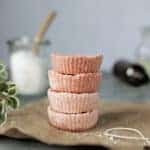 Print
Bubble Bars
If you like Lush bubble bars, you'll love this handmade version you can make at home. Whip up some for yourself and some for holiday gift giving.
Equipment
Muffin tin

Muffin tin liners

Large mixing bowl
Instructions
In a large mixing bowl, combine your baking soda, corn starch, Epsom salt and dry colorant. Whisk to combine.

Pour coconut oil, bubble bath and essential oils into dry ingredients. Mix with a whisk (or your hands) until a dough starts to form. If it's still too wet, add baking soda 1/4 cup at a time until it starts to come together.

Once you have a good dough, press small spoonfuls into your muffin tin liners. I filled mine about 2/3 full.

Let dry overnight or until they're solid and can be removed from the liners without crumbling.
Notes
I love to package several together with a bit of twine and give as gifts.
To use, simply crumble one or two bars under running water.
131