Do you feel the need to wash your hair at least once a day to make sure it doesn't become a greasy mess? Who knew that natural blondes with super-fine hair (raises hand!) have more oil-producing glands in their scalp and are more prone to greasy hair. Not so fun.
But there are simple and natural solutions to calm those guys down. Here's how to win the battle against greasy hair!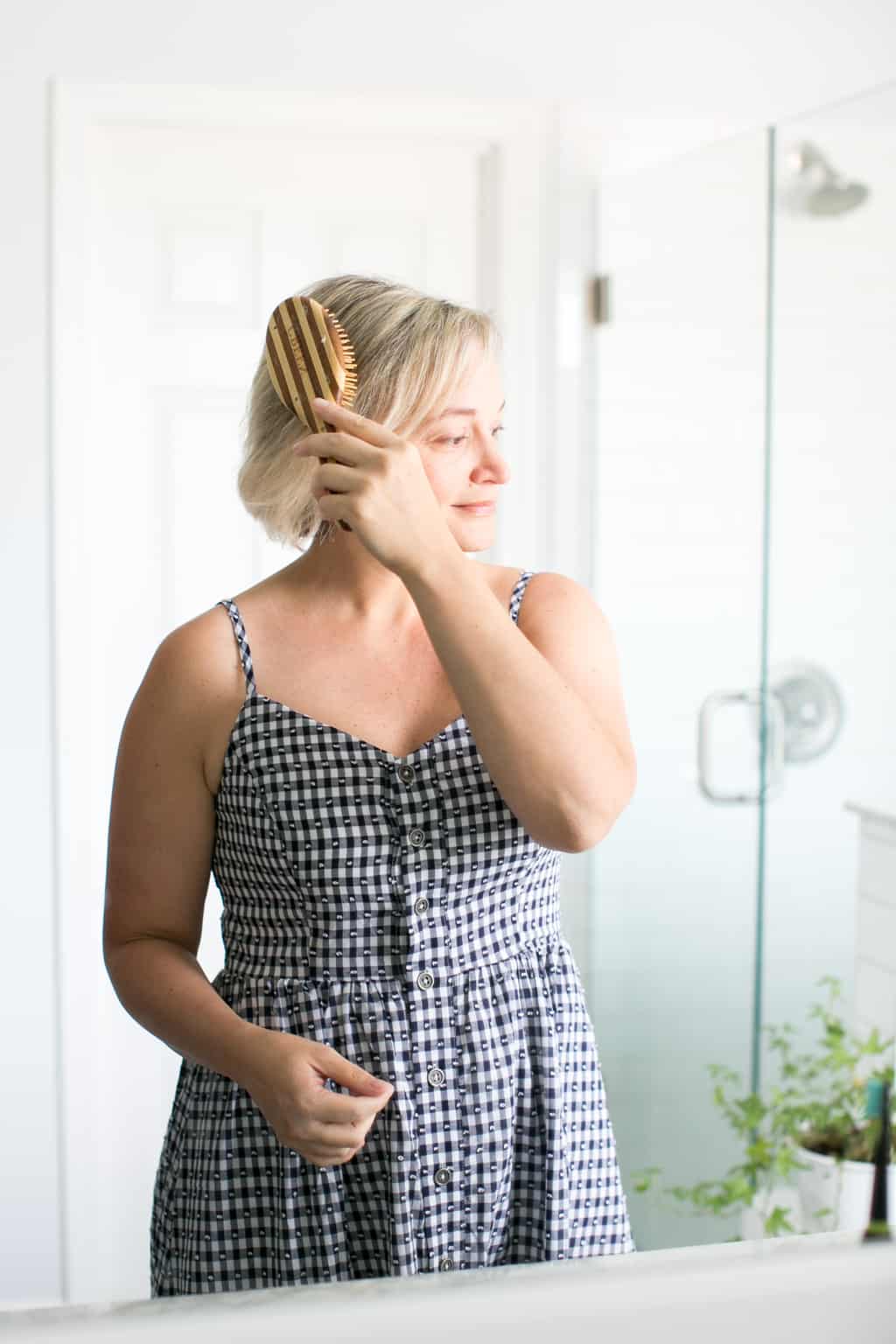 Meet the experts

Penny James, New York City trichologist and hairstylist

Sam Villa, co-founder and Chief Creative Officer of Sam Villa and Global Artistic Ambassador for Redken

Krista Hatcher, senior stylist at Style House Salon Nashville
The most unfortunate part, however, is not just the greasy hair—it's that your efforts to make your hair not greasy have been doing just the opposite. You see, hair itself doesn't produce oil. It's the sebaceous glands in the scalp that go into overdrive, producing more natural oils than you might like, explains New York City trichologist and hairstylist, Penny James.
"A sebaceous gland can be large or small and secrets epidermal lipids that we call grease and is attached to the hair follicle," she says. "These glands are controlled by hormones that include the pituitary gland, sex gland and thyroid hormones."
The good news is that having an oily or greasy look to your hair is normal and can happen to anyone. "Stress, genetics, hormonal changes, puberty, menopause, medications and unbalanced diet are some contributing factors that influence the number of natural oils being produced," according to Sam Villa, co-founder and Chief Creative Officer of Sam Villa and Global Artistic Ambassador for Redken.
Each of these situations can cause an imbalance in your body and pH of the scalp, stimulating an overproduction of oil resulting in greasy looking hair. Follow these tips to get your scalp and strands back in sync: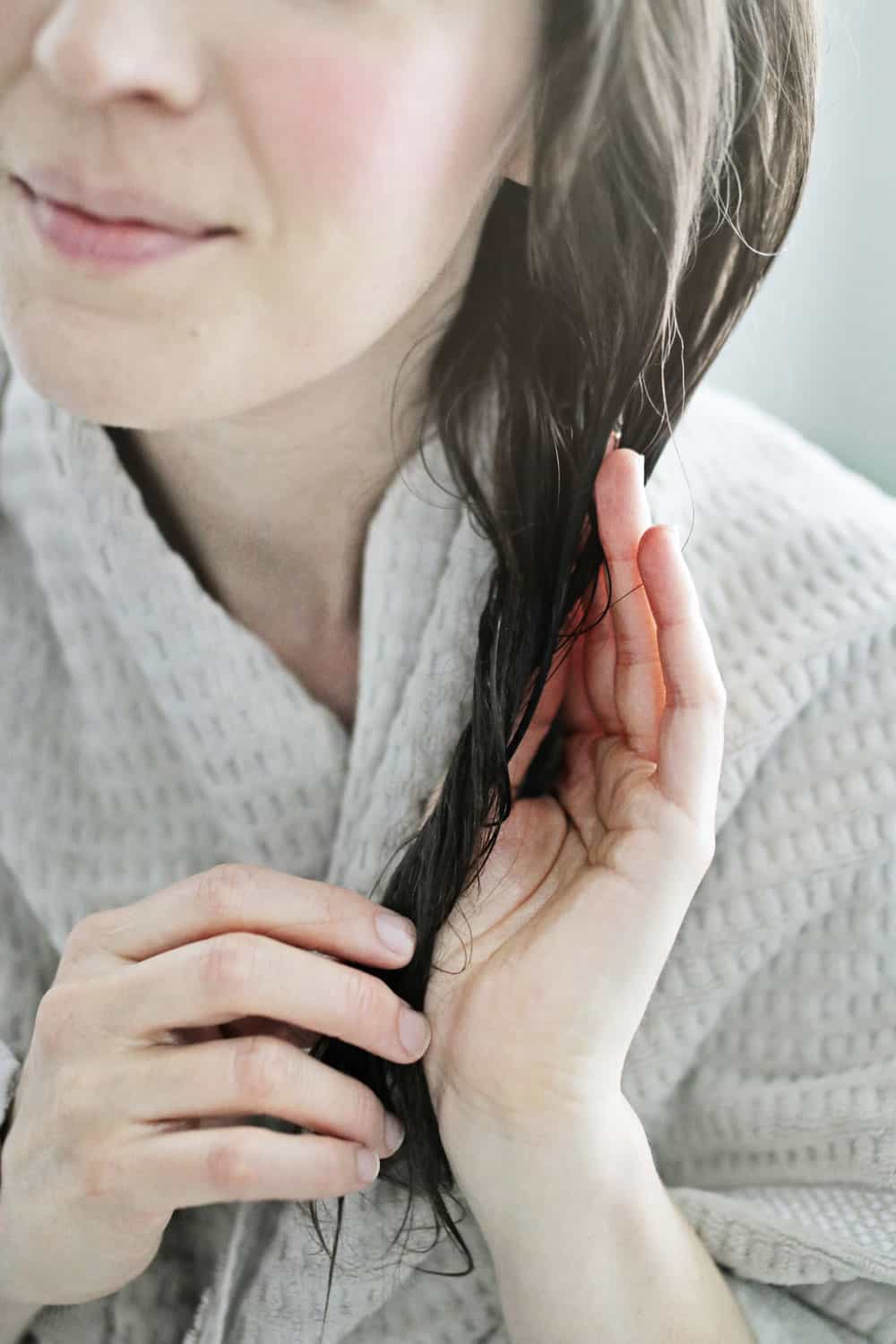 1. Wait at least 48 hours between washings
For greasy-haired folks, this can feel impossible. I have no clue how people like my hairdresser wash their hair only once a week! But, it turns out, that shampooing every day over-stimulates the sebaceous glands and increases oil production.
"With less shampooing your oil glands will naturally slow down and you will be able to go longer in between shampooing," says Villa. "Be patient this could take some time to accomplish."
Going a whole week between washings is a nice way to give your hair a break on occasion, but it might be a stretch for most of us to do on the regular. On average, you should be able to wash every other day or every 2-3 days.
2. Use a sulfate-free shampoo
Tons of hair products with harsh sulfates and silicones—and it's best to avoid these at all costs. "Harsh sulfate can remove too much of the natural oils while silicones can attract oil and dirt," says Villa. "The wrong products will disrupt the health of the scalp causing an imbalance and greasy looking hair."
Sulfate-free shampoo options:
3. Ease up on conditioner
Your scalp needs and that of your hair can be different, explains Villa. "The further the hair is away from the scalp the dryer it may become," he says.
For this reason, he recommends always applying conditioner lightly to the strands of your hair and away from your actual scalp. This helps nourish the parts of your hair that need it and allows your scalp's natural oils to do their thing.
Conditioners for oily hair:

4. Or use an ACV rinse instead

When used as a post-shampoo rinse, ACV can help decrease tangles and smooth away frizz, add body and shine, clarify over-styled locks, and unclog hair follicles that may be causing excess shedding. Not only that, but by replenishing healthy bacteria and re-balancing your scalp's pH, you may even see less dandruff and oil production than usual.
5. It's okay to blow dry
Krista Hatcher, a senior stylist at Style House Salon Nashville, recommends immediately drying your scalp after washing. Flip your head over and blow dry your scalp for a minute to zap the moisture that leads to greasiness.
Fine hair often needs a blow dry, some curl and hairspray to have body and texture in the days to come, but be careful with the blowouts. Lots of straightening with a brush leaves my fine hair flat and weighed down.
6. But avoid texture sprays or other styling products
Texture powder will inevitably make things worse! If you have fine, oily hair, stay away from gels, thickeners, and pomade-type styling products that weigh my hair down. Or only use products on the ends of your hair, not the scalp.
7. Air dry with a salt spray

My strands are flat and lifeless—and yes, more oily—when they air dry with no product. But spritz your roots with salt spray before drying and you'll get great texture and definitely hold the oil at bay.
Don't do this too often though because it can over dry your scalp, sending it back into overdrive and then you're right back where you started.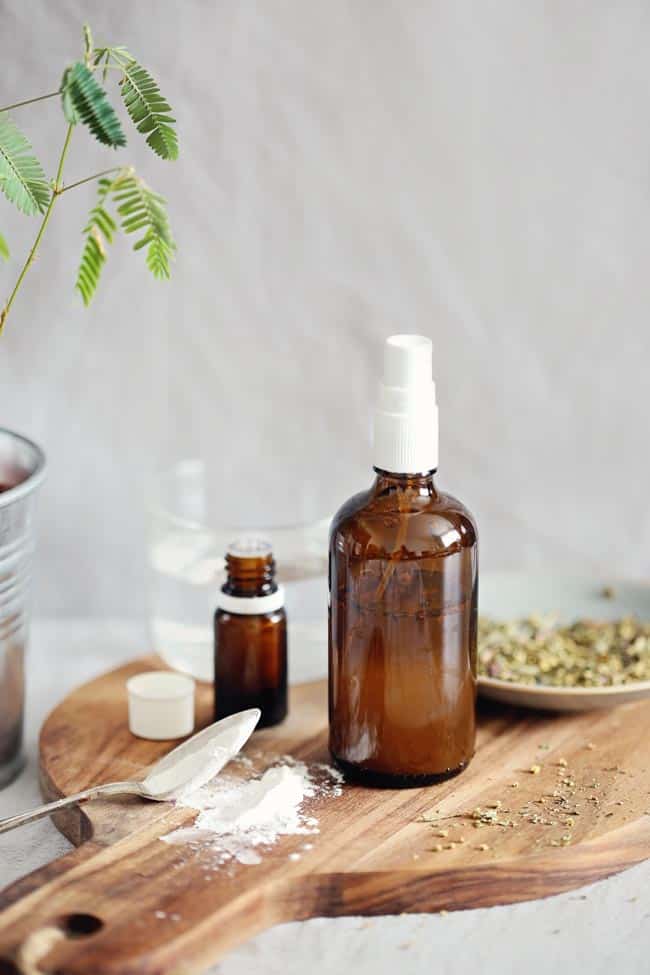 8. Use dry shampoo at night
My friend gave me the amazing tip that I should apply dry shampoo powder to scalp at night before bed. Your head is tossing and turning all night and a dry shampoo application helps keep your scalp oils from transferring to your pillowcase and all over your hair.
P.S. Hatcher says you definitely need a silk pillowcase! She sleeps in a silk cap to avoid tangles from tossing and turning but says a pillowcase will work as well.
You can also use this spray for a quick pick-me-up before restyling your hair. It's great because you can use the blow dryer again to help you out.
DIY Dry Shampoo Spray
—1 tablespoon cornstarch (use ½ tablespoon cornstarch and ½ tablespoon cocoa powder for dark hair)
—4 tablespoons witch hazel
—1 tablespoon vodka
—a couple of drops of essential oil (like lavender or rosemary)
—Small spray bottle
Mix ingredients together well and pour into your spray bottle. Cornstarch and vodka can be drying to the scalp and the witch hazel helps counteract that.
Shake well before using (the cornstarch will settle at the bottom). Hold a few inches from the hair and spritz at the roots. Then use hair dryer to restyle. Not only does this get rid of oily roots but it gives hair a nice volume boost as well!
Two cautions when using this spray: Don't go overboard and soak your head. You should only need the dryer for a couple of minutes. And watch where you spritz because after the spray dries it can leave white spots on clothing.
9. Get used to wearing your hair up
The best part about Day 2 hair is that you'll probably have more volume and body, which makes hair easier to work with. Try one of these dirty hair updos or these styles for second day hair.
And take care to pull your hair off of your face when you wash or apply moisturizer to avoid getting it in your hair.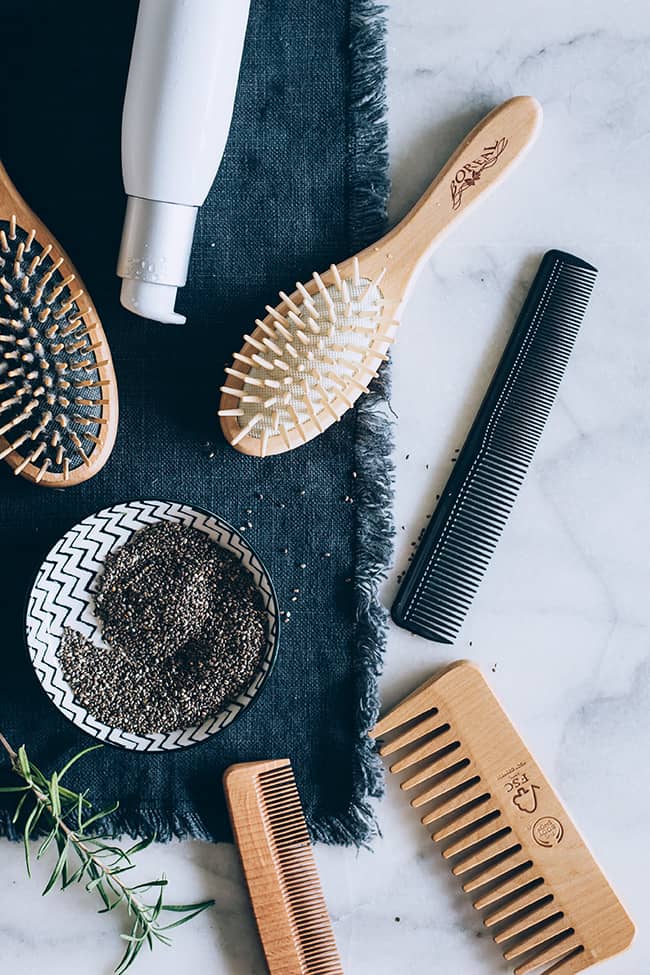 10. Limit brushing and touching
I have a hair twirling habit. But running your fingers through your hair also transfers oils. And brushing and combing moves oil from the scalp to the hair—what we don't want if hair is greasy!
So limit brushing and when you do, start the brush strokes away from your scalp. I avoid the hair brush altogether and use a pick to comb out my hair.
11. Scalp scrub
It's a good idea to give your scalp a good scrub every so often to help get rid of product buildup. Make one of these easily scalp scrub recipes or just add some sea salt to your shampoo and massage into the scalp as you wash.
Scalp scrub options:
12. Sweating...
Heat is somewhat unavoidable in summer, but sweating along your hairline will leave your 'do dirty and oily in no time. It might sound OCD, but try to time your workouts around your shower schedule. Because a good sweat session just after you washed and fixed your hair is a bummer. I also try to avoid wearing baseball caps because it leaves my hair flat and sweaty.
If you can't avoid the sweat, then shower and just rinse your hair without shampooing, advises Hatcher. "You can even put conditioner on without shampooing since conditioner has a slight cleansing action on its own," she says.
My hair is soooo much less oily now—I still wash every 2-3 days but my hair is not a hot mess at the end of day one. If you struggle with greasy hair, let me know what worked for you!
P.S. Finding the right hairstyle for thin hair helps too.
176