One of the bloggers I follow on Instagram is always talking about her obsession with apple cider vinegar, which is just fermented apple juice. She swears up and down that it helps with clearing up acne to balancing her blood sugar, which published research actually supports [source], and just about everything in between. I decided to give it a try—you know, just to see.
One surprising benefit I didn't see coming? My hair has never looked better!
Meet the Experts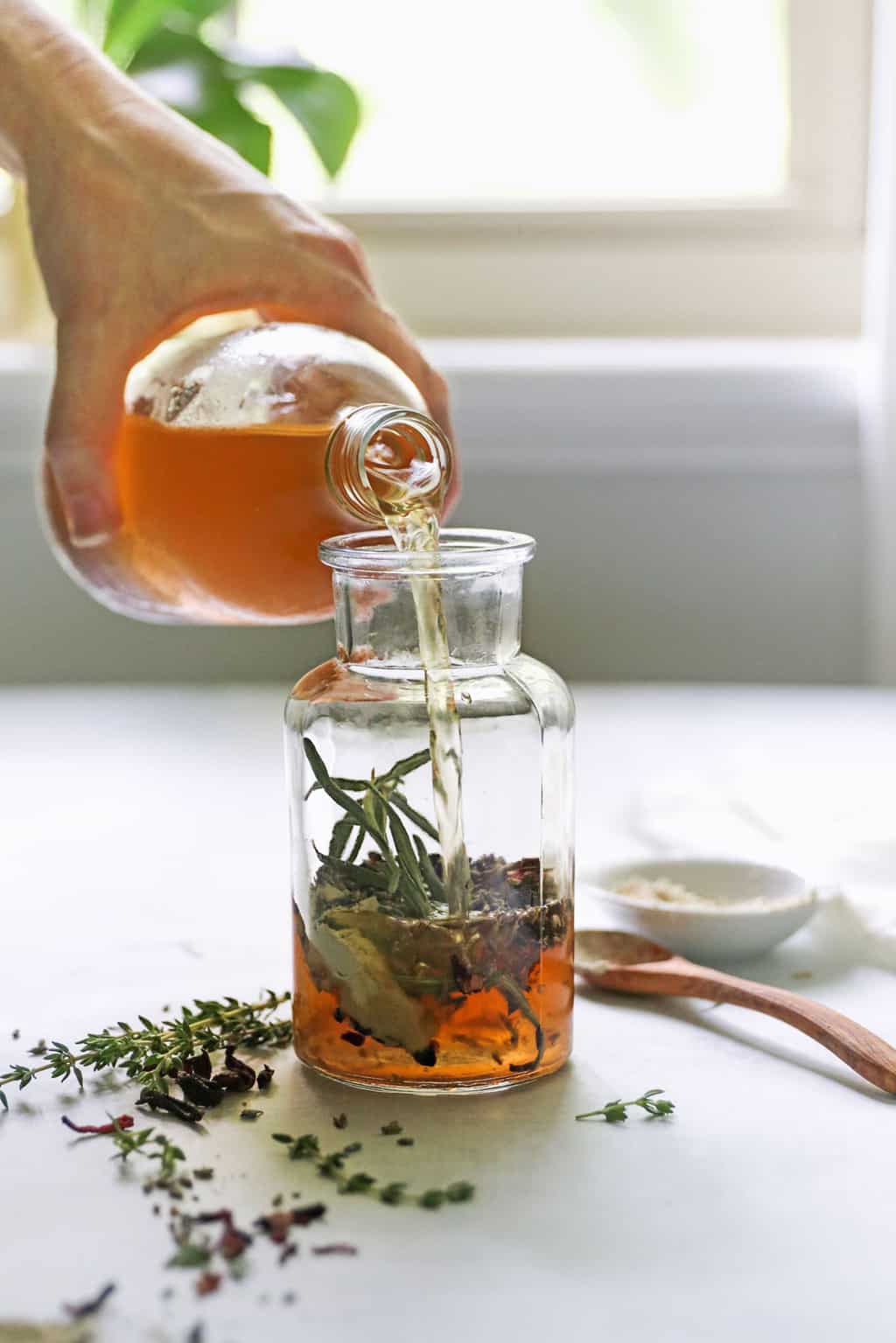 Apple Cider Vinegar (ACV) for Healthy Hair
Hairstylists have been using this kitchen staple to enhance the appearance of their clients' hair for years. Even Andrew Fitzsimons, a celebrity hairstylist whose client list includes JLO, Meghan Fox, and Kim Kardashian, gives ACV a thumbs up.
"Apple cider vinegar will add a shine to your tresses by coating the cuticle, which will make hair softer and stronger and even help prevent breakage," he says. "ACV is also great for balancing your scalp's pH level—thanks to its antibacterial properties." By applying to your roots, he says, you will soon notice less buildup and minimal dandruff.
And that's how this herb-infused apple cider vinegar hair rinse was born.
Making my own ACV rinse has quickly become my go-to secret for lackluster hair. Not only does it get rid of the gunk that used to weigh down my hair, but it also makes my locks soft and super shiny.
"The rinse can be customized to be stronger or weaker, depending on the water to ACV ratio used when mixing, allowing those with scalp concerns versus those with no obvious scalp conditions," explains Bridgette Hill, trichologist and owner of Bridgette Hill Scalp Therapy.
Plus, by infusing it with hair-boosting herbs, I've noticed more growth, less flakiness, and fewer bad hair days to boot. Here's how to make your own version of this hair fixer-upper: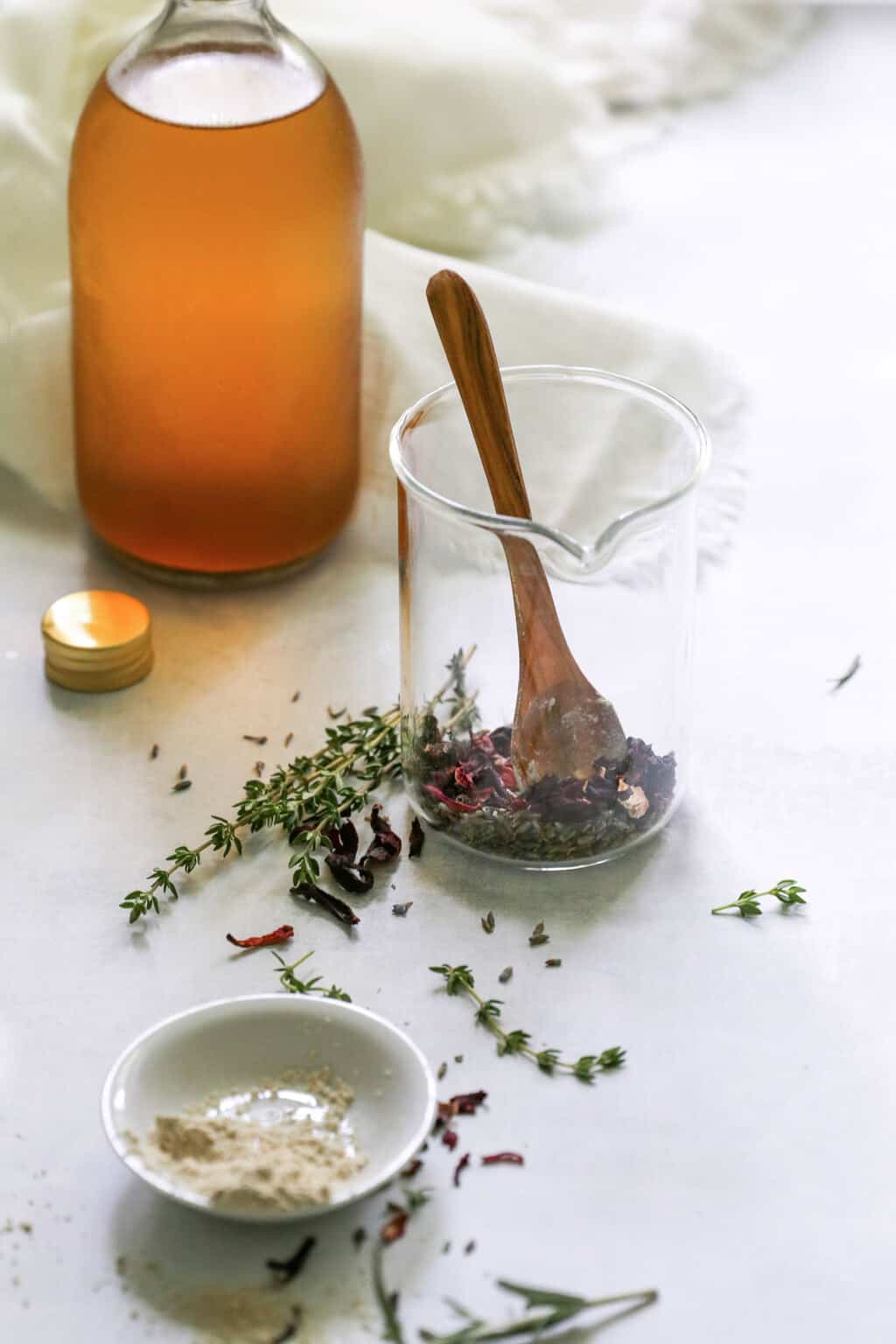 Herb-Infused Apple Cider Vinegar Hair Rinse
Apple cider vinegar (ACV) is a must for any healthy hair regimen. Because raw ACV hasn't been pasteurized, it still contains the nutrients and probiotics that are vital for healthy hair and scalp.
When using apple cider vinegar, Gina Rivera, celebrity stylist and founder of Phenix Salon Suites, recommends always diluting it first by adding water, as undiluted it can be far too acidic for the hair. She recommends one ounce of vinegar to 5 ounces of water.
"As with everything, always use this treatment in moderation to avoid stripping the hair and damaging it," she says. "Depending on the amount of products a person uses, this treatment should be done no more than once per week or bi-weekly."
When used as a post-shampoo rinse, ACV can help decrease tangles and smooth away frizz, add body and shine, clarify over-styled locks, and unclog hair follicles that may be causing excess shedding. Not only that, but by replenishing healthy bacteria and re-balancing your scalp's pH, you may even see less dandruff and oil production than usual. Hallelujah.
Although ACV is great by itself, adding in various plants and herbs makes your apple cider vinegar hair rinse that much more potent. For mine, I used rosemary, hibiscus, lavender, and marshmallow root.
But you're by no means limited to just those herbs. Feel free to choose any of the following herbs based on your hair type and the kinds of issues you run into: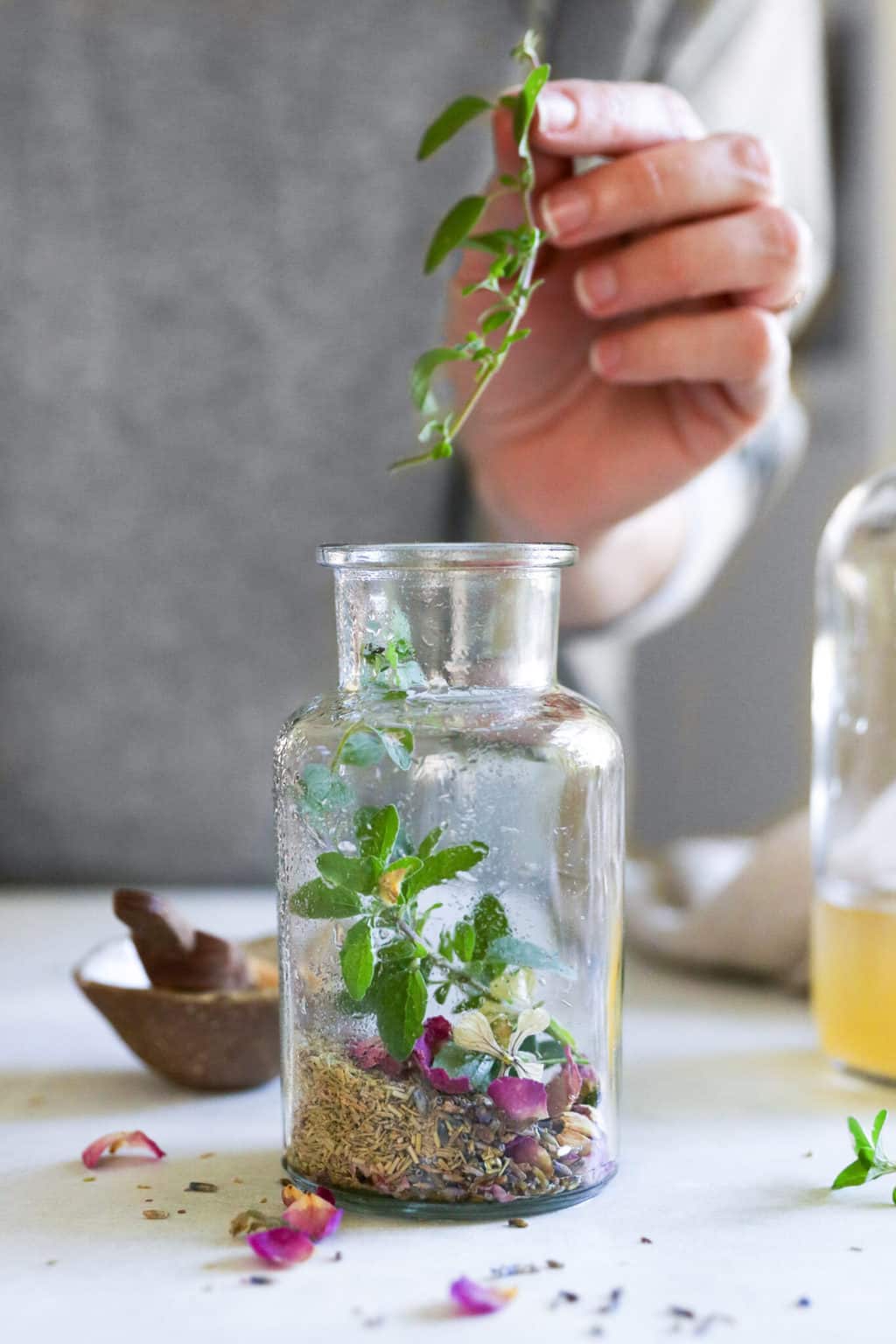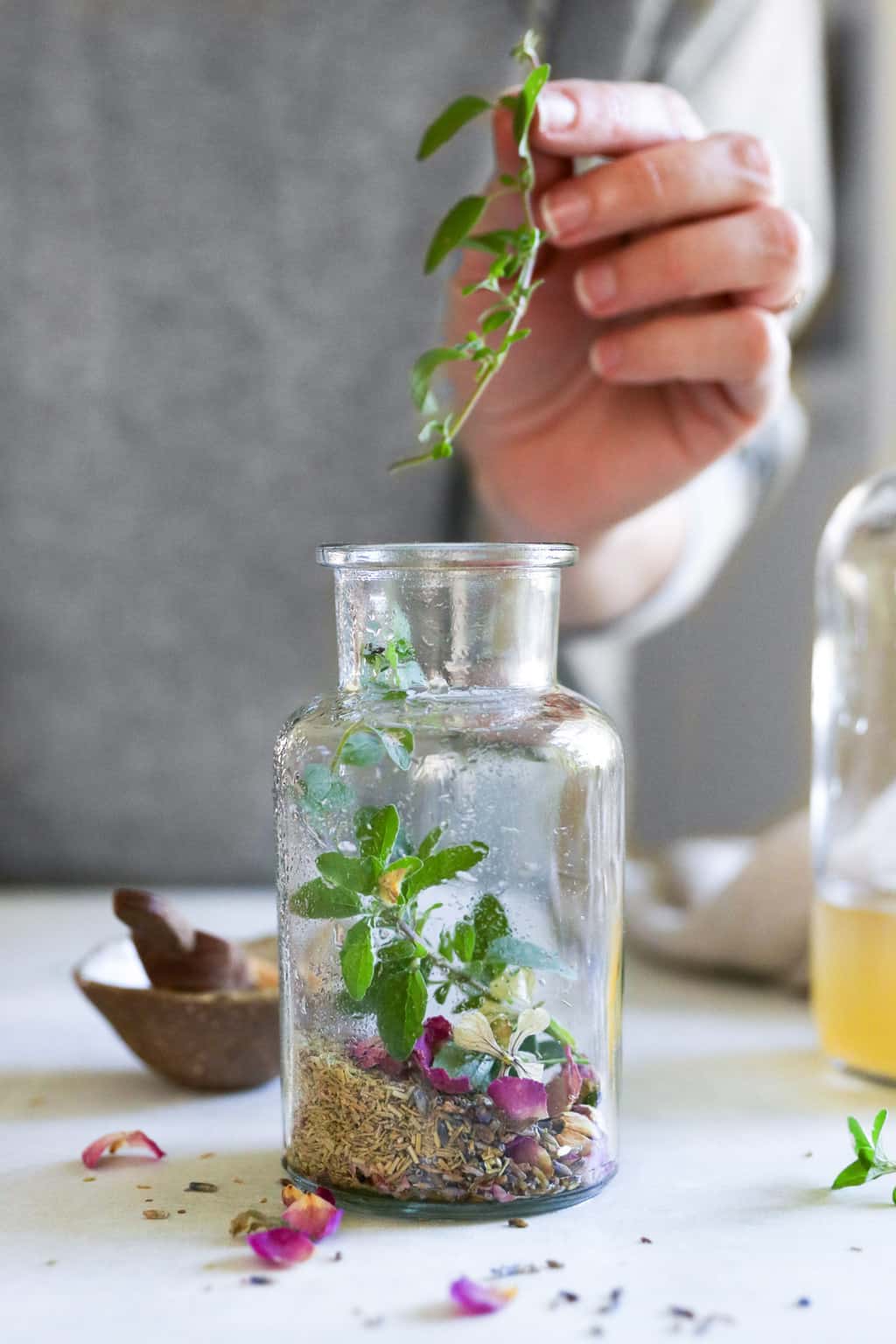 Best Herbs for Healthy Hair
Note: dried herbs are easier to use. Since they don't contain any moisture, they won't mold if exposed to air while the mixture infuses.
But you can use fresh herbs if you like. Just make sure they're completely submerged in the vinegar and that no part of the plant is exposed to air. I used a combination of both depending on what was readily available at the store.
While I was able to find all of these herbs in the bulk bins at my local health food store, you can also order them online.
Hibiscus
Because they are packed with vitamins, minerals, organic acids, and antioxidants [source], dried hibiscus flowers can help improve the overall health of your hair and scalp. I would avoid this if you have blonde or light brown hair because it gives the ACV a red tint, which is great for red or dark hair highlights but could temporarily stain lighter hair (where I would suggest trying chamomile instead).
Lavender
Lavender is an anti-inflammatory herb [source] that has been shown to promote hair growth in animal studies [source]. It has also been said to deep condition hair, helping to keep it soft and shiny.
Rosemary
Rosemary is loaded with antioxidant polyphenols, oils, and nutrients that nourish the root, encourage hair growth [source] and increase circulation in the scalp. If you don't have access to fresh or dried herbs, add a couple drops of rosemary essential oil for the same hair growth benefits.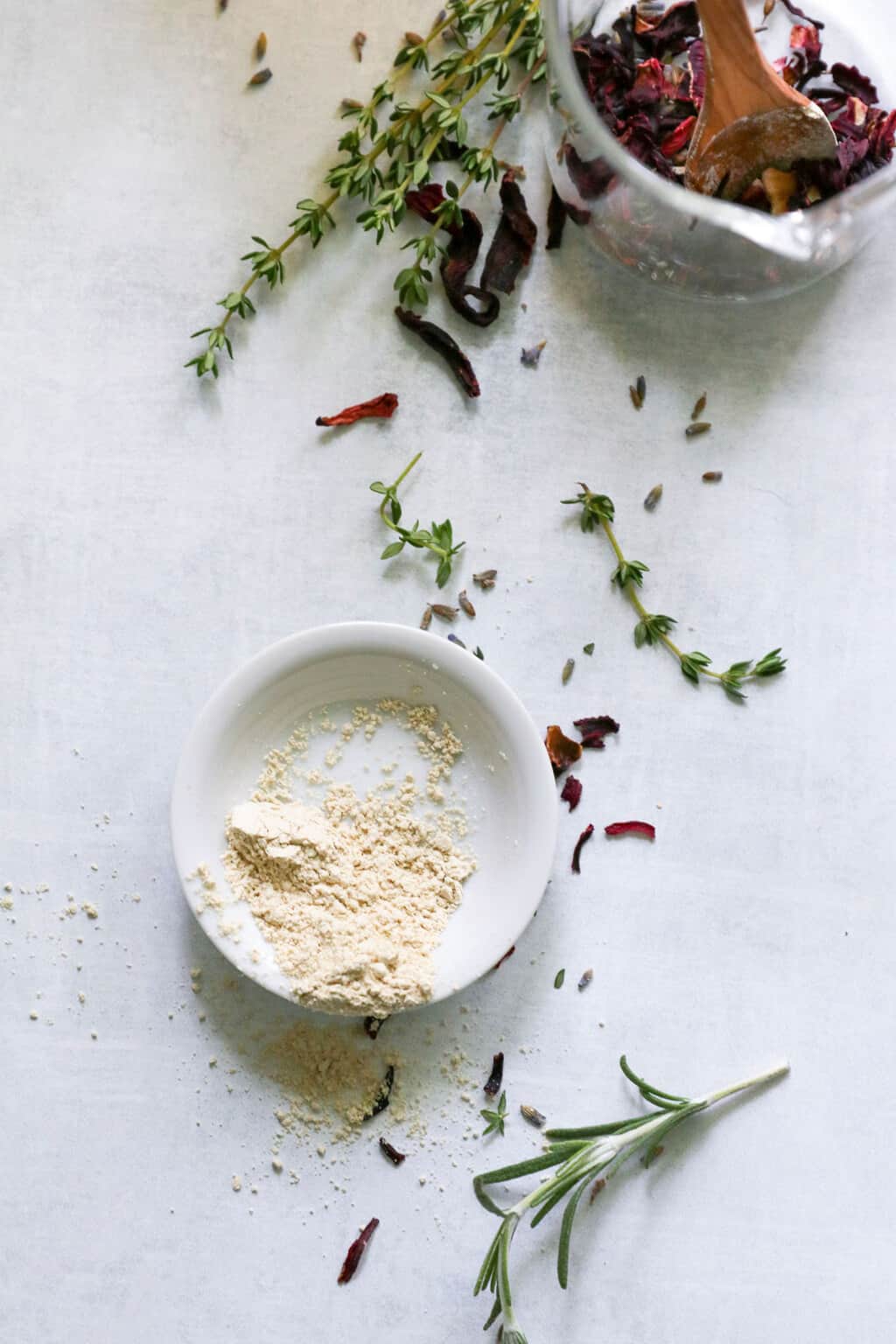 Thyme
Thyme delivers powerful nutrients to hair follicles that are necessary for healthy hair growth. Like rosemary, thyme may help improve blood circulation to the scalp, fight bacteria [source], and encourage hair to grow thicker and stronger.
Ginseng
Ginseng is often found in shampoos and conditioners because of its hair-stimulating benefits. Not only does it promote hair growth, but it may also reduce shedding and inflammation in the scalp [source].
Nettle
Nettle leaves are rich in phytochemicals, amino acids, silica, and sulfur [source], which are great hair boosters. Applying nettle topically not only promotes hair growth, but its healthy amount of antioxidants and anti-inflammatory compounds [source] can also help scalp conditions like psoriasis and dandruff.
Marshmallow root
Marshmallow root contains low concentrations of ceramide precursors that bind to the hair, making strands look thicker and feel stronger. It contains mucilage, like a protective film [source] that is somewhat slippery and can be used as an alternative to conditioner.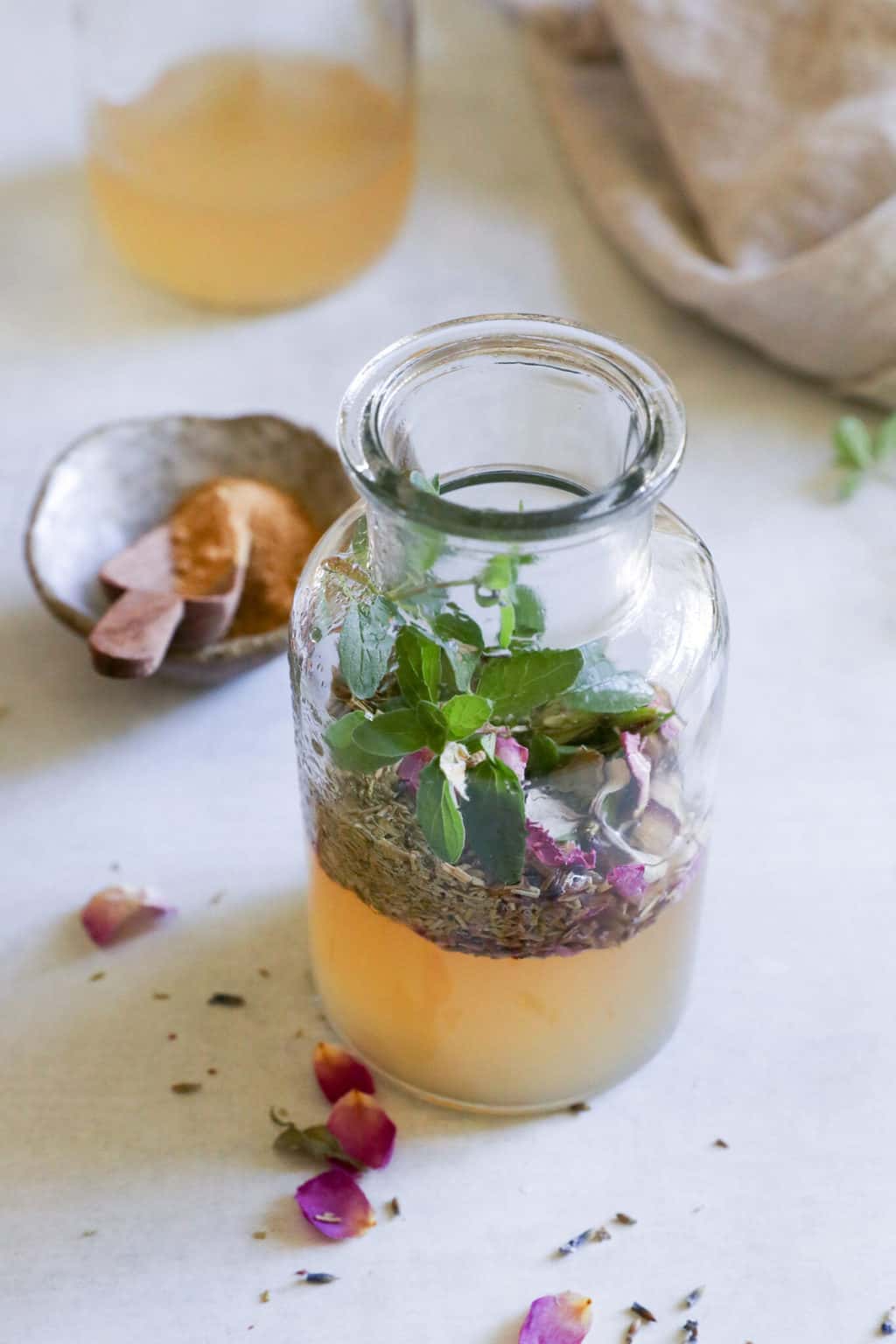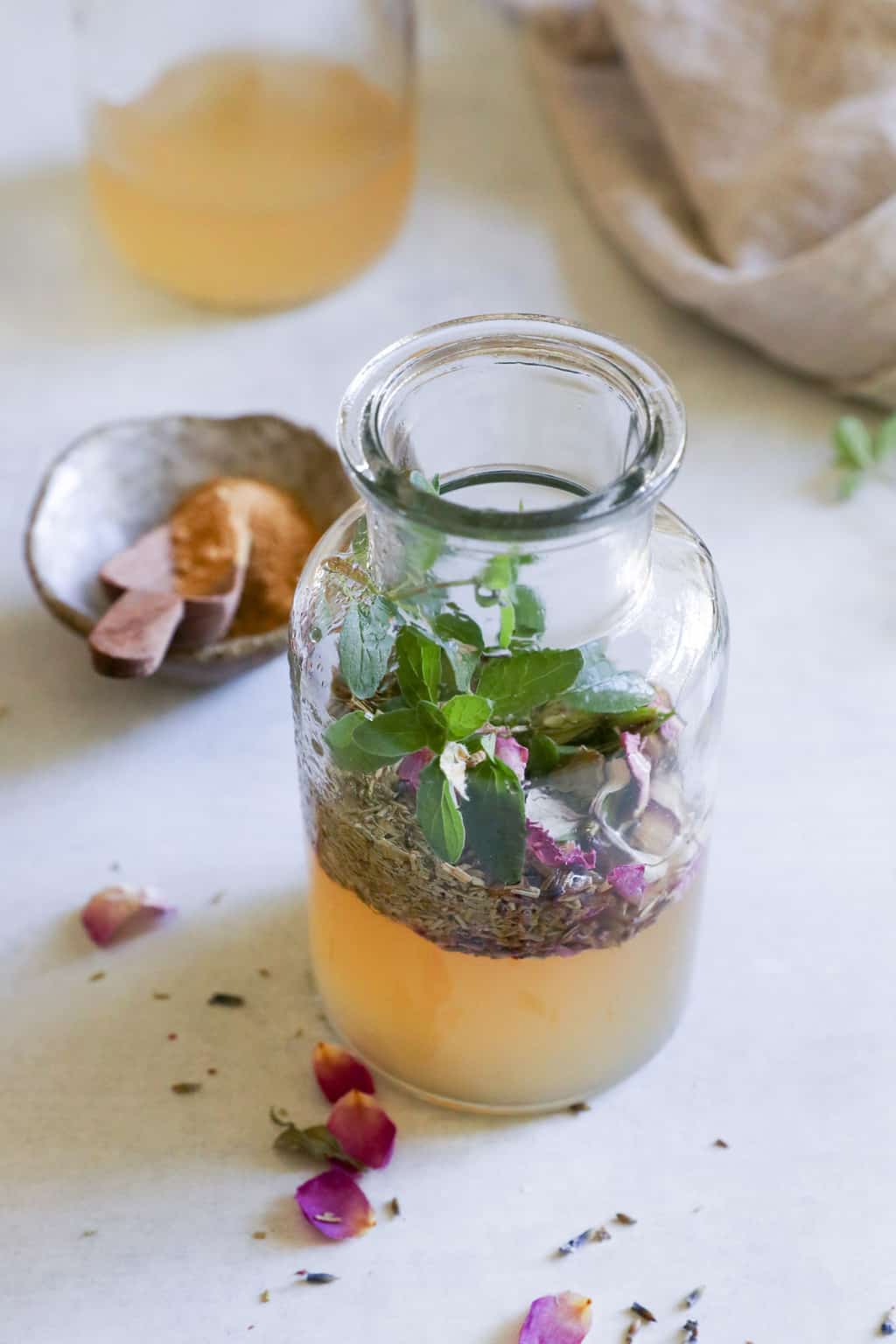 More Herbs for Healthy Hair
Herbs for dry hair: burdock root, comfrey, elderflowers, lavender, marshmallow, parsley, sage, stinging nettle
Herbs for oily hair: calendula, horsetail, lemon juice, lemon balm, mint, rosemary, witch hazel, yarrow
Herbs to combat dandruff: burdock root, garlic, onion, parsley, rosemary, stinging nettle, thyme
Herbs for body and luster: calendula, catnip, horsetail, licorice, lime flowers, nasturtium, parsley, rosemary, sage, stinging nettle, watercress
Herbs for shine: horsetail, parsley, nettle, rosemary, sage, calendula
Herbs for hair growth: aloe, arnica, birch, burdock, catmint, chamomile, horsetail, licorice, marigold, nettles, parsley, rosemary, sage, stinging nettle
Herbs for coloring hair: Brown - henna, walnut hulls, sage; Blonde - calendula, chamomile, lemon, saffron, turmeric, rhubarb root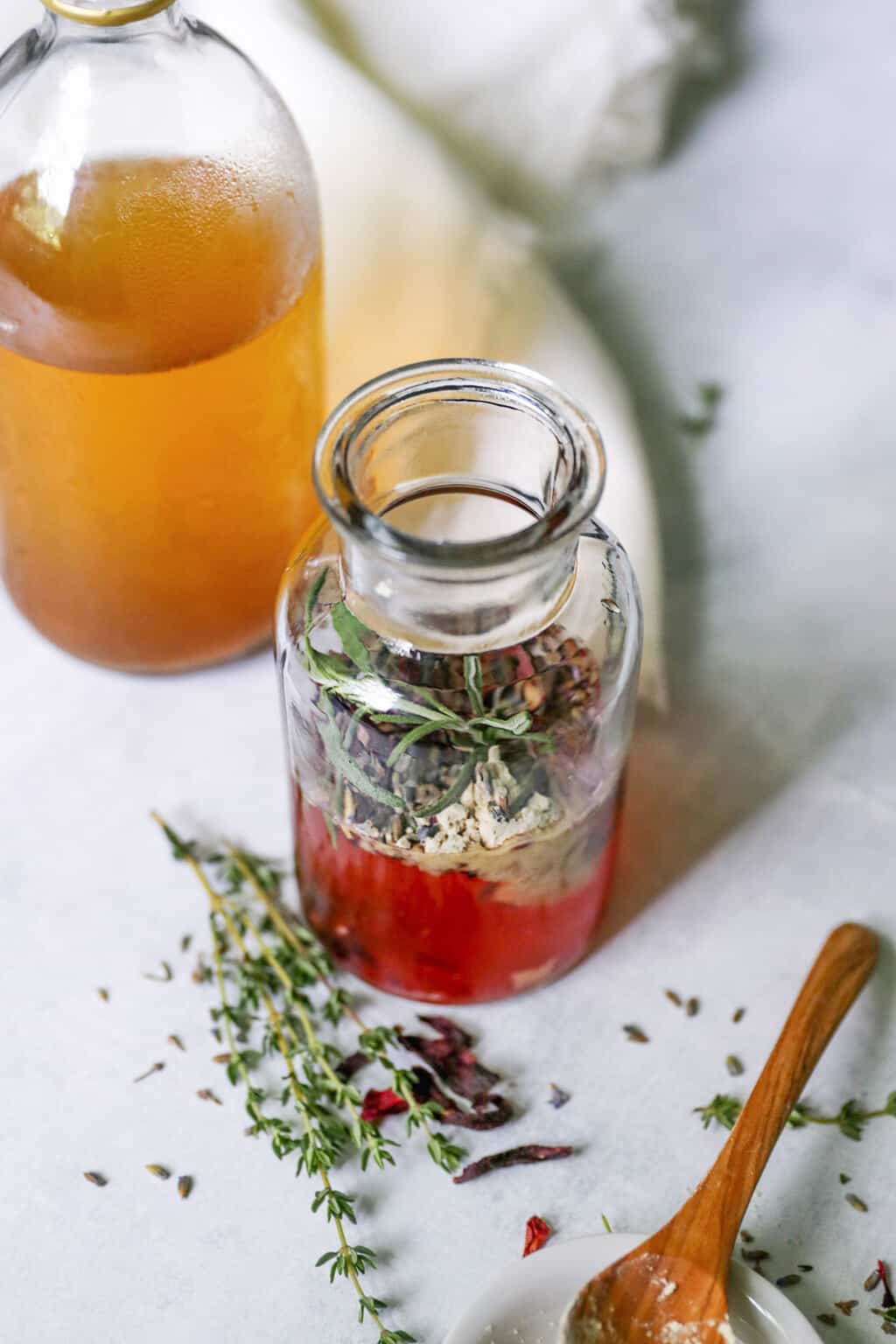 How to Infuse Apple Cider Vinegar
You'll want to gather your vinegar and herbs as well as a 64-ounce mason jar and a fine-mesh strainer.
If you want to reap the benefits of ACV, it's best to choose an organic raw vinegar that contains "the mother." This means it's unfiltered, unrefined, and still contains the beneficial bacteria, yeast, and proteins that are so good for the scalp's microbiome. My personal favorite is Bragg Organic Apple Cider Vinegar, but I have seen other brands out there that look comparable.
Like with most infusion recipes, the amount of herbs you need isn't set in stone.
Instead, you'll want to fill your mason jar about halfway with herbs and then cover it the rest of the way with vinegar. In the recipe below, I tried to be helpful by giving exact measurements. But most of the time, I just eyeball it. There's no one right way to do it.
Gently muddle the herb mixture with a wooden spoon to help release some of the botanical properties. Make sure there's a little breathing room between the vinegar and the upper edge of the jar, where the lid rests. Then, replace the lid and put the jar in a cool, dark location, such as a pantry or cabinet.
Shake the mixture every 2–3 days, and add more vinegar as needed to keep the level relatively the same.
After 2 weeks, strain out the herbs (cheesecloth is better at removing finely ground herbs, but a fine-mesh strainer will also work), and transfer your apple cider vinegar hair rinse to a clean squeeze bottle or jar.
Your vinegar hair rinse should keep for approximately 6 months.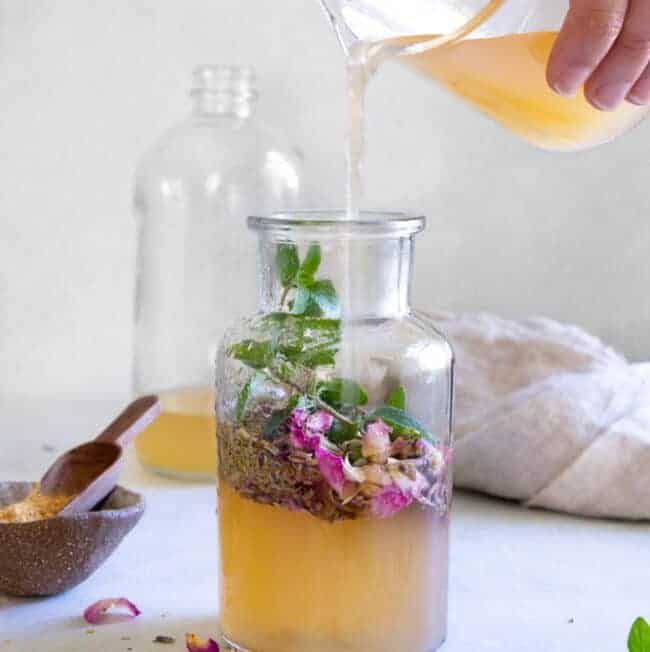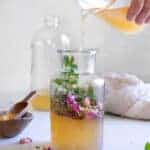 Print
Herb-Infused Apple Cider Vinegar Hair Rinse
Herbs and vinegar come together to make the ultimate hair fixer upper.
Equipment
64-ounce glass jar with lid

Cheese cloth or fine mesh strainer
Instructions
Combine all herbs in a glass jar. Stir with a spoon to mix everything together.

Pour the vinegar over the herbs, then screw the lid on tightly and shake well.

Place the jar in a cool, dark location. Shake it every couple of days and top off with additional apple cider vinegar as needed to keep the level the same. After about 2 weeks, strain the herbs from the vinegar using cheesecloth or a strainer. 
Notes
If using fresh herbs, make sure the entire plant is submerged in the vinegar and no part of it is sticking out at the top. If the herb comes in contact with air, it will start to mold before it

'

s had a chance to infuse the vinegar. If you notice mold at any point during the infusion process, toss out the mixture and start again.
To use, dilute the rinse by combining 1 part water, 1 part vinegar (this can be done in a small squirt bottle or in the palm of your hand). Apply to clean, wet hair and let sit for 1–2 minutes. Then rinse thoroughly.
The herb-infused vinegar should keep indefinitely without requiring refrigeration. However, water encourages bacterial growth, so don

'

t dilute the mixture until you

'

re ready to use it. If you accidentally get water in the rinse mixture, use it up within a week.
References:
Johnston CS, et al. Vinegar: medicinal uses and antiglycemic effect. MedGenMed. 2006.
Izquierdo-Vega JA, et al. Organic acids from Roselle (Hibiscus sabdariffa L.)—a brief review of its pharmacological effects. Biomedicines. 2020.
Cardia GFE, et al. Effect of lavender (Lavandula angustifolia) essential oil on acute inflammatory response. Evid Based Complement Alternat Med. 2018.
Lee BH, et al. Hair growth-promoting effects of lavender oil in C57BL/6 mice. Toxicol Res. 2016.
Panahi Y, et al. Rosemary oil vs minoxidil 2% for the treatment of androgenetic alopecia: a randomized comparative trial. Skinmed. 2015.
Rezzoug M, et al. Chemical composition and bioactivity of essential oils and Ethanolic extracts of Ocimum basilicum L. and Thymus algeriensis Boiss. & Reut. from the Algerian Saharan Atlas. BMC Complement Altern Med. 2019.
Choi BY. Hair-growth potential of ginseng and its major metabolites: a review on its molecular mechanisms. Int J Mol Sci. 2018.
Kregiel D, et al. Urtica spp.: ordinary plants with extraordinary properties. Molecules. 2018.
Pekmezci E, et al. Proprietary herbal extract downregulates the gene expression of IL-1α in HaCat cells: possible implications against nonscarring alopecia. Med Arch. 2018.
Bonaterra GA, et al. Anti-inflammatory and anti-oxidative effects of Phytohustil® and root extract of Althaea officinalis L. on macrophages in vitro. Front Pharmacol. 2020.
This post was medically reviewed by Dr. Jennifer Haley, a board-certified dermatologist with extensive experience in medical, cosmetic, and surgical dermatology. Learn more about Hello Glow's medical reviewers here. As always, this is not personal medical advice, and we recommend that you talk with your doctor.
View this post on Instagram
255