It feels like forever since I've made bath bombs. I blame it on my dry skin, which doesn't exactly put me in the mood for a long, hot soak. But if we're being honest, every season is bath season, so when I spotted some cute glitter bath bombs at Anthropologie the other day I couldn't wait to get home and whip up my own.
After a long hectic day, all you need to do is run a bath and toss in one of these pretty glitter bombs. They add a tiny bit of sparkle to your bath water along with a relaxing floral scent and even a bit of natural color. It's the perfect way to decompress and make your bath a little less boring.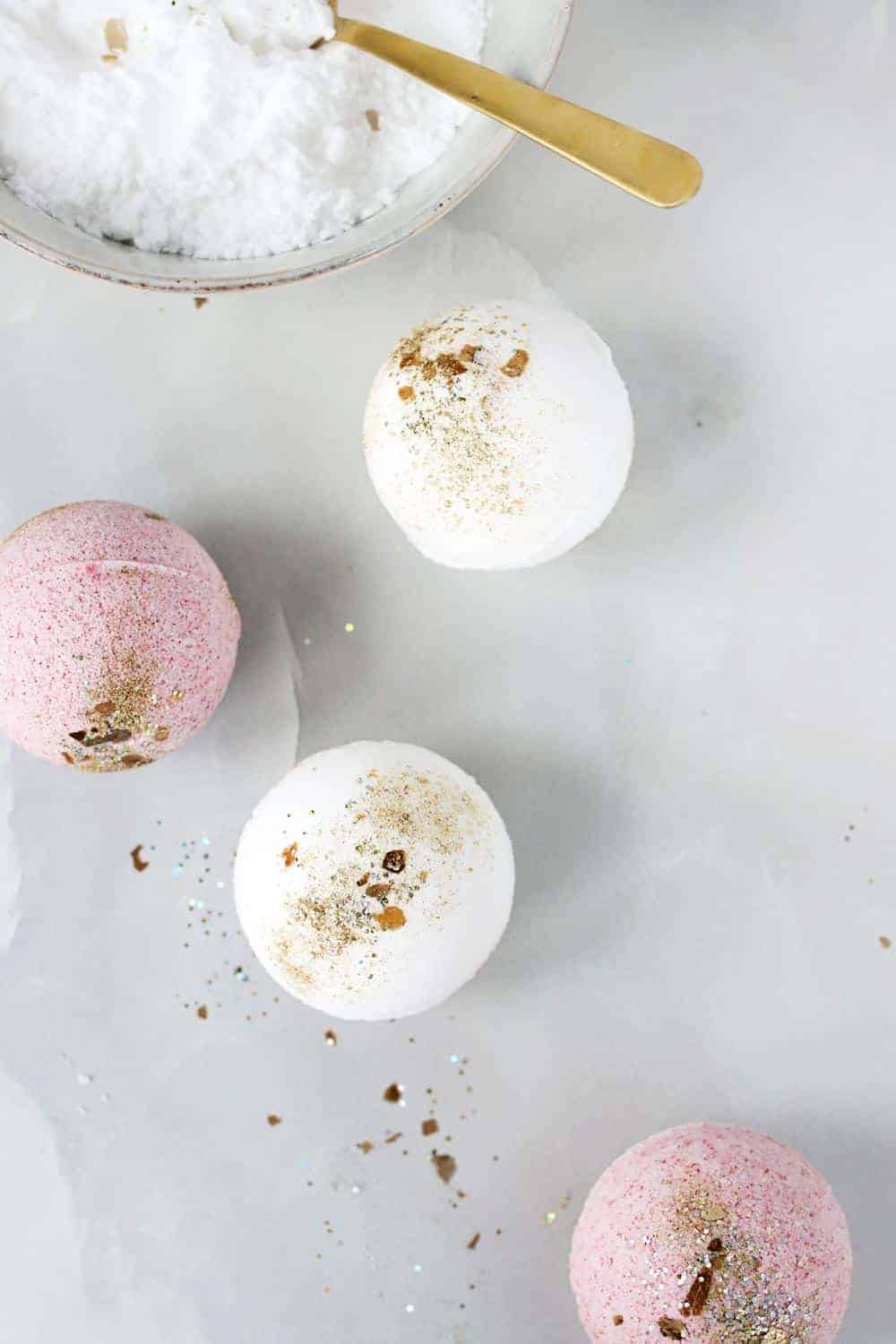 DIY Glitter Bath Bombs
Though I don't do it nearly enough, nothing is more relaxing than pouring a glass of wine, lighting some candles and taking a dip in the tub. But as a shameless multitasker, I need my bath to do double-duty or else I'll get bored within minutes.
That's one of the reasons I love using bath bombs. The essential oils and beneficial minerals help relieve tense muscles, soothe itchy skin and relax my frazzled mind. For just a few bucks you can transform a bath into a spa-like experience and you get the skin-soothing benefits to boot.
I'll let you in on a little secret: making your own bath bombs is so much easier than you'd think and it will save you tons of money. They only require a few pantry staples, and since they're super versatile you can pick any combination of ingredients you have on hand.
The basic ingredients include oils, Epsom salt, baking soda and citric acid. But for these I also used beet powder for color (it's totally optional so feel free to exclude it if you'd like) and a pinch of mica glitter.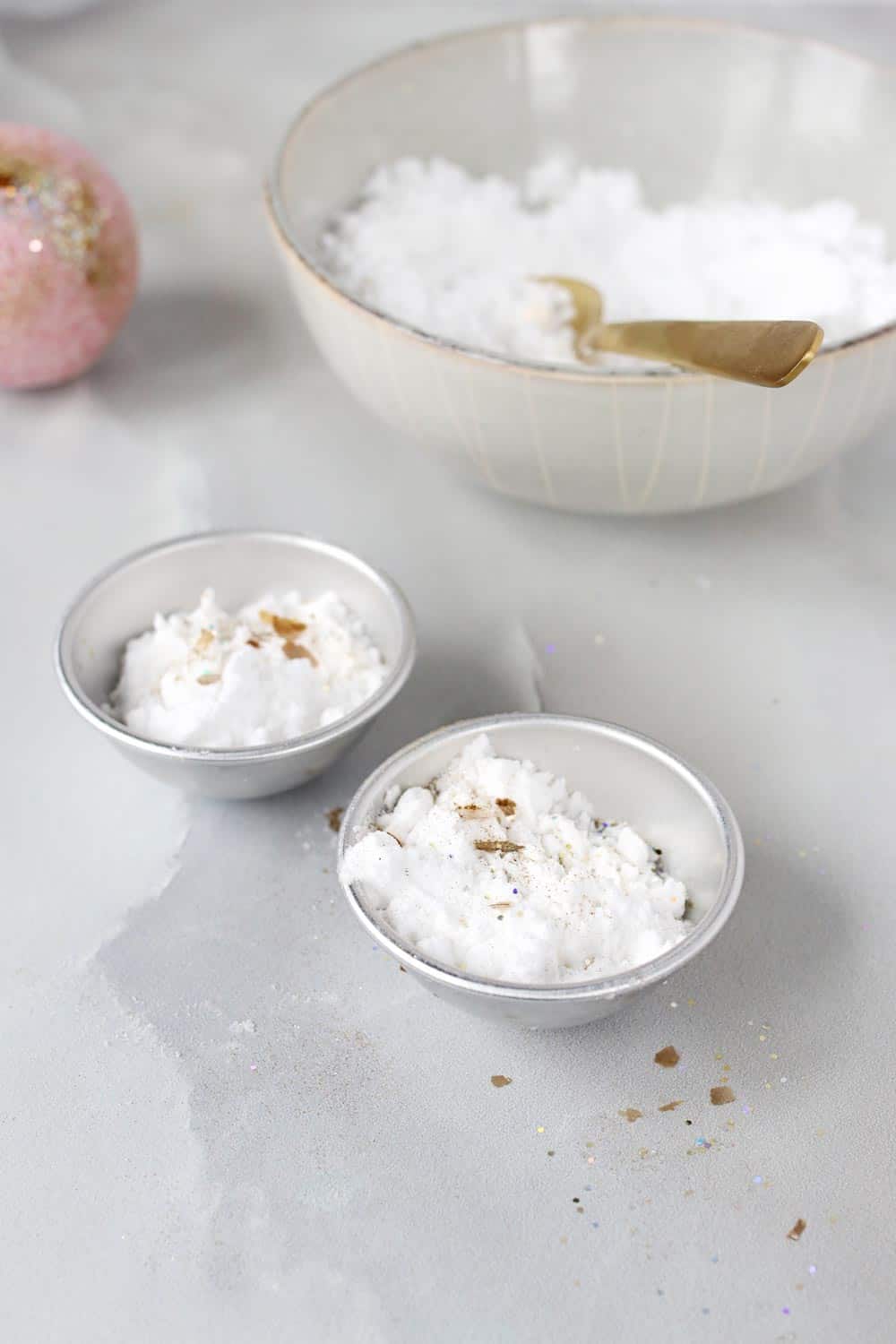 As for the molds, I used to make bath bombs with a plastic Christmas ornament I found at the craft store. It worked great, but since I've been making bath bombs more and more, I recently upgraded to some metal molds I found online.
They're the perfect size (about 2 inches in diameter) and they come apart more easily than my old plastic molds. Or if you'd prefer to go the free route, you can always use a muffin tin or just form these into balls with your hands and call it a day.
How to Use Glitter in Beauty Recipes
Now when we say "glitter," we're actually referring to natural mica-based glitters. Traditional glitter, like the kind you find in the kids' craft section at most stores, consists of toxic plastic microbeads that shouldn't be used in cosmetics or homemade bath and body recipes.
Not only can they get in your eyes, mouth, lungs, or anywhere else you might not want tiny plastic particles, but they wreak havoc on the environment and wildlife. Even a tiny bit of plastic glitter will take thousands of years to break down, leaching toxins into the water and soil the whole time.
Not good.
Here are some tips for using mica glitter safely in homemade beauty products.
Search out non-toxic mica glitters
Sadly, not all mica powders are natural and nontoxic. Some, especially those you find on Amazon, are made in a lab and are loaded with chemicals, fake dyes and plastics. Natural mica glitters, on the other hand, are mined directly from the earth and are powdered or flaked, giving them their sparkly appearance.
This is my favorite place to buy natural micas. While they're a little pricey, a tiny bit goes a long way and it should last for years!
Close the windows and turn off fans
Even though they're natural, fine mica powders have a tendency to "puff" into the air, which can get into your lungs or eyes and cause irritation. If you're using a powder, keep windows closed, turn off fans and move away from vents to prevent the mica from getting into the air.
When making glitter bath bombs, I typically just dip the tip of my finger into the mica and pat a tiny amount into my mold. This limits the mess and ensures that I don't have tons of glitter floating around. Just make sure to rinse your hands when you're done!
Work with small amounts
A few sparkles will make your bath bombs look festive, but too much might be hard to get off skin, clog your bath drain, or harm wildlife. So, it's best to just use a dusting of glitter in your bath recipes.
Keep it away from your eyes
I know that mica-based cosmetics and beauty products are everywhere. But if you're making your own beauty products at home, I don't recommend putting mica flakes or glitter near your eyes. The flakes are incredibly sharp and can do serious damage if they get in your eyes. Only use cosmetic-grade mica powders in recipes you plan to use on or near your face.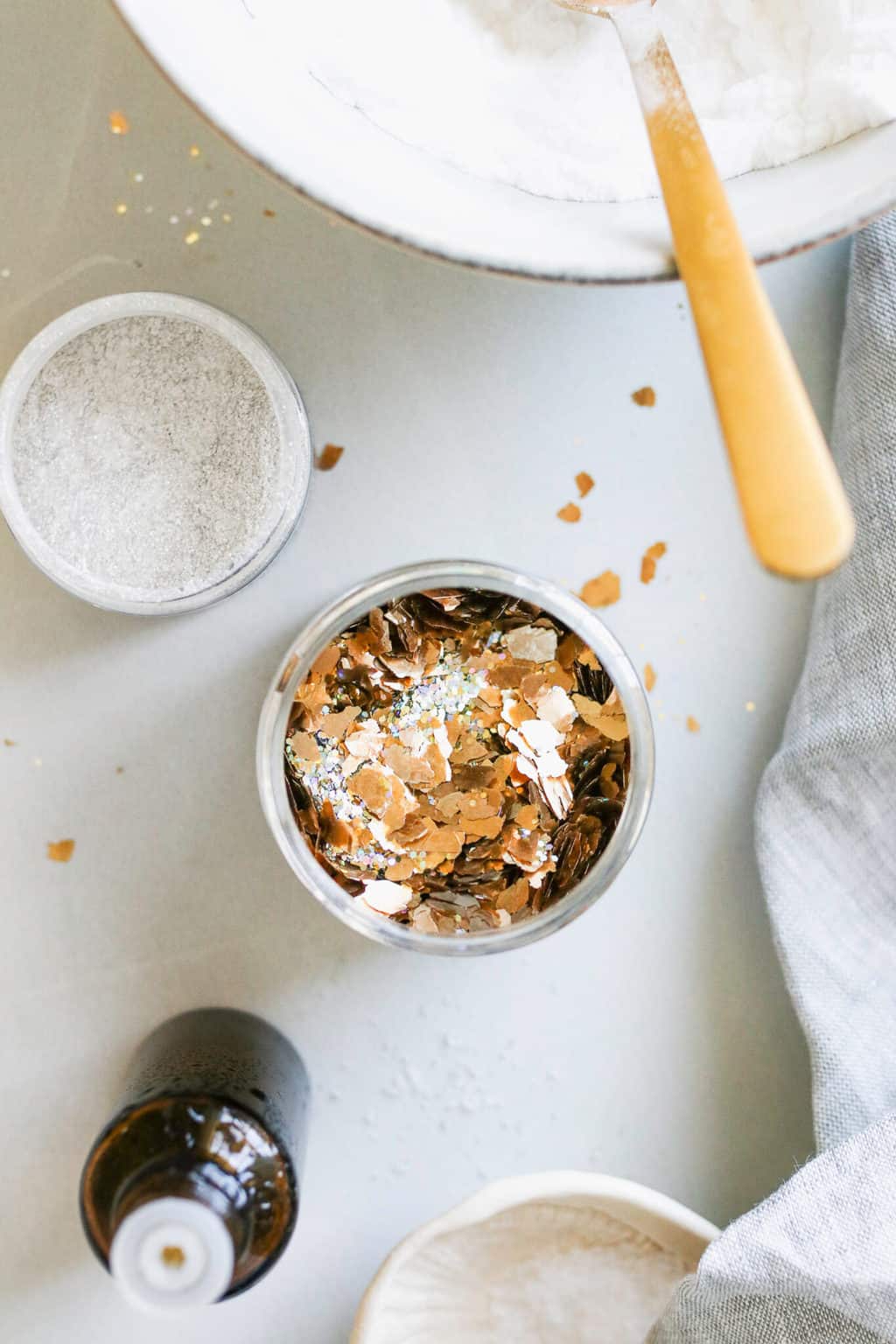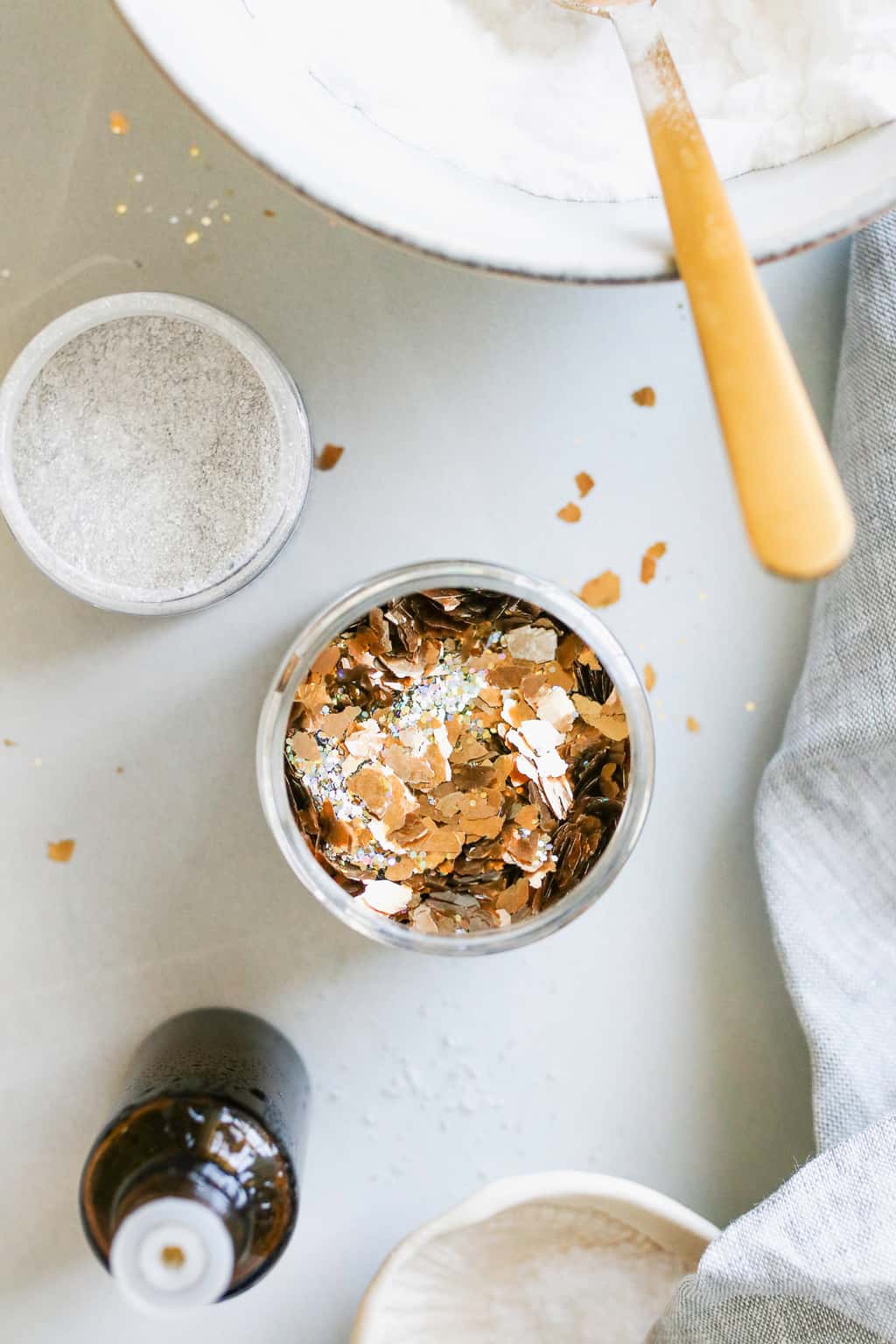 Glitter Bath Bombs
Ingredients
Instructions
1. Combine the baking soda, citric acid, Epsom salt and beet root powder in a large bowl and mix well until combined.
2. Add the oils and mix again.
3. Slowly add the water a little at a time (it will foam a bit) and stir until the mixture is the consistency of wet sand (it should stick together when squeezed without crumbling). If needed, add more water a few drops at a time until it reaches the right consistency.
4. Sprinkle glitter into both sides of your molds.
5. Push the baking soda mixture into molds and press the sides together firmly to create a ball. Set aside for 24 hours to harden.
6. When dry, remove and store in air tight container or bag. If your bath bombs crumble when trying to remove them from the molds, simply pop them in the freezer for 10 minutes and try again.
7. Store in an airtight container for up to 2 weeks.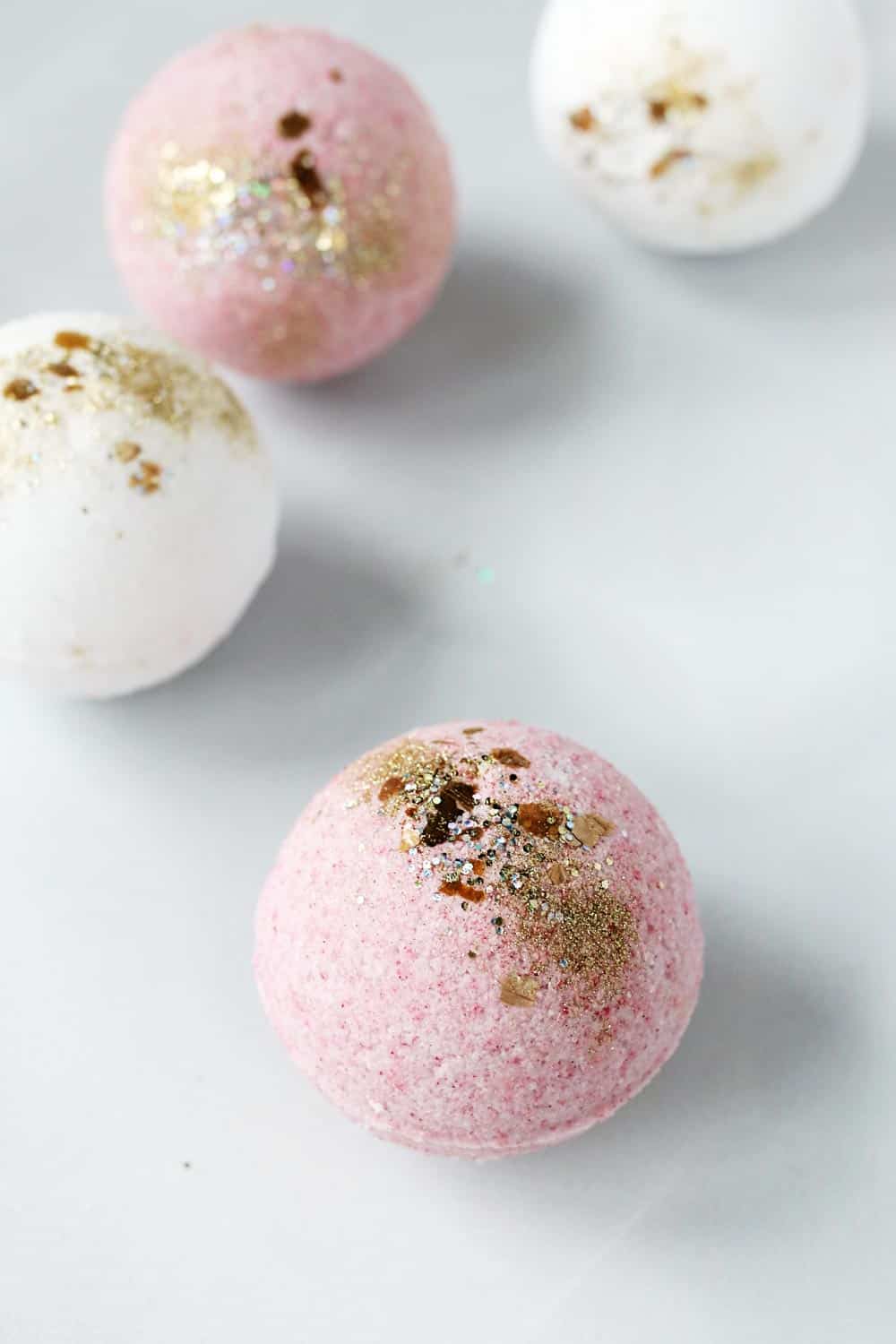 107