I have never met a bath bomb I didn't like, but these shimmery, skin-soothing bath bombs might just be my new favorite. Once we reach adulthood, baths are typically reserved for relaxing after a long day or soaking away aches and pains. They're rarely, if ever, just for fun—but these change all that. With only 5 ingredients, you can toss these colorful bath bombs together in a matter of minutes and you'll be splashing away your troubles in less than an hour!
Coconut Oil Bath Bombs
Not only are these beauties pretty to look at (insert heart eyes emoji here) but they're super easy to make. Seriously! I know that a lot of homemade bath bomb recipes hardly ever turn out looking like the store-bought ones. But these have a secret ingredient that actually helps them to pop out of the mold in one fell swoop. No breaking, crumbling or sticking.
We love coconut oil!
Want to know what the not-so-secret ingredient is? Coconut oil. Simply put your bombs in the freezer for a few minutes and the coconut oil hardens enough to prevent breaking. It's a game changer.
Plus, the skin benefits of these babies are endless. Here are some of the other good-for-you ingredients: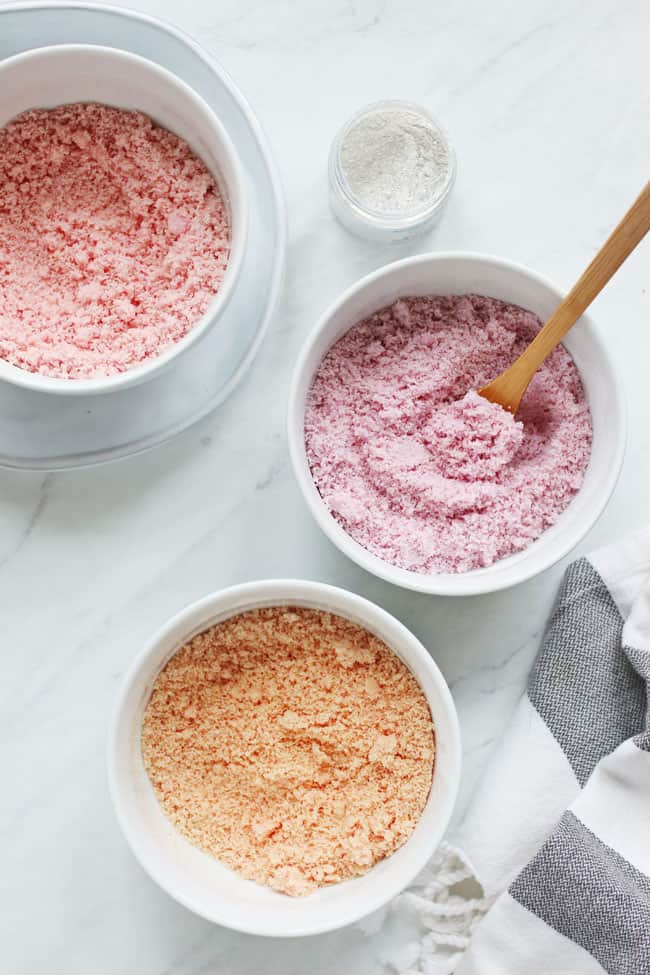 To get the pretty colors, I added a little vegetable-based food coloring to the mix. Just a couple drops was enough to give them a soft pastel hue, plus a light touch means I don't have to worry about soaking my skin in dyes. Then I added a little pinch of silver mica so they sparkle when the light catches them.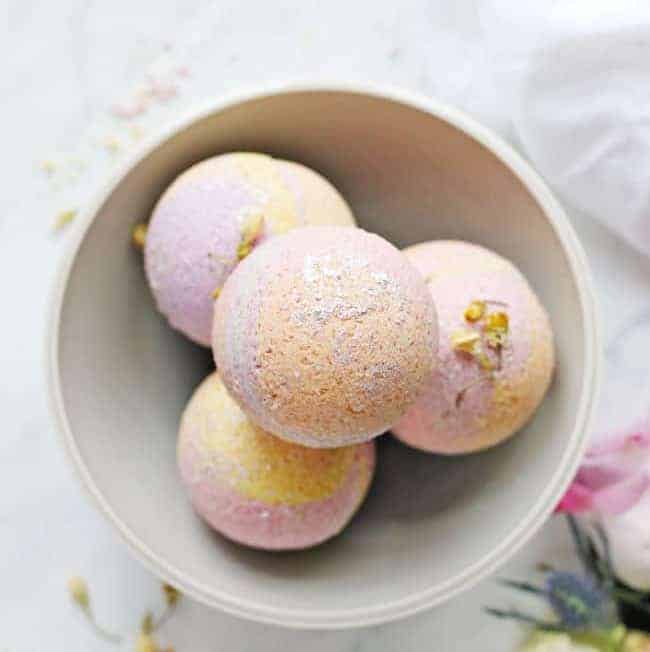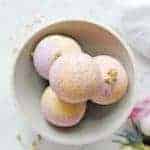 Print
Coconut Oil Bath Bombs
No crumbling, no mess! You'll get perfect bath bombs every time with this nourishing, skin soothing coconut oil bath bombs recipe.
Yield:
3
small bath bombs
Equipment
Bath bomb mold

Medium size bowl
Instructions
In a bowl, combine the dry ingredients and stir well. Divide evenly into 3 smaller bowls.

Melt 1 tablespoon coconut oil in a cup. Add 2 - 3 drops of food coloring and stir well. You won't really be able to see the final color until mixed with the dry ingredients, so just use your best guess. Add approximately 1/3 teaspoon almond oil (eyeballing it is fine!) and 5 - 10 drops of the essential oil of your choice.

Pour the coconut oil mixture into one of the bowls of dry ingredients. Use your hands to mix it all together, breaking apart chunks as you go. If you would like to adjust the color, melt a little bit more coconut oil and stir in the dye. Then pour it into your bath bomb mixture and continue mixing.

Do this, except with different food coloring or essential oils, if desired, for the two remaining bowls.

Pack the mixtures into whatever mold you like (I used plastic fillable balls from the craft store), layering the colors on top of each other and along the sides of the mold. If using a ball mold, pack each side until overflowing, and squeeze both halves together to close.

Freeze for 20 minutes. To remove the bath bomb from the mold, warm the sides of the mold with your hands (this will help melt the coconut oil) and squeeze either side until the bomb pops out. Sprinkle with mica for a little shimmer.

To use: fill your tub with warm water and drop in the bath bomb. It will fizz and release the scent and all the skin-softening agents. Soak for 20 - 30 minutes.
Notes
If you live in a warm climate, these bath bombs may start to fall apart if left out on the counter. I recommend storing them in an airtight container in the refrigerator until ready to use.
And if used sparingly, you shouldn't have any issues with the coconut oil clogging your drain.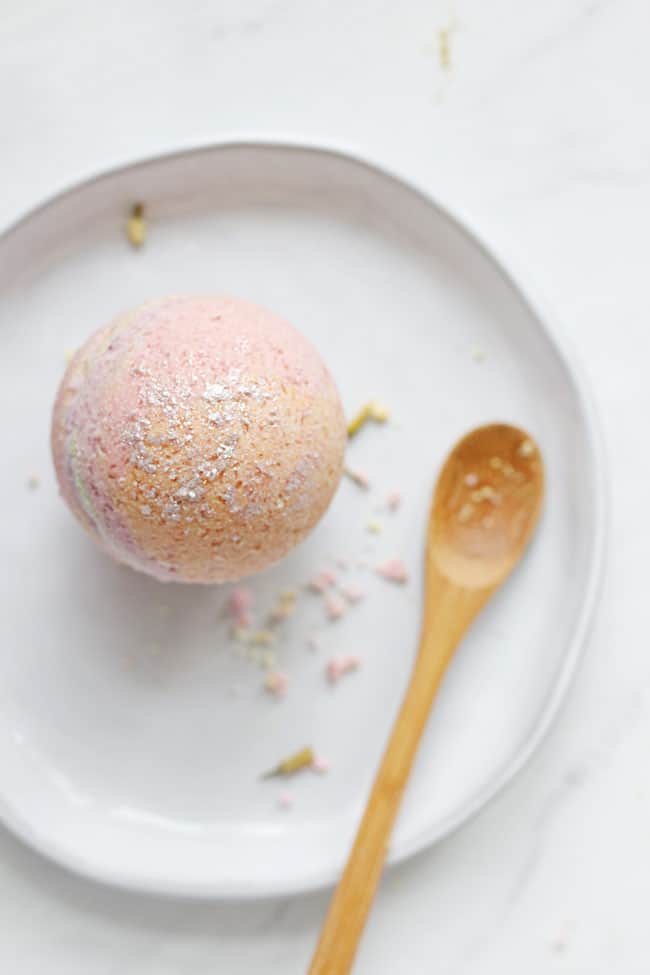 More bath bomb recipes!
On a bath bomb making roll? Here are 6 more fun recipes to try:
This post was medically reviewed by Dr. Jennifer Haley, a board-certified dermatologist with extensive experience in medical, cosmetic and surgical dermatology. Learn more about Hello Glow's medical review board here. As always, this is not personal medical advice and we recommend that you talk with your doctor.
417