Crazy day or can't sleep? Soaking in the tub is one of my favorite ways to destress. If your day totally sucked (or cramps are getting you down), you can at least end it on a good note! Take your soak up a notch with aromatherapy bath bombs. You'll get a dose of moisturizing body oil along with the mind and body benefits of essential oils. The feel good scents are one of the easiest ways to soak away stress, calm PMS symptoms and turn your mood around.
How To Make Aromatherapy Bath Bombs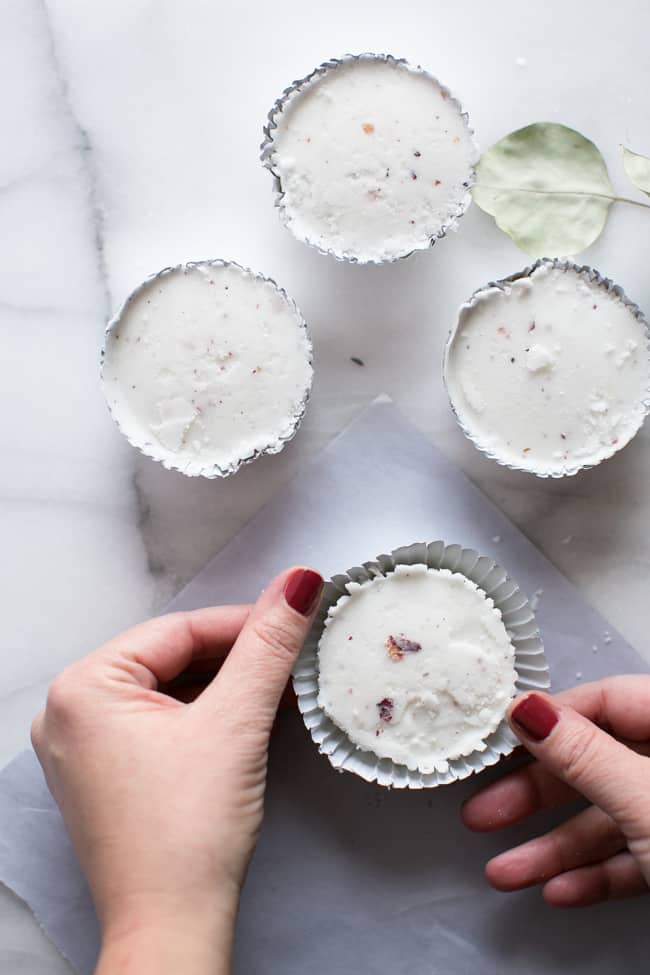 I love this recipe. At first, bath bombs are intimidating because there's a higher-than-normal fear of failure. What if they don't work?!? Never have I wanted something to fizz so badly! These do. I've made 4 batches, and they were all awesome. Start with these ingredients then customize with essential oils based on your desired bath experience.
1 cup citric acid
1 cup baking soda
1/2 cup cornstarch
Essential oils or dried herbs
Molds – muffin tins work great and so do ice cream scoops
To make
In a large-ish bowl combine baking soda, citric acid and cornstarch. Stir to combine and break up any clumps. Measure your oil in a measuring cup. Add essential oils (see below) to the oil. Pour oil mixture into dry ingredients and stir until you get a crumbly consistency.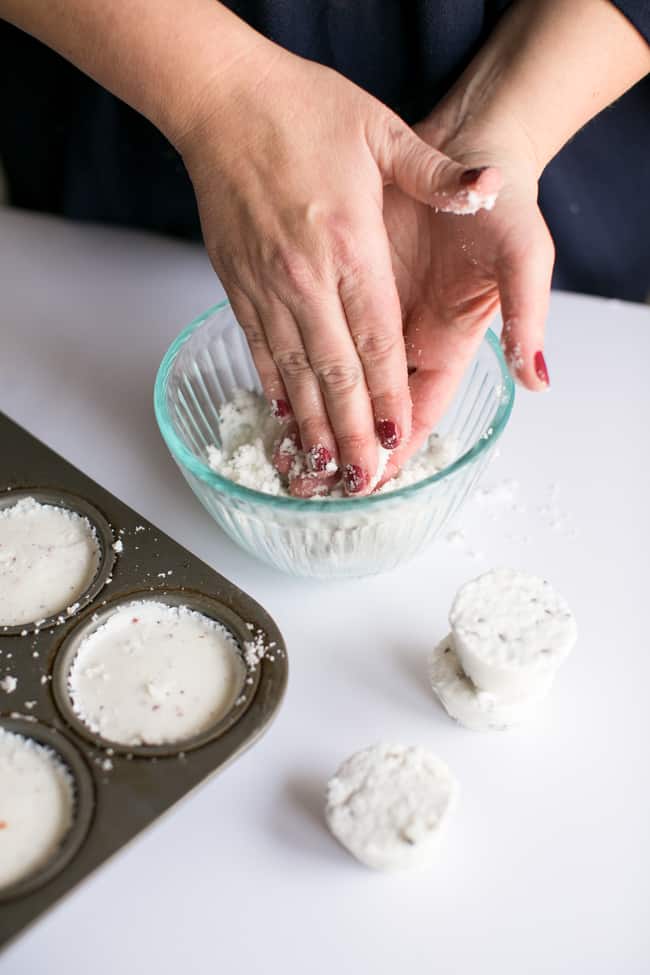 Use your hands to compress the ingredients and press into a mold. I like to pack the mixture into a muffin tin. (Liners make removal much easier.) Or you can also use an ice cream scoop to scoop the mixture onto a baking sheet. Let the bath bombs sit in a cool, dry place overnight. Then carefully remove from mold.
To use
Drop one bomb into bath and enjoy!
To store
Store in an airtight container and use within six months.
Beat PMS with Lavender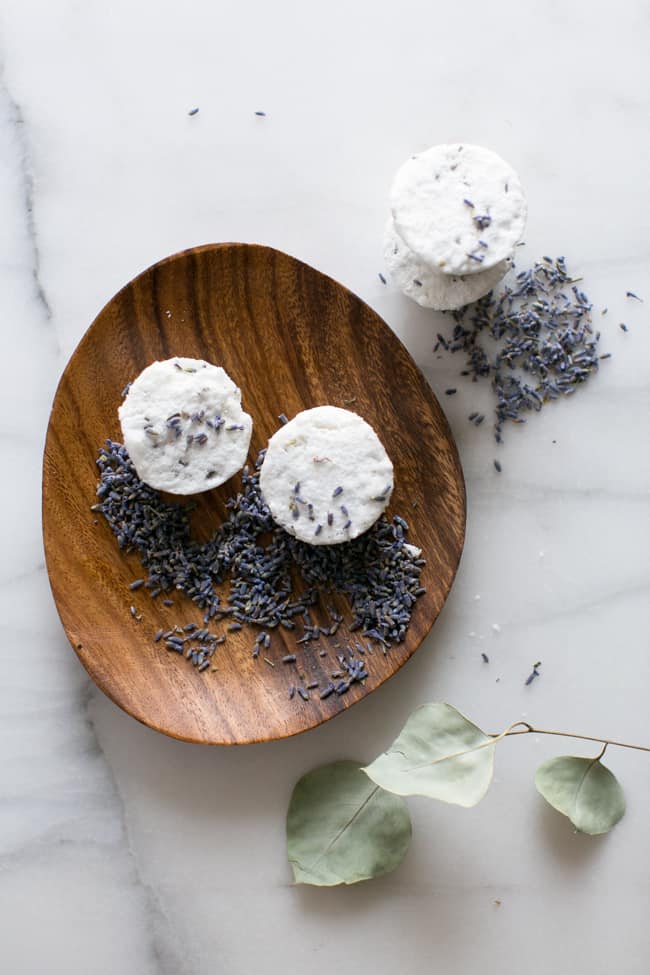 Lavender is such a calming, soothing scent. It can ease headaches and lighten your mood (looking at you, PMS). Lavender also acts as a mild analgesic for cramps when absorbed through the skin, and a bath is the perfect way to let it soak in! Add 40 drops of lavender essential oil to the recipe above.
Sleep Soundly with Chamomile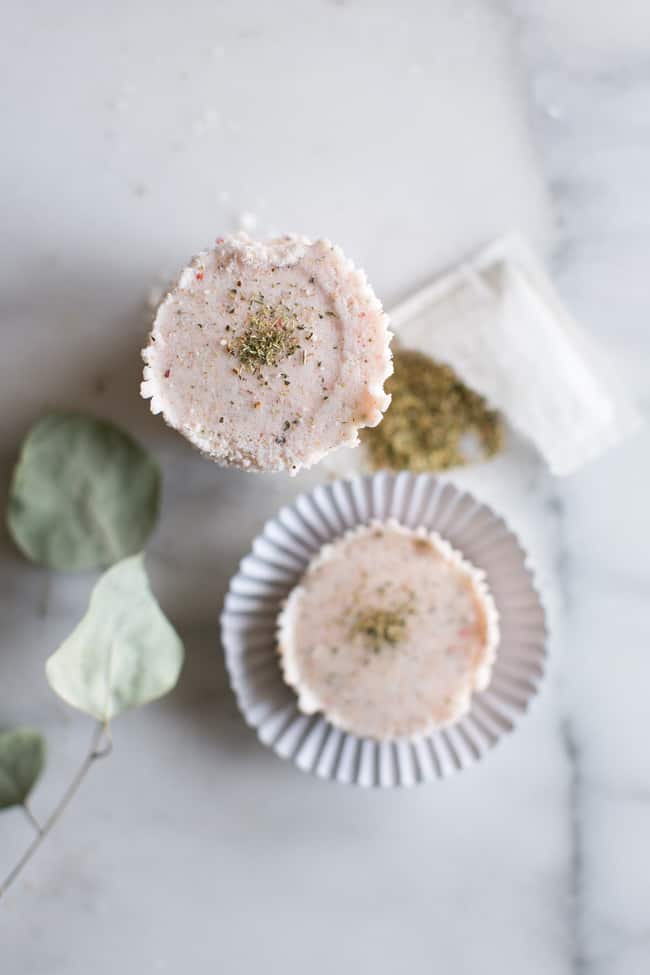 Roman chamomile is especially helpful in combating insomnia. The scent of chamomile soothes the mind and helps bring a sense of calm (one of the big reasons why we can't sleep!). Add 25 drops of Roman chamomile essential oil as well as the contents of a couple of chamomile tea bags to the recipe above.
Soak Away Stress with Roses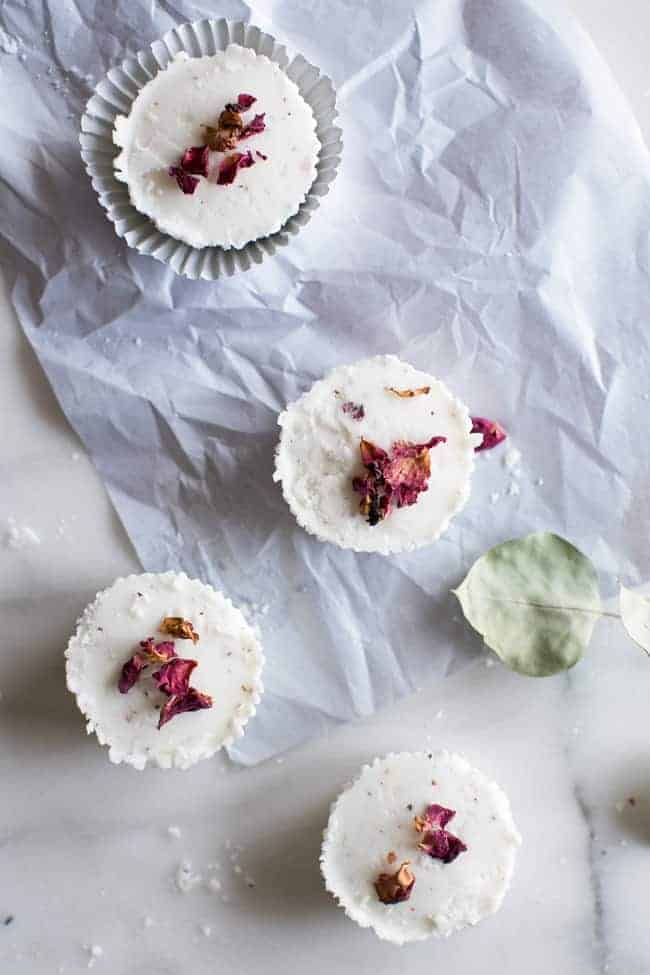 Rose essential oil is especially helpful in times of stress. Pure rose oil or rose absolute can be expensive, but a little goes a long way so you don't need much to get its soothing scent and anti-stress benefits. Plus it has therapeutic benefits for menstruation, menopause and hormonal issues. Add 15 drops of rose absolute and 10 drops of jasmine or ylang ylang to the recipe above.
227