Can I be totally honest for a second? I have bought my fair share of natural dish soaps over the years, and I like them and knowing that I'm using a greener alternative.
But here's the thing…I really love that certain blue dish soap because it's amazing at getting my dishes clean and fighting the grease. So I always have a bottle of both kinds under the kitchen sink. I pull out the blue one for a really greasy job, but I really don't like to feel like I have to use it.
I never thought that I could make my own that would tackle the grease like a store-bought one. Well, that's changed! I think I've finally found the solution, and I'm saying goodbye to the blue dish soap and grease residue forever.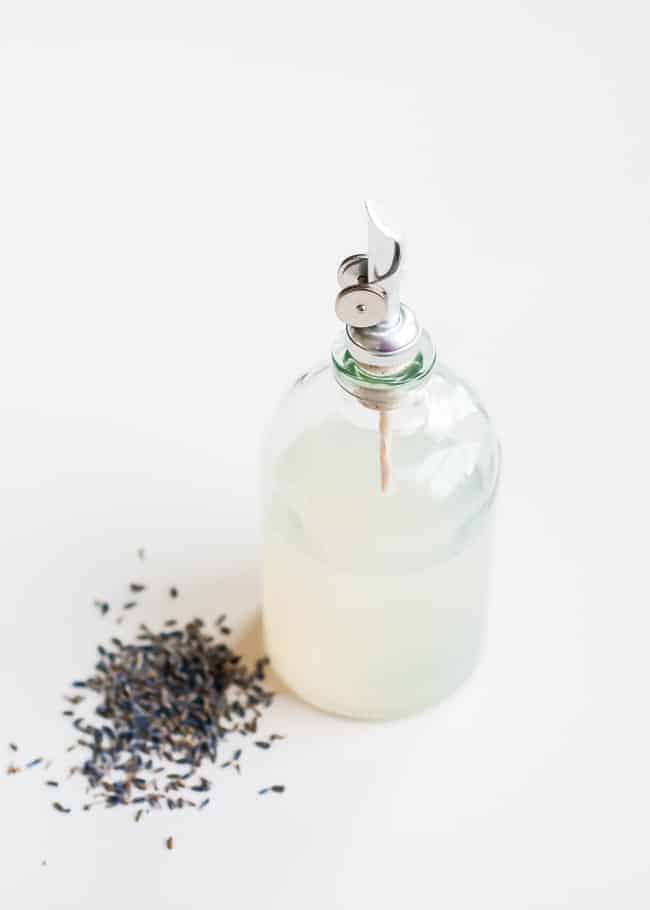 When making homemade dish soap, which is incredibly easy, you get to be in control of what goes into it—and it's fun! No toxic chemicals or artificial colors.
There are tons of recipes online using the same basic set of ingredients—Castile soap (liquid + grated bar), washing soda (really strong baking soda), glycerin, and essential oils. Others contain citric acid or vinegar, and some use borax.
I did my research and read hundreds of comments from people who had made and either loved or hated their homemade dish soap. Then I tested until I found one that worked—so get ready to leave the grease and residue behind!
Homemade Lavender Dish Soap
Castile
I've been using Castile soap for just about everything lately, so it made sense for me to start with that and see how it went. The common complaint about homemade dish soap is that it doesn't get the dishes totally clean—there's a residue left behind. And I found that to be true.
Super washing soda
I recently came across a recipe that looked very promising and well-tested. After I made a few minor tweaks, it turned out to be the best one yet.
It did not have any acidic ingredients, which would un-saponify the Castile soap. Instead, it uses super washing soda, one of my favorite things to use for natural cleaners. Total grease-fighting action!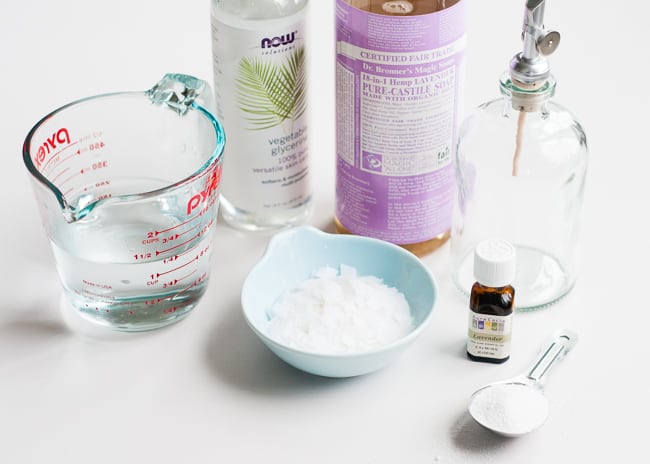 Lavender
We are the biggest fans of lavender at our house, so that's the scent I chose. You could certainly use another variety of Castile soap and different essential oils: citrus, herb (peppermint), floral, tea tree, orange, lemon, or another refreshing scent.
Soap flakes
Soap flakes or grated natural soap give the dish soap a sudsing agent and a bit of body. I used soap flakes, but grated Castile soap and other natural vegetable soaps will work as well.
It might change how the dish soap sets up and how thick or thin it is. That's where you have to play around a little bit (remember, that's the fun part!).
Water
I wanted a soap that was more the viscosity of liquid hand soap. So for a thinner one, add more water or use a little less washing soda.
Besides a little time on the stove to melt the soap flakes and dissolve the washing soda, it's basically one of those recipes that you mix up and use. It does need to cool and set up for a few hours (or even 24 hours), but I have found it works fine when used almost immediately after it cools.
It does go from clear to opaque when it sets up. The picture above is when the liquid is still fairly hot.
Have you tried homemade dish soaps? Did they work?
DIY Lavender Dish Soap FAQs
Does homemade dish soap leave a film on dishes
?
This recipe left my dishes squeaky clean, but this may depend on the hardness of your water, too. If you notice a film on the dishes, you can use a vinegar rinse. Just add a few teaspoons of white vinegar in soapy water to rinse your dishes.
What can I do if my DIY dish soap turns out too thick or too thin
?
If the soap is too thick, add a little more water. Different factors can affect the thickness of the soap, like the water you use (filtered vs. tap) and the brand of soap flakes or grated soap.
If you want a thicker version, pour the soap back into the pan and warm it up again. Add a little more washing soda.
What other essential oils can I use to scent this dish soap instead of lavender
?
If you don't have any lavender essential oil, you can substitute for some lemon or other citrus, something herbal like peppermint, a floral oil, or even tea tree. I love that this recipe is so customizable because I like to switch up the scent profile when I make a new batch, depending on my mood and the season.
391