Perfumes used to intimidate me. Walking through any store's fragrance aisle had me overwhelmed in minutes, and after sniffing a few possibilities, I'd give up because the headache hit and they all started smelling the same. But once I discovered that I could make my own perfume, things changed. I can choose my own scent combination, adjust the intensity of the fragrance, and even experiment with the look and feel. Case in point: this sweet and airy sandalwood vanilla essential oil perfume, made to offer a little uplifting scent anytime, anywhere, and without headaches! This essential oil perfume recipe will show you just how easy it is to make your own perfume with essential oils!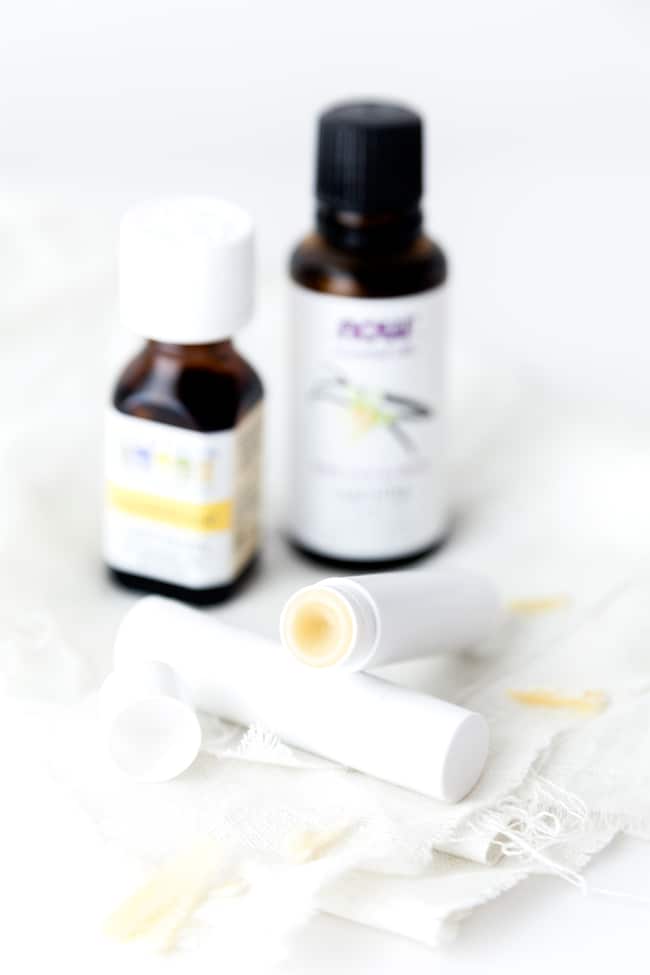 General Principles of Making Your Own Perfume
Making your own perfume from essential oils is a creative and enjoyable process that allows you to customize a scent that is uniquely yours. With a list of important terms like scent, fragrance, oils, vanilla, lavender, bergamot, and more, you have a wide variety of options to choose from when creating your perfume. You can start by selecting a few essential oils that you enjoy, such as lavender for its calming properties, bergamot for its citrusy notes, and vanilla for its sweet and warm aroma. Using a blend of these oils, along with others that you like, you can experiment with different combinations to create a perfume that suits your preferences.
To make your own perfume, you'll need to carefully blend the essential oils together to create the desired scent. You can use a recipe as a guide or create your own unique blend by experimenting with different ratios of oils. Start by adding a few drops of each essential oil to a glass bottle, and then slowly add more drops of each oil, one at a time, until you achieve the desired scent. You can also add other ingredients like alcohol, which can help to preserve the scent and create a sprayable perfume, or carrier oils, which can help to dilute the essential oils and make the perfume suitable for use on the skin. Once you have created your perfume, you can store it in a dark glass bottle to protect it from light and air, and enjoy your very own custom scent that is made from natural ingredients and tailored to your preferences.
Sandalwood Vanilla Perfume: A Calming and Moisturizing Alternative
If you are sensitive or even allergic to fragrances, most perfumes are simply a no-go. But this solid perfume is lightly scented with simple ingredients that you can adjust to your level of sensitivity. As an aromatherapy duo, the sweet sandalwood and warm vanilla offer a naturally calming, anxiety-easing aroma. Just the thing to carry with you throughout the day!
Vanilla and sandalwood essential oils are typically sold pre-diluted in carrier oils, which makes it a breeze to use them for creating essential oil perfume because you don't have to worry about dilution ratios. Not having to do extra math is a win in my book!
The added bonus is that it is also great for your skin. Regular perfumes often contain alcohol and other skin-aggravating ingredients, but this DIY gem relies on a touch of light almond oil and the ever-silky shea butter for its delivery. So instead of drying and irritating your skin, it moisturizes and soothes, all while making you smell delightful, of course.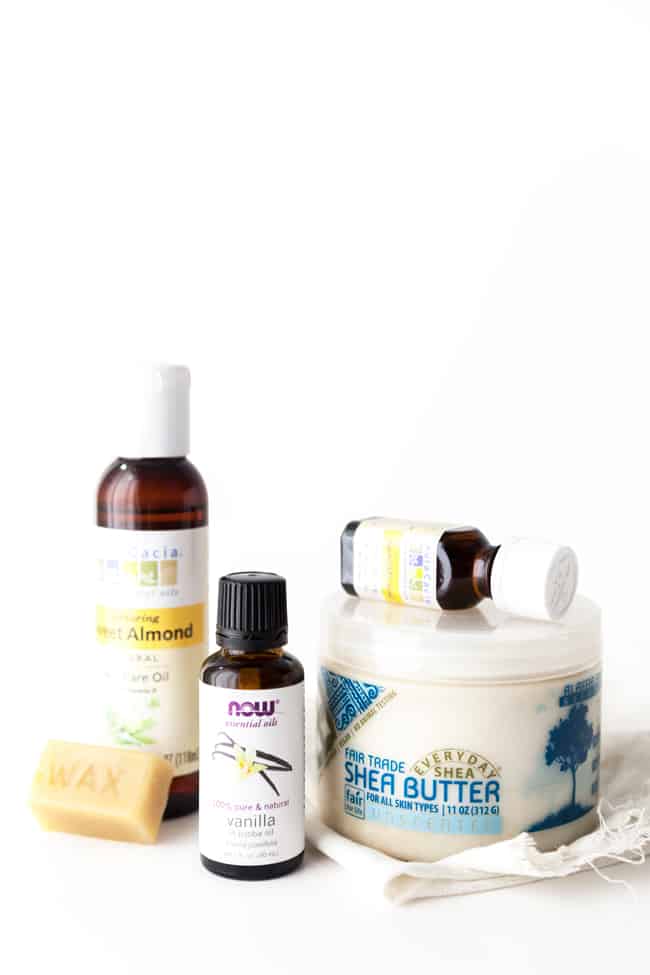 Sandalwood Vanilla Perfume Ingredients
—1 teaspoon almond oil
—1-½ teaspoon shea butter
—1 teaspoon beeswax
—20–25 drops sandalwood essential oil
—30–35 drops vanilla essential oil
Get Your Natural Perfume Containers Ready!
Before you start making your DIY perfumes, you'll want to pick the perfect containers. Just about any small tin or jar would do, but I used lip balm tubes so the perfume would be easy to apply and easy to carry. Plus, there's no reason you couldn't apply this to your lips as well.
No matter what containers you spring for, have them nearby so you can fill them up as soon as your perfume is ready to pour. Okay, let's do this!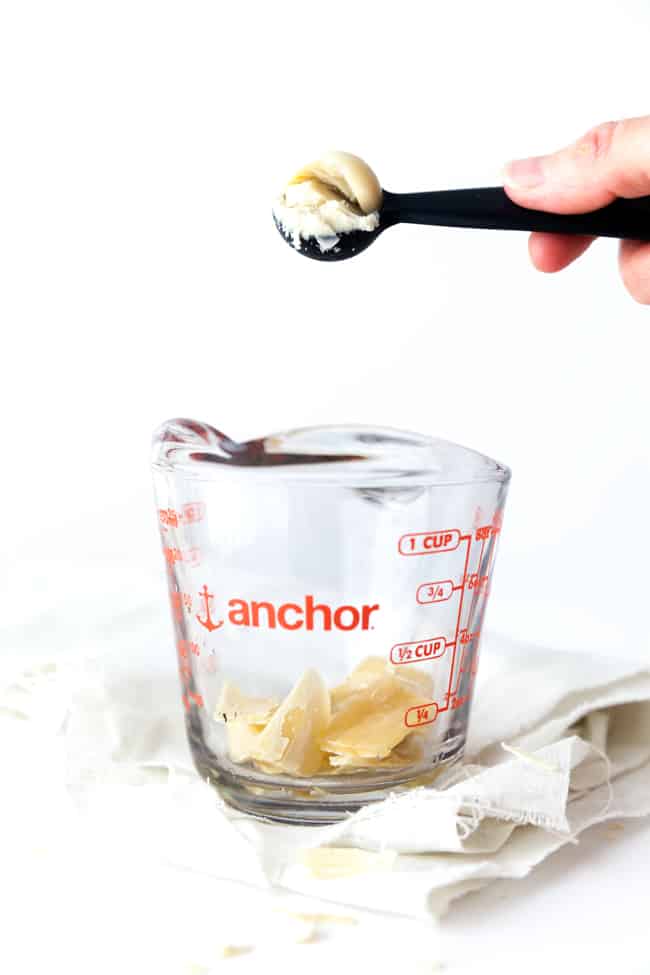 Step 1 | Melt butters and oils

Begin by adding the almond oil, shea butter, and beeswax to a double boiler. If you don't have one, you can make do by filling a saucepan with several inches of water and placing a heat-safe bowl inside. Try to use a bowl that has a pour spout so you can easily transfer your perfume to the containers (like a glass liquid measuring cup).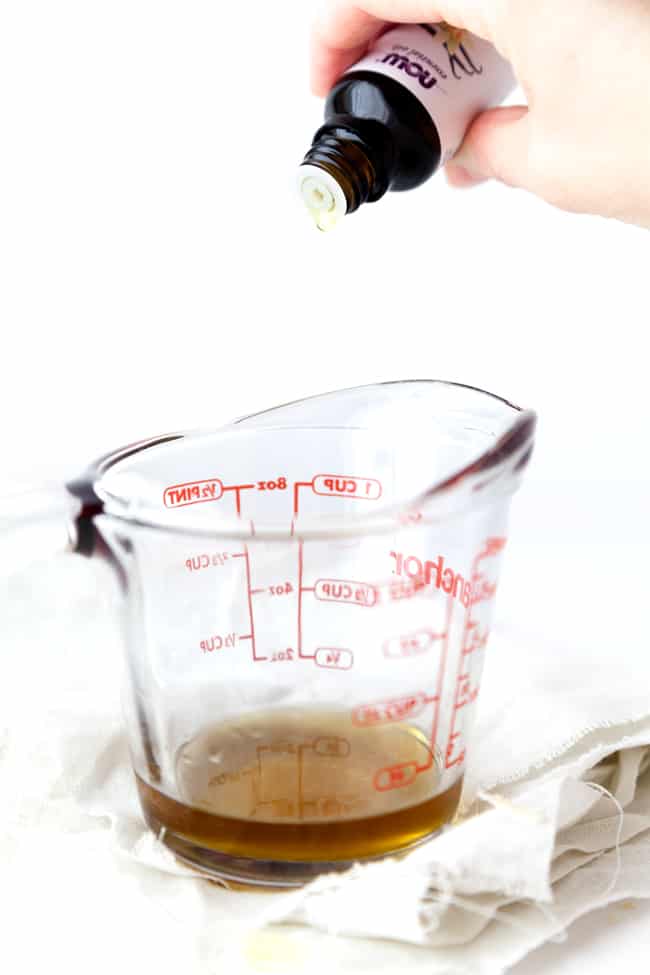 Step 2 | Add essential oils

Bring the water in the saucepan to a simmer and slowly melt your almond oil, shea butter, and beeswax combination over a low heat. When they are completely melted, pull the bowl off the heat. Cool for a second, then add the sandalwood and vanilla oils and stir thoroughly.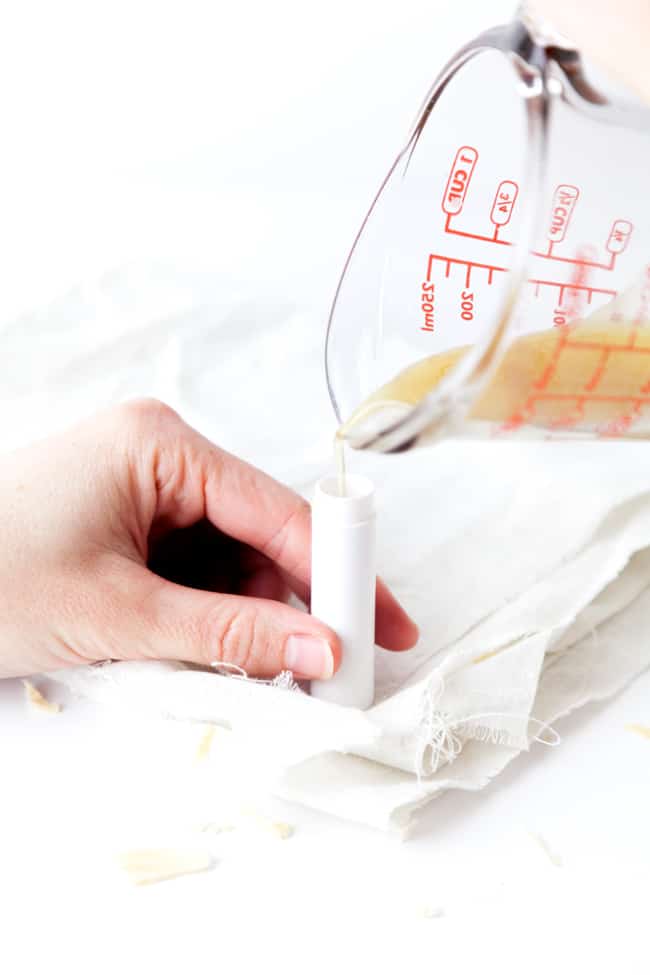 Step 3 | Pour into containers

Now it's time to pour your mixture into your small tins or lip balm sticks. Fill them up to the top with the melted perfume, then allow them to harden completely. It doesn't take long!
Once they're finished, toss one in your purse to use on the go. These lovelies will stay good for 8 to 9 months and make for great gifts.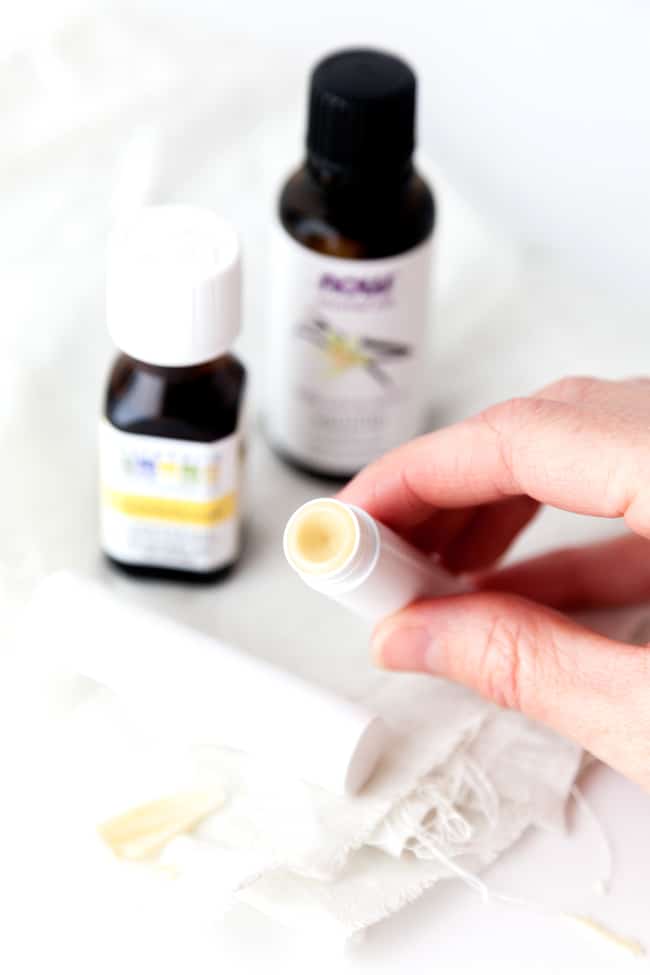 Love the scent of vanilla? Try this Vanilla Clove Body Oil Spray recipe.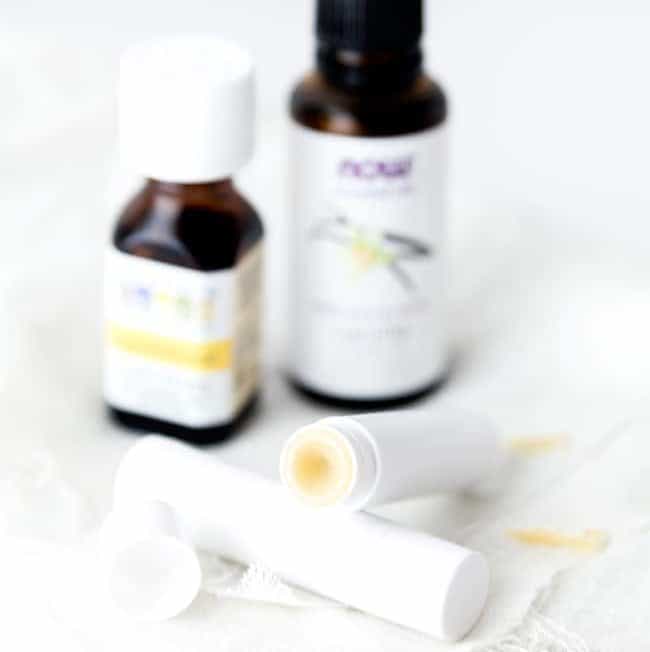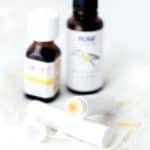 Print
DIY Sandalwood Vanilla Essential Oil Perfume
This warm and sweet sandalwood vanilla DIY solid perfume is a perfectly light and uplifting fragrance. Toss it in your purse to enjoy whenever you'd like!
Equipment
Double boiler

Lip balm containers
Instructions
Add the almond oil, shea butter, and beeswax to a double boiler.

Heat over medium, and pull the double boiler off the stovetop when the mixture is completely melted.

Add the sandalwood and vanilla oils and mix thoroughly.

Pour the mixture into desired containers and let cool until completely hardened.
Frequently Asked Questions
What is a DIY solid perfume?
A DIY solid perfume is a type of perfume that is made using natural ingredients, such as essential oils, carrier oils, and beeswax, to create a scented balm or salve that can be applied to the skin for a long-lasting fragrance.When it comes to DIY perfume, the right blend of chemicals and natural ingredients can make all the difference in creating a signature scent. Essential oils like cedarwood, jasmine, and patchouli can add depth and complexity to the fragrance, while following a well-crafted recipe is key to achieving the desired scent profile
What are essential oils?
Essential oils are highly concentrated plant extracts that capture the natural aroma and therapeutic properties of the plant. They are often used in perfumes, soaps, candles, and other beauty and wellness products for their pleasing scents and potential health benefits.
How can I make a Sandalwood Vanilla Solid Perfume at home?
To make a Sandalwood Vanilla Solid Perfume at home, you will need essential oils such as sandalwood essential oil, vanilla essential oil, lavender essential oil, sandalwood essential oil, bergamot essential oil, and other desired scents, carrier oils like fractionated coconut oil or jojoba oil, beeswax, and optional additional ingredients like vanilla beans or other natural materials for added fragrance.
How many essential oils should I add to my DIY solid perfume?
The number of essential oils you should add to your DIY solid perfume depends on your personal preference and the desired scent strength. Generally, 3-10 drops of essential oil per 10ml of carrier oil is a common guideline. You can adjust the amount of essential oil based on your preference for a lighter or stronger scent.
Can I use other essential oil in my Sandalwood Vanilla Solid Perfume?
Yes, you can use other essential oil in your Sandalwood Vanilla Solid Perfume to create a unique blend of scents. Some essential oils that pair well with sandalwood and vanilla are lavender, bergamot, jasmine, and patchouli, among others. You can experiment with different essential oil blends to create your signature scent.
Can I make my DIY solid perfume with a store-bought essential oil blend?
Yes, you can use store-bought essential oil blends in your DIY solid perfume if you prefer. However, it's important to check the ingredients and quality of the essential oil blends to ensure they are suitable for use on the skin and provide the desired scent.
Can I use other carrier oils instead of fractionated coconut oil or jojoba oil?
Yes, you can use other carrier oils in your DIY solid perfume recipe based on your preference or availability. Some other popular carrier oils for perfumes include almond oil, grapeseed oil, and apricot kernel oil, among others. Just make sure to choose a carrier oil that is skin-safe and compatible with essential oils.
82