This post is sponsored by NOW®. All opinions are my own.
In my early teens I took a class trip to France. In between the long bus rides, delicious food and standard tourist pit stops, I remember visiting a Parisian perfumer and watching them blend different ingredients and scents until I was left with a fragrance that was uniquely mine. It was fascinating! And it clearly left an impression because I love making my own essential oil perfumes, even now.
Like a mad scientist, I'm always pulling scents from my collection of NOW® Essential Oils and making my own perfume blends based on my mood. Not only is it cheap and easy, but a few quality oils blended with a carrier oil is all you need to create a fragrance that's 100% yours and yours alone.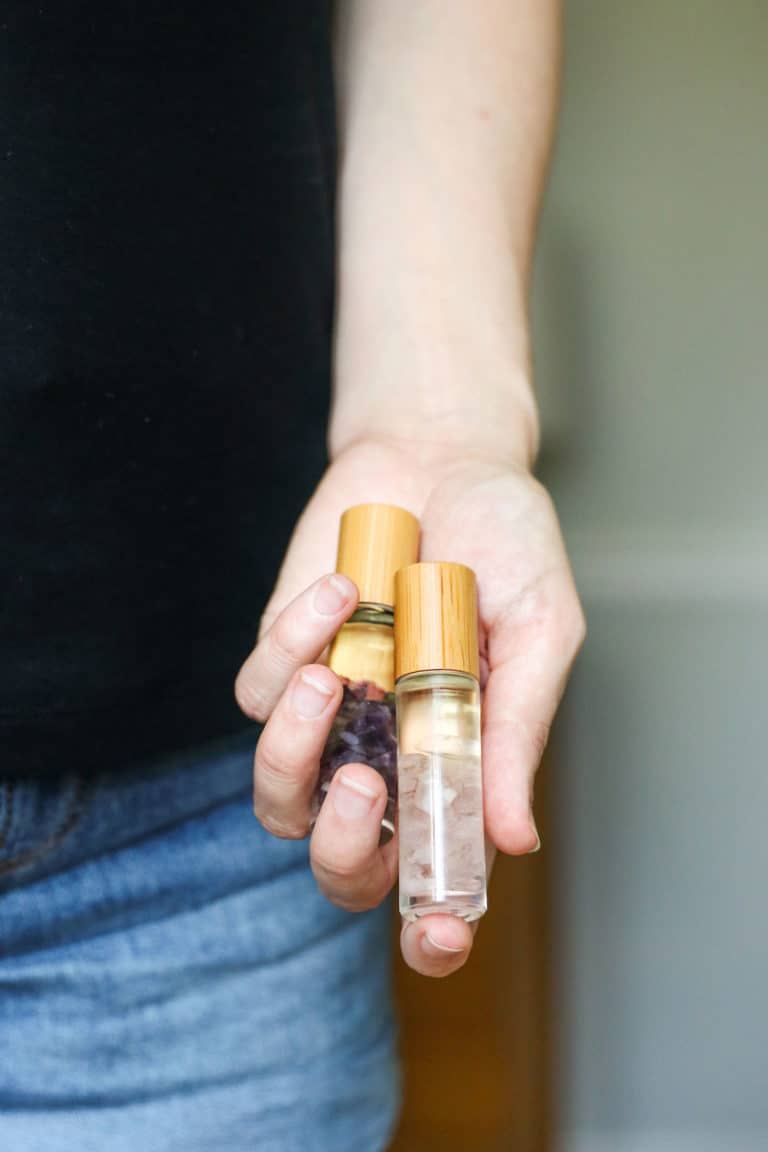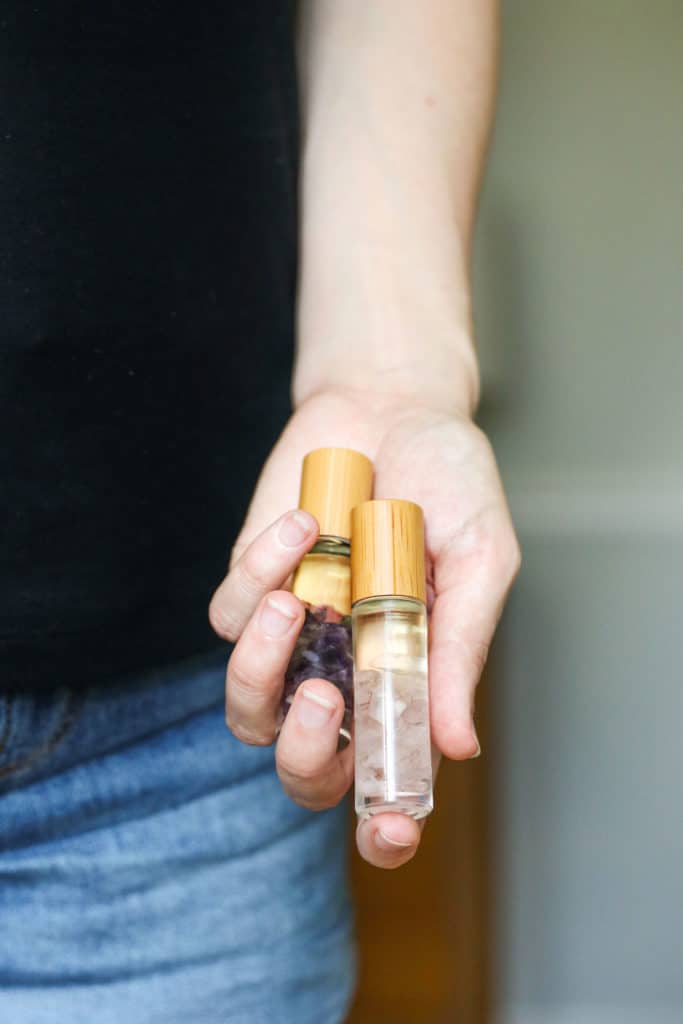 Perfume making is both an art and a science. Scents are capable of evoking memories, changing moods and even altering one's identity, if only temporarily. So it's important to choose your perfume wisely. Whether you're looking for a fun and flirty scent, something masculine and crisp, or soft and natural, you can, and should, tailor your perfume to your own tastes.
Essential Oil Scent Categories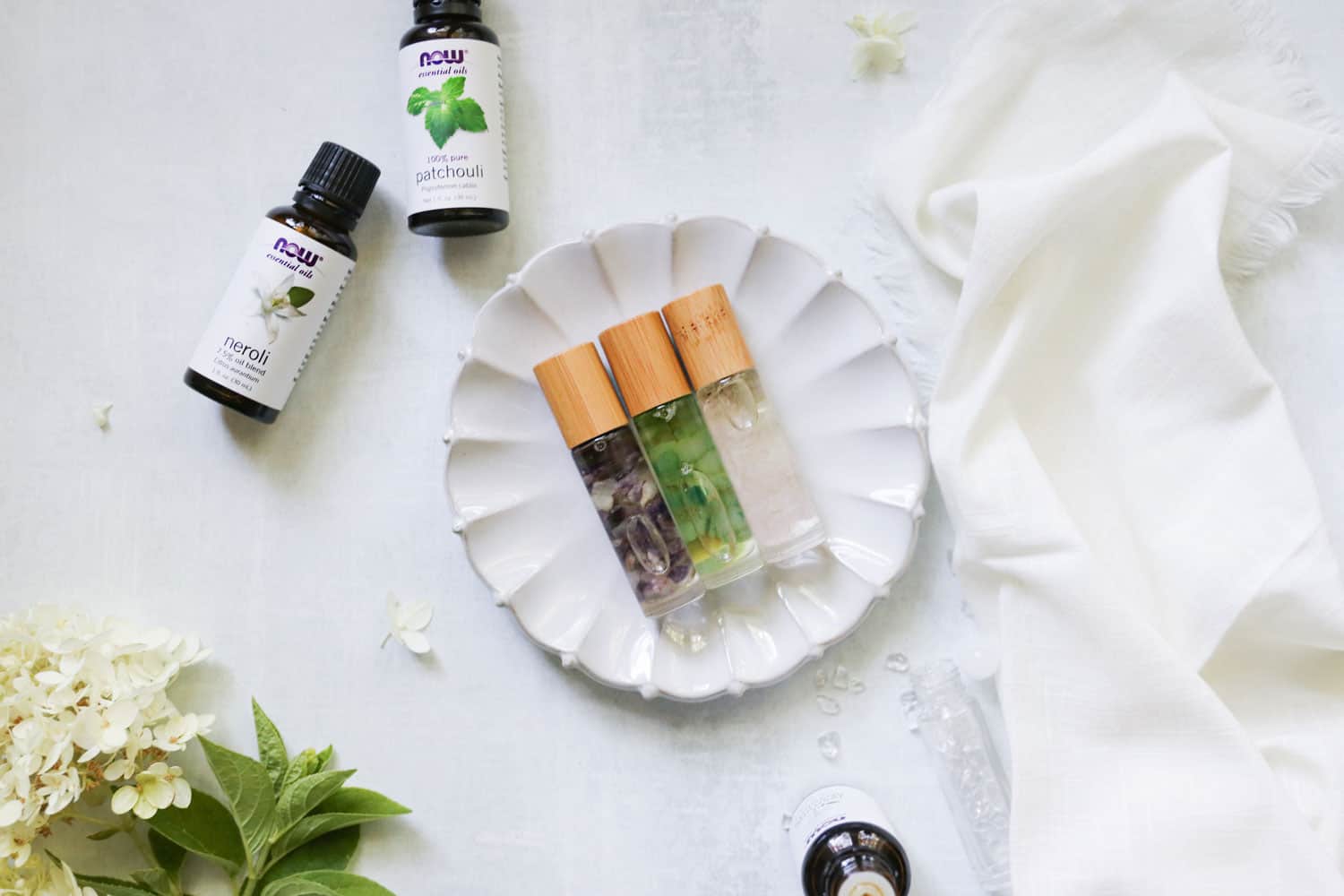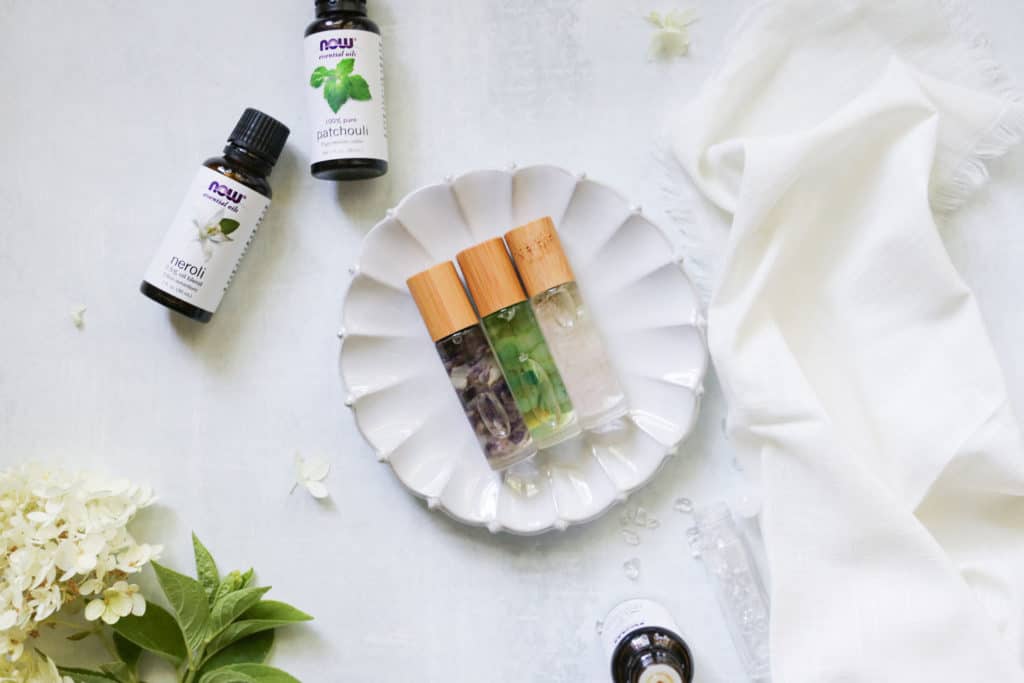 Essential oils typically fall into one of 7 scent categories. I personally gravitate toward soft, musky scents with a hint of floral, but there's nothing better than playing around with different oils and taking risks. I always keep a well-stocked supply of NOW essential oils like jasmine, neroli, cedarwood and patchouli on hand for that very reason.
The high-quality oils in classic scents pair well together and create those subtle layers that make perfume so fun to wear. And since they're 100% natural without any added chemicals, fillers or man-made fragrance, you'll also reap the aromatherapy rewards as well.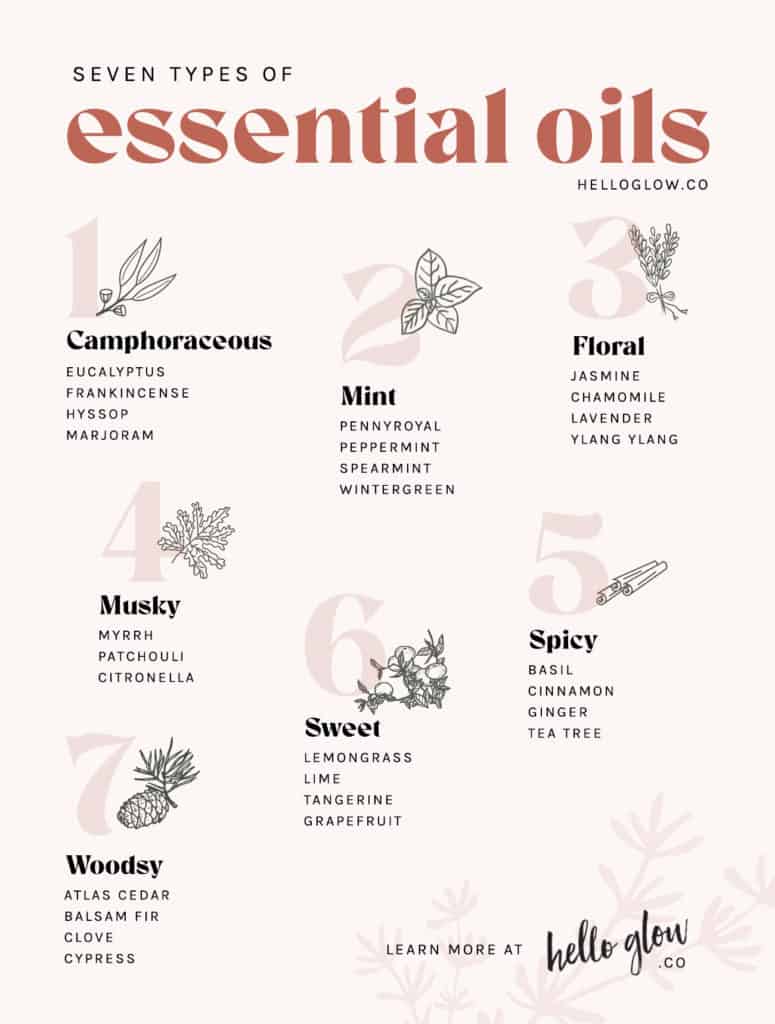 Here are some of my favorite oils in each scent category to use in homemade perfume:
Floral
Extracted from the plants' flowers, these sweet floral essential oils are classic scents in feminine perfumes.
Jasmine – calming and has long been said to be an aphrodisiac.
Ylang ylang – helps alleviate stress, improve mood and boost libido.
Lavender – notoriously fresh and soothing.
Neroli – helps alleviate stress, encourages circulation and boosts mood.
Mint
The fresh mint aromas invigorate and improve focus.
Spearmint – Less intense than peppermint but still cooling and energizing.
Musky
Essential oils in this category have earthy, musky scents that are often romantic and centering.
Patchouli – often used in perfumes and colognes because it has a sweet, musky scent that's said to have a grounding and balancing effect on emotions.
Spicy
A little goes a long way with these spicy aromas.
Ginger – a warming scent that's both energizing and stabilizing.
Clove – a strong scent that's both spicy and woodsy, clove is soothing and comforting.
Sweet
Most citrus oils are in this category. Their bright, cheerful scents energize and perk you up.
Bergamot – has a clean and refreshing citrus-y fragrance that brightens moods and calms the nerves.
Vanilla – pure vanilla bean extract mixed with jojoba oil creates a sweet scent that's comforting and relaxing.
Woodsy
These earthy scents are strengthening and balancing, and they often skew masculine.
Cedarwood – a warm, woodsy scent with slightly sedative properties, helping you relax and fall asleep more easily.
Sandalwood – has a subtle scent the combines woodsy with a hint of floral that's said to be grounding and balancing.
Camphoraceous
These oils can smell quite strong with an almost medicinal scent.
Frankincense – a relaxing and centering scent that's often used in meditation. Its fragrance blends well with myrrh, orange, or sandalwood.
Blending Essential Oils for Perfume
When it comes to homemade perfume, you need a lot of oil to create a strong, noticeable fragrance, therefore those teeny bottles most essential oil companies sell won't cut it. I measure my main scent in 1/4 teaspoon increments (about 18 drops), which is another reason I love NOW essential oils.
They come in 1 ounce bottles, so even if you pour with a heavy hand, you shouldn't run out on the first blend. And NOW has established long-standing relations with essential oil vendors, which allows them to purchase oils in large quantities at a bulk discount. They then pass those savings on to consumers so you can get the same high-quality oils as other companies, but for a lot less.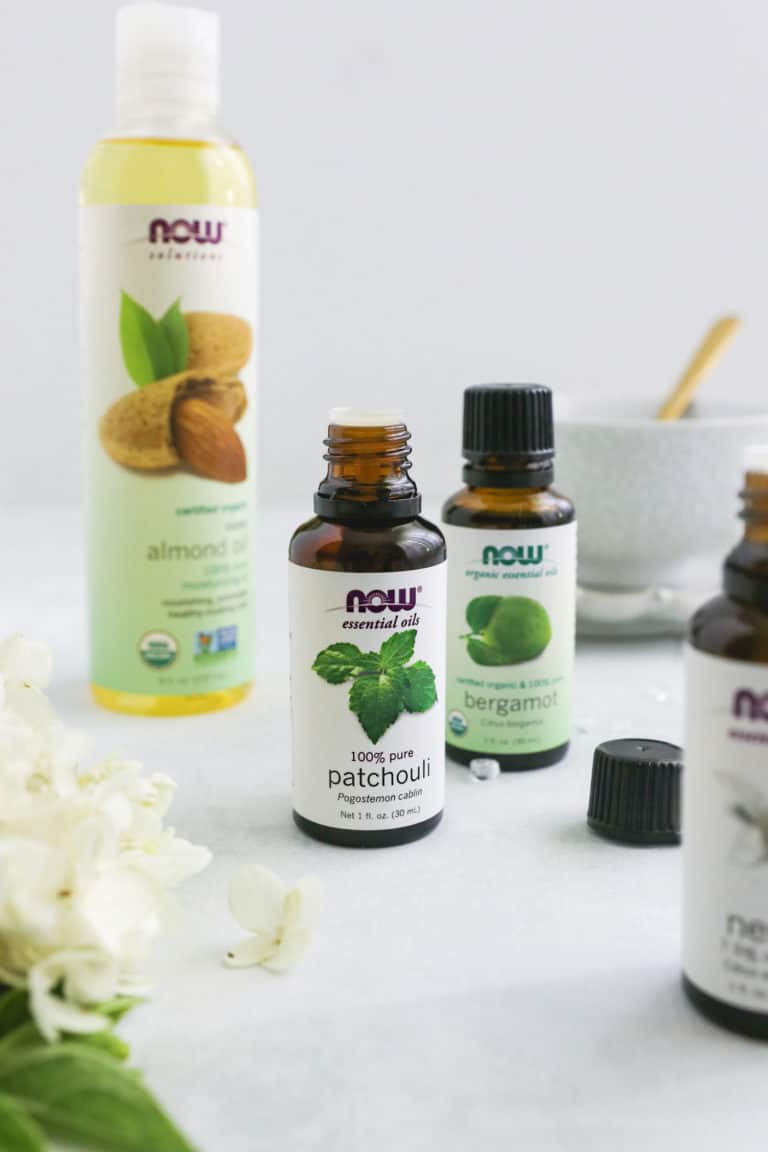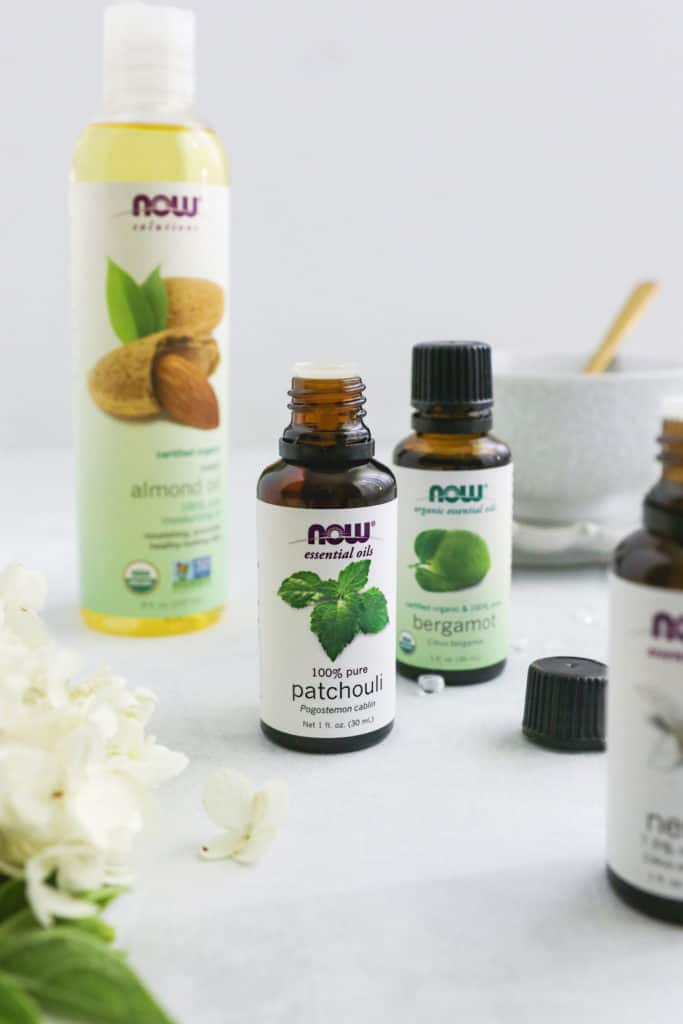 For added effect I combine my oils in 10 ml roller bottles filled with natural gemstones. I found roller bottles online that came pre-filled with a variety of crystals for just a little bit more money than standard roller bottles. Gemstones are said to give off energy, which, in essence, infuses your perfume with beneficial life force.
Even if you don't believe in all that, they still look gorgeous floating around in your perfume bottle. A pretty bottle is part of the perfume experience (and they make great gifts!).
Supplies for Perfume Making

Essential oils of your choice (scroll down to see my favorite perfume blends)
Carrier oil (something light with little to no scent like jojoba, grapeseed or sweet almond oil is best)
Several 10 ml roll-on bottles, crystals are optional
Add your essential oils to the roller bottle. It's amazing how quickly the scent of essential oils dissipate when applied, so for light, everyday oils, don't be afraid to use a little more than you think you might need. Obviously some oils are naturally stronger than others, so if you're worried about your perfume being too strong, start with 5 drops and work your way up.
After you've poured the oils into the bottle, gently swirl to combine them. Then fill the rest of the bottle with carrier oil, replace cap and swirl again. Apply to pulse points like wrists, clavicle and behind the ears. Remember to shake the bottle before each use.
3 Perfume Recipes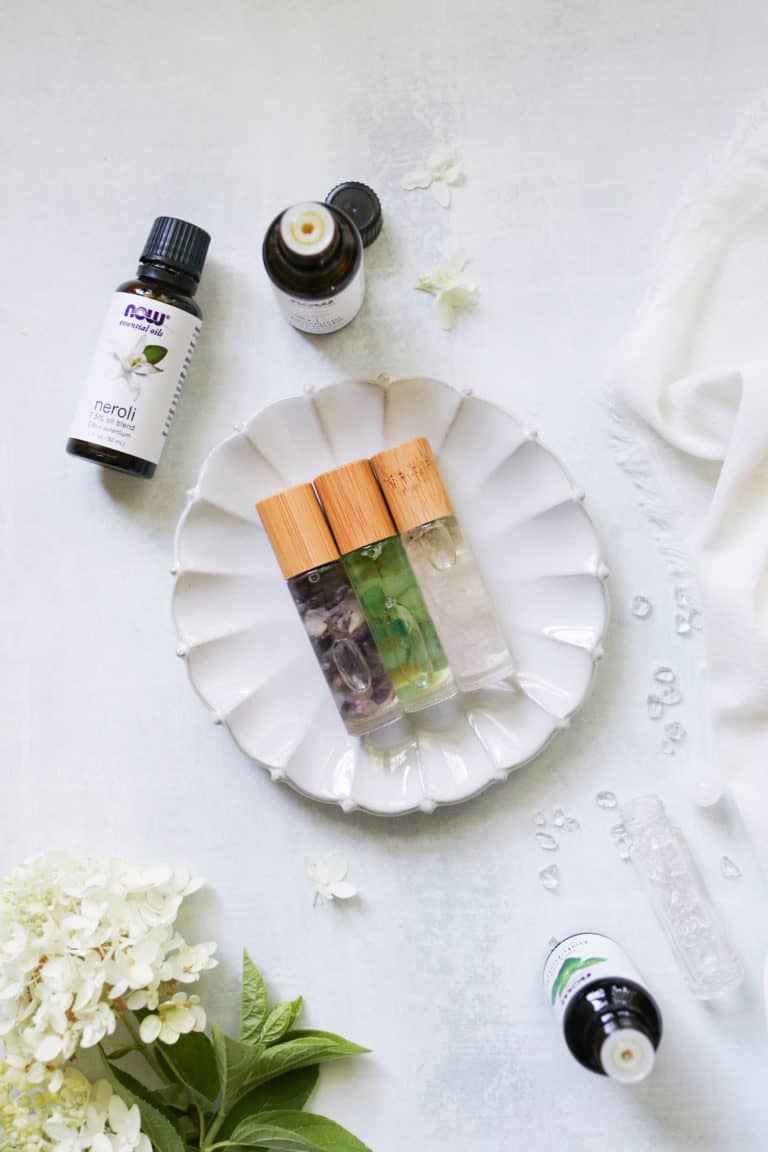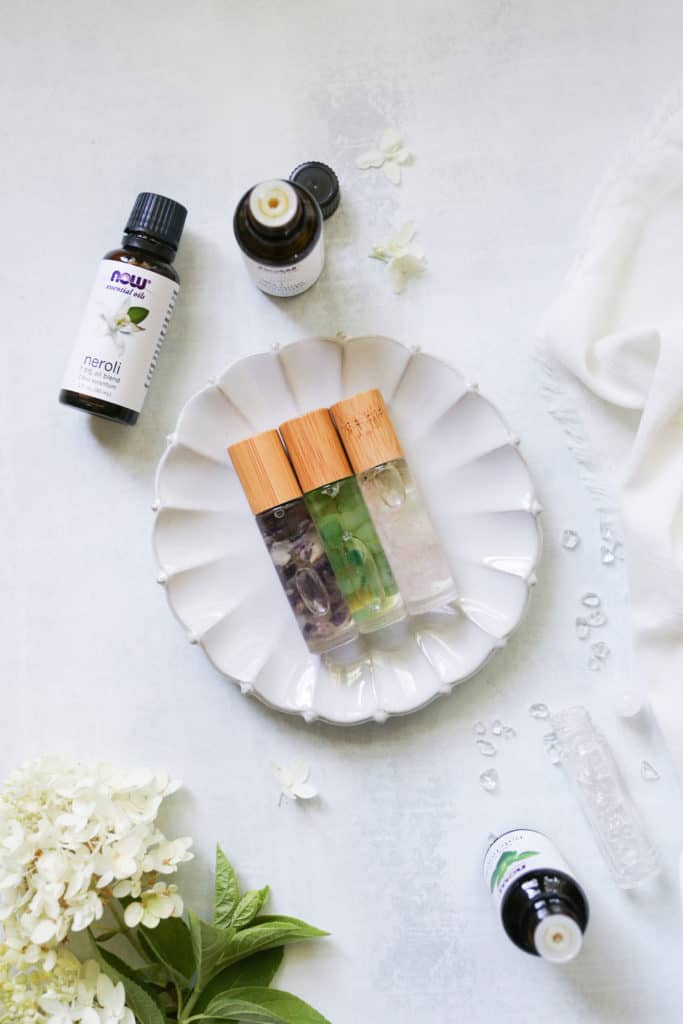 Musky Floral
Jasmine is perfect for homemade perfume that's soft but not too girly. To keep it from feeling overpowering, blend with neroli and sweet orange.
Warm and Earthy
I love this rich, earthy scent. Patchouli sometimes gets a bad rap but I love the way it tones down the other scents and warms everything up.
Summery and Spicy
Clove will quickly overpower a blend so go slow when adding it and work your way up, if needed.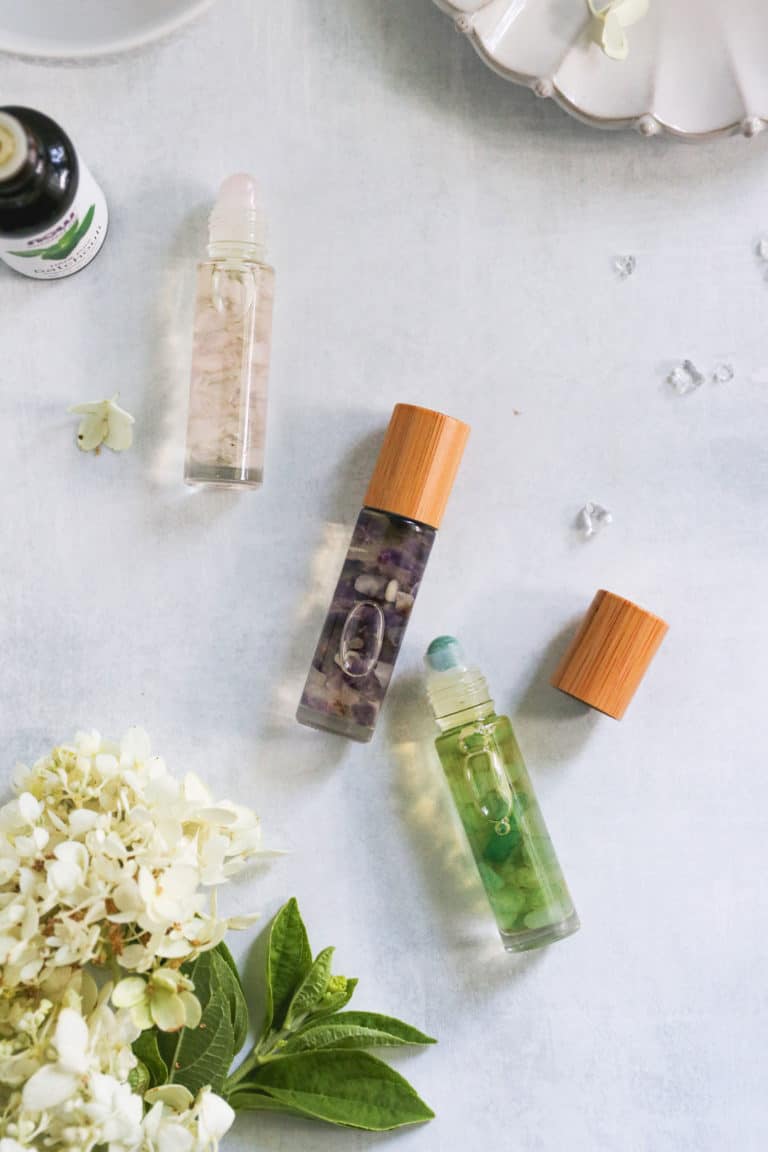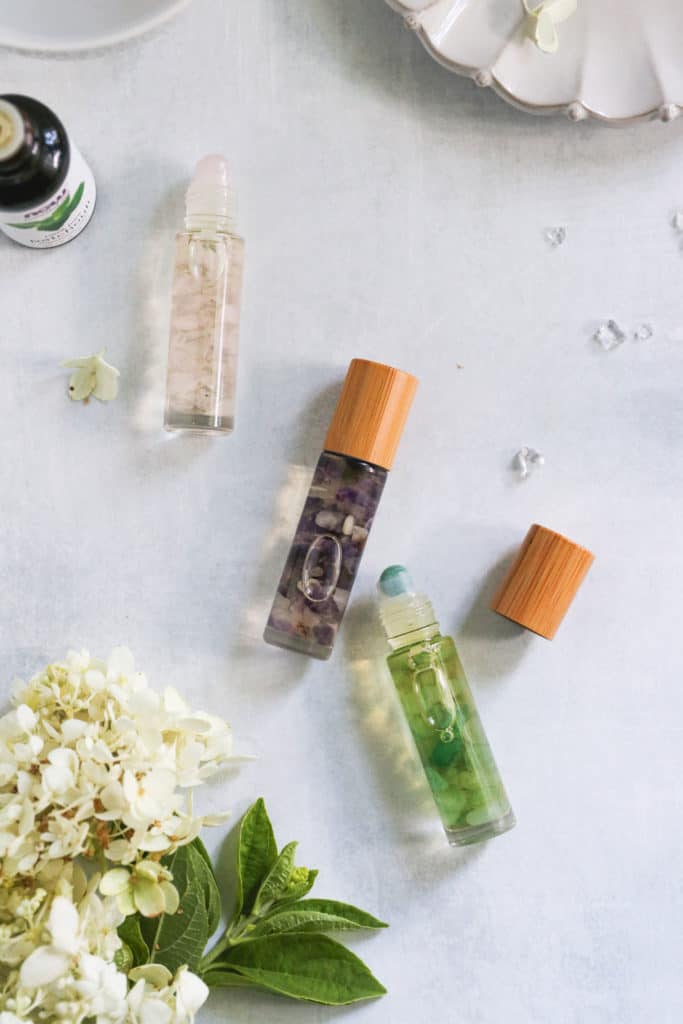 301