Ladies, this one is perfect for Valentine's Day! It's hard to feel romantic when it's freezing outside—I can't even think about a sexy red dress when all I want to do is layer on clothes and huddle by a cozy fire. But what I can do is take care of my skin and smell great at the same time. Combining an oil with fragrance is the perfect thing—sweet almond oil seals in moisture (no more ashy skin here!) while clove and vanilla combine to create an alluring, luscious homemade perfume. Who could resist?!
Winter is so hard on your skin, and an oil-based lotion helps beat the dry heat. Lately, I've been slathering myself in coconut oil, but this body oil spray recipe I found in Redbook smells so amazing—I'm jokingly calling it a man magnet spray! :) I'll share the full recipe below!

Vanilla Clove DIY Body Oil Spray
What is it about this body oil that makes it a man magnet? Well, the only dude in my life likes it. Oh, and the real experts say the scent of vanilla stirs up feelings of intimacy. Maybe it reminds people of homemade cookies? I don't know. Whatever it is, this oil makes your skin feel so smooth and silky—perfect for when you're in the mood!
Ready to make your own Man Magnet Spray? You will need:
—¼ cup almond oil (walnut or jojoba oil would also work)
—½ to 1 teaspoon vanilla extract
—2–3 drops clove essential oil
Combine all of the ingredients and pour into a small spray bottle. If you're not smelling enough vanilla, go ahead and add a ½ teaspoon more.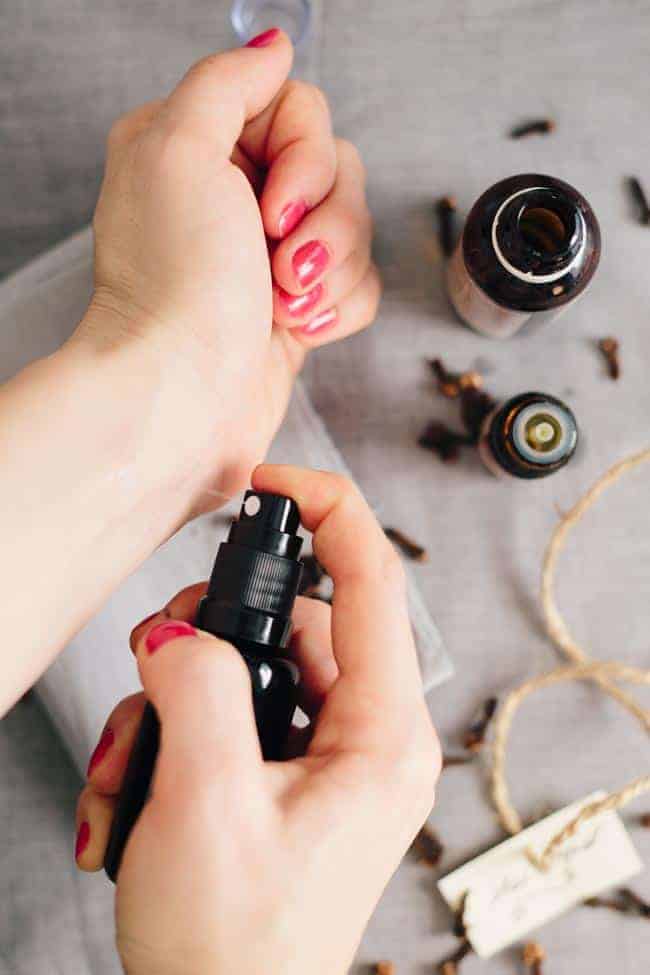 Option 2
If the recipe above doesn't appeal to you, try this one.
You will need:
Instructions:
Mix the coconut oil and the vanilla and clove essential oils in a small spray bottle.
Fill the rest of the bottle with distilled water, leaving some space at the top.
Shake well to combine all the ingredients.
If desired, you can also add a small amount of witch hazel to help emulsify the oils and water.
Shake the bottle before each use and spray onto your body for a light, fragrant, and moisturizing body oil.
Go easy on the cloves
Clove has a signature sweet and spicy smell, creating an aroma that feels homey and exotic all at once. But the smell of cloves can easily overpower everything else, so I recommend adding it last—1 drop at a time.
High levels of clove oils also have a numbing effect, so it's best to avoid that by adding a little bit at a time instead of pouring too much in at once. If you'd rather avoid clove or it irritates your skin, here are 12 more essential oil perfume blends to experiment with.
After you have added the essential oils, then shake everything together in the spray bottle and you're done. Spray the body oil onto your skin and rub it in.
You can use it all over—legs, arms, whatever. It makes a great perfume, so again, be careful not to overdo it with the cloves. For portability, this can be used in a rollerball container as well—then it's super easy to discreetly apply and freshen up anywhere, any time. Just roll over where you want to apply and massage it in to activate the perfume a little and give you a signature scent.
Where to apply body oil spray
For a subtle but long-lasting smell, don't forget about your pulse points. These are points on your body where your major blood vessels are closer to your skin's surface, so the skin is a little warmer there than everywhere else. This gives a boost to the strength of perfumes and mists, and it's a great way to ensure that you smell amazing all the time—without over-applying perfume.
Want more homemade fragrance ideas?
This solid vanilla essential oil perfume comes in a purse-friendly lip balm container. And how about this perfume body spray recipe that uses jasmine, another scent known for being an aphrodisiac!
Body Spray FAQ
What is a DIY body oil spray?
A DIY body oil spray is a homemade concoction that combines essential oils with carrier oils and other ingredients to create a fragrant and moisturizing oil spray that can be applied to the body.
What are essential oils?
Essential oils are highly concentrated plant extracts that capture the natural aroma and therapeutic properties of plants. They are commonly used in aromatherapy and skincare products for their various benefits.
How can I use essential oils in a body oil spray?
Essential oils can be added to carrier oils, such as fractionated coconut, jojoba, and almond oils, or vegetable glycerin, to create a body oil spray. They can also be combined with other ingredients like distilled water, witch hazel, or soap-making ingredients to create a customized body oil spray recipe.
Are there any suggested essential oils for a vanilla clove body oil spray?
Vanilla and clove essential oils can be used as the main fragrances. You can also experiment with other essential oils, such as cinnamon, ginger, or orange, to add depth and complexity to the scent.
How many drops of essential oils should I use in my body oil spray?
The recommended amount of essential oils for a body oil spray is usually around 10–15 drops per ounce of carrier oil. However, you can adjust the amount based on your personal preference and desired scent strength. Don't use any essential oils that you've had a bad reaction to previously.
Can I mix different essential oils in my body oil spray?
Yes, you can mix different essential oils to create your own unique fragrance. Experiment with various combinations of essential oils to find your favorite scent profile.
Can I use fragrance oils instead of essential oils in my body oil spray?
While fragrance oils may be used in body oil sprays, it's important to note that they are synthetic fragrances and do not offer the same therapeutic benefits as natural essential oils. It's recommended to use pure, high-quality essential oils for the best results.
Can I use this body oil spray on my entire body?
Yes, you can use this body oil spray on your body but avoiding sensitive areas like the face and mucous membranes.
Can I use this body oil spray on dry skin?
Yes, this body oil spray can be used to moisturize and nourish dry skin. The carrier oils in the spray can help to hydrate and soothe any irritated areas.
How long does the scent of the body oil spray last?
Body oil spray scents can vary depending on the types and amounts of essential oils used, as well as your personal body chemistry.
Photos by Ana Stanciu
234