Lavender may arguably be the most versatile essential oil, but vanilla is the best at playing well with others because it combines so well with just about any other essential oil. Seriously, I can't even think of another oil with which vanilla doesn't pair well. It has a way of softening and warming the aromas of other essential oils, making them more cozy and inviting.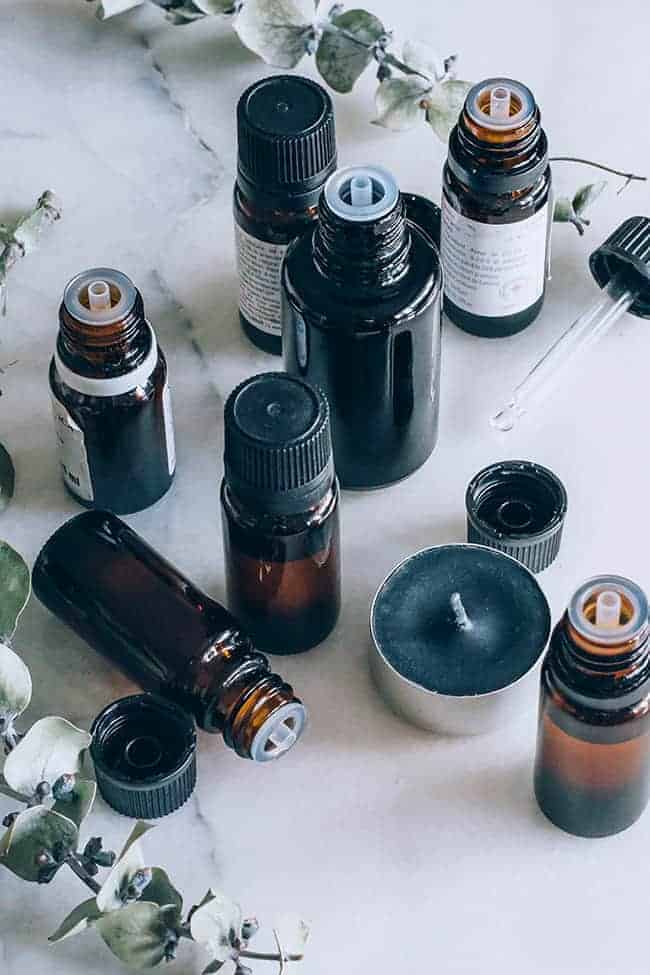 Just think about it: Bring to your mind the aroma of a citrus oil—like orange—combined with vanilla. Can't you just imagine the lovely creamsicle aroma?
Or how about lavender and vanilla? The vanilla softens the sharp lavender florals, creating an even more relaxing and subdued scent.
Equally as lovely would be vanilla paired with the scent of coffee or the woodsy fragrance of pine or cedarwood. See what I mean? Vanilla makes everything better!
Here's a fun fact for you: Vanilla isn't technically an essential oil. Although it's often referred to as one, it goes through a different extraction process, and you can also find it marketed as a solvent, extract, oleoresin, or other similar name depending on the extraction method used.
Benefits of Vanilla Essential Oil
1. Mood Booster
Vanilla has long been considered beneficial for helping boost your mood. Personally, I adore the aroma of vanilla, and I know that I definitely feel happier when I get a whiff of it.
The aroma itself is a happy one while also still being grounding. It anchors and automatically sweetens the entire blend and can help evoke feelings of quiet confidence and positivity.
2. Calming
Along with helping boost your mood, vanilla also has a long history of use to promote feelings of calm. It's no surprise, really, since the aroma of vanilla has a calming effect on the sharper notes of other aromas.
Since vanilla beans are used in cooking and baking—most of the time in comfort foods—the scent of the oil is reminiscent of freshly baked treats, treasured memories, warmth, and joy.
3. Deodorizer
Vanilla is a fantastic deodorizer for your home. If you left the trash in the house too long or you cooked something particularly pungent, then you know how convenient it is to have a natural deodorizer on hand.
Artificial deodorizers tend to be overly strong smelling and often have ingredients that can be harmful for your lungs. Not so with essential oils!
Deodorizing essential oils can help freshen up stale air without all the harmful side effects of artificial fragrances and chemical deodorizers.
4. Antibacterial
One of the very few scientific studies done on vanilla oil found that it contains antibacterial properties [source]. This is why vanilla is such a great option to use in skin and hair care products. Its antimicrobial effects can help cleanse and purify your skin and hair, and it smells so darn good!
It is fantastic when used in facial cleansers and oils, body creams, shampoos, and conditioners. You can create your own formula from scratch or just add a few drops of vanilla to your existing products!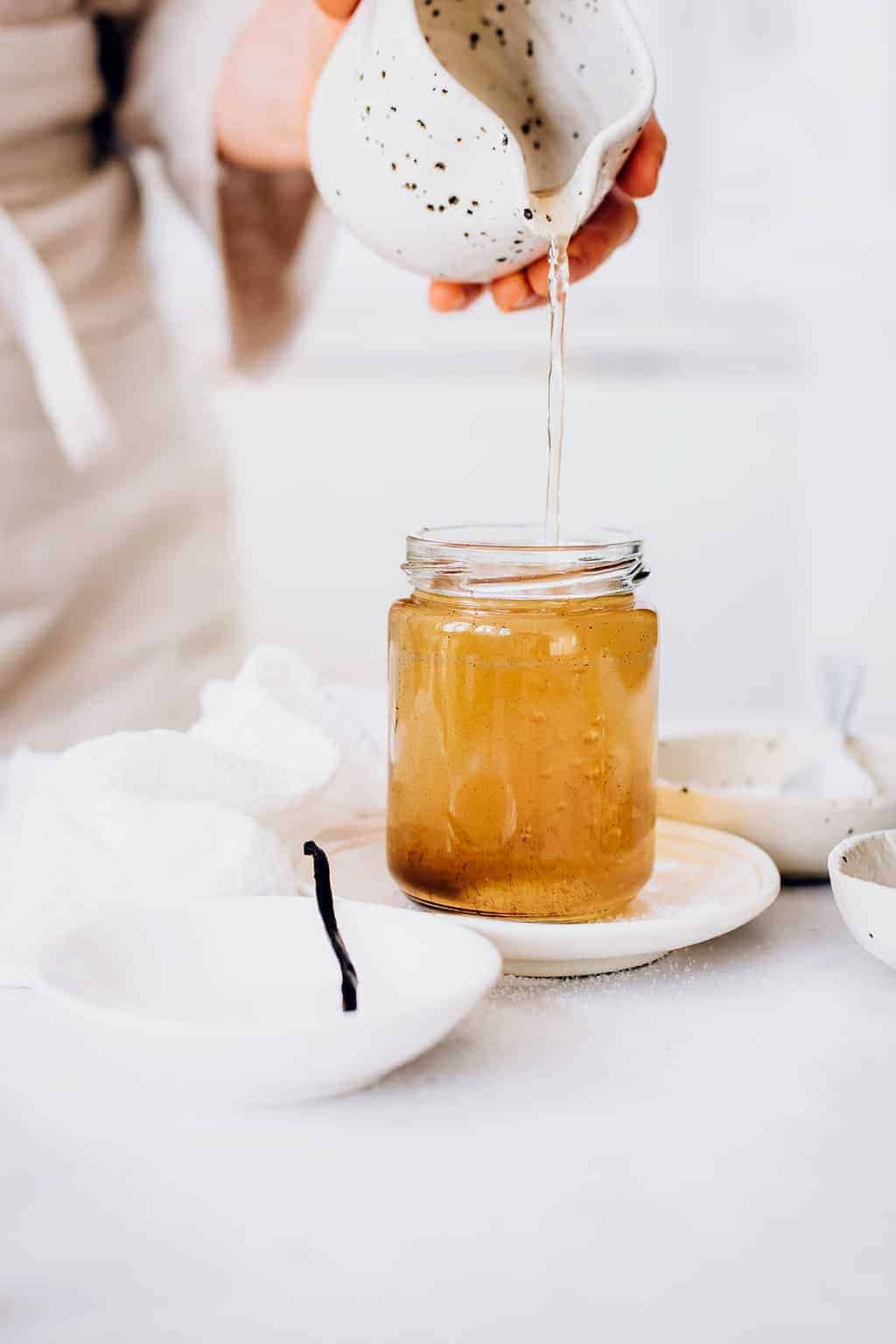 How to Use Vanilla Essential Oil
Apply Topically: To apply to the skin, dilute with a high-quality carrier oil. See our dilution chart here. We recommend performing a skin patch test when using a new essential oil topically.
Diffuse & Inhale: Breathe in your favorite essential oils using an essential oil diffuser or personal pocket inhaler. For instructions on how to use your diffuser, please refer to the diffuser's product page.
DIYs: There are a number of uses for vanilla essential oil. Here are 10 ways you can enjoy vanilla essential oil every day:
1. Calming Diffuser Blend
Add this blend to a diffuser or inhaler and breathe in as needed. This blend also works great in a car diffuser to help release stress!
-5 drops vanilla essential oil
-3 drops Atlas cedarwood essential oil
-2 drops rose or sweet orange essential oil
2. Deodorizing Diffuser Blend
As I mentioned above, vanilla is a great deodorizer. It'll help cover up stinky odors and get the area smelling vanilla-fresh in a flash! Vanilla pairs well with literally every other essential oil, in my opinion.
But if I'm using it to freshen up the house, I like to combine it with other deodorizing essential oils. Here's a great diffuser recipe to make your house smell amazing!
-2 drops cinnamon essential oil
-3 drops vanilla essential oil
-5 drops sweet orange essential oil
3
.
Romantic Vanilla Perfume
Vanilla has such an alluring aroma that I find it irresistible! When combined with florals, it can really soften their edges and round out and deepen the aroma.
Of course, you can also wear vanilla by itself, but I enjoy the ever-changing intricacies of an oil blend. Here's a romantic roll-on perfume that's sure to be your new favorite!
Simply add the essential oils to a 10 mL roller bottle, and then fill the rest of the way up with jojoba or almond oil and shake before each use!
-2 drops chamomile or lavender essential oil
-2 drops jasmine or neroli essential oil
-2 drops bergamot essential oil
-4 drops vanilla essential oil
If you don't want to make perfume, try diffusing vanilla with ylang ylang, lavender and neroli oils for an enticing room aroma.
4
.
Moisturizing Salve
Making your own salve is so much easier than you think! Follow this simple recipe and use vanilla essential oil in place of the other essential oils. After you make your salve comes the fun part: using it!
This salve is fantastic to use as a lip balm and to tame flyaways. Additionally, you can swipe some on your wrists and behind your ears if you need a perfume in a pinch or use it on cracked hands and feet.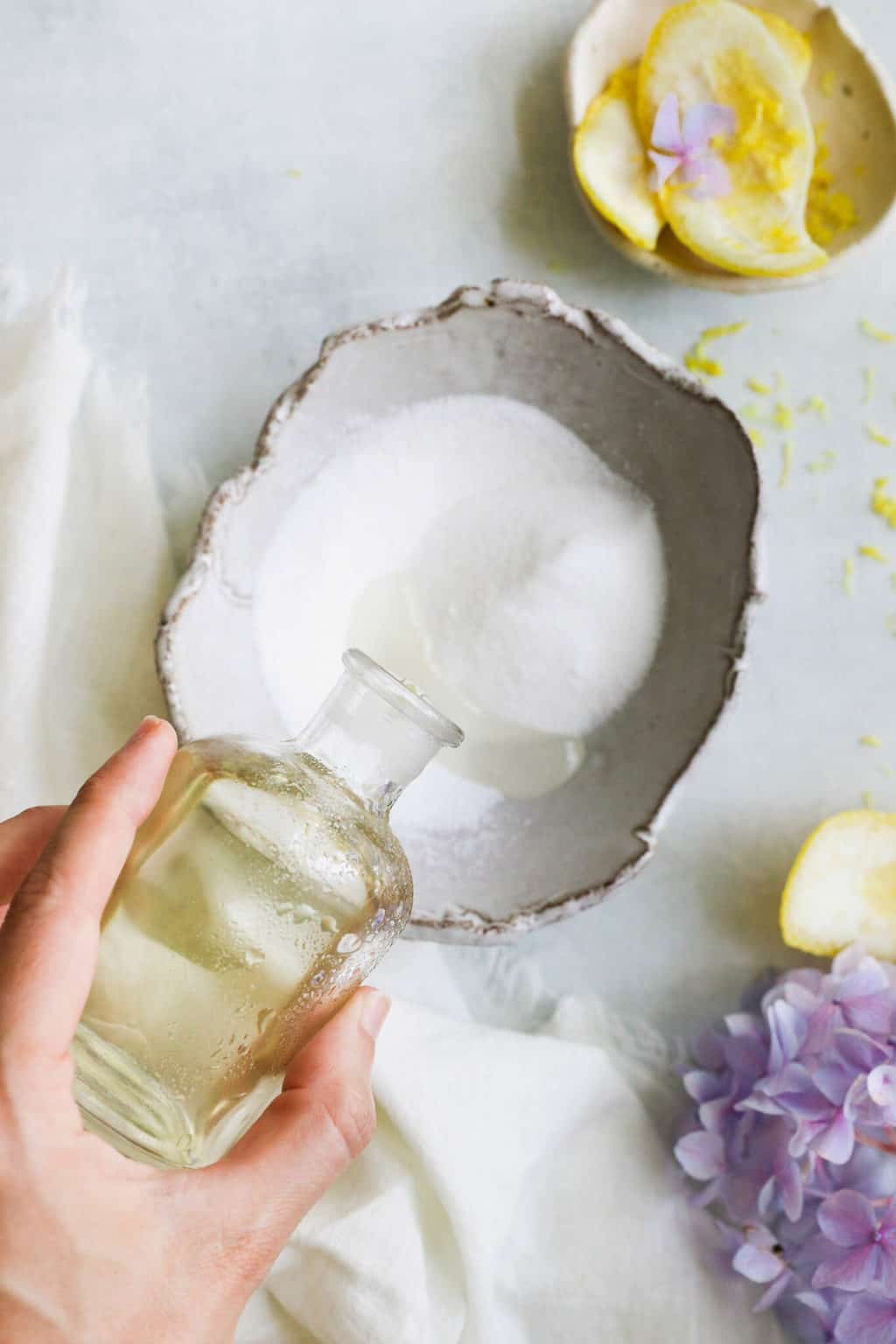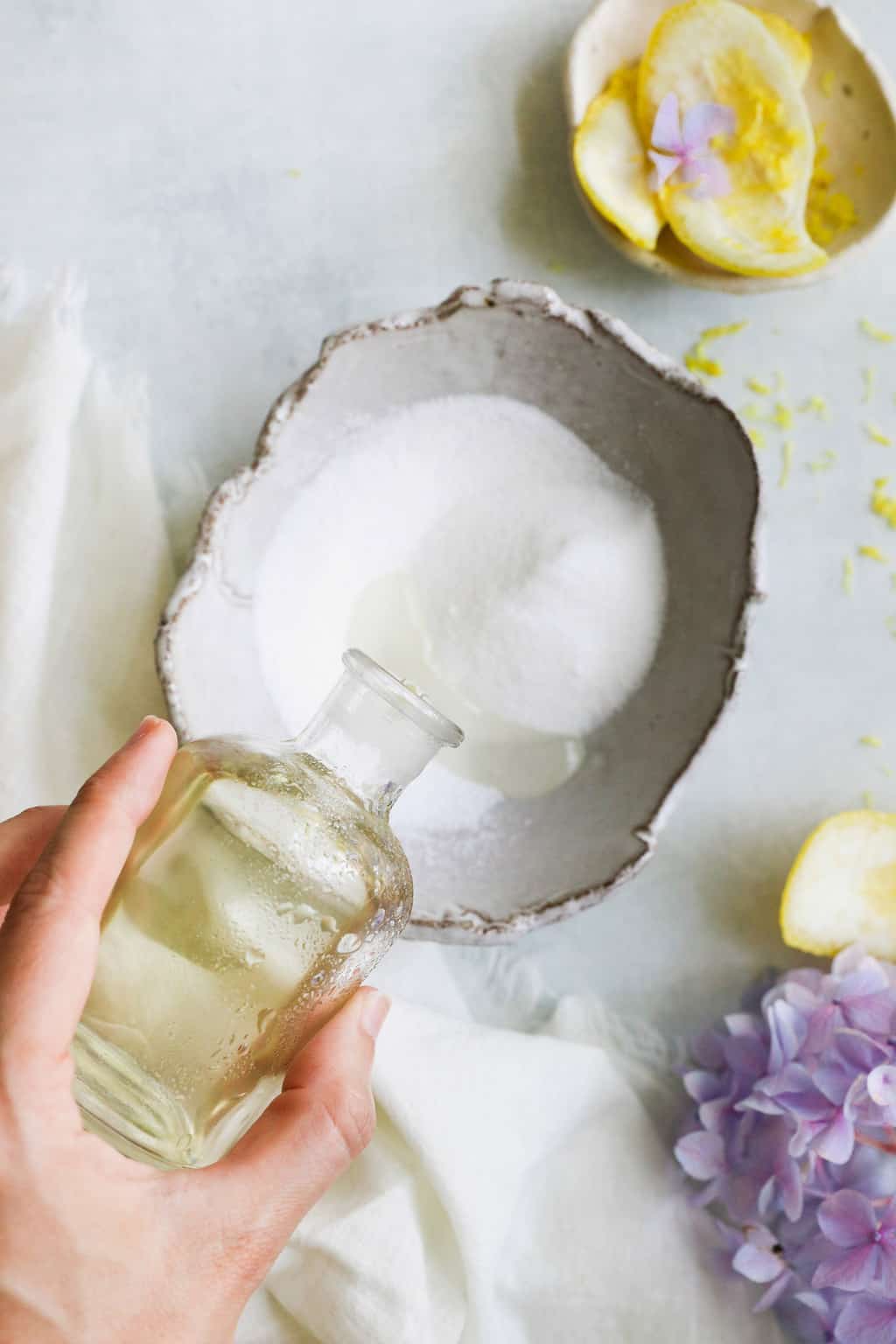 5
.
Vanilla Sugar Scrub
With fall coming to a close and winter beginning to show her face, I know that it's just about time to get my sugar scrub made and in the shower. I have really dry skin, so when the winter air starts taking its toll, I use a sugar scrub 2 to 3 times a week to slough off dry skin and help keep my skin hydrated and moisturized naturally.
Sugar scrubs are some of the easiest DIY products out there, and this sugar scrub recipe simplifies it even further for you!
6
.
Vanilla Body Oil
Like I said before, during the winter months my skin needs some extra TLC. On top of my sugar scrub routine, I like to use skin-soothing body oils to help keep my skin moisturized.
For extra hydration, use a body oil while you're still wet from a shower. It sounds weird, but it does wonders for my dry winter skin. Try out this Vanilla Clove Body Oil Spray for starters!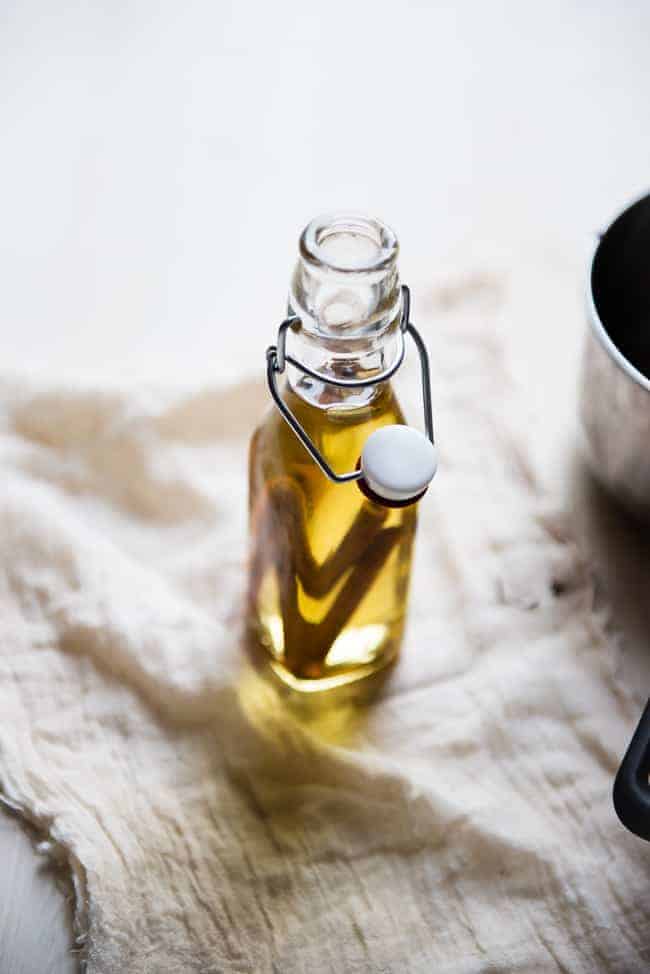 7
.
Vanilla Lip Balm
I don't go anywhere without my lip balm. There's just something about dry, chapped lips that I absolutely cannot stand, so I often have a few stashed all over the house and in my purse.
Homemade lip balm is surprisingly easy to make and customize, so you should have no problem creating your own unique product. And with vanilla oil added to the mix, you'll have a fantastic-smelling lip balm to keep your lips feeling smooth and hydrated all year long!
8. Restful Vanilla Linen Spray
Mist this restful blend over sheets and bedding to encourage a restful night's sleep. Add to a 4 ounce spray bottle.
-5 drops vanilla essential oil
-5 drops Atlas cedarwood essential oil
-5 drops blood orange essential oil
-5 drops sandalwood essential oil
-2 ounces lavender hydrosol
-2 ounces ylang ylang hydrosol
9. Vanilla Scented Dryer Balls
Add 3-5 drops of vanilla essential oil to a wool dryer ball or reusable dryer sheet to add a hint of aroma to your clothes.
10. Skin-Nourishing Face Oil
Make yourself a rich facial blend with this sweet oil to soften and hydrate dry skin. Ylang ylang has a potent scent so start with just one drop and always dilute with a carrier oil before using.
-3 drops vanilla essential oil
-1 drop ylang ylang essential oil
-2 tablespoons jojoba oil
Combine ingredients in a glass bottle with a dropper and apply a 3-5 drops to clean skin each day.
This article was medically reviewed by Dr. Gina Jansheski, a licensed, board-certified physician who has been practicing for more than 20 years. Learn more about Hello Glow's medical reviewers here. As always, this is not personal medical advice and we recommend that you talk with your doctor.
34