Every time we create a perfume, body spray, or cologne recipe around here, we always get asked the same question: How can I make my perfume last longer? As a perfume wearer myself, I get it! Nothing is more frustrating than applying fragrance only to have the scent fade in a matter of minutes or hours.
The bad news is that most natural scents (and even a lot of unnatural scents) aren't made to last all day. The volatile compounds in them break down or wear off quickly, which means you'll need to reapply to revive the scent. The good news, however, is that there are things you can do to make perfume last longer.
Here are some tips and tricks to boost the longevity of your perfume and ensure you get the most wear out of your favorite fragrance.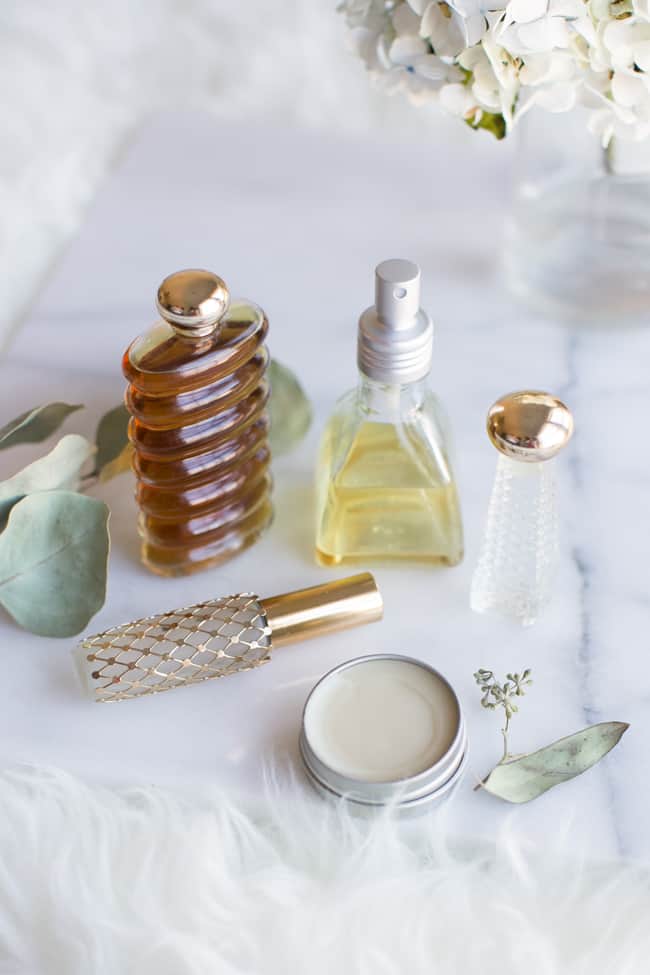 What Factors Determine How Long Perfume Lasts
?
If your signature scent fades too quickly, it could be because of something you're doing (or not doing). Here are a few surprising factors that could be affecting the longevity of your favorite fragrance.
How you're storing your fragrance
The second you open the box, perfume starts to degrade. That's because heat, sunlight, moisture, and oxygen break down the chemical bonds that give perfume its scent. As the perfume ages, the scent changes and becomes less potent.
Whether it's homemade perfume or store-bought, always store it in a cool, dry place. The refrigerator is a great option since it keeps the perfume away from light and heat, but you can also keep perfume on a bedside table, in your closet, or in a drawer.
And never store perfume in the bathroom or on a sunny windowsill, as those places have conditions that will break down scents more quickly.
The season
Just like with conditions inside your house, certain outside conditions can affect the longevity of your perfume. Warm, humid weather breaks down scents more quickly than cold, dry weather. Heat can also cause you to sweat, essentially rinsing the fragrance away.
How you're spraying it
Lightly misting your hair or clothes with perfume creates a soft, diffused scent that doesn't have much staying power. Meanwhile, dowsing your pulse points (those areas that emanate heat, like the neck, the inner side of the elbows,  wrists, and knees) helps retain the scent, slowly releasing it throughout the day.
Your skin's moisture content
If you've got dry skin, there's really nothing for your fragrance to cling to, which causes it to wear off quickly. Moist, supple skin, on the other hand, encourages scents to sink in and diffuse slowly over time.
8 Tricks to Make Perfume Last Longer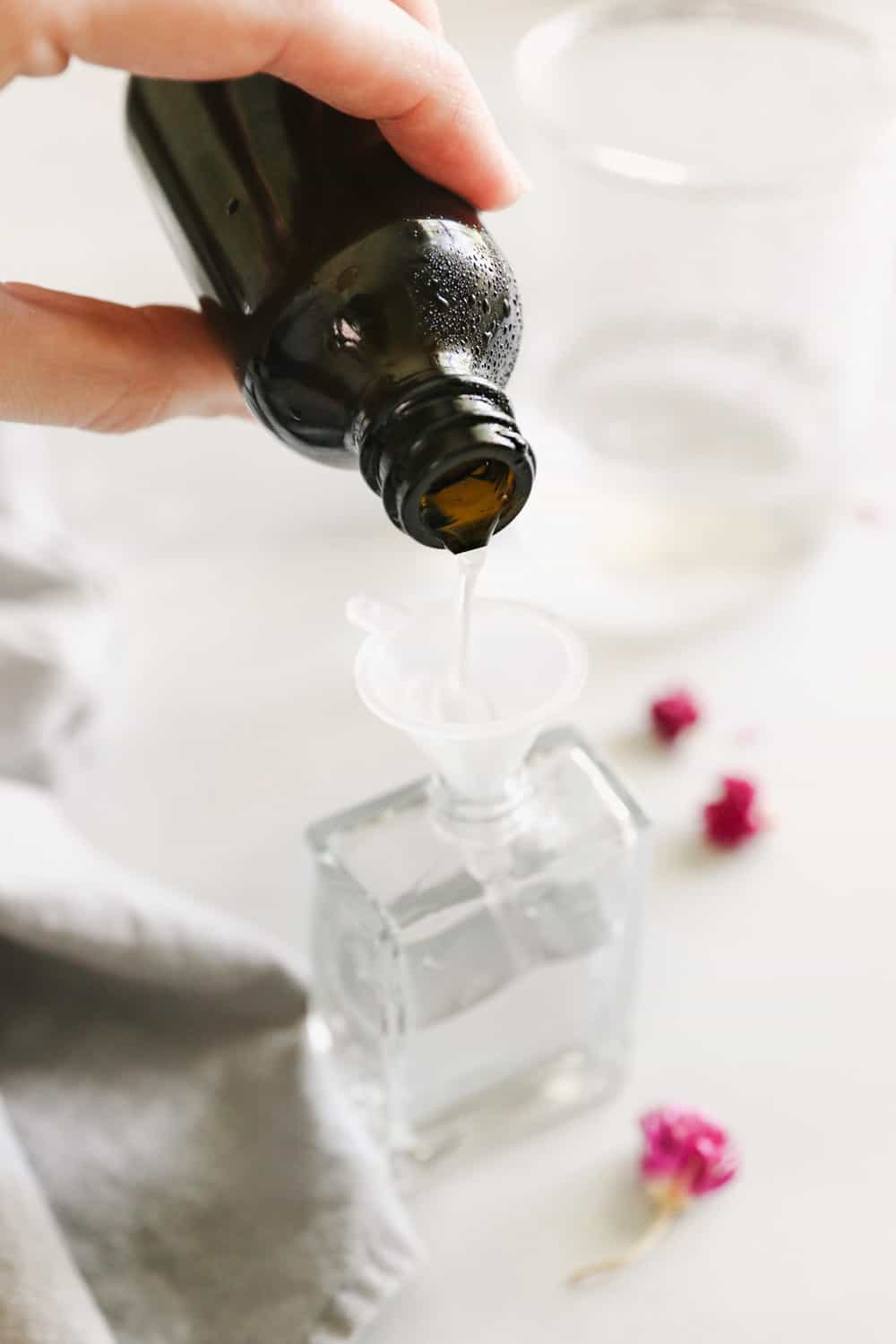 1
.
Apply body oil or moisturizer first
Before spraying your perfume, try applying a bit of body oil or jojoba oil to your skin. Jojoba oil mimics your skin's natural sebum [source], so it won't change the scent of your fragrance. But any unscented moisturizer will help lock in the fragrance and give it some staying power.
Alternatively, you can apply perfume right after hopping out of the shower when your skin is still slightly damp. (Just don't store your perfume in the bathroom, okay?)
2
.
Apply perfume correctly
Yes, there's a right and wrong way to apply perfume. Hold the bottle roughly 3 to 5 inches away from the skin and spritz 2 to 3 times.
Then, without rubbing it into your skin, let the perfume dry. Rubbing or blotting actually breaks down the perfume and prevents it from melding with your body's own oils, which can cause the scent to dissipate more quickly.
3
.
Spray directly on your pulse points
You've probably heard this since you were a kid but always apply perfume to your pulse points. These points are essentially anywhere an artery sits close to the skin's surface, like the wrists, elbows, and neck.
The arteries emit a small amount of heat, which warms the fragrance and diffuses the scent into the air. (If you're not familiar with all of your body's pulse points, we break it down for you in the next section, so keep reading!)
4
.
Choose an oil-based perfume
Because oil adheres to the skin more readily than alcohol or water-based products, oil-based fragrances can last up to 15 hours and release their scent slowly over time. You can make an easy roller ball perfume that makes applying a cinch.

5
.
Look for a concentrated fragrance
If your perfume of choice doesn't come in an oil-based formula, then make sure to choose the most concentrated fragrance you can. Eau de parfum formulations are usually much stronger than eau de toilettes and body sprays. If you're having trouble getting lighter scents to stick around, opt for a stronger perfume with a higher oil concentration.
6
.
Layer different types of perfume
If you want your favorite scent to last all day, layering is the way to go. Simply apply an oil or a solid version of your chosen scent first and follow it up with a spritz of the spray (or you can layer a complementary scent if you don't have two versions of the same perfume). Not only does it enhance the scent, but it keeps your skin hydrated to boot.
You can also add fragrance to your soap or body wash to mimic your favorite scent.
7
.
Base notes are key
Once the lighter, airier aspects of your fragrance have faded, you're usually left with the scent's base notes. But not all perfumes are base note heavy. For an all-day scent, skip the lighter, floral-scented perfumes and stick with woodsy, musky scents that like this one with vanilla and sandalwood. Other scents to look for include cedarwood, patchouli, amber, and oakmoss.
8
.
Toss expired bottles
I know perfume is expensive, but you should really toss that old bottle in the trash. Perfumes only last about 2 years—maybe 3 if they've been stored in the refrigerator.
If your fragrance smells slightly off, or the scent doesn't last as long as it used to, trust me, it's time. Just keep the pretty bottles for making new perfume!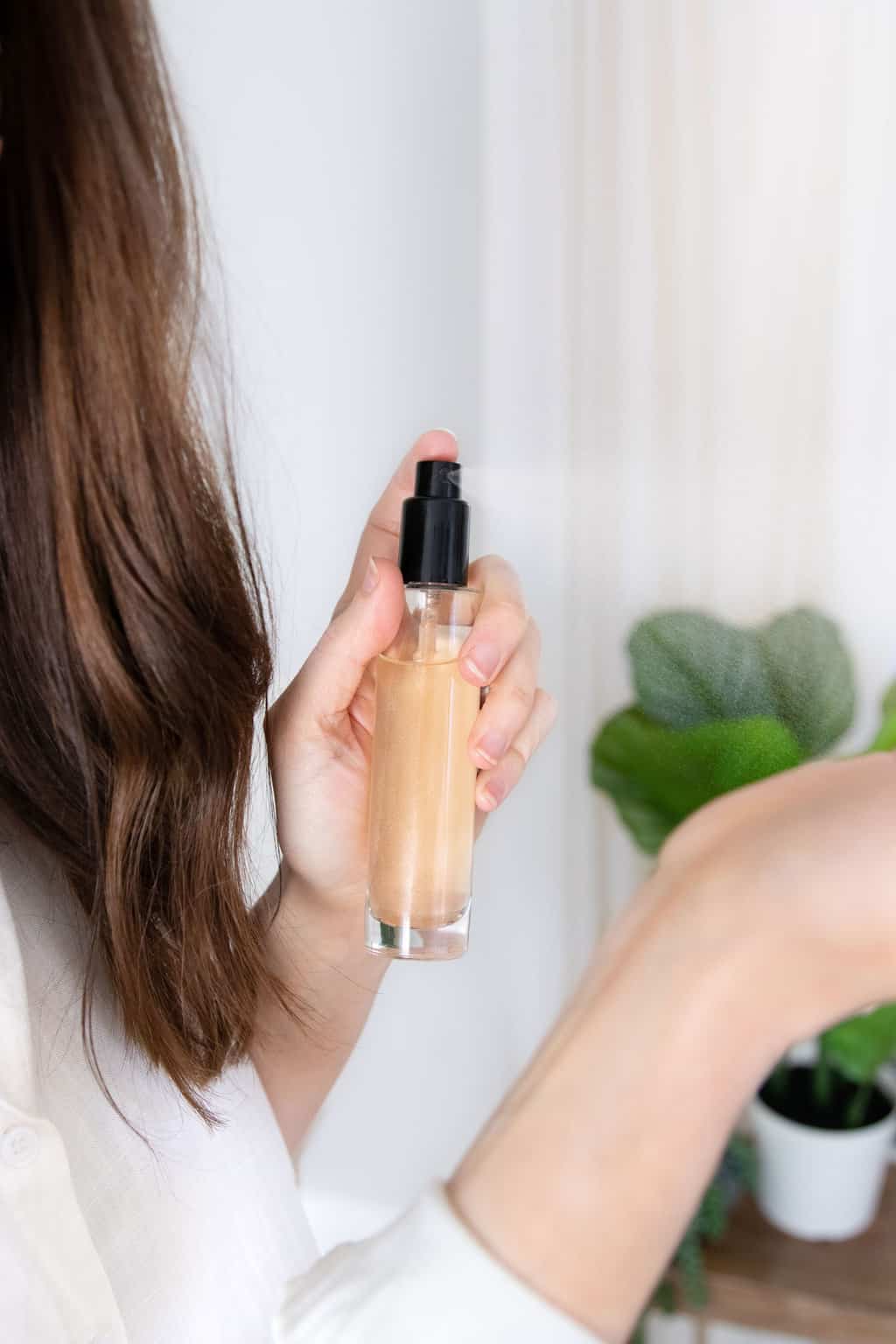 Where to Apply Perfume
Applying fragrance to the right spots can make a huge difference in how long your scent will last. The best places to apply fragrance are the pulse points, which are areas of your body that produce a little extra heat and give off more scent.

Pulse points for perfume
—Inner side of the wrist
—Side of the neck
—Behind the ear
—Inner part of the elbow
—Back of the knee
—Over the heart
—Inner side of the ankle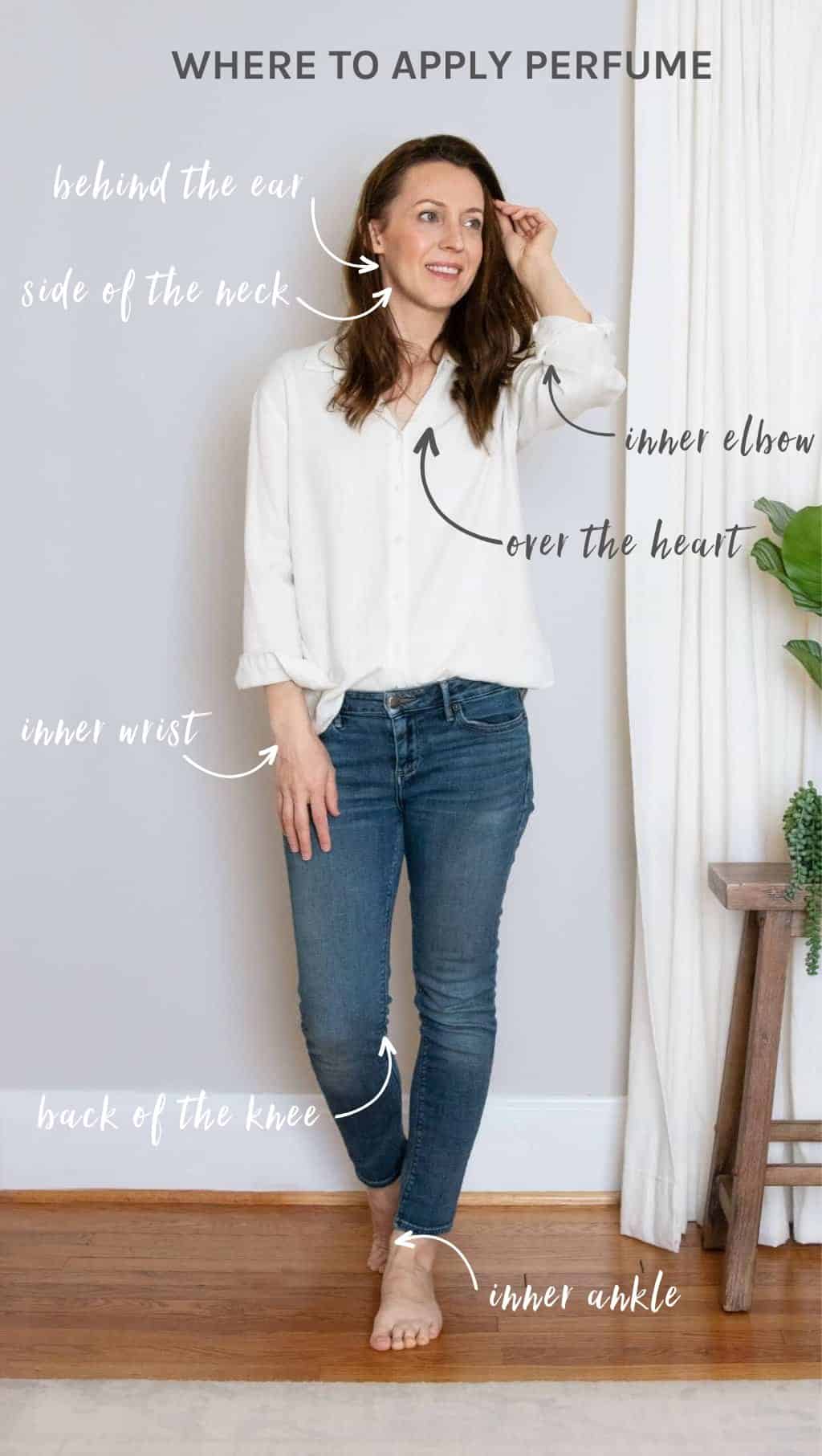 You can also apply fragrance to any of these:
—Hair
—Clothes
—Clavicle
—Shoulders
Perfume FAQs
Does petroleum jelly actually help perfume last longer?
Applying petroleum jelly to your skin can help make your perfume last longer. For an even stronger effect, put some petroleum jelly on the pulse points before spritzing your fragrance. The oil helps trap more of the scent while your body heat diffuses it into the air.
Why can't I smell my perfume?
If you can't smell your own fragrance, there's one of two things going on: either your perfume is evaporating too quickly, or your brain has started tuning it out.

It's actually normal to stop smelling our own perfume after wearing it for a while. Our brain links the scent of perfume with that of our own body odor and then tunes it out to not stimulate our scent receptors all the time. But that doesn't mean that other people can't smell it!
What ingredients make perfume last longer?
Fixatives are used to keep the volatile compounds in perfume from breaking down and dissipating. Some natural fixatives include myrrh, balsam, coconut oil, and jojoba oil.
How do I make body spray last longer?
Just like with perfume, your skin's moisture content can affect your body spray's staying power. To make body spray last longer, apply jojoba oil or an unscented moisturizer to the area of skin before spritzing your fragrance.
Can I apply perfume to my clothes?
Sure, go right ahead. Just make sure to use a natural fragrance, especially if you plan to spray it into the air and walk through it. That way, you're not breathing in toxic chemicals.
Reference:
Pazyar N, et al. Jojoba in dermatology: a succinct review. G Ital Dermatol Venereol. 2013.
34