Before I was a veggie lover, I eased into getting my daily recommended amount through smoothies and juices. I love chewing my veggies, too, but it can be hard to pack the recommended amount into your day, especially when you're busy and have a million other things going on.
Veggie smoothies are a great way to add in more fiber and nutrients. And hey, if you're making a smoothie anyway, why not add in a serving or two?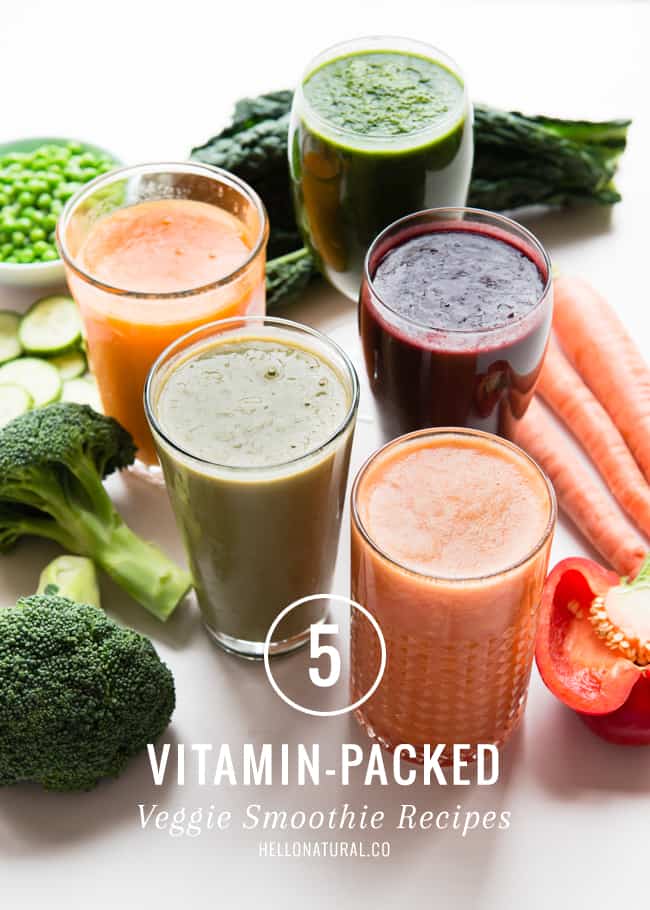 For great tasting veggie smoothies, don't go overboard at first. If you're not a veggie lover and you're looking to hide the taste of the veggies, go for stronger tasting fruit, like berries.
Also, remember that veggies tend to have a lot of fiber in them, so the smoothies will have a little different texture than you're used to. Not necessarily a bad thing.
Some veggies can also be a little bitter. Lemon or lime juice will help cut the bitterness, as will pairing them with sweeter fruits. If you don't have a high-powered blender like a Vitamix or Blendtec, blend the veggies with the liquid first, then add the remaining ingredients. This should give you a smoother blend in the end.
5 Delicious Ways to Drink Your Veggies
!

1
.
Vitamin C Thirst Quencher Smoothie
This one is not for the faint of heart! It packs a HUGE flavor punch. The bell pepper can be a little bitter like the grapefruit, so the oranges help balance things out.
It's not as thick as other smoothies. Add ice to make it extra cold. This one is loaded with Vitamin C—one cup of red bell pepper has a whopping 300% of the recommended daily value. That's about the same as the oranges and grapefruit combined!
Puree in a blender 1/2 of a large red bell pepper, 1 extra-large ruby red grapefruit, 2 oranges, 1/2 cup water (if needed), plus ice to make it cold. Makes about 4 cups; 2 servings.

2
.
Carrot Pineapple Mango Smoothie
This one is the sweetest veggie smoothie on the list. It is a definite favorite and a great way to get vitamin A-packed produce into your day. It's also loaded with healthy dietary fiber, vitamin C, bromelain (from the pineapple), B vitamins, and magnesium.
Puree 2 medium carrots (sliced), 1 cup fresh or frozen pineapple, 1 cup fresh or frozen mango, and 2 cups water in a blender.
Makes about 4 cups; 2 servings. Note: High-speed blenders should have no problem with the raw carrots. For regular blenders, chop the carrots first and puree with water, then add the fruit.

3
.
Sweet Pea Smoothie
Green peas have a good amount of fiber, iron, vitamins C, A, and B, potassium, and magnesium. One cup also has 8 grams of protein, which is equivalent to 1 cup of milk.
Bananas, apples, and strawberries add even more dietary fiber as well as potassium, vitamins C and B-6, and trace minerals. The yogurt or milk adds plenty of calcium, vitamin D, and another 8+ grams of protein.
Puree 1 cup of frozen petite peas, 1 banana, 1 small apple (cored), 2 cups of fresh or frozen strawberries, and 1 cup of plain dairy or nondairy yogurt or milk in a blender. Makes about 4 cups; 2 servings.

4
.
Antioxidant
+
Fiber Super Smoothie
Broccoli…in a smoothie? Yes! This cruciferous veggie is loaded with antioxidants like vitamins C and A. It also contains dietary fiber and calcium.
The stronger flavor of broccoli is tamed by adding plenty of blueberries and fresh oranges, which add even more vitamin C, along with fiber and other antioxidants and nutrients. If you're feeling bold, add an extra cup of broccoli. :)

Puree 1 cup of broccoli, 2 heaping cups of fresh or frozen blueberries, 2 large oranges (peeled), and 1 cup of water in a blender. Makes about 4 cups; 2 servings.
This is a thick smoothie—don't be afraid to add some ice to make it extra cold or water for thinning it out.

5
.
Cucumber Cleanser Smoothie
These ingredients can be used to make up one of my favorite fresh juices, but this smoothie recipe adds in all that healthy fiber. It has a refreshing, clean taste.
Use seedless or baby cucumbers, which will be less bitter. Any variety of kale can be used. If you have a high-speed blender, leave the stems. Otherwise, remove the leaves from the stems and chop them first for a smoother blend. Kale adds in a ton of vitamins A, B6, and C, as well as chlorophyll, and moderate amounts of calcium, magnesium, iron, and potassium.
The cucumber is high in water content as well as fiber. The apples are high in fiber and vitamin C. Lemons are excellent detoxifiers and add even more vitamin C.

Puree 1/2 of a seedless cucumber, 2 apples, 4 to 5 kale leaves, chopped (include stem if using a high-power blender), 1 large lemon (juiced), 1 cup of water, plus ice to make it cold. Makes about 4 cups; 2 servings.
What are your favorite veggie smoothie recipes?
This article was medically reviewed by Dr. Gina Jansheski, a licensed, board-certified physician who has been practicing for more than 20 years. Learn more about Hello Glow's medical reviewers here. As always, this is not personal medical advice and we recommend that you talk with your doctor.
673