Hey there, oil enthusiasts! You probably know that essential oils are the go-to for everything from stress [source] to sniffles [source]. But did you know that they can also help with pesky bruises and aching muscles? That's right, folks - we're talking about the magical powers of essential oils for bruises! So, buckle up and get ready to learn about the top EOs to keep in your first aid kit.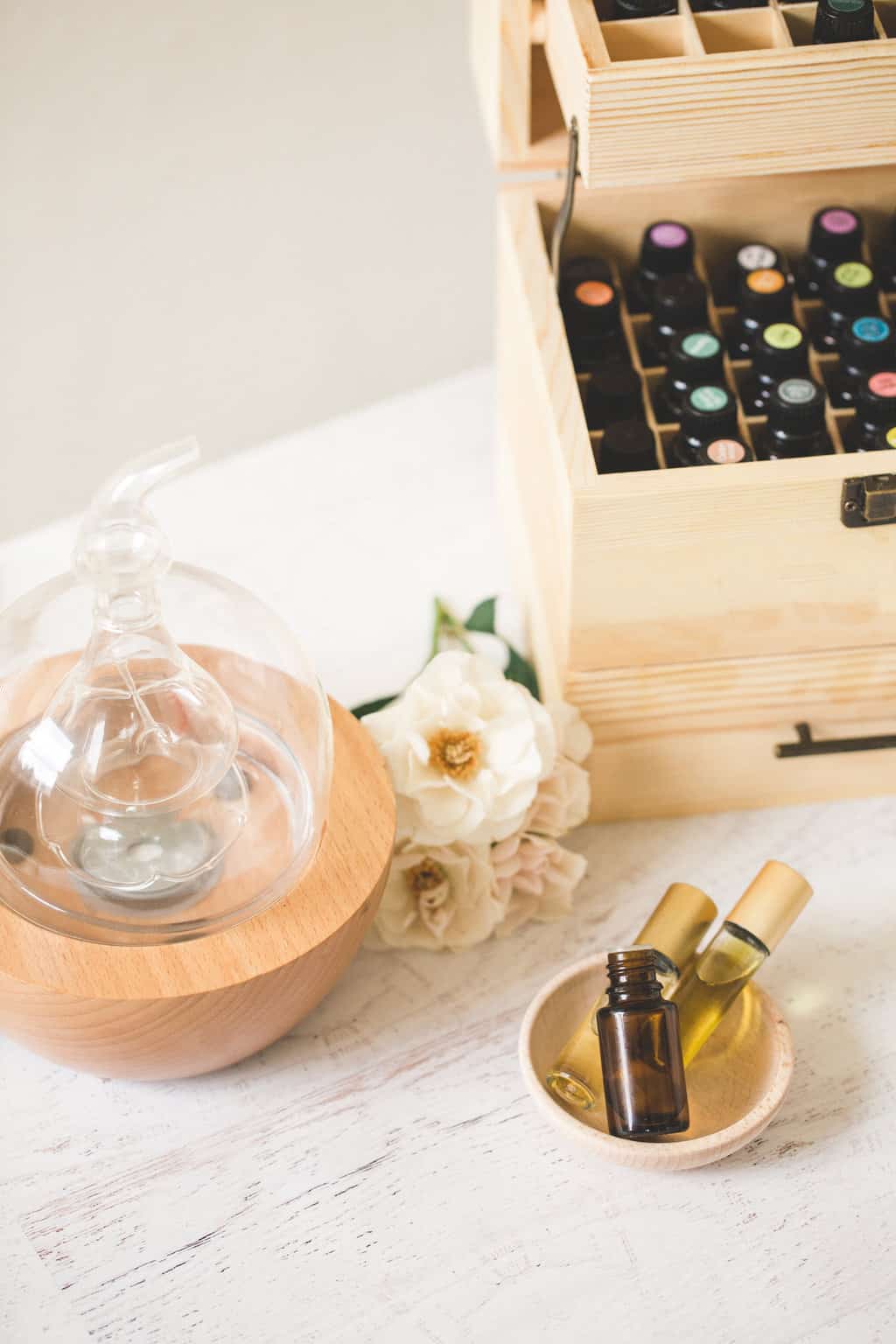 How Bruises Form
Bruises can happen when a part of the body receives an injury that causes small blood vessels to burst, allowing blood to leak out under the skin. This blood forms a dark area that is usually sore to the touch.
It is not only the injuries alone that cause bruises, however. Other contributing factors can include:
—Aging skin
—Certain medications
—Certain medical conditions
There are several ways to treat bruises and assist the healing process, including the application of ice packs. But one option that can also be effective is the targeted use of essential oils with specific effects.
7 Essential Oils for Bruising + Swelling

Essential oils (EOs) are concentrated liquid extracts made from aromatic plants. You can use them in various ways and for the treatment of many different conditions. For bruises, several oils have properties that can offer the best results.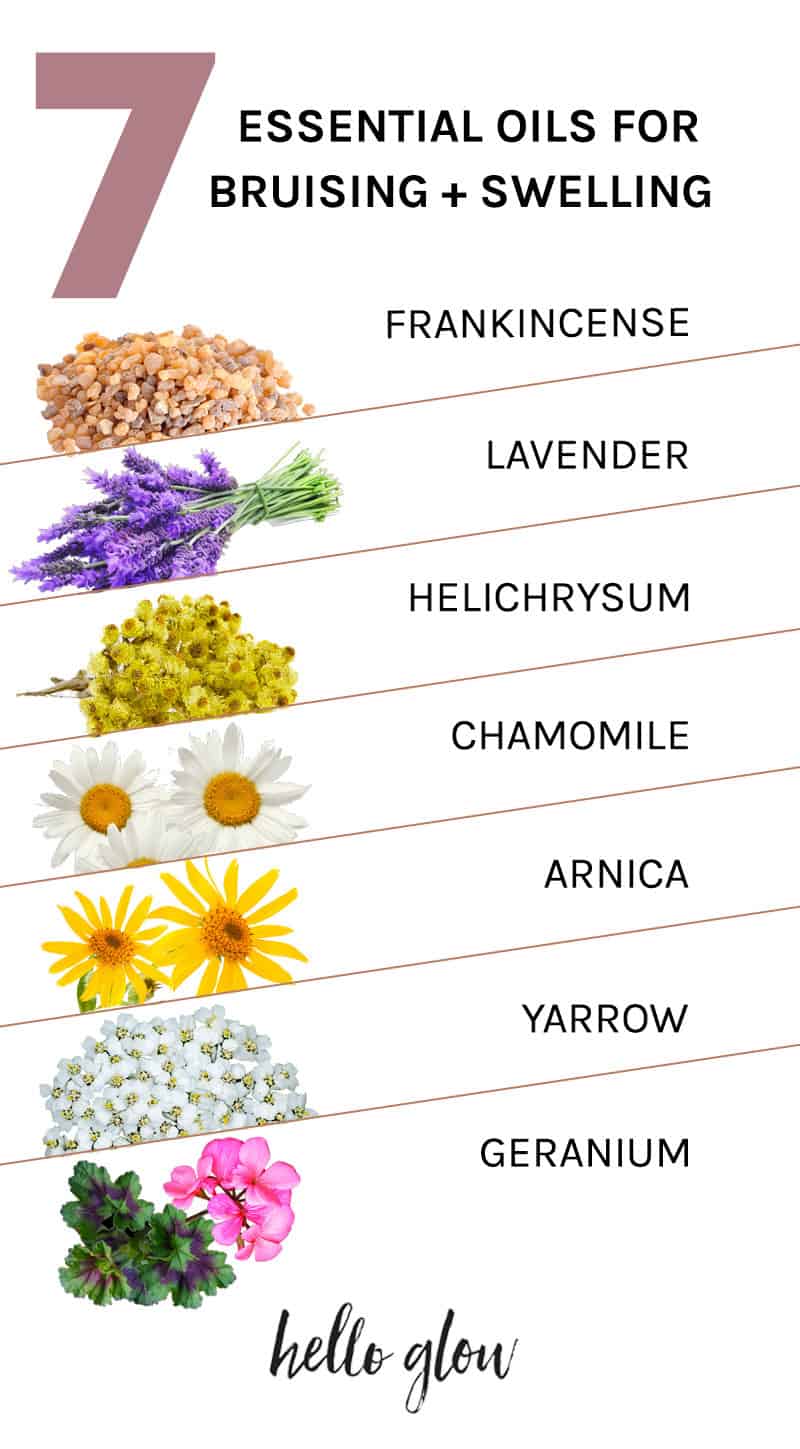 1. Frankincense
Frankincense is derived from the resin of the Boswellia tree and has been used for centuries ceremonially and for its medicinal properties [source]. It is known to have anti-inflammatory, analgesic, and antibacterial properties, making it a useful remedy for various skincare and health conditions, including soft tissue injuries such as bruises.
There is limited scientific research on the use of frankincense EO specifically for bruises. However, some studies have investigated its potential benefits for reducing inflammation and pain, which are common symptoms associated with bruises.
One study published in the Journal of Ethnopharmacology found that frankincense oil has anti-inflammatory properties that can help reduce swelling and inflammation [source]. The study concluded that frankincense oil could be used as an effective natural remedy for various inflammatory conditions, which would include bruises.
Another review article published in the International Journal of Molecular Sciences mentions the analgesic properties of frankincense oil [source]. These effects could be useful in reducing the pain associated with bruises.
2. Lavender
Research studies have demonstrated that lavender EO has anti-inflammatory and analgesic properties [source], which could certainly help reduce the pain and inflammation associated with bruises. It can also promote relaxation and reduce stress [source], which may further aid in the healing process.
One study published in the Journal of Alternative and Complementary Medicine found that lavender EO has anti-inflammatory properties that can help reduce pain and inflammation. This animal study concluded that lavender helps reduce the inflammatory response to injury, including swelling, when applied in low doses [source]
Lavender also has anesthetic qualities and can help ease some of the discomfort of bruises when used with both massage and aromatherapy [source].
3. Helichrysum
Helichrysum, also called everlasting flower, has anti-hematomal properties and can even prevent bruises [source]. If you apply helichrysum quickly after receiving an injury, it may help reduce the size and appearance of the bruise.
The bioactive compounds in helichrysum are pretty effective anti-inflammatories. Its phenolic acids, such as chlorogenic and caffeic acids, and flavonoids are antioxidants that scavenge free radicals, address tissue damage, and reduce swelling [source].
4. Chamomile
Chamomile is extracted from the flowers of the chamomile plant. Also well-known for its anti-inflammatory and analgesic properties, chamomile EO can be a helpful remedy for bruises. Research has demonstrated that chamomile's active compounds can reach the deeper layers below the skin's surface [source].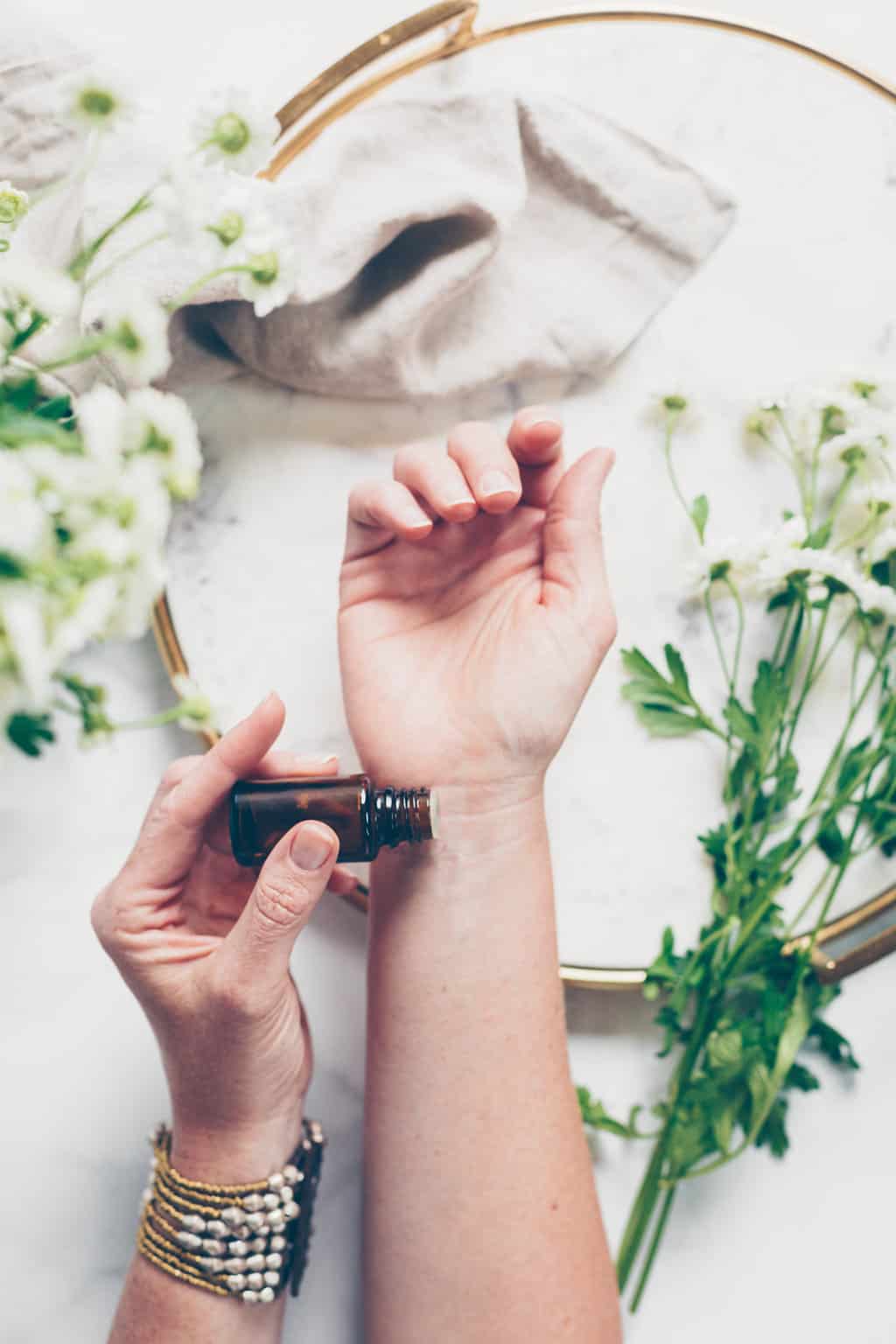 5. Arnica
Arnica is derived from the Arnica montana plant, and it has been used for centuries as a natural remedy for bruises and other injuries. It is believed to have anti-inflammatory and analgesic properties, which can help reduce swelling and pain associated with bruises.
The topical application of arnica gel improved wound healing in an animal study [source], and a 20% arnica ointment improved bruising in humans [source]. This oil can also offer pain relief because it reduces swelling [source].
6. Yarrow
Yarrow can help with pain and improve a bruise's appearance. It can also improve swelling. It has been shown to work especially well in speeding up bruise healing when combined with St. John's wort [source].
7. Geranium
Geranium is extracted from the leaves and flowers of the Pelargonium graveolens plant. It is another one known for its anti-inflammatory and analgesic properties, which make it a popular remedy for bruises.
Geranium EO contains compounds that reduce swelling, which can help with the discomfort that comes from bruises. It can also increase blood circulation in the affected area [source], helping bruises to resolve more rapidly.
How to Use Essential Oils for Bruises
Essential oils can be used in a few different ways to treat bruises and promote wound healing. Learn some recipes for how to apply them.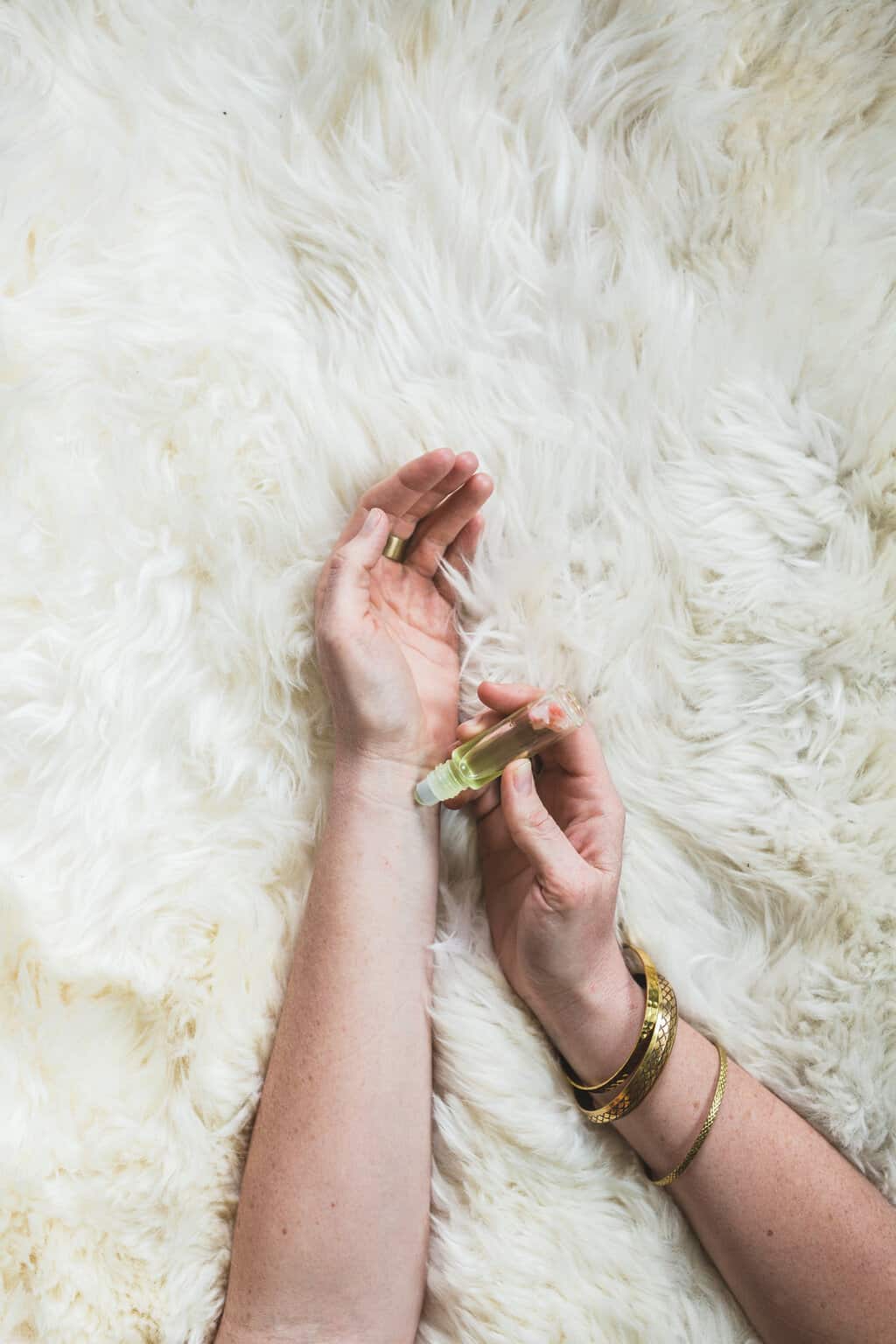 1. Lavender and Helichrysum Healing Blend
For this EO formulation, you want to gather the following ingredients:
—10 drops lavender essential oil
—10 drops helichrysum essential oil
—Jojoba or fractionated organic coconut oil (your carrier oil)
—A 30- to 40-mL glass bottle
Add the lavender and helichrysum oils to a glass bottle. Fill the entire thing with a carrier oil, either jojoba or coconut. Mix the ingredients, and store the bottle in a cool and dark place.
To treat a bruise, use 5–6 drops of this mixture and rub them onto the bruised area. You can apply this blend twice a day.
2. Quick Healing Bruise Blend
To heal a bruise quickly, you will need the following:
—5 drops geranium essential oil
—5 drops arnica essential oil
—5 drops lavender essential oil
—Fractionated organic coconut oil
—15-mL glass bottle
Mix all of the EOs into the glass bottle and fill the rest with the coconut oil. Gently shake the bottle to mix all of the ingredients. Store the blend in a dark and cool location.
Every day, take 5 drops from this blend and massage it into the bruise.
3. Bruise Cooling Gel
If you would rather use a gel than oil drops, here's what you will need:
—4 tablespoons aloe vera gel
—5 drops lavender essential oil
—3 drops geranium essential oil
—5 drops arnica essential oil
—5 drops helichrysum essential oil
—50-mL glass jar
Mix all of the ingredients with the aloe vera gel. Transfer the mixture into the jar and cover it tightly. Choose a dry and cool place in which to store the mixture.
To apply the mixture, make sure that you wash your hands before reaching into the jar for the gel. Rub it into the bruised area up to twice a day.
Frequently Asked Questions
Learn the answers to questions you may have about using essential oils for bruises.
What essential oils can reduce swelling?
There are many EOs that have the ability to reduce swelling, including:
Lavender
Yarrow
Chamomile
Arnica
Tea tree
When treating a bruise, arnica and lavender are some of the most effective options because they also offer relief from discomfort.
Which essential oils are best for healing bruises?
Some of the best EOs with properties that help in healing bruises include arnica, frankincense, lavender, helichrysum, and geranium.
How do I use essential oils for bruises?
EOs can be applied topically to the affected area after being properly diluted in a carrier oil, such as coconut or jojoba oil, as recommended in the recipes in this post. They can also be added to a warm bath or used in a diffuser to promote relaxation.
Are essential oils safe to use for bruises?
EOs should be used with caution and diluted properly before applying to the skin. Some may cause skin irritation or allergic reactions, so it's important to dilute appropriately and do a patch test before using. Consult with a healthcare professional before using EOs, especially if you are pregnant or have a medical condition.
Can essential oils be used in combination with other treatments for bruises?
Yes, EOs can be used in combination with ice packs, compression, and elevation of the affected area. It's important to follow the recommendations of a healthcare professional for the proper treatment of bruises.
Can essential oils be used to prevent bruises?
While applying EOs to the skin cannot prevent bruises, it can help reduce pain and inflammation associated with bruises after they occur.
References:
1. Malcolm BJ, et al. Essential oil of lavender in anxiety disorders: ready for prime time? Ment Health Clin. 2017.
2. Horvath G, et al. Essential oils in the treatment of respiratory tract diseases highlighting their role in bacterial infections and their anti‐inflammatory action: a review. Flavour Fragr J. 2015.
3. Hamidpour R, et al. Frankincense (乳香 Rǔ Xiāng; Boswellia species): from the selection of traditional applications to the novel phytotherapy for the prevention and treatment of serious diseases. J Tradit Complement Med. 2013.
4. Su S, et al. Evaluation of the anti-inflammatory and analgesic properties of individual and combined extracts from Commiphora myrrha, and Boswellia carterii. J Ethnopharmicol. 2012.
5. Roy NK, et al. An update on pharmacological potential of Boswellic acids against chronic diseases. Int J Mol Sci. 2019.
6. Da Silva GL, et al. Antioxidant, analgesic and anti-inflammatory effects of lavender essential oil. An Acad Bras Cienc. 2015.
7. Koulivand PH, et al. Lavender and the nervous system. Evid Based Complement Alternat Med. 2013.
8. Cardia GFE, et al. Effect of lavender (Lavandula angustifolia) essential oil on acute inflammatory response. Evid Based Complementary Altern Med. 2018.
9. Guinoiseau E, et al. Biological properties and resistance reversal effect of Helichrysum italicum (Roth) G. Don. In: Microbial pathogens and strategies for combating them: science, technology and education. 2013:1073–1080.
10. Furlan V, et al. Helichrysum italicum: from extraction, distillation, and encapsulation techniques to beneficial health effects. Foods. 2023.
11. Castro FCB, et al. Effects of microcurrent application alone or in combination with topical Hypericum perforatum L. and Arnica montana L. on surgically induced wound healing in Wistar rats. Homeopathy. 2012.
12. Leu S, et al. Accelerated resolution of laser-induced bruising with topical 20% arnica: a rater-blinded randomized controlled trial. Br J Dermatol. 2010.
13. Kouzi SA, et al. Arnica for bruising and swelling. Am J Health Syst Pharm. 2007.
14. Hajhashemi M, et al. The effect of Achillea millefolium and Hypericum perforatum ointments on episiotomy wound healing in primiparous women. J Matern Fetal Neonatal Med. 2018.
15. Kapoor S, et al. Topical herbal therapies an alternative and complementary choice to combat acne. Res J Med Plant. 2011.
16. Srivastava JK, et al. Chamomile: a herbal medicine of the past with bright future. Mol Med Report. 2010.
9