Avocado is one of my favorite foods to enjoy over toast, with chips, or in a salad. You can venture to say I'm a fan! Being born and raised in California has that effect on people.
Avocado isn't just delicious to eat, but it's actually delicious for your skin as well. The avocado fruit is a wonderful moisturizer for dry skin because of its rich fatty acid content [source]. It has also been known to help alleviate eczema and psoriasis because of its anti-inflammatory effects [source].
Here are a few avocado beauty recipes for your face, body, and hair using avocado and other common ingredients found in your home. Just be sure you don't mistakenly eat the ingredients before you use them!
8 At-Home Avocado Mask Recipes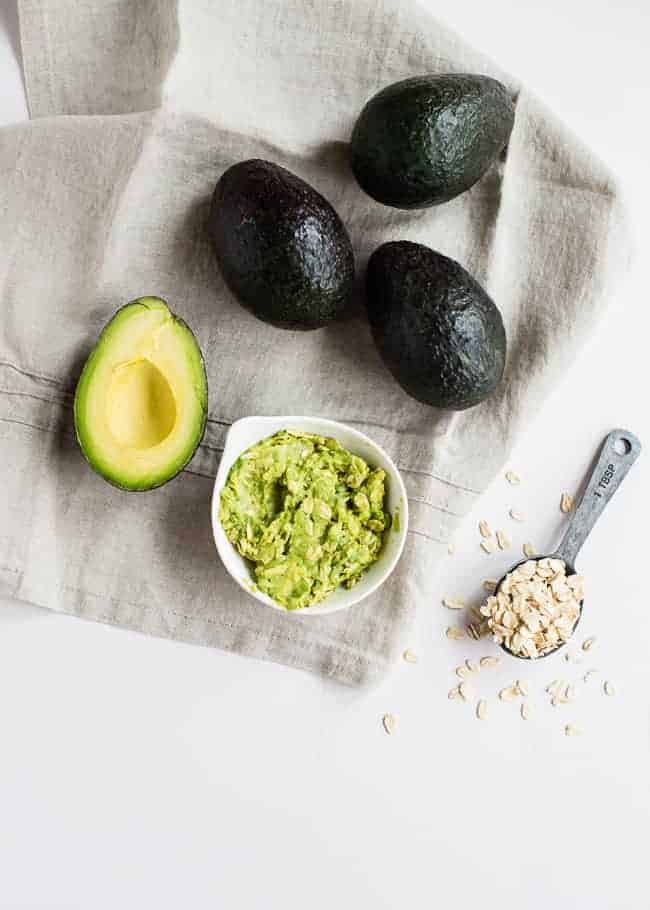 1
.
Avocado-Oatmeal Facial Mask
Avocado is rich in antioxidants [source], which are great at fighting the effects of aging. With the help of soothing oatmeal, this recipe makes a great anti-aging mask that you can use once a week.
Mash half an avocado and mix with the rolled oats in a small bowl. Then, with a brush or your fingers, apply the mask to your face and neck, and leave it on for about 10 minutes. Rinse the mask off with warm water when you are finished.
Follow with your regular skin regimen.
2
.
Silky Avocado Eye Cream
Avocado oil is known to increase your body's own production of collagen [source], perfect for the delicate wrinkle-prone area around your eyes.
Melt shea butter in the microwave in a small heat-proof jar. Stir in the avocado oil then refrigerate until set. Stir again to get a creamy texture and replace the lid. To use, apply to the outer corners of your eyes by gently tapping, not tugging, the skin.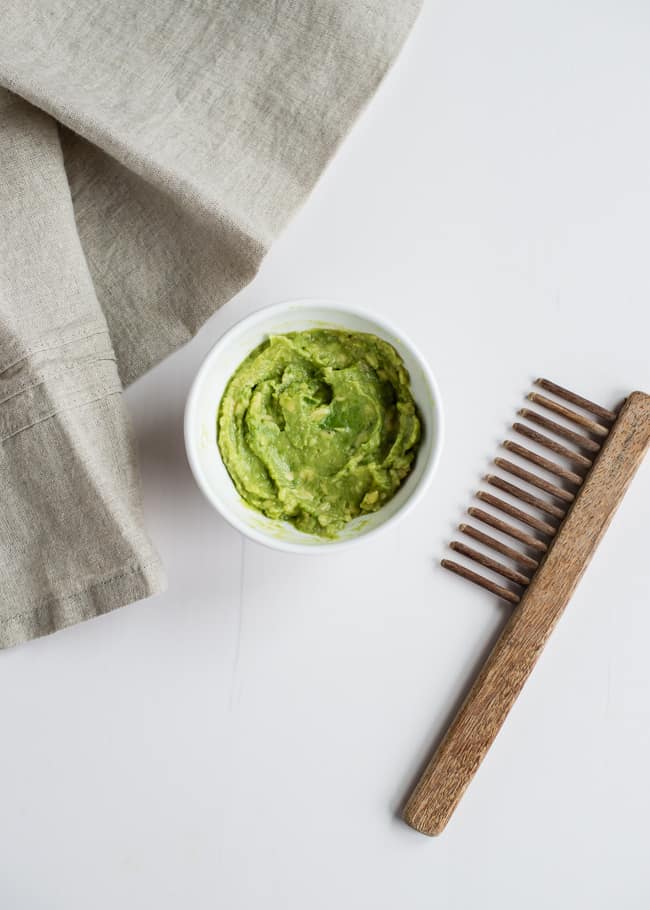 3. Simple Hydrating Avocado Hair Mask
Avocados are rich in monounsaturated fatty acids [source] that are amazing for hair. And applying avocado topically helps replenish luster and hydrate locks.
After shampooing, apply mashed avocado directly onto your hair. You can also apply to your scalp to support hair growth and help with itchiness, dryness, or irritation.
Leave the mask on for about 10 minutes before rinsing it clean. You'll enjoy shiny, healthy hair in no time!
4. Avocado Facial Cleanser
Of all the avocado beauty recipes in my arsenal, this is by far my favorite. Think of this as a mix between an oil cleanser and a face mask—the best of both worlds!
Egg white helps tone and tighten skin, while whole milk sloughs away dead skin cells and avocado hydrates. And when you apply it to dirty skin, the oils in the avocado help to dissolve dirt and oil and flush it away, just like a traditional oil cleanser.
1 egg white
1/2 avocado, mashed
2 tablespoons whole milk
Combine all ingredients in a small bowl and whisk until smooth. Apply to your face and neck and massage into the skin for 2–3 minutes. Rinse with warm water and pat skin dry. Follow up with your normal skincare routine.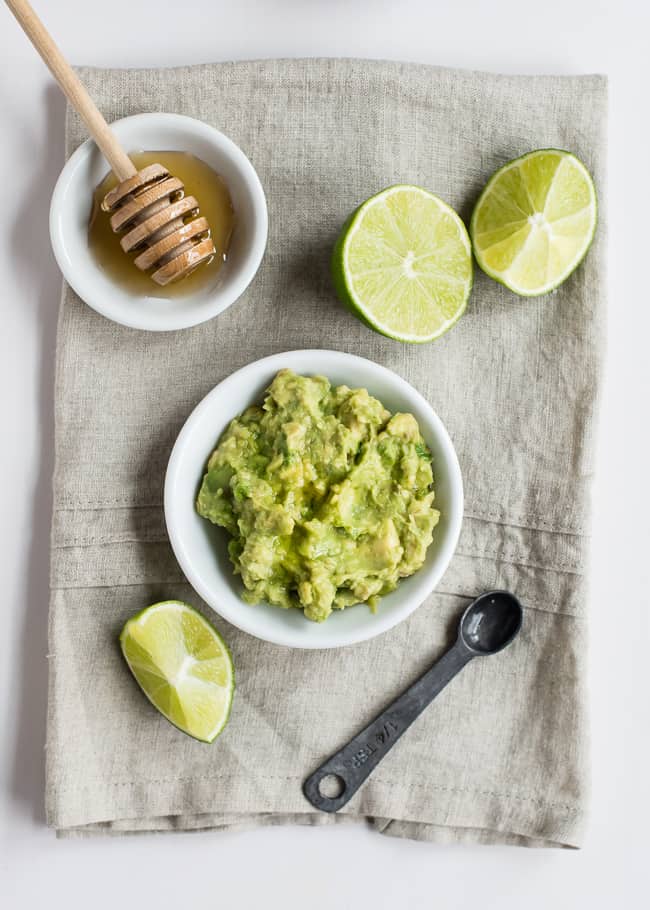 5
.
After-Sun Avocado Body Mask
The fatty acids in avocados have been shown to reduce some of the damage caused by UV rays [source]. If you've been in the sun and feel your skin is a little parched or sunburned, you'll love this hydrating and reparative body mask.
1/2 avocado, mashed

1/2 teaspoon

honey

1/4 teaspoon lime juice
Combine ingredients in a bowl. Apply liberally over the skin and leave on for 10–15 minutes to enjoy the healing and hydrating effects.
6. Avocado Face + Body Exfoliating Mask
This recipe makes enough for one full-body application. If you use it just on your face, you'll have some left over for tomorrow. In that case, store it in an airtight jar in the fridge for up to 3 days (yes, it'll start to turn brown after a few hours, so give it a good stir!)
Combine everything in a small bowl or lidded jar. Take a small handful and apply to skin in small circular motions. Let it sit for 10–15 minutes, then rinse off. Follow up with face or body lotion to lock in moisture.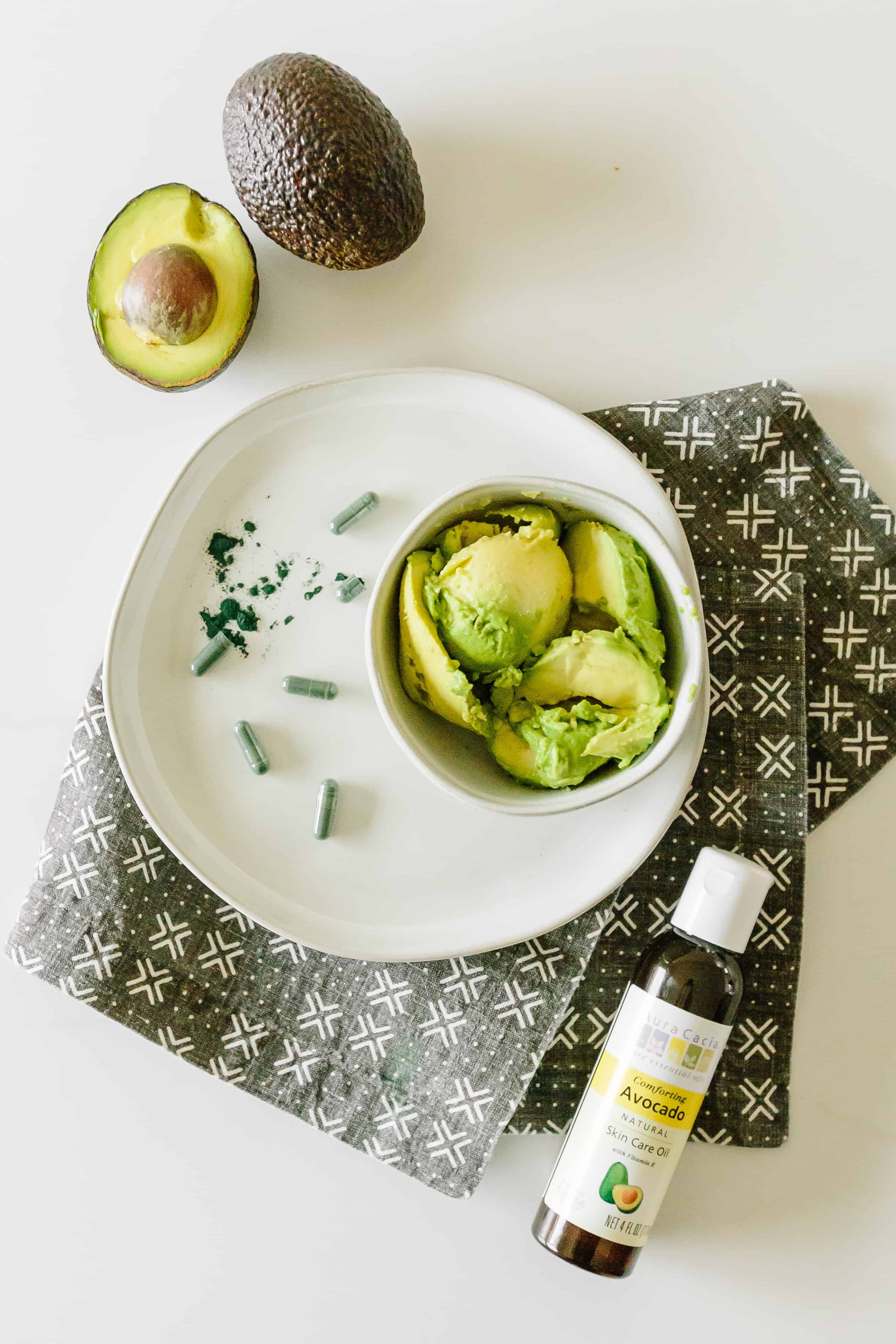 7
.
Anti-Inflammatory Spirulina
+
Avocado Face Mask
Combining spirulina with avocado makes a skin-soothing face mask that evens out skin tone and calms irritation. Spirulina, a blue-green algae, is a rich source of antioxidants like selenium, beta-carotene, and vitamins C and E that help reduce inflammation and neutralize harmful free radicals that damage the skin [source]. It's also rich in compounds that fight bacteria [source], which can help with acne.
Put the avocado in a bowl and mash with a fork until it has a smooth consistency. When it is super smooth without any lumps and bumps, add the spirulina and avocado oil and stir to combine.
I opened up 2 capsules, but if you have a bulk powder, use about 1 teaspoon. Mix until it's well blended—you'll be able to tell because the mask will be an even blue-green color, thanks to the spirulina.
Apply the mask to clean skin with your fingers or a facial brush (this spatula-like applicator is fantastic!). Leave the mask on for 15 minutes and remove with warm water. Pat the skin dry and apply toner and moisturizer.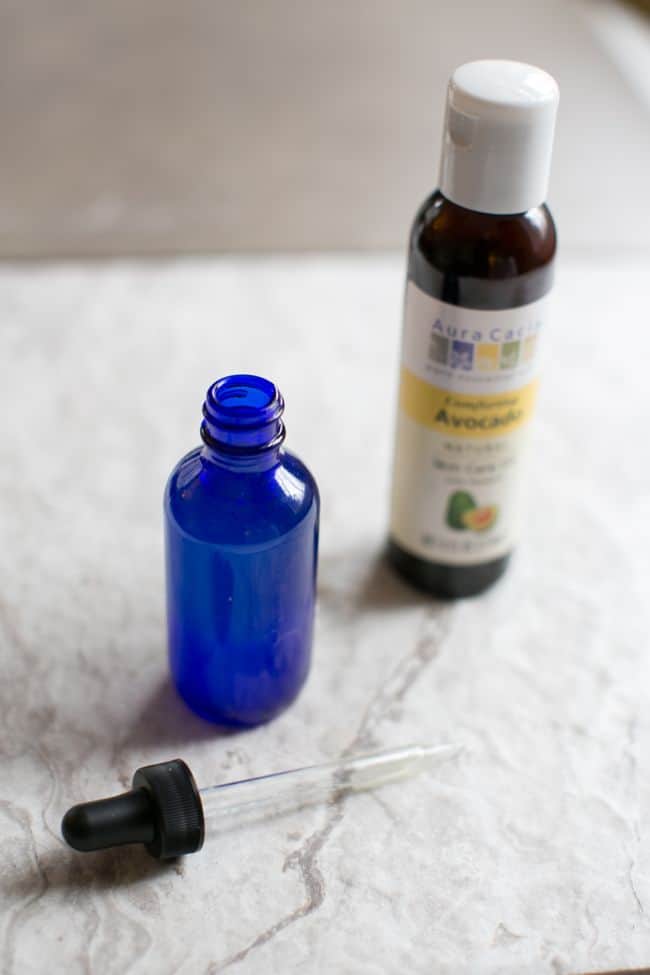 8
.
Avocado Anti-Stretch Mark Oil
During pregnancy, your skin has quite a lot of changes to cope with, especially around the breast and abdominal areas. So it requires extra care.
Rich avocado oil keeps the skin supple and promotes elasticity. An extra dash of vitamin E (the skin vitamin) is a perfect addition to that naturally found in avocado oil, while gentle neroli and relaxing lavender essential oils give the mixture a heavenly scent.
Using a funnel, pour the avocado oil into a dark bottle. (If it already comes in a dark bottle, you can leave it and add the other ingredients to it.) Add lavender and neroli essential oils to the bottle.
Pierce the vitamin E capsules and squeeze the contents into your oil mixture. Screw on the cap, and shake to combine.
To use, rub a little oil in your hands. Spread it over your belly wherever the skin feels tight and any other places you see stretch marks forming. Massage it in. The oil will keep for at least 1 year.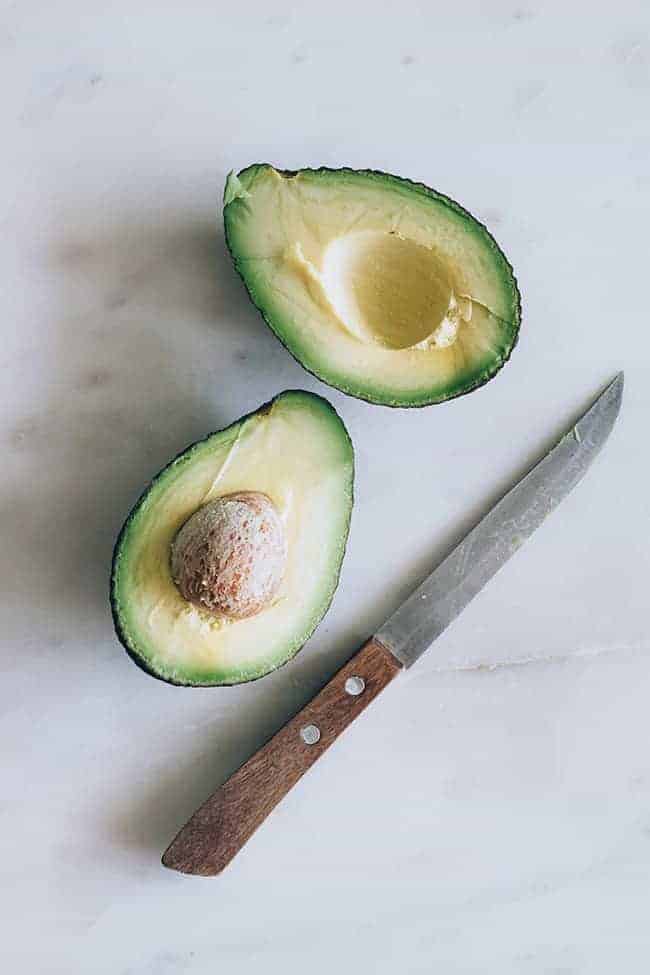 Avocado Mask FAQs
How often can I use these avocado beauty recipes
?
To start, try adding avocado to your beauty routine 1–2 times a week. If you don't notice any adverse reactions, like redness or irritation, then you can try upping it to 3 times a week.
Is it okay to use avocado that's past its prime
?
Yes, these beauty recipes are a great way to put an older avocado to good use. When you go to mash your avocado, simply stir it all together so that the brown spots are blended with the fresh, green fruit.
Do I need to wash my hair after using the avocado hair mask
?
Avocado has a tendency to stick to hair, so I prefer to wash my hair with shampoo to get it out completely. Depending on your hair type, you might be able to get away with just rinsing it.
Can I leave my avocado hair mask on for longer than the recommended time
?
Will it work better that way
?
Leaving it on for a little bit longer definitely couldn't hurt. Just remember that avocado has a tendency to oxidize as it sits, so you don't want to leave it on for hours at a time. I would say 30 minutes is okay if you need an extra boost.
This article was medically reviewed by Dr. Gina Jansheski, a licensed, board-certified physician who has been practicing for more than 20 years. Learn more about Hello Glow's medical reviewers here. As always, this is not personal medical advice and we recommend that you talk with your doctor.
144