Apples and their natural malic acid are powerful exfoliants, making them a great seasonal source for healthy skin. Because there's no better time than autumn to find apples in abundance!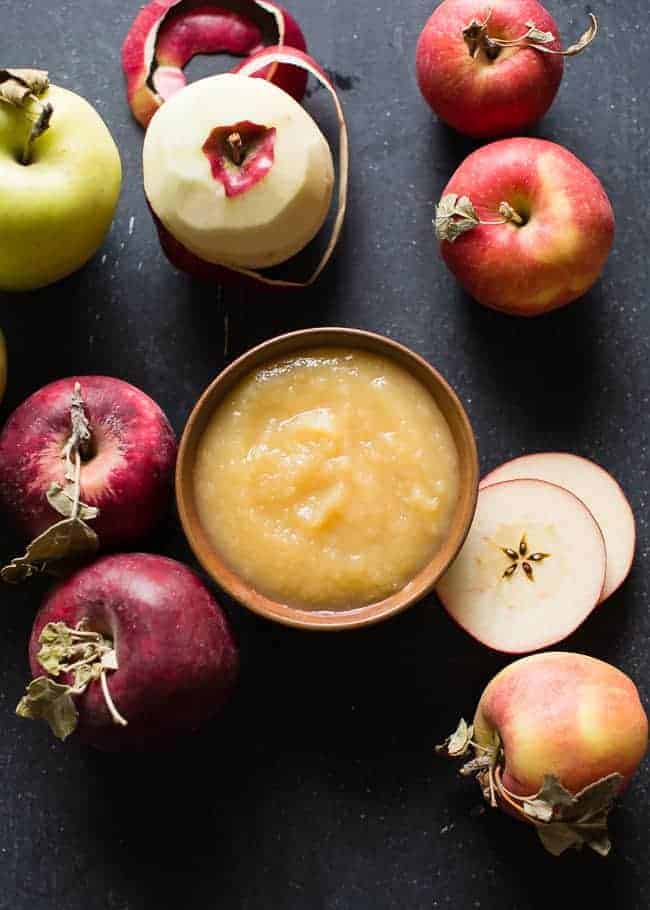 We discussed the difference between chemical and physical exfoliation, and now we're delving into one type of alpha hydroxy acid. Malic acid can be found in several fruits and vegetables, and apples are a naturally potent source. The wonderful malic acid benefits include boosting our immunity, detoxifying metals from our bodies, and contributing to overall healthy skin. These three apple beauty recipes will nourish the face, skin and hair.
1. Exfoliating Applesauce Mask
2 tablespoons organic, preservative free applesauce
1 tablespoon ground oats
1 teaspoon honey
2 teaspoons lemon juice
Combine all ingredients in a bowl and apply to face and neck. Leave on for 10 minutes. As you wash the mask off feel free to gently rub in circular motions. Towel dry and follow with moisturizer.
2. Cleansing Applesauce Scalp Treatment
Apply organic, preservative free applesauce directly to your scalp and hair. The malic acid will break down any clogged hair follicles and dead skin lingering on the scalp. Leave on for 10 minutes and then rinse. Conditioner is not necessary as locks will be left shiny and clean.
3. Apple Cider Vinegar Peel
1 tablespoon organic, raw, unfiltered apple cider vinegar
1/2 lemon (optional)
In a bowl or small cup, pour in the apple cider vinegar and if you are treating pigmentation or sun spots, you can add a squeeze of half a lemon. Using a cotton round, dip the cotton in the cup and then gently swab over face in circular motions. Avoid the eye area. Tingling sensations are normal, however if you feel burning you can dilute the apple cider vinegar with water. Leave the peel on for 5 minutes and then rinse off with warm water.
If you plan on apple picking this fall, pick up a few extra apples and put all that healthy malic acid to good use!
156