Have you gotten on the green smoothie wagon yet? Over the past few years I've started making them for breakfast each day. It started out about health and an easy breakfast I could sip as a busy work-from-home-mom, and then I became utterly and completely addicted. I love my daily smoothie!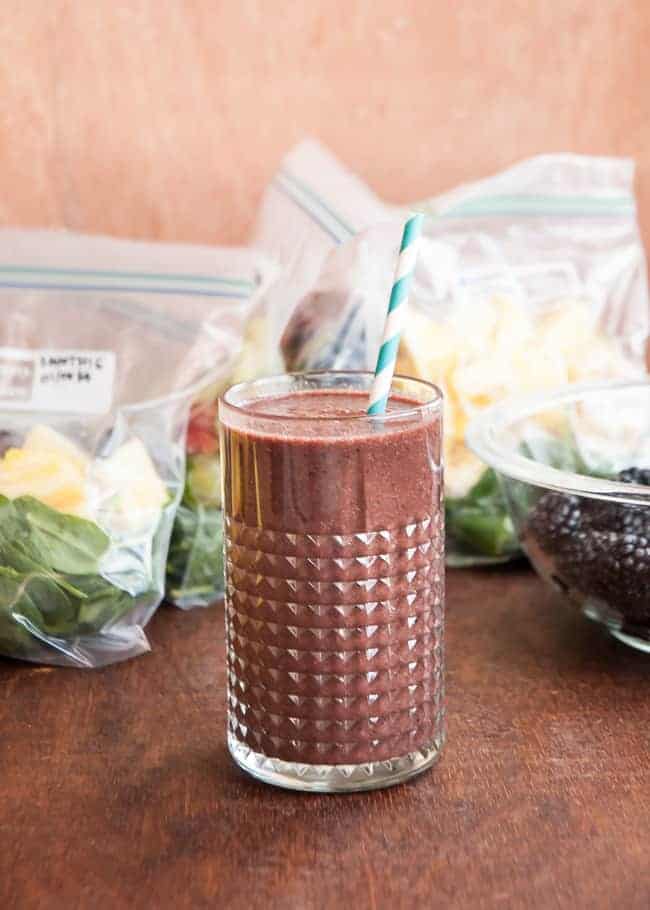 Maybe you've wanted try green smoothies, but you haven't known where to start. Or maybe you've been too busy to look for recipes or tackle the daily prep involved. That's where make-ahead frozen smoothie packs come into play. They are awesome and you'll wonder what you ever did without them.
what is a green smoothie?
Let's start with the basic makeup of a green smoothie. First, it doesn't have to look green! A good green smoothie is built on several things – leafy greens, fruit (sometimes veggies too), liquid and other nutritional add-ins. Typically a green smoothie is 40% greens and 60% fruit, liquid and other add-ins. You can play with that until it feels right for your tastes.
Leafy greens: Chard, spinach, kale and collards, bok choy, romaine and other sweet lettuces
Fruit: Berries, pineapple, mango, citrus, avocado, pear, apple, banana, melon, dates, etc.
Veggies: Cucumber, celery, fennel, tomatoes, carrots, beets, pumpkin or butternut puree
Liquids: Water, coconut water, milk, non-dairy milks (coconut, soy, oat, nuts), juice, tea, fermented and cultured beverages (kefir, kombucha, buttermilk, whey, etc )
Nutritional add-ins: Chia seeds, flax seeds, acai powder, green superfood powders (acai, maca, spirulina, wheat grass, etc.), protein powder, cocoa powder, spices, hemp seeds, whole nuts, oats, etc.
How to make a frozen green smoothie system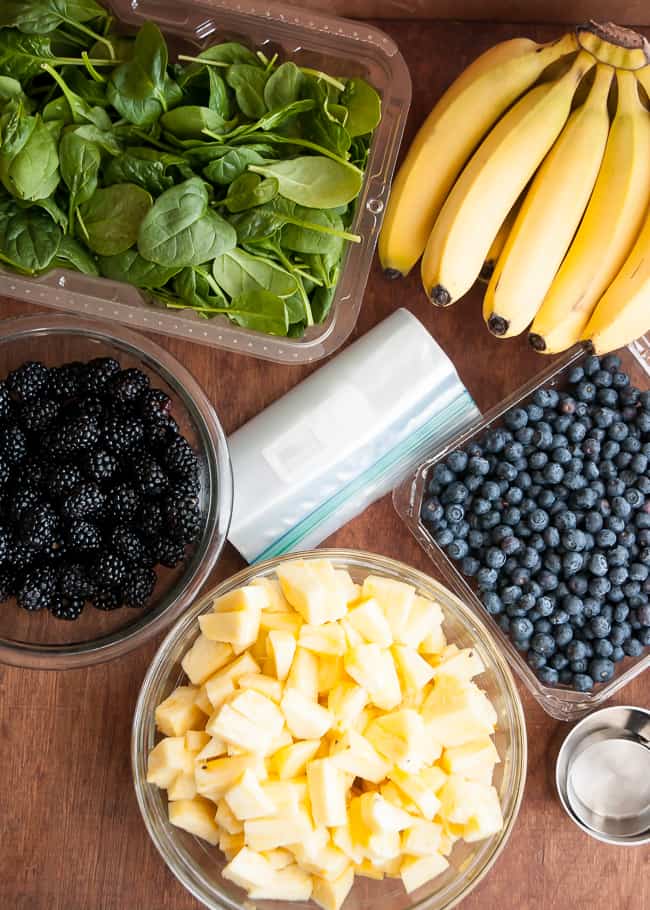 1. Buy in bulk
You've probably seen commercially prepared smoothie packs in the freezer sections of some stores. Awesome, but you can do it for less money at home, especially if you hit up a sale on fruit and greens. If you can, use what's in season in your area. That's a little harder for those of us in the Northern Hemisphere during the winter. That's when I rely on buying fresh and frozen food in bulk at Costco.
2. You can have a different smoothie each day
For these packs, I used baby spinach, fresh pineapple (got a killer deal on them!), bananas, blueberries and blackberries. With those four fruits, you can mix and match to get a little different smoothie for each day or make the same one. Leafy greens freeze really well. You can puree them and make ice cubes ahead of time or just toss the leaves into the bag.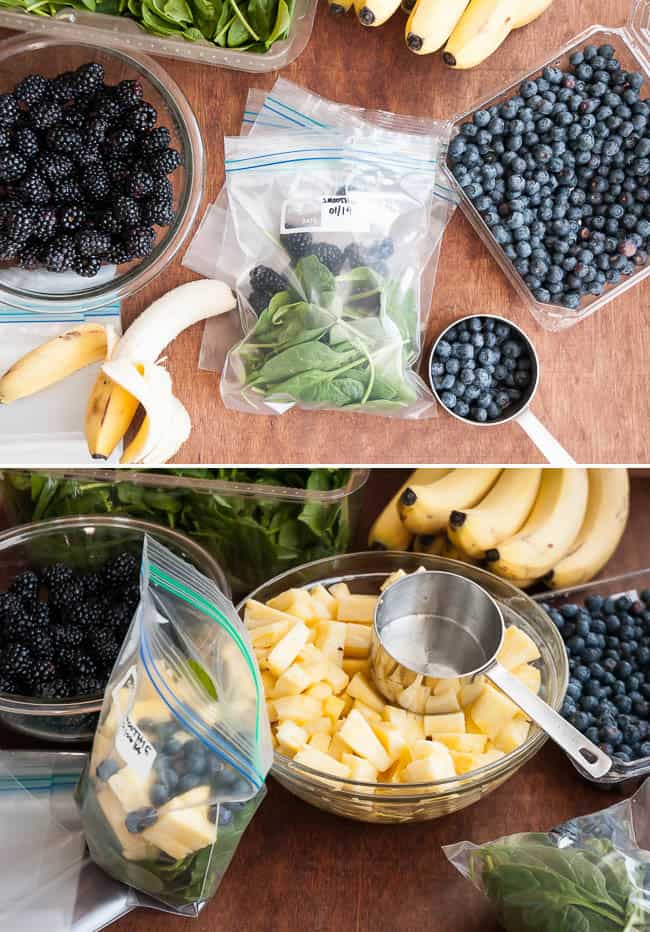 3. Buy the right bag
Quart-sized freezer resealable bags are great because I can rinse and reuse them over and over. Mark each one with the date the pack was made and cross it out when you've made it. The packs won't last forever before the quality is affected by hoar frost. Think of it as a once a month or every other week kind of task, though they will last for several months if you're feeling particularly ambitious.

4. How to pack a pack
Put the leafy greens into the bag first, followed by the fruit. I do about 2 packed cups of baby spinach and 2 to 2 1/2 cups frozen and/or fresh fruit. You could add the chia or flax seeds, but I find they stick to the bag. (Plus sometimes I soak my chia seeds before blending.)
5. Make it work for your blender
Remember that cutting fruit into smaller pieces makes it easier on your blender. Bananas, if they are really ripe, usually do okay halved, but you can slice them up before you put them into the bags. If you don't have a high speed blender like a Vitamix, Blendtec, Ninja and the like, then you might want to try making leafy green ice cubes for better blending. Another option is to only make freezer packs with the fruit and then use fresh leafy greens.
6. Avoid frost
Squeeze out as much air as you can and seal the bag. Removing the air helps prevent frost from forming.
7. Easy stacking
For easier stacking in the freezer, you can flatten them out a bit more. The bags will freeze more quickly if placed in a single layer in the freezer. You could also freeze the fruit on cookie sheets and then transfer them to the bags. Totally up to you on that.
8. When it's time to blend
When you blend, add 1 cup of liquid with the packet contents. The greens will break up a little easier after having been frozen, but you will probably need a little more liquid than normal for your blender to puree them properly. When I make a fresh smoothie (not from a frozen pack) I layer the liquid, then greens, then fresh fruit, then frozen fruit and seeds or other add-ins on top.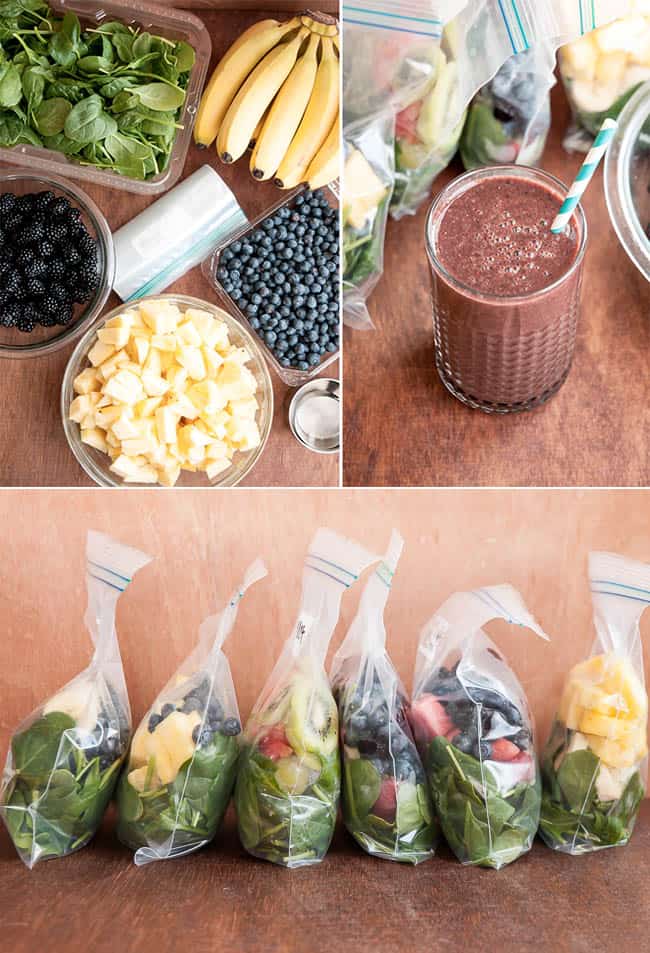 9. Experiment with flavor combinations
It's really fun to mix it up with other varieties of fruit and greens. Above (left to right):
Banana Blueberry: 1 large banana, 2 cups blueberries, 2 cups spinach
Pineapple Blueberry: 1/2 banana, 1 1/2 cups pineapple, 1/2 to 3/4 cup blueberries, 2 cups spinach
Kiwi Watermelon: 1 sliced kiwi, 1 cup diced watermelon, 1 cup grapes, 2 cups spinach
Banana Berry: 2-3 cups mixed berries, 1/2 large banana, 2 cups spinach
Melon Berry: 1 cup melon, 1 1/2 cups mixed berries, 2 cups spinach
Pineapple Banana: 1 large sliced banana, 2 heaping cups pineapple, 2 cups spinach
This detox smoothie recipe is another favorite. Or try this wrinkle-reducing berry and kale smoothie.
10. And that's it! Easy and quick.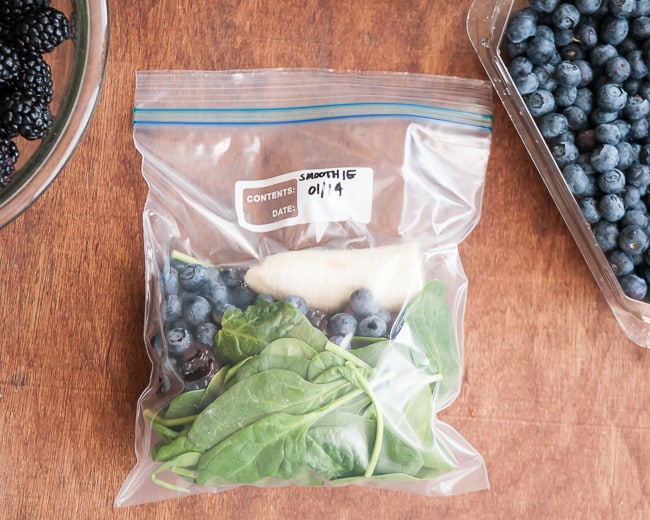 P.S. Ready to start juicing? Try our 3 Juicing 101 recipes!
341