I have always loved succulents. In fact, I still remember the first time I went to the greenhouse and loaded my cart full of them. I got home and planted them in pretty pots, stuck them in a sunny corner and smiled every time I looked at them...
...only to have them die a couple weeks later.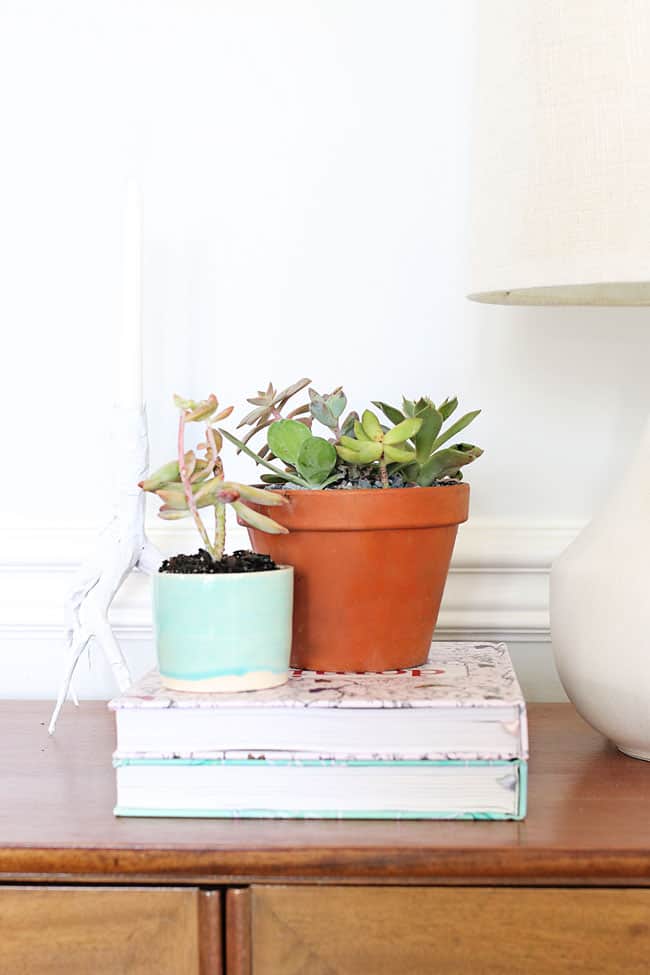 The No-Fail Guide to Succulents
It turns out that growing succulents isn't quite as easy as they make it seem in all those home and garden magazines. While it's true that they can thrive when neglected, they can also be pretty finicky if the environment isn't right.
Read on to learn how to choose the right succulents for your space and make them flourish—green thumb not required.
Choosing the right succulent
Choosing the right succulents to create a succulent garden for your space is just as important as giving them enough sunlight and water. But when you're staring at all the pretty varieties at the greenhouse, it's easy to ignore advice and just choose what looks nice.
Trust me when I say that's a recipe for disaster. Here are 8 succulents perfect for home gardening.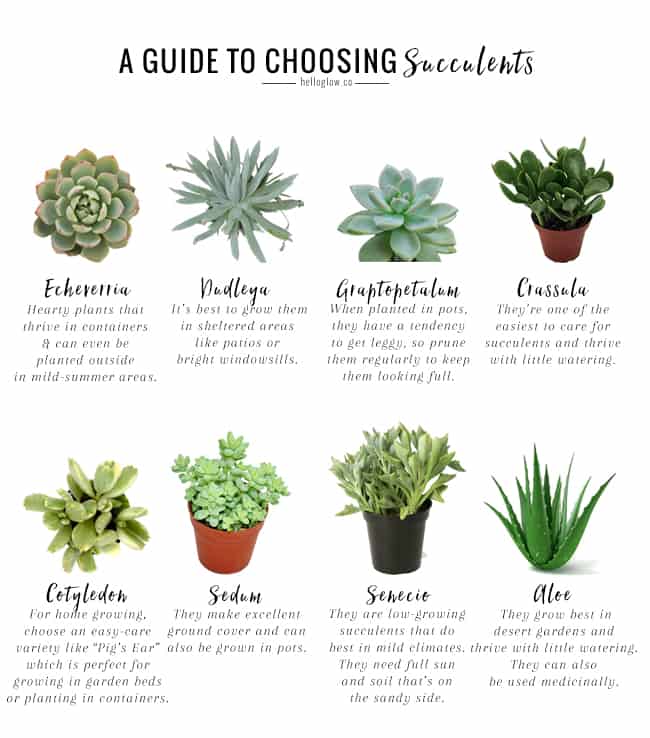 These easy-to-care-for succulents come in a rainbow of colors and can be found at most garden centers. Echeveria are hearty plants that thrive in containers and can even be planted outside in mild summer areas.
Dudleya succulents have fleshy, dusty blue rosettes which are covered in a light layer of powder. Because the powder can wash off easily, it's best to grow them in sheltered areas like patios or bright windowsills.
One of the most common varieties of succulents, Graptopetalum grow multiple plump rosettes on a single stem. They make excellent groundcover in rocky terrain or in areas with little foot traffic. When planted in pots, they have a tendency to get leggy, so prune them regularly to keep them looking full.
Crassula form a mat of magenta flowers and grow outward in a braid-like pattern. They're one of the easiest to care for succulents and thrive with little watering.
These succulents are characterized by their opposing pairs of fleshy leaves. In spring they often send up lots of bright flowering stalks that add interest to container gardens. For home growing, choose an easy-care variety like "Pig's Ear," which is perfect for growing in garden beds or planting in containers.
Sedum, also known as Stonecrop succulents, make excellent ground cover. They can also be grown in pots; they have a tendency to spill over the edge, adding interest and variety to a container garden. They make a bright complement to grey-green Echeveria.
Senecio are low-growing succulents that do best in mild climates. When used in container gardening, they need full sun and soil that's on the sandy side. If left damp, they tend to rot easily, so be sure to let them dry out completely between watering.
While we don't usually think of them as such, aloe vera plants are actually succulents. They grow best in desert gardens and thrive with little watering. They can also be used medicinally (and for lots of DIY beauty treatments), so it's always nice to have one or two plants on hand.
Containers and soil for succulents
Succulents don't like to be waterlogged (in fact that's one of the quickest ways to kill them), so choose containers with one or two large drainage holes at the bottom. If your container doesn't have a drainage hole, line the bottom with pebbles before adding your soil. This will help keep the succulents' roots from sitting in water and rotting.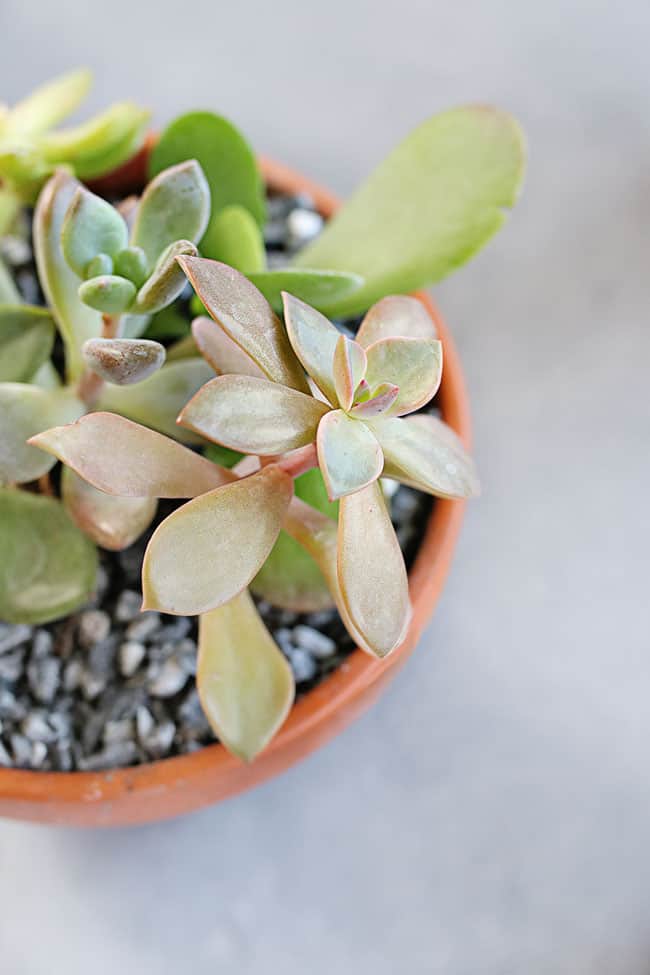 Because succulents don't like over-watering, free-draining, aerated soil is key. There are lots of commercial potting mixes for succulents on the market, but it's easy to make your own. Simply mix four parts light potting mix with one part coarse sand, gravel or perlite. A gravel mulch will also help keep you plant stems from rotting.
If you're looking to spruce up your outdoor space, a hanging succulent wall planter is a great way to do it. Los Angeles gardenista Teryl Ciarlo of Teryl Designs recommends Fishhook Senecio, Donkey's Tail, Sticks on Fire, String of Hearts and Kalanchoe for hanging wall succulents.
Her advice is to break off ¼-inch long cuttings from succulents you already own, or if you don't already own succulents, purchase 4-inch succulent plants from your local nursery. Give the stems a few days in a cool area to dry and callus over.
Then fill a mesh frame with moist cactus mix, stick the cuttings or new succulents through the mesh so the stems are in the soil and leave the frame in a cool area for 7-10 days to allow the plants to take root. After that, you can begin watering.
Then 4-12 weeks later, when the succulent roots have secured them well into the soil, hang the frame and admire your green thumb!
How to water succulents
Succulents are drought-tolerant plants, but that doesn't mean they don't need water. When you first plant your succulents, water them so the soil is damp but not soaked. Then wait and see how long it takes for the soil to dry out completely before watering again.
A good of rule of thumb is to water your plants ever two weeks and keep a close eye on the soil so you can adjust accordingly. You want the soil to feel dry to the touch, but if it has pulled away from the sides or become hard and cracked, you've waited too long.
Also, if the leaves look wrinkled it's another sign that your succulent has gotten too dry. Rehydrate overly-dry soil by placing the pot in a sink or tray with an inch of water and allow the soil to soak up water from the roots.

Sunlight for succulents
Place your succulents in a sunny, preferably south-facing window. You might notice that some of your plants need more or less sunlight than others.
Succulents that aren't getting enough sun will get "leggy" with long stems and sparse leaves. Plants that are getting too much sun will get brown, scorched leaves. Keep a close eye on how your plants grow and adjust accordingly.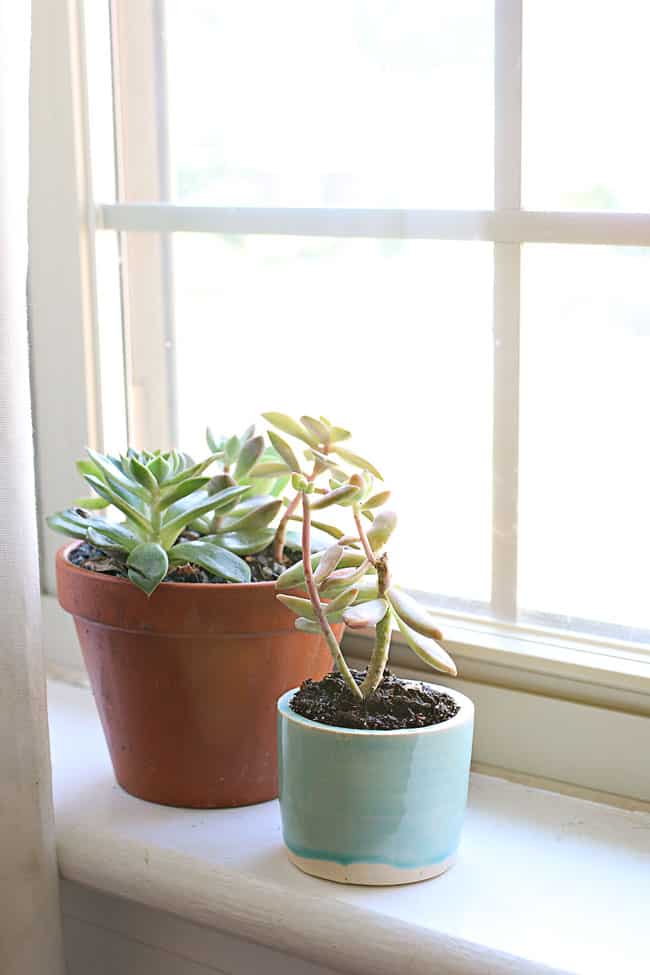 Choosing + Growing Succulents FAQ
How can I tell if I'm watering my succulents enough?
I like to water succulents every two weeks and keep a close eye on the soil, so I can adjust my watering schedule accordingly. You want the soil to feel dry to the touch to keep succulents from getting water logged.
A few signs to watch out for: if the leaves look wrinkled or the soil has pulled away from the sides or become hard and cracked, your succulent has gone too long without water.
How can I resuscitate a dying succulent?
I've found that sometimes succulents just reach the point of no return. A friend who owns a plant shop told me once that all plants have a life cycle, and sometimes they just die because that cycle has ended (which made me feel much better about the houseplants I haven't been able to keep alive).
That being said, if your plant's leaves are wrinkled, you may be able to bring it back to life with a good soak. You can rehydrate overly-dry soil by placing the pot in a sink or tray with an inch of water and allow the soil to soak up water from the roots.
What is the best kind of planter or pot for succulents?
I love inexpensive terra cotta pots that come with pre-drilled drainage holes. But I've also bought lots of pre-planted succulents in decorative pots that don't already have drainage (which always makes me scratch my head).
In this case, you can carefully (and slowly) work to drill a few holes in the bottom of your planter. Or if you're planting the succulents yourself and your container doesn't have a drainage hole, you can line the bottom with pebbles before adding your soil.
This will help keep the roots from sitting in water and rotting. You can also use this easy DIY to make your own succulent planters at home!
Need inspiration for your next project? Check out our easy DIY braided bracelet guide!
210