We're big fans of pudding for breakfast here at Hello Glow. These sweet, slightly spicy apple-cinnamon version of chia seed pudding is no exception. It's the perfect vegan breakfast for cold mornings, or eat it as a healthy dessert.
Use your favorite non-dairy milk—coconut, cashew, almond, soy, whatever you like—and feel free to switch up the fruit and spice. For example, try fresh peaches and cardamom, or plums and nutmeg.
Apple Cinnamon Chia Seed Pudding
Move over, overnight oats—we bet this will be your new go-to healthy breakfast!
And like overnight oats, this chia pudding is a perfect make-ahead breakfast option. Mix together milk and chia the night before then pull it out of the fridge in the morning and just top with fruit, nuts and seeds.
It's creamy, good for your gut, full of healthy fats and protein, and so easy to customize with whatever is in your pantry or fruit basket. Pick low sugar fruit options, and you can make sure it's filled with even more vitamins and nutrients.
And chia is not just for breakfast! Chia pudding is a great make-ahead protein-filled snack that's loaded with heart-healthy omega-3 fatty acids. Chia seeds have about 2.5 grams of protein per tablespoon, so a chia pudding made with three tablespoons of chia seeds would serve up 7.5 grams of protein.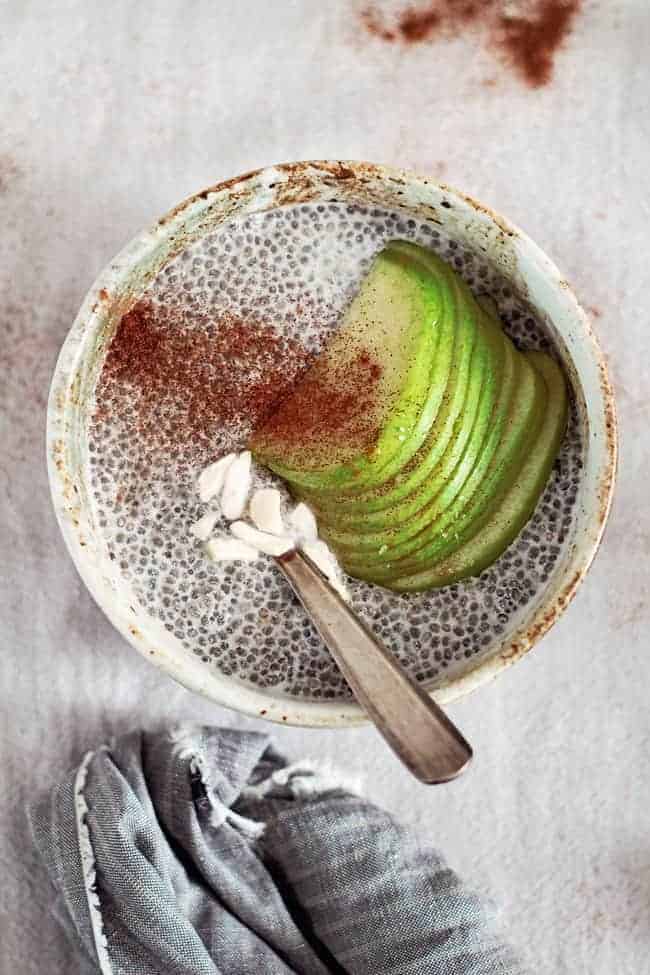 Chia pudding on its own doesn't have a lot of taste so add flavor with fruit, chocolate, nuts and spices. We added anti-inflammatory, antioxidant-rich cinnamon for its blood sugar regulating benefits. Plus, it adds a warming boost that's perfect for cold mornings, and the spicy fall scent is mood-boosting and stress-relieving.
More Chia Seed Pudding Recipe Ideas
Here are a few more chia seed pudding ideas to add to your morning rotation:
Photos by Ana Stanciu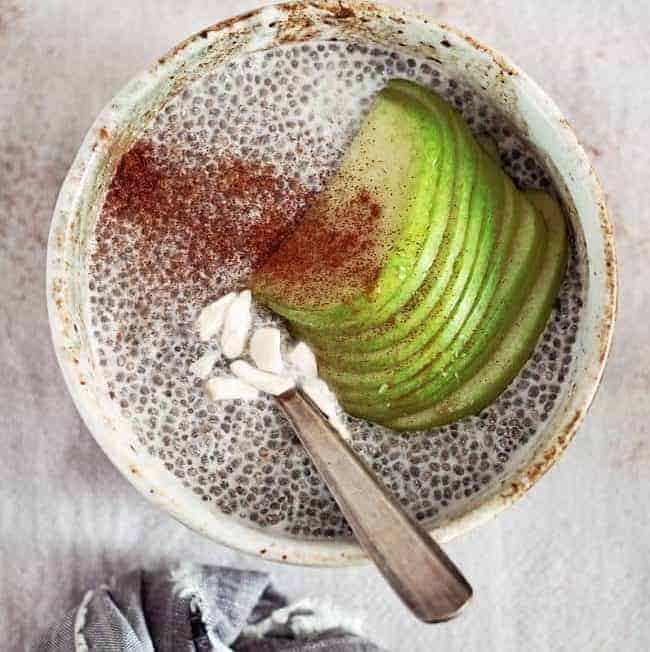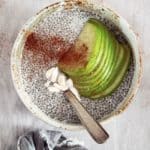 Print Recipe
Healthy Apple-Cinnamon Chia Seed Pudding
This super-simple chia seed pudding recipe is a comforting and healthy breakfast (or dessert). Mix and match fruits and spices for endless flavor options!
Instructions
For warm chia seed pudding, place milk and vanilla extract into a saucepan, and warm over low heat for 2 to 3 minutes. The milk does not have to be boiling hot, just warm enough for your taste. Add chia seeds to a cereal bowl.

When the milk is warm, add the milk to bowl of chia seeds.

Stir continuously for about 2 minutes while the chia seeds absorb the milk. Allow the mixture to sit for 2 to 3 minutes.

Top with coconut flakes, apple slices, and cinnamon.
Notes
If you do NOT want warm chia seed pudding, simply add the milk to bowl of chia seeds. Stir until the chia seeds have absorbed the milk (about 3 to 5 minutes). Then top with coconut flakes, apples, and cinnamon.
Nutrition
Calories:
449
kcal
|
Carbohydrates:
59
g
|
Protein:
11
g
|
Fat:
22
g
|
Saturated Fat:
4
g
|
Sodium:
192
mg
|
Potassium:
458
mg
|
Fiber:
28
g
|
Sugar:
24
g
|
Calcium:
680
mg
|
Iron:
7
mg
Bonus Recipe: Apple Pie Chia Pudding
This apple pie chia pudding recipe is a perfect make-ahead breakfast or healthy snack for those busy mornings. With only a few ingredients, it is a quick and easy recipe that is both delicious and nutritious. The combination of chia seeds and apple pie spice gives this pudding a hearty texture and a comforting taste. It's also gluten-free and refined sugar-free, making it a healthy dessert option. You'll need:
1 cup unsweetened almond milk or oat milk
¼ cup chia seeds
¼ cup unsweetened applesauce or store-bought apple sauce
2 tablespoon pure maple syrup
1 teaspoon apple pie spice
½ cup chopped apples, sautéed or apple compote
1 teaspoon coconut oil (optional)
1 teaspoon vanilla extract (optional)
Instructions:
Step 1: In a bowl, mix together almond milk, chia seeds, applesauce, pure maple syrup, and apple pie spice. Stir well to combine.
Step 2: If you're using coconut oil, add it to a pan on medium heat. Add in the chopped apples and sauté for 2-3 minutes, or until soft. Set aside.
Step 3: Pour the chia pudding mixture into a jar or container with a lid. Stir in the sautéed apples or apple compote. Cover the jar or container with a lid and place it in the fridge overnight, or for at least 3 hours.
In the morning, give the chia pudding a good stir, and top it with more sautéed apples, chopped nuts, or any other toppings you desire. Enjoy your delicious and healthy apple pie chia pudding!
Note: You can use any non-dairy milk of your choice in this recipe, and the pudding will still turn out great. You can also make this recipe ahead of time and store it in the fridge for up to 5 days.
460